This is not a drill, folks. We have less than a month (29 days, to be exact!) until Preview Night. This edition of Under the Tents has more great news to help you prepare for this year's SDCC, including an amazing Mr. Rogers print from Katie Cook, an exclusive for The Tick, news on Battlepug, and more. If that's not enough, tune into tonight's SDConCast, where we'll have a lot more to tell you.
Here's a look at the news you might have missed:
9 O'Clock Bedtime Cosplay announced on Instagram that they'll be holding a panel on Friday, July 20 at 10AM called "Cosplaying With Your Kids". And, to make it a bit more interactive for the little ones, 100 attendees will also receive a rubber duckie to adopt!
https://www.instagram.com/p/Bj5h7_6gJtW/?taken-by=9oclockbedtimecosplay
Artist Alex Ahad showed off a work in progress of a monster girl, which he will be bringing to San Diego Comic-Con.
https://www.instagram.com/p/Bj43S9QFNcZ/?tagged=sdcc2018
Drawer extraordinaire of adorable things, Katie Cook, revealed an amazing new Mr. Rogers print that she's bringing to San Diego Comic-Con.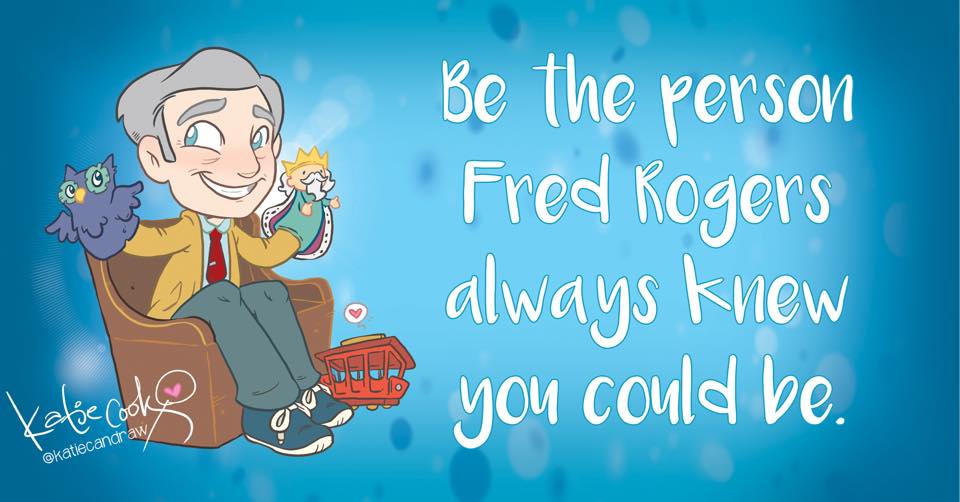 The artist Miso, also known as Karen Hsiao, will be bringing some interesting lamb head decor with her to Comic-Con.
https://www.instagram.com/p/Bj0lKpJl6uw/?taken-by=artofmiso
Maggie Smith, an artist from East Texas, will "almost certainly be making an appearance at Comic-Con" – and it looks like you can pick up some new unicorn pieces from her there.
https://www.instagram.com/p/BkEM0eoBoTr/?taken-by=maggililly
While the showrunners behind Lucifer have said they'll be at San Diego Comic-Con in some form (even if that form is literally just showing up for a drink!), actress Lesley-Ann Brandt has made it clear that she would be down for a panel appearance.
https://twitter.com/LesleyAnnBrandt/status/1008845140591407109
Designer toy company DKE should start unveiling their San Diego Comic-Con exclusives any day now – but for now, here's a look at an upcoming SDCC exclusive The Simpsons piece by Two Rad Toys.
https://www.instagram.com/p/BkFsfHZl5vu/?taken-by=dketoys
Creator of the fierest warrior around, Battlepug's Mike Norton, announced on Twitter that he will be at Comic-Con this year. Pug fans rejoice!
Welp. Guess I'm going to #SDCC this year.

— Mike is @miketron2000 on Instagram (@themikenorton) June 18, 2018
Our friends at Ninjabot: The Art of Arnel Baluyot have been busy prepping for San Diego Comic-Con this year. As previously announced, they'll have free, collectible Black Panther vinyl die-cut stickers every day during the convention (while supplies last!) at Small Press L-08 – and they gave a peek of the packaging.
Packaging for the Free Daily Exclusive stickers at #SDCC are here! Stop by Small Press L-08 to get yours!! pic.twitter.com/bLpRl4PeQ6

— Arnel Baluyot (@theninjabot) June 18, 2018
Artist Alex Pardee revealed that his Candemons series will be back at SDCC this year.
https://www.instagram.com/p/BkBXi6jhCuZ/?tagged=sdcc
The Eisner-nominated artist Sara Richard has good news for fans of her work: She's now accepting pre-show commissions for both San Diego Comic-Con and BronyCon. Spaces are limited, so make sure you e-mail her at SaraRichardArt@gmail.com to get on this year's list.
https://www.instagram.com/p/BkByx7GnC39/?tagged=sdcc
The Tick writer Jeff McClelland gave fans their first look at New England Comics' San Diego Comic-Con exclusive edition of The Tick. The exclusive issue features a cover by Ben Edlund and Ian Nichols.
Hey folks! @NEcomics just revealed their 2018 #ComicCon exclusive issue of #TheTick! Check out that cover by @ben_edlund and @IanCNichols! Available next month at #SDCC! pic.twitter.com/UBKD0Tzx6Z

— Jeff McClelland (@JeffMcClelland) June 18, 2018
Mary Bellamy, creator of the Zorilita series, posted a warning to Twitter to those wishing to buy her Dvorak. Supplies are running out, and she expects to sell out of them at SDCC this year, so if you really want one, find her quickly.
Another Dvorak found a home! Remember these are the last few dolls of him I have. I'm thinking he'll sell out at SDCC! SO get one now! $20 via PayPal USA only including shipping. zorilita at gmail dot com. pic.twitter.com/HzVJjsvs8H

— Mary Bellamy Artist for Punkdroid.EU (@Zorilita) June 18, 2018
Brooklynne James, one of the people behind the film Morning Commute, was excited to post that the film has been entered into the CCI International Film Festival this year.
Beyond thrilled to officially announce I will be joining the screening and Q&A panel for "Morning Commute" at Comic-Con SD!!! Program schedule coming soon! @Comic_Con 🎬🙏❤️🎥 #BrooklynneJames #SDCC #CCIIFF #MorningCommute #AaronVanek pic.twitter.com/CMn4UZrVjl

— Brooklynne James (@BrooklynneJames) June 18, 2018
Diamond Comic Distributors revealed the free SDCC 2018 swag they plan to offer retailers at their annual Friday night SDCC event. According to Bleeding Cool, retailers will get a Jim Lee black and white reduced Batman #50 cover, a Hall of Justice "Staff" t-shirt, and a black and white variant cover of Unicron #1.
Anything we missed? Let us know in the comments, drop us a line, or tweet us at @SD_Comic_Con.