We here at the SDCC Unofficial Blog are working round the clock to bring you the hottest San Diego Comic-Con news. OK, this time of year it definitely seems that way, but we're working hard to bring you great news from Ash Evans, Camilla d'Errico, and lots of adorable plushies and pins.
Here's a look at what you might have missed:
And while you're there, check out this amazing variant on the Thrawn: Alliances cover art, which is going to be the cover for the San Diego Comic Con Exclusive edition of the book. #SDCC #StarWars

Long time no see, Anakin! pic.twitter.com/PaPZE9Moeo

— Star Wars Books (@DelReyStarWars) June 25, 2018
Stubbins has created two San Diego Comic-Con exclusives this year, which will only be available for purchase at the Yes Anime Booth #4729. To commemorate the 30th anniversary of Street Fighter, you can pick up a plush Sakura in her fierce but fashionable school uniform, and the alternative of classic character Blanka in his popular Blanka-Chan costume. They'll retail for $19.99 each.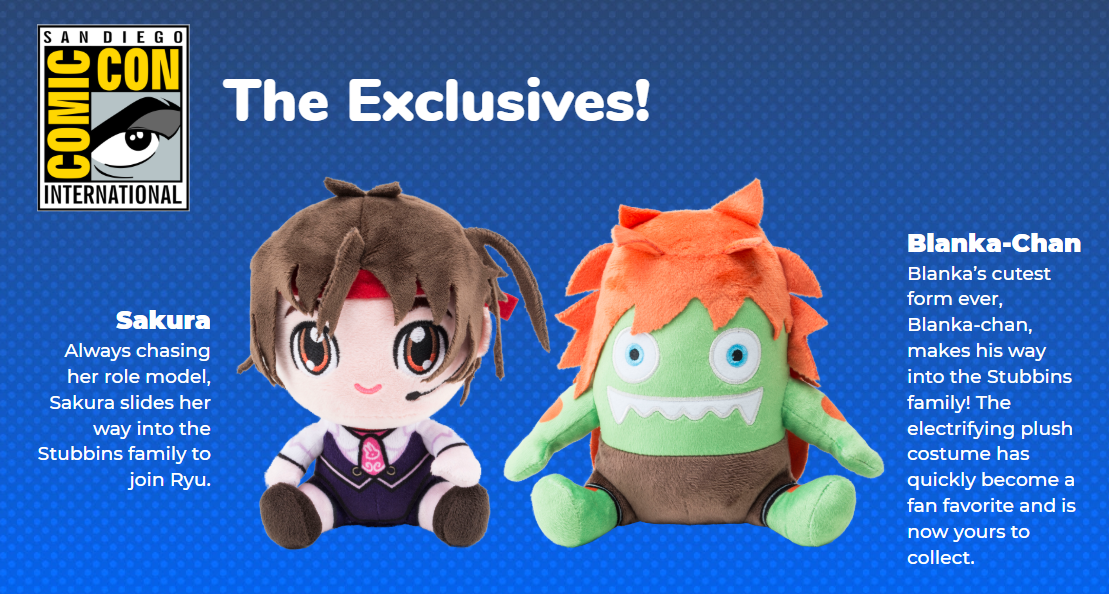 But there's more good news from Stubbins, as they also revealed that Yoshinoro Ono — the executive producer of Street Fighter — will be at the Yes Anime Booth #4729 to sign autographs on Thursday, July 19 from 11AM-12PM and then again on Friday, July 20 from 11AM-12PM.
https://www.instagram.com/p/BkdfFA-j-u9/?tagged=sdcc2018
https://www.instagram.com/p/Bkaj3E4l2Ua/
Another artist whose art will be auctioned at Gabe Eltaeb's Comic Kickoff V is Chad Cavanaugh. Look for these prints at the annual charity auction.
https://www.instagram.com/p/BkYwtexnwgp/
https://www.instagram.com/p/BkaewcTnesd/
https://www.instagram.com/p/BkawKVSn_f8/
Artist Alex Kotkin took to Instagram to post his Rick and Morty #39 variant cover he'll have with him at SDCC this year.
https://www.instagram.com/p/Bka8tnrHo54/
Excited to be back moderating the #Supernatural panel at #SDCC2018 with my partner in crime @dicksp8jr. #HallH #Chuck #Gabriel @cw_spn https://t.co/NIThUTExyT

— Rob Benedict (@RobBenedict) June 25, 2018
Did you forget to pack that backpack we suggested to you? Hyperactive Monkey, along with Jansport, has you covered with their SDCC exclusive backpack with waistpack. Head over to Booth #5640 to be the coolest kid at school this year.
https://www.instagram.com/p/BkPDM3rl8cM/
By the power of Grayskull! Camilla d'Errico's Bee-Ra pays homage to the classic 80's cartoons we grew up racing home from school every day to watch. Now, we're racing to Booth #4723 for this SDCC beauty.
Bee-Ra! I'm kicking things into overdrive getting ready for #sdcc2018 with these parody bees! I love 80's cartoons & #SheRa was my fav growing up! She's the fuzziest #princessofpower ever!  I can't believe this is my 20th year! Swing by booth 4723 and say hi! pic.twitter.com/loRCme2szy

— helmetgirl (@Helmetgirl) June 25, 2018
All hail the Kaiju King! Look for this most regal of Kaijus at BeeFy & Co.'s Booth #5051 in the Exhibit Hall at SDCC this year.
https://www.instagram.com/p/BkdAH5cFhcf/
https://twitter.com/ThePhoenixx/status/1011281108426686464
https://twitter.com/ThePhoenixx/status/1011242731082059776
https://www.instagram.com/p/BkdB-_qnfxX/
Issue 14 of AoMM makes its #comiccon debut in just a few weeks! Small Press L-09. HangingChad Ent. Will have all our trades, floppies, plushes, prints, exclusives and more at #SDCC #SDCC2018 #CCI pic.twitter.com/yAZ7j9gDWv

— J. Lynn Warner (@josh_L_warner) June 25, 2018
Anything we missed? Let us know in the comments, drop us a line, or tweet us at @SD_Comic_Con.