Acme Archives — the official licensee for original and fine art reproductions for so many of your favorite pieces of pop culture — are returning to San Diego Comic-Con this year, at Booth #5629. They'll have exclusive artwork for Bob's Burgers, The Simpsons, Star Wars, Indiana Jones, and The X-Files — and they'll also have artists on hand all week to sign at their booth. You can find the full signing schedule at the bottom of this post.
To ensure you can get your hands on these awesome prints, Acme Archives is opening up pre-orders beginning today, June 25, at 12PM PT – July 12 at 12PM PT. Prints pre-ordered during this time must be picked up at Acme Archives Booth #5629, and you'll need to bring a copy of your order when picking up. If someone else will be picking up for you, please put that person's name in the notes when checking out.
A limited number of prints will be set aside for a non-attendee presale on Wednesday, July 18 at 6PM.
Here's a look at their San Diego Comic-Con 2018 exclusives:
[UPDATE July 5] 
Eyes on the Prize by Christopher Clark
Edition size: 30 piece hand-signed canvas; plus paper edition
Price: $50 for paper, $395 for canvas
Dimensions: 19″x13″ (paper) or 25″x20″ (canvas)
Pre-order the paper or the canvas editions now for in-booth pick-up.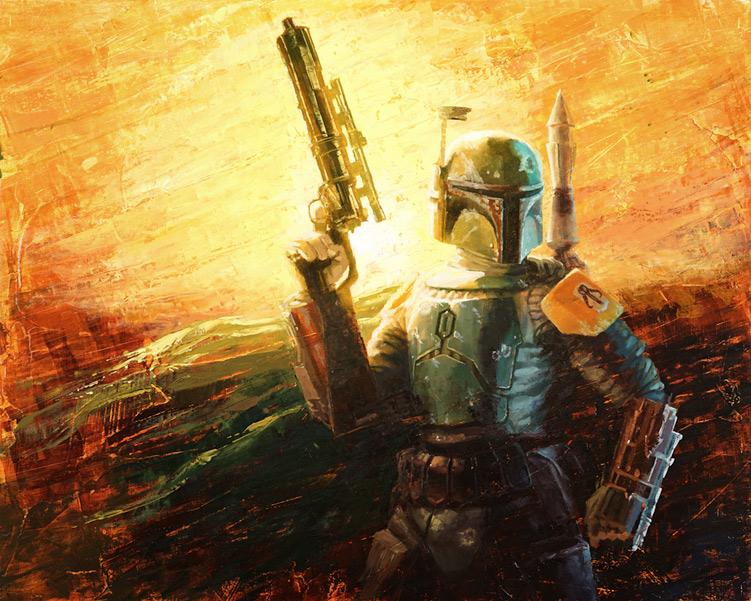 [PREVIOUS]
Bob's Burgers Burgerboss by Florey
Edition size: 250 piece Silkscreen
Price: $50
Dimensions: 18″ x 24″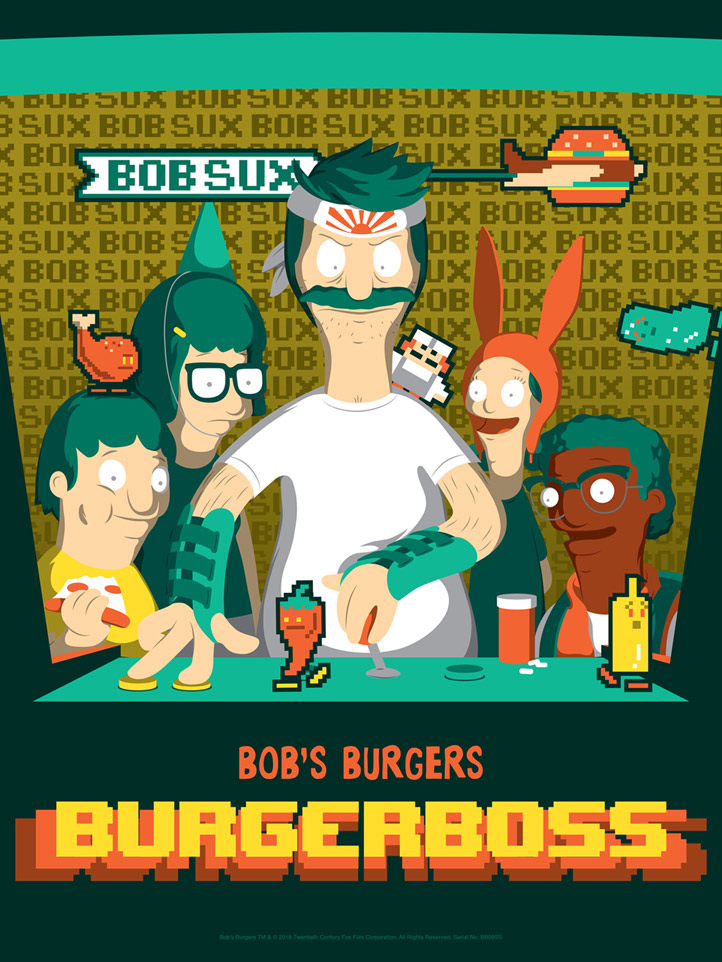 The Simpsons Globex Corporation by Dave Perillo
Edition size: 250 Silkscreen
Price: $50
Dimensions: 12″ x 24″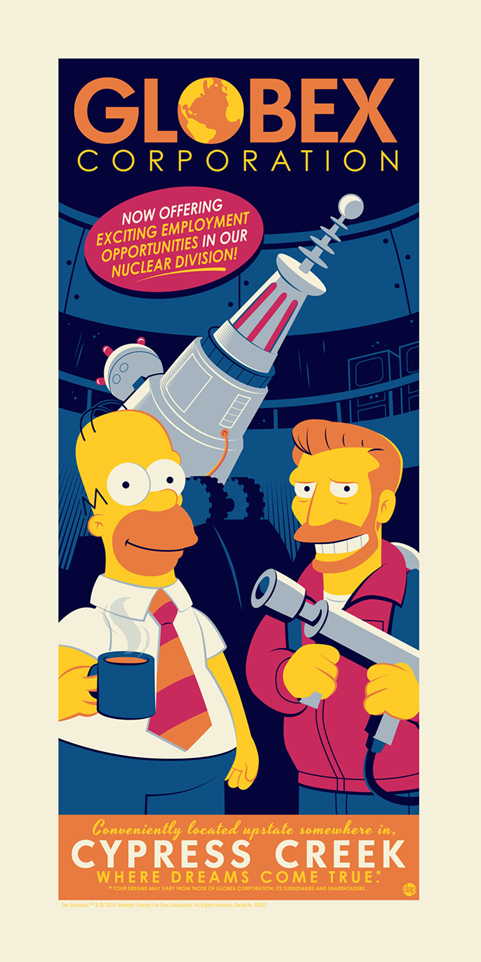 The X-Files Quagmire by J.J. Lendl
Edition size: 295 piece Lithograph
Price: $40
Dimensions: 18″ x 24″
Artist will be signing at booth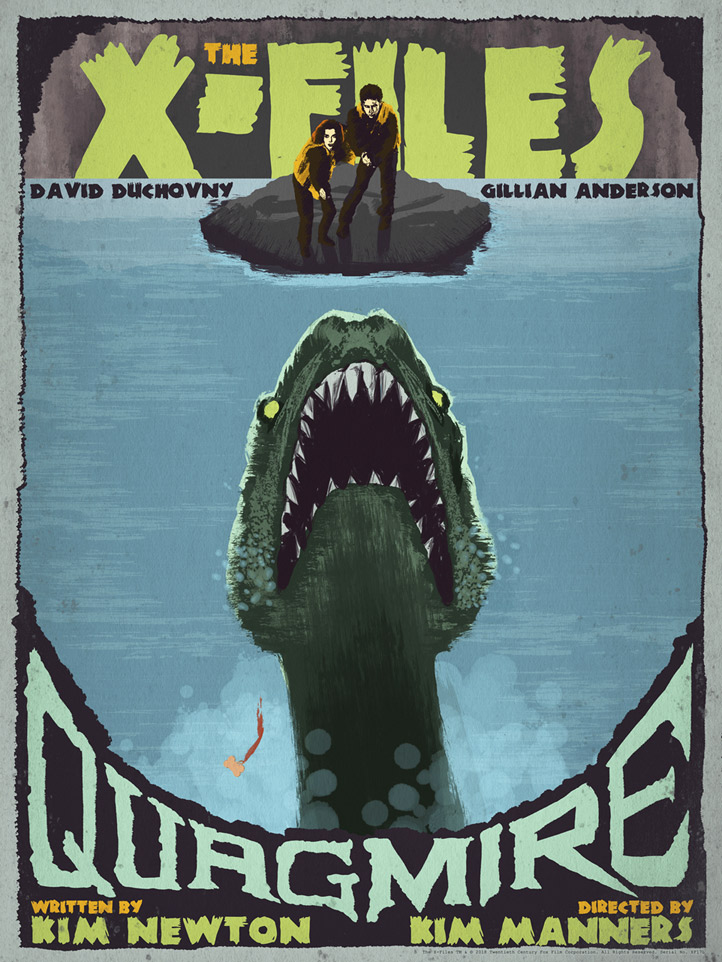 Star Wars Solo Escape by Andy Fairhurst
Edition size: 250 Lithograph
Price: $40
Dimensions:18″ x 24″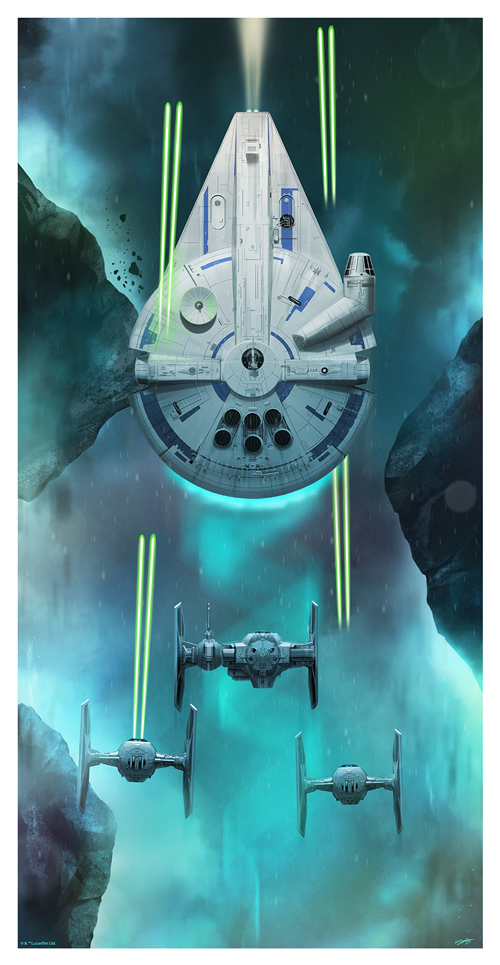 Star Wars Darkness Shines (Variant) by Steve Thomas
Edition size: 95 piece Silkscreen
Price: $65
Dimensions: 24″ x 36″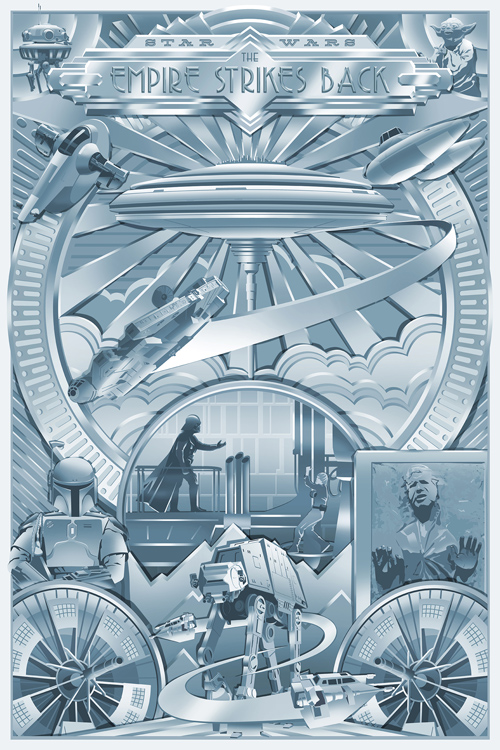 Indiana Jones Portrait of Adventure by Masey
Edition size: 50 piece Canvas, 30 piece Paper Giclee
Price: $185 Canvas, $50 Paper Giclee
Dimensions: Canvas: TBD, Paper: 19″ x 13″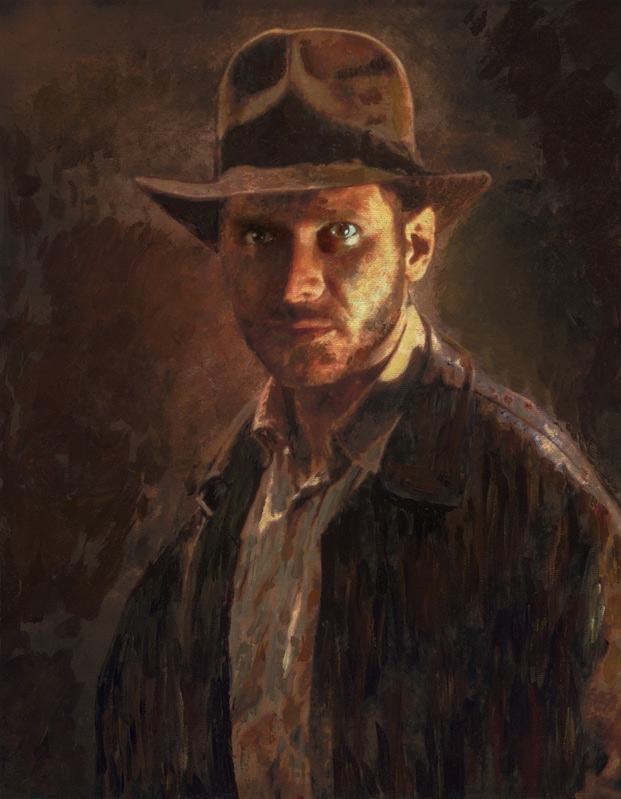 Additionally, Acme Archives will be hosting signings all week, with JJ Lendl, Brian Miller, Cliff Cramp, Jeremy Saliba, and Christopher Clark. Here's a look at the signing schedule:
Wednesday, July 18
6PM – 9PM: JJ Lendl (Signing Area A)
6PM – 9PM: Christopher Clark (Signing Area C)
Thursday, July 19
10AM – 11:30AM: Brian Miller (Signing Area A)
10AM – 1PM: Christopher Clark (Signing Area C)
12PM – 2PM: JJ Lendl (Signing Area A)
3PM – 7PM: Christopher Clark (Signing Area C)
3:30PM – 7PM JJ Lendl (signing Area A)
Friday, July 20
10AM – 12:30PM: Jeremy Saliba (Signing Area A)
11AM – 2PM: Christopher Clark (Signing Area C)
1PM – 2:30PM: Brian Miller (Signing Area A)
3PM – 5PM: JJ Lendl (Signing Area C)
3PM – 6:30PM: Cliff Cramp (Signing Area A)
5:30PM – 7PM: Christopher Clark (Signing Area C)
Saturday, July 21
10AM – 11:45AM: Cliff Cramp (Signing Area A)
10AM – 12PM: JJ Lendl (Signing Area C)
12PM – 1:45PM: JJ Lendl (Signing Area A)
12PM – 1:45PM: Christopher Clark (Signing Area C)
2PM – 4:45PM: Cliff Cramp (Signing Area A)
2PM – 4PM: Brian Miller (Signing Area C)
4PM – 7PM: Christopher Clark (Signing Area C)
5PM – 7PM: Jeremy Saliba (Signing Area A)
Sunday, July 22
10AM – 12:30PM: JJ Lendl (Signing Area A)
12PM – 4PM: Jeremy Saliba (Signing Area C)
1PM – 3PM: Brian Miller (Signing Area A)
3:30PM – 5PM: JJ Lendl (Signing Area A)