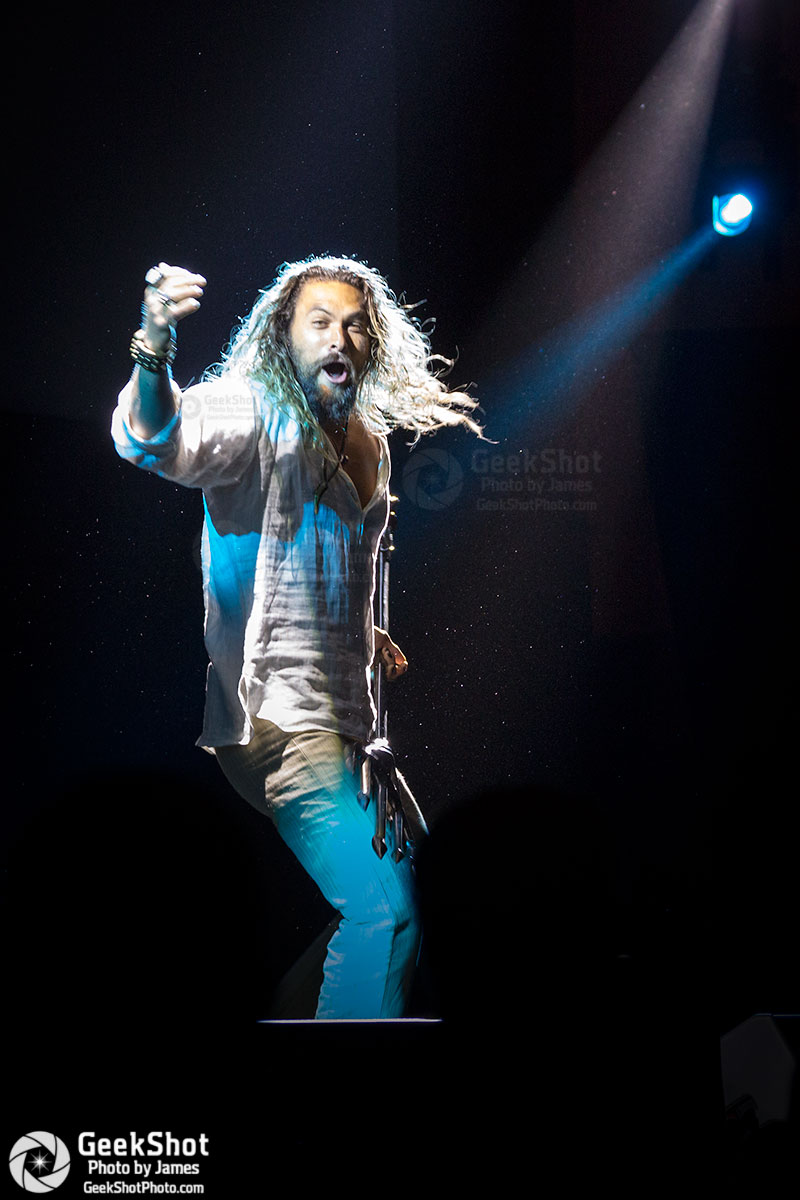 It's less than two weeks away from Comic-Con, and CCI is releasing the programming schedule for Comic-Con 2018 in its annual fashion. We'll be bringing you the highlights of each day as they're announced.
We'll also be discussing our thoughts on this year's lineup, including our top picks, in a special series of live podcasts this weekend. The first of which covered Preview Night, Thursday's and Friday's lineup, and the second segment — in which we break down Saturday and Sunday — will be on Sunday, July 8 at 3PM PT / 6PM ET.
With that said, let's dive right into Saturday.
Hall H has been the biggest question mark, and now we know how it's all going to shake out. Kind of, anyway. Warner Bros. Pictures will delight fans with Aquaman, as well as presumably Shazam!, Godzilla, likely Fantastic Beasts and Where to Find Them: The Crimes of Grindelwald, and more during a two-hour panel block that kicks off at 10:30AM. It's still the dreaded "TBA" for now though.
In a similar "we know more than we did yesterday, but not nearly enough" — there will also be a Deadpool 2 panel at 5:15pM. Um, I'm sorry, what? The panel description warns attendees to "prepare for the ultimate superhero landing as Deadpool and pals drop into Hall H for an hour of maximum effort", so is this basically a do-over after everyone complained that Deadpool 2 wasn't in Hall H last year, but now after the movie has already hit theatres? Is Ryan Reynolds coming? WHAT IS HAPPENING? There's an uncut screening of Deadpool 2 in the Horton Grand at 10PM that night, which suggests "some surprises", so maybe the cast is coming to promote that.
Chugging right along in that room, there's also the annual Entertainment Weekly's Women Who Kick Ass panel, which this year will be focused on Agents of S.H.I.E.L.D.'S Chloe Bennett, Watchmen's Regina King, Riverdale's Camila Mendes,  The Darkest Mind's Amandla Stenberg, and, of course, Doctor Who's Jodie Whitakker. Then there's also Animation Show of Shows, and Cut Throat City, on a panel with RZA, Wesley Snipes, and more, and An Evening with Kevin Smith.
Now that we've gotten the movies out of the way, let's focus on the only thing that really matters: The Good Place is returning! NBC clearly read our Dream Diaries, as we're getting Ted Danson, Kristen Bell, William Jackson Harper, Jameela Jamil, D'Arcy Carden, and Manny Jacinto on an 11AM panel in the Indigo Ballroom.
Moving right along, over in Ballroom 20, Black Lightning kicks the day off at 11AM, followed by the annual Fox Animation block at 12PM panel for The Simpsons and a 1PM split panel for Family Guy and American Dad!. Then it's time to turn your attention to superheroes, with back-to-back panels for The Gifted, Supergirl, Arrow, DC's Legends of Tomorrow, and The Flash. In Indigo, it's another day of awesome TV, with Steven Universe, Krypton, The Orville, The Magicians, and more. There's even your first look at new series Manifest, Legacies, and Deadly Class — as well as the annual TV Guide Fan Favorites, which offers you a chance to see many of your favorite TV cast on panels (plus, your only chance to see some of the cast of Lucifer, Gotham, and others). At 8PM, you've also got a whole lot of the cast of Twin Peaks, showing up just to reminisce with you.
Elsewhere in the convention center, there's Wynonna Earp in 6DE at 6:45PM, The Man in the High Castle at 6:45PM in Room 6A, Project Blue Book in 6A immediately after at 6:45PM, and Critical Role at 6:30PM in 6BCF. Plus, your first look at the Netflix animated series from Matt Groening, Disenchantment, in 6A; a look at how USA and Blumhouse are turning The Purge films into a new USA series with Jason Blum himself; and a sneak peek at the new season of Midnight, Texas in 6BCF.
For lovers of comics, it's another amazing day. The biggest news, of course, is that My Hero Academia creator Kohei Horikoshi will be making his North American appearance debut in 6A at 11:15AM, in what is surely too small of a room. Also in 6A, Marvel Editor-in-Chief C.B. Cebulski will be chatting with Skottie Young at 3PM. Back by popular demand, IDW president Greg Goldstein and Joe Jusko will discuss the incomparable works of Jack Kirby (plus, everyone in attendance gets a limited-edition print!) over in 24ABC at 11:30AM for Jack Kirby's Artwork Extraganza. Join Yoshitaka Amano for a look back at his storied career in 24ABC at 2:30, or fans of The Adventure Zone can get a look at the new graphic novel alongside Travis McElroy, Clint McElroy, and more in Room 28DE.
There are a few dozen other panels we could point you towards, including a panel all about the upcoming release of Batman: The Animated Series on Blu-ray (with Bruce Timm, Kevin Conroy, and more) in 6DE at 4:15PM, or what's sure to be an exciting conversation with artist Matt Taylor (who also illustrated the amazing Marvel cover for this year's San Diego Comic-Con souvenir book) with Mondo creative director Rob Jones. The legendary Mark Evanier returns with two of our favorite panels, back-to-back-awesomeness with "Quick Draw" at 11:45AM and "Cartoon Voices" at 1PM in Room 6BCF. Want something fun and off the beaten path? Check out "The Sneaky Tiki Freaky Geeky Ukulele Play and Sing-Along"  in Grand 9 at the Marriott Marquis (they'll give you a ukulele to try out for the duration of the panel!).
Lights herself will be on a panel in Room 26AB at 6:30PM.
You can view the full Saturday programming schedule on the MySched website.
What will you be lining up for on Saturday of Comic-Con? Let us know in the comments.