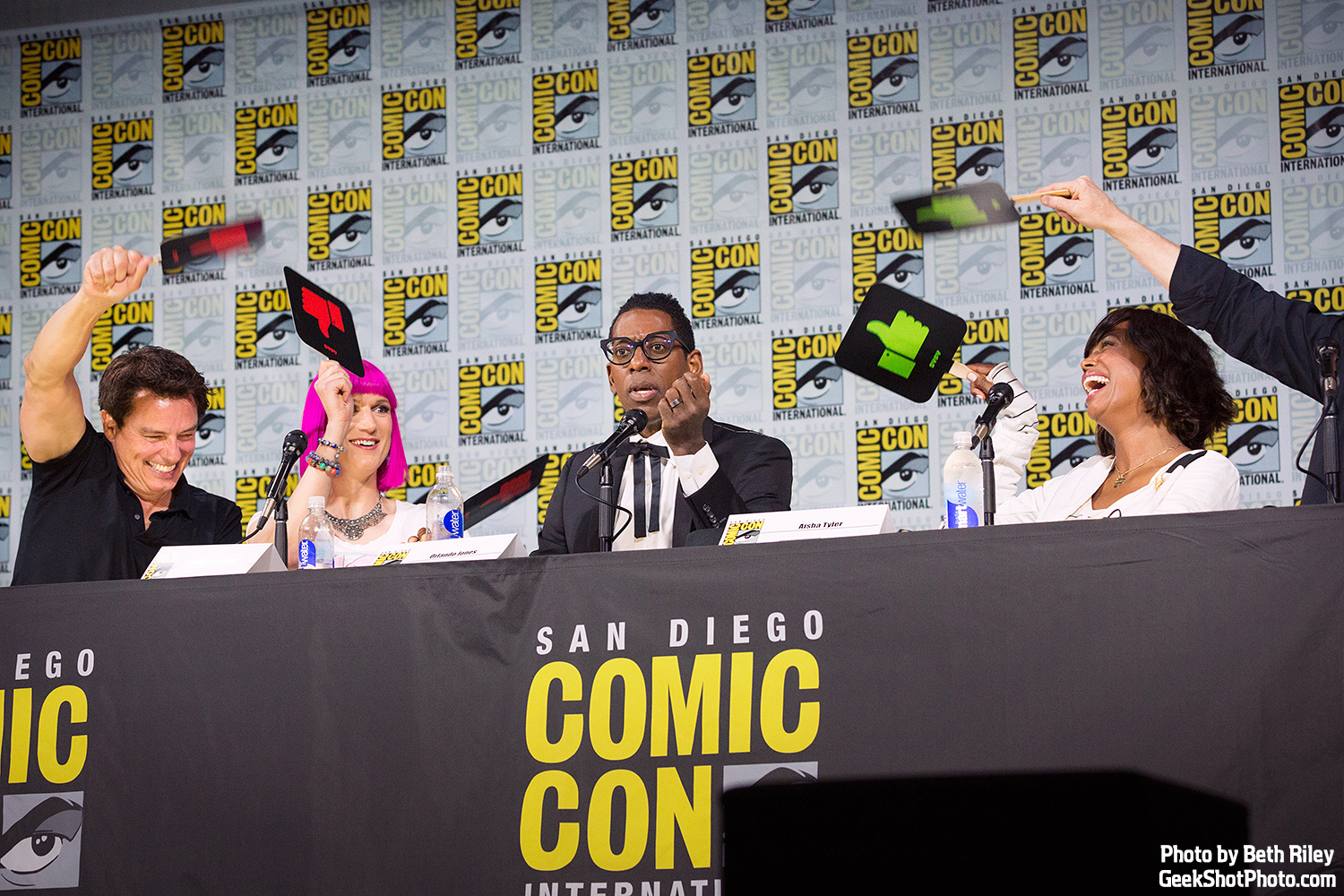 It's two weeks away from Comic-Con, and CCI is releasing the programming schedule for Comic-Con 2018 in its annual fashion. We'll be bringing you the highlights of each day as they're announced.
We'll also be discussing our thoughts on this year's lineup, including our top picks, in a special series of live podcasts this weekend. The first of which will cover Preview Night, Thursday's and Friday's lineup, and will be on Friday July 6 at 9:30PM ET/6:30PM PT.
Since we already know the Wednesday sneak peek pilot screening schedule, it's a simple choice: Catch some cool television pilot episodes, or fight the crowds on the exhibit floor for that must-have exclusive? Having said that, bring on Thursday!
20th Century Fox kicks off the day from 10:30AM-11:30AM, and we already know they'll be spending the majority of their time focusing on Shane Black's The Predator. There's also potential room for an X-Men: Dark Phoenix surprise, considering James McAvoy will already be in town, but it's far from confirmed. You'll have to stick around Hall H until 5:45PM to catch the next film, which is a look at Assassination Nation with the Russo Brothers.  That's basically it for movies for the day, with the rest of the Hall H Thursday programming taken over by a myriad of Doctor Who, upcoming Marvel Games, Dragon Ball Super, and then AMC's Better Call Saul makes its Comic-Con debut followed by the 10th anniversary of Breaking Bad. It might be light on movies, but it's not light on content.
Continuing on the TV side, which takes up a huge portion of the schedule, there's a million things we're pumped for. But first, NINE NINE! Brooklyn Nine Nine is indeed making its Comic-Con debut in the Indigo Ballroom at 7PM on Thursday. No cast is listed yet, but oh my god. You'll also find Netflix with two panels, including The Toys That Made Us at 1PM in Room 5AB, and Black Summer (the spin-off to SYFY's Z Nation) at 6PM in the Indigo Ballroom.
Then there's Charmed and Iron Fist (with special guests) in Ballroom 20, Siren and Nightflyers in the Indigo Ballroom, a 10th anniversary for Star Wars: The Clone Wars in 6BCF, and Crazy Ex-Girlfriend in 6A.
Into comics? There's a lot going on on Thursday, and it's all great. The Walking Dead's Robert Kirkman will be giving his mostly-annual Conversation in Room 6A at 3PM, and you can join Kevin Eastman to talk about the heroes in a half shell in Teenage Mutant Ninja Turtles for All at 11AM in Room 28DE (plus, trivia prizes!). The annual The Mark, Sergio, Stan, and Tom show returns with Sergio Aragonés, Mark Evanier, and Stan Sakai in Room 8,and in Room 9, IDW will be talking about Sonic the Hedgehog. We also recommend catching Dynamite Entertainment's 50 Years of Vampirella in Room 8 at 5:30PM.
There's also a spotlight on living legend Joe Jusko in Room 9 at 12PM, and a look at "the forgotten trio" of letterers, inkers, and colorists from Marvel, DC, IDW, Dark Horse, and more in Room 9 at 3PM. And, of course, the annual "How to Draw with Jim Lee" returns to Room 2 this year, for what's always an amazing opportunity to witness Lee at work.
There are plenty of other exciting things happening all day. Anything Goes with John Barrowman returns to the Indigo Ballroom and is always a fascinating and wild ride; there's a 2001: A Space Odyssey 50th Anniversary panel in Room 6A from the wonderful folks of Warner Bros. Home Entertainment; and a Behind the Music 10th Anniversary: Crime, Death and Recurrection panel featuring composers from some of the hottest TV shows around (and moderated by Jon Huertas and Sara Rue). You can also get your Pokemon GO fix in Ballroom 20. Want to relive your childhood? Make sure you check out "We Wrote Your Childhood" in 7AB, with writers from Hey Arnold!, Rugrats, Recess, Pepper Ann, and more.
While not Hall H, the Marvel Studios Visual Development team will be offering a look at never-before-seen concept art and more in Room 25ABC at 5PM. Also not to be missed is "The Great Debate" from SYFY in Ballroom 20, one of our highlights from 2017.
For something more serious, there's an "Art During the Holocaust" panel in Room 4.
You can view the full Thursday programming schedule on the MySched website.
What will you be lining up for on the first full day of Comic-Con? Let us know in the comments.