San Diego Comic-Con was filled to the brim this year with a lot of amazing things – including panels, exclusives, offsites, and so much more.
We're excited to launch our second annual The Shruggie Awards, which, despite the name, is not celebrating the "wtf-ness" of the convention (though there's plenty of that to go around as well!). No, these are the best of the best (and okay, one of the worst) things about the convention – and now, after letting you vote, we're excited to announce the winners!
The Best Panel at San Diego Comic-Con 2018:

Warner Bros. Pictures
With no Marvel in Hall H this year, it was Warner Bros. time to shine – and they really delivered. The studio returned to their usual Saturday Hall H home, where they brought attendees everything from Aquaman, The LEGO Movie 2, Fantastic Beasts and Where to Find Them, Shazam!, and even a "surprise" Gal Gadot, Chris Pine, and Patty Jenkins to present a look at Wonder Woman 1984. No studio brought more star power than Warner Bros. this year – so it's no surprise that WB ruled over all the panels this year.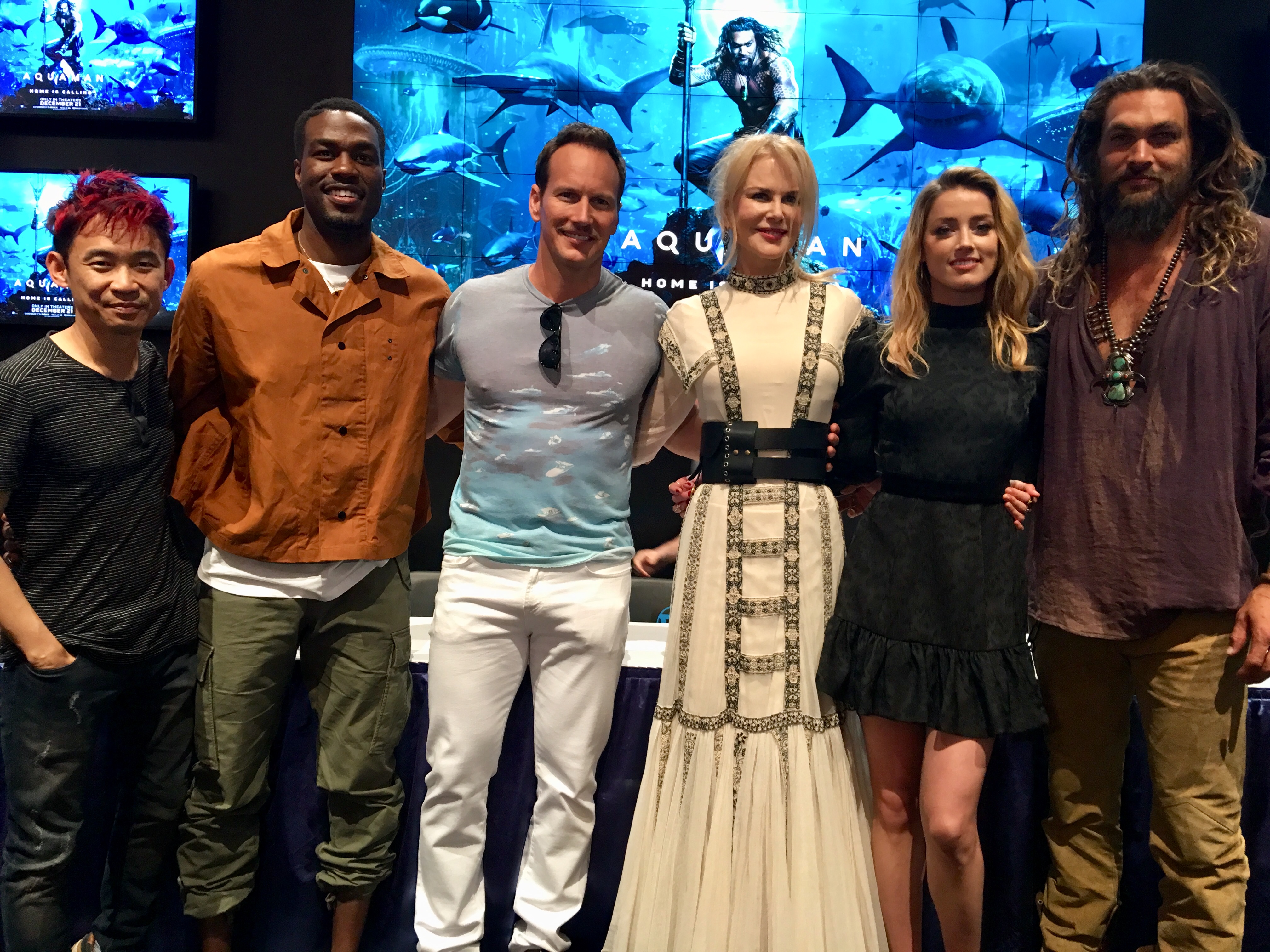 The Best Panelist at San Diego Comic-Con 2018: 

Ryan Reynolds
Deadpool 2 two months after it hit theatres was the panel that literally no one could have predicted – and yet, it was perfect. Ryan Reynolds was on hand to discuss the fans who helped make the first film a success – and the "corporate greed and a splash of destiny" that made the second film a reality. He was charming, he was witty, and he was appropriately raunchy – basically, he was Ryan Reynolds, and we loved it.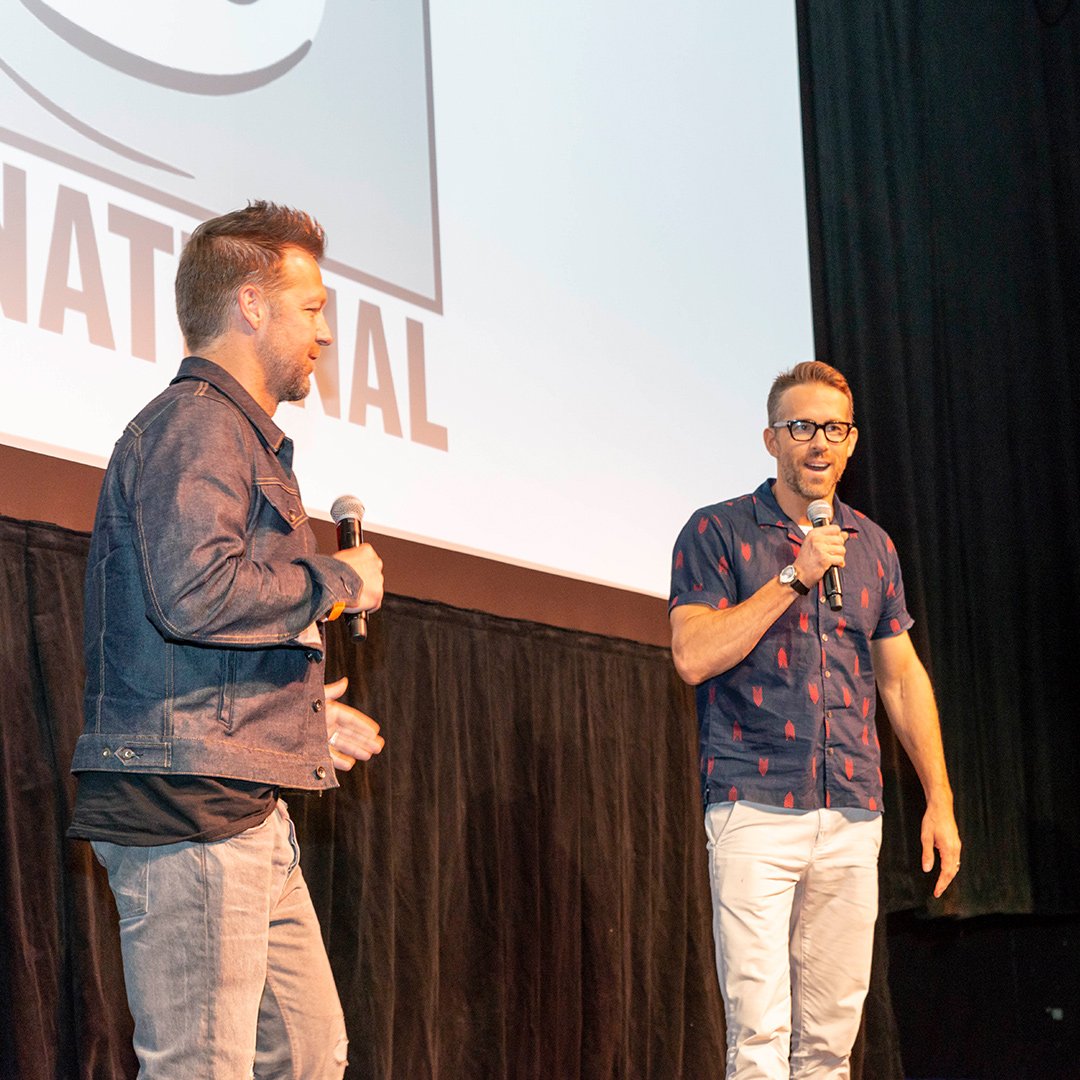 The Best Offsite at San Diego Comic-Con 2018:

The Good Place
In the closest vote of the Shruggie Awards ever, The Good Place neighborhood and The Good Plates takeover of the Tin Fish just barely eeked out a win – but it's a well-deserved win (and you can just how much we loved it over here). NBC had their strongest showing at San Diego Comic-Con ever, and we love that attendees got to step inside The Good Place for a fun, interactive, all-out-crazy activation. There was a shrimp carousel, a trolley problem, foam shrimp, improv actors hidden among you, a fun video with "Michael" and "Janet", and even a giant ladybug. We dare you to have left The Good Place without a smile on your face.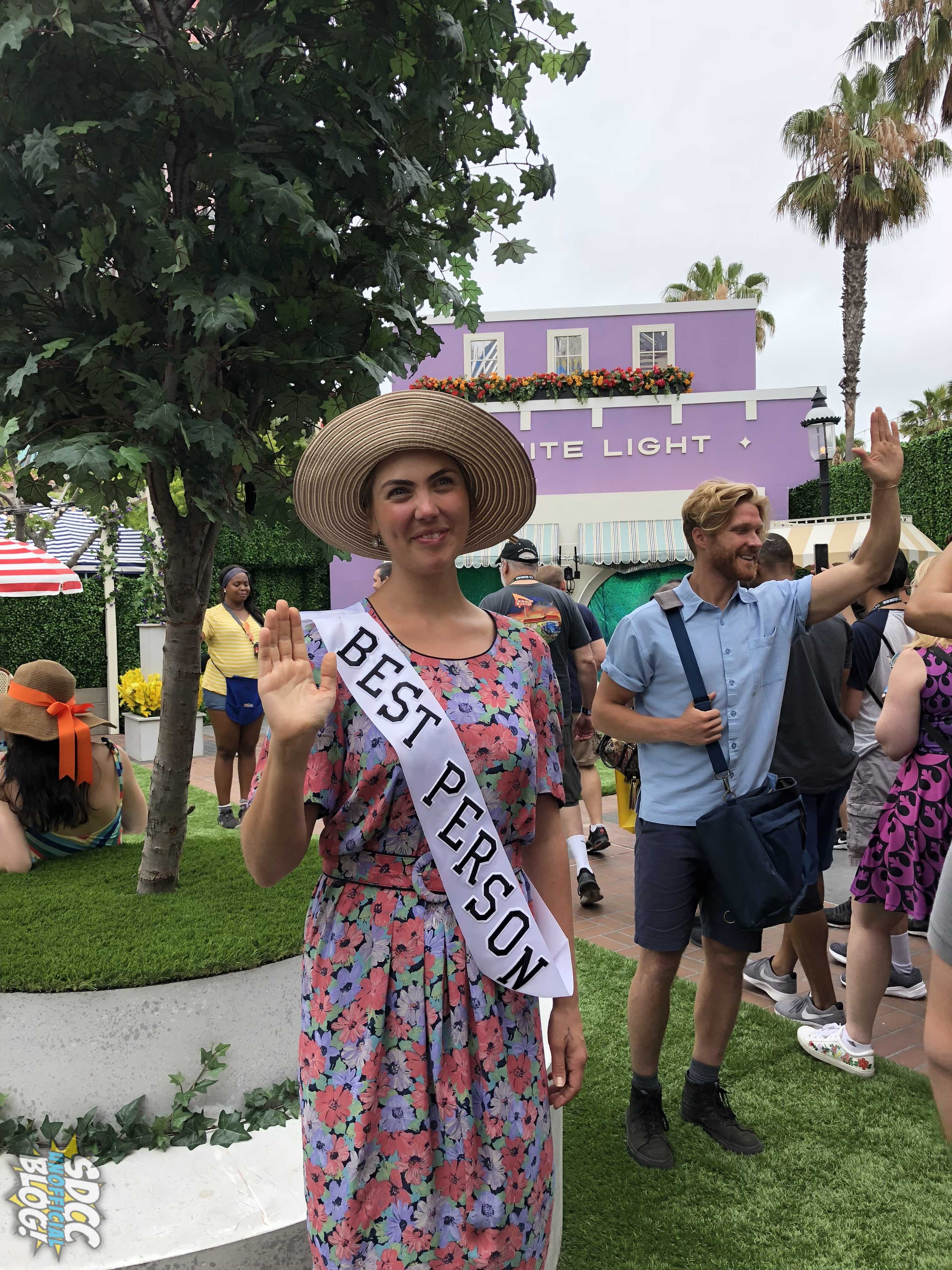 The Best Theming at San Diego Comic-Con 2018:

Deadpool's Super Duper Dance Party
Just as surprising as Deadpool 2 showing up at the convention, was the Deadpool's Super Duper Dance Party. The animatronic dance party featured not just the Merc with a Mouth – but also a back-up-band created of retired ShowBiz Pizza characters. We knew ahead of time that there would be an animatronic dance party with Deadpool, but no one quite prepared us for just how awesome it was going to be (or that they were going to sing Dolly Parton's 9 to 5?!). It was literally the coolest thing on the show floor for 2018.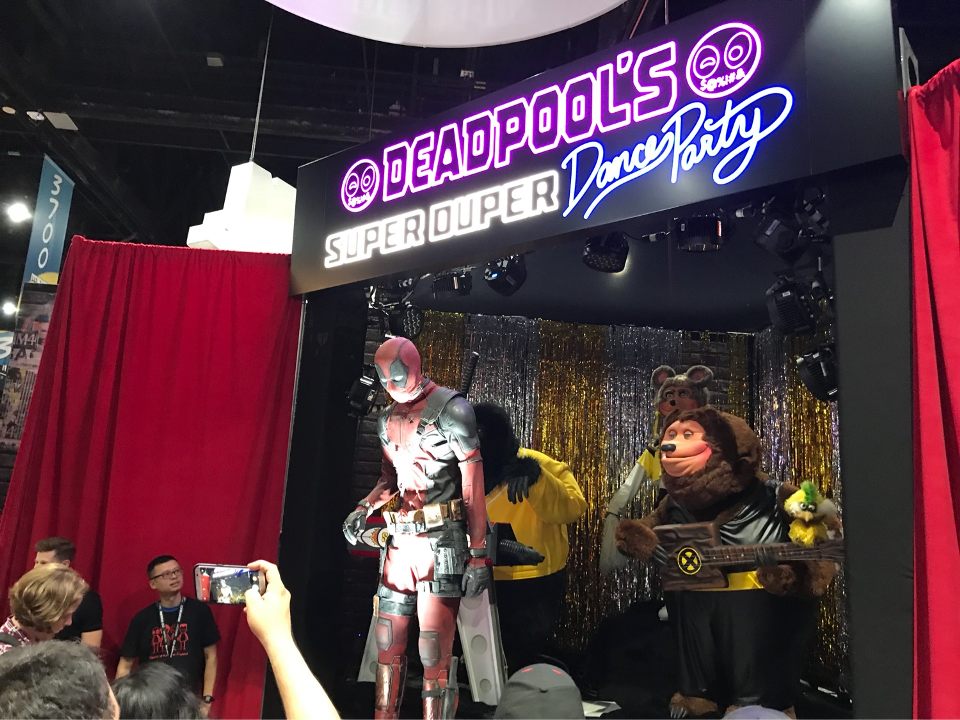 The Best Booth at San Diego Comic-Con 2018:

Toddland
Toddland proves that you don't need a Marvel-sized budget to have a big impact on the show floor. After doubling the size of their booth last year with both a Bob's Burgers restaurant and a Family Guy yard sale, this year they also added American Dad goodies – and preferential treatment for those who pre-ordered. The results all around were happier fans, another year of amazing exclusives, and a lot of smiles. This is a company that gets how both Comic-Con attendees and fans think, and we're all the better for it.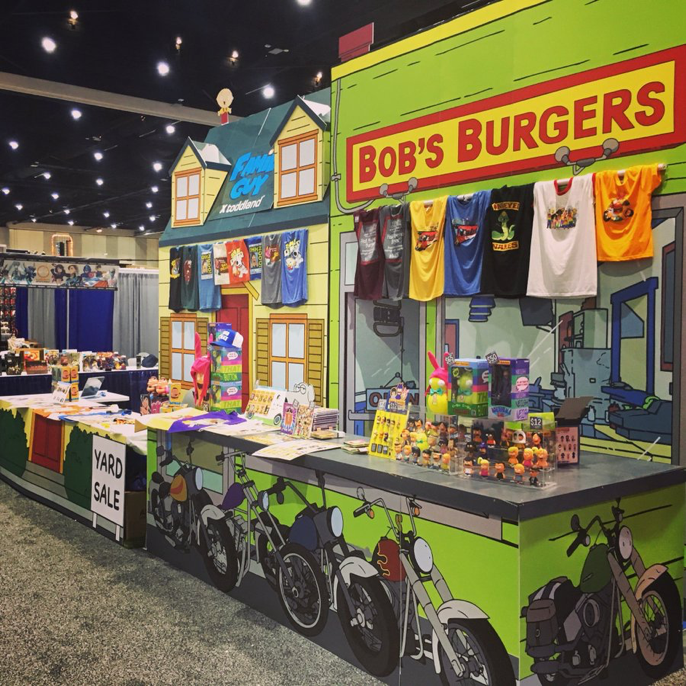 The Best Exclusive at San Diego Comic-Con 2018:

Funko Pop! (Any or All)
Is there any company that has more exclusives than Funko? But it's not just about quantity – the company also consistently releases the best, most sought after exclusives both on the show floor and off. Even with the new lottery system guaranteeing only select fans could access the booth, through their use of partnering with other companies for "shared" exclusives and also offering offsite opportunities to score Pop!s like at Conan – odds are high that you had at least one of their exclusive Pop!s on your must-buy list.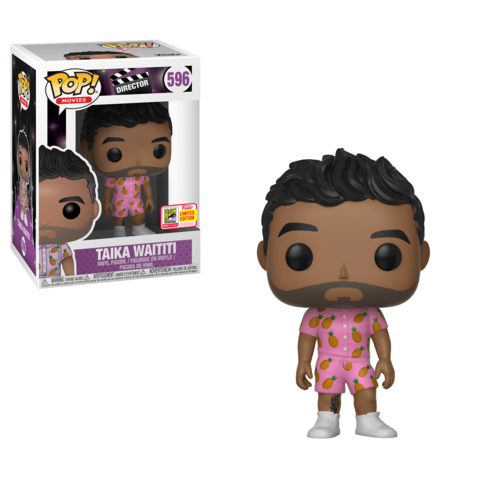 The Best Merchandise (Non-Exclusive) at San Diego Comic-Con 2018:

Something I Bought That Was Really Cool
San Diego Comic-Con isn't just about exclusives, no matter how much it can feel like that at times. No, there's an amazing collection of artists, creators, writers, and more all over the show floor – as well as companies offering some of the coolest merchandise this side of the galaxy. No matter what you bought, we're sure it was amazing, and we're probably jealous.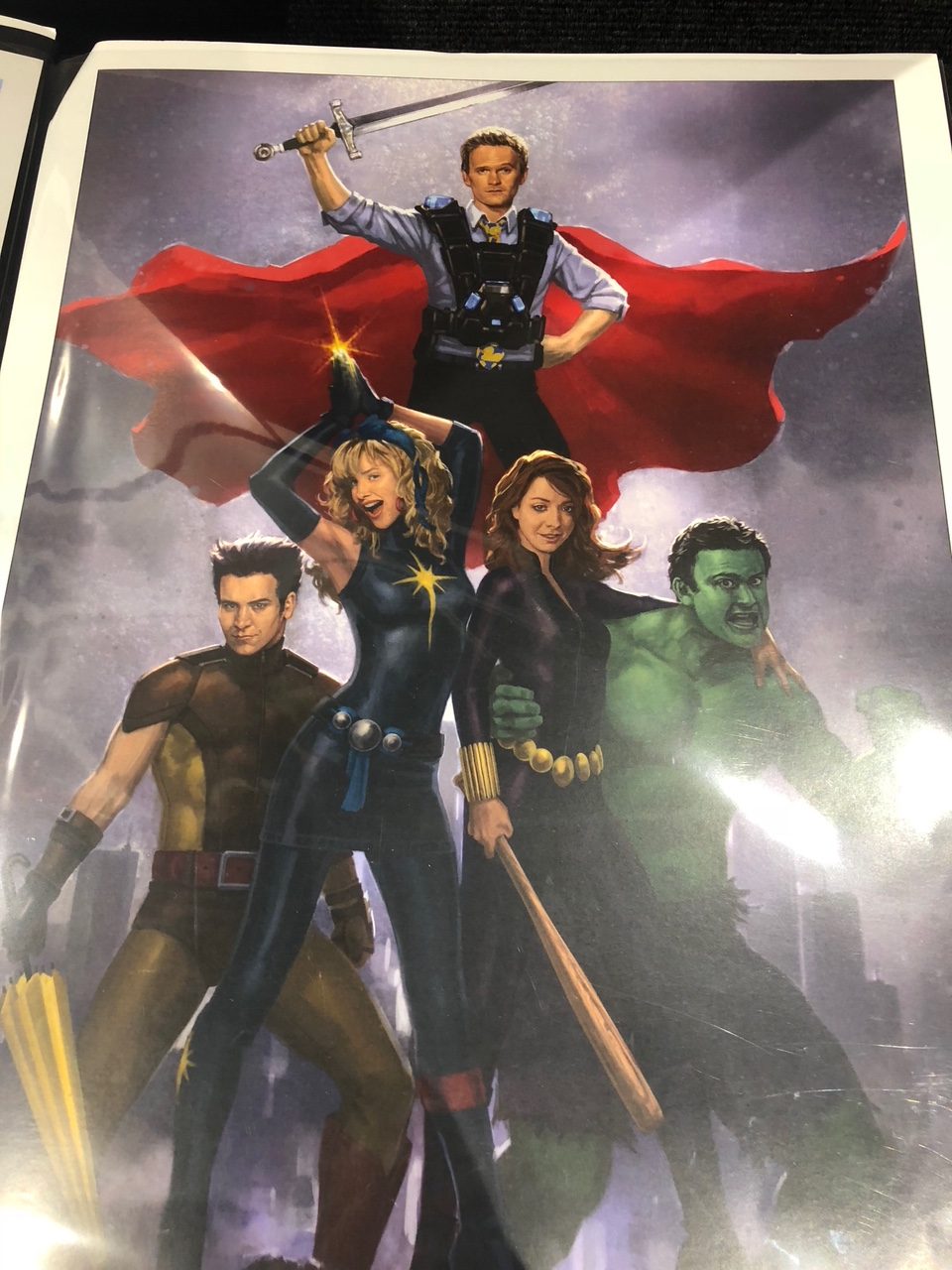 The Best Swag at San Diego Comic-Con 2018:

Deadpool Toilet Seat Covers
It really was all about Deadpool 2 this year – but the best of the best was, well, the Deadpool 2 toilet seat covers. In what might just be the coolest marketing move ever, 20th Century Fox decided to, er, sponsor the bathrooms at Comic-Con with some tongue-in-cheek toilet seat covers featuring Deadpool's face and the words "This is all FOX could afford!". Everywhere you went over the week, people were asking, "HAVE YOU BEEN TO THE BATHROOM YET?" – and it wasn't weird at all.
Deadpool 2 at #SDCC2018 pic.twitter.com/xmsQgbNJJm

— ManaByte Stands With 🇺🇦 (@ManaByte) July 18, 2018
The Most ¯\_(ツ)_/¯ Thing About San Diego Comic-Con 2018:

No Marvel or Game of Thrones
Of course, with every good thing, there must be a little bad – and this year's true ¯\_(ツ)_/¯ winner is the fact that Marvel Studios and Game of Thrones skipped out of the convention for 2018. While we knew months ahead of time that neither would have a presence at the convention, it did seem strange that everywhere you looked at Comic-Con this year, someone was celebrating Marvel Studios' 10th anniversary of the MCU – except for in Hall H. Still, even without two of the biggest draws of the convention, this year seemed exceptionally good – and honestly, without Marvel or Game of Thrones, Hall H was mostly a walk-in all week.
So really, ¯\_(ツ)_/¯