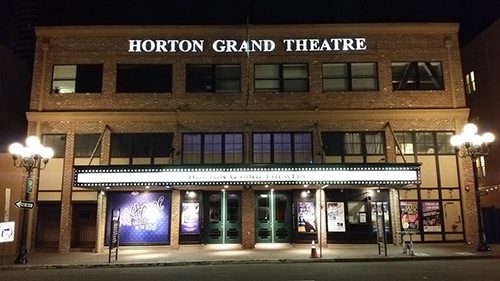 Just as in years past, Comic-Con International will be holding panels at the Horton Grand Theatre, a short walk from the convention center. Each of these panels is actually ticketed – meaning that on the morning of the panel you want to attend, you'll need to head upstairs to the Sails Pavilion for a drawing (in the past, they have stated these drawings start at 9AM, but could start much earlier than that) in the Autograph Area.
There's one exception to that 9AM start-time and location: Wednesday night's ticket drawing will start at 2PM. For Wednesday only, tickets will be available at Desk AA-9.
Assuming the process is identical to last year, each winner will receive entry for two – and any leftovers tickets will be available at the Horton Grand box office.
CCI also typically states that if you miss the initial drawing, you should check the ticket sign in the Autograph Area to see exactly how many standby tickets are still available at the Horton.
This year's line-up includes everything from a screening of Deadpool 2 uncut to Teen Titans Go! To the Movies ahead of its summer release, to the premiere episode of Wynonna Earp's new season.
Here's a look at the full schedule for The Horton Grand Theatre:
Wednesday, July 18
9:30PM: New Line Cinema's "ScareDiego" (drawing will begin at 2PM)
Thursday, July 19
12PM: "It's Dangerous to Go Alone!"
1:30PM: Once Upon a Forever
3PM: Fearless Women
4:30PM: Superheroes of Body Positivity: A Conversation with Steven Universe's Rebecca Sugar and Friends
Friday, July 20
12PM: Teen Titans Go! To the Movies
2PM: Teen Titans Go! To the Movies
5PM: IDW Entertainment & SYFY: Premiere Screening of Wynonna Earp, "Blood Red and Going Down"
7PM: Tim Burton's The Nightmare Before Christmas 25th Anniversary Screening
Saturday, July 21
1:30PM: Super Troopers 2 with Broken Lizard
3PM: Building the Studio of Tomorrow
7PM: Studio Ghibli My Neighbor Totoro Screening
10PM: Deadpool 2 Screening