ONE DAY MORE! And this is almost the end of the road for this year's edition of Under the Tents. At most, we'll have more late night edition later tonight – but until then, catch up on lots of last minute news from lots of big companies. Learn how you can score tickets to FANDOM's ultra-cool, ultra-fun, ultra-sold-out Thursday night bash! We tell you how to skip the line at the Legion FXhibition activation. Want a free Mystery Science Theater 3000 comic? We've got news on that too.
We can't wait to see you all at San Diego Comic-Con 2018. WE'RE SO CLOSE!
Here's a look at the news you might have missed:
Artist Jordan Monsell will have a cool San Diego Comic-Con exclusive this year, featuring the original The Avengers MCU team. The 13″x19″ piece is a limited run of 50 pieces, and will retail for $20. Head to Shadowcut Press at Small Press Q-13 to grab one.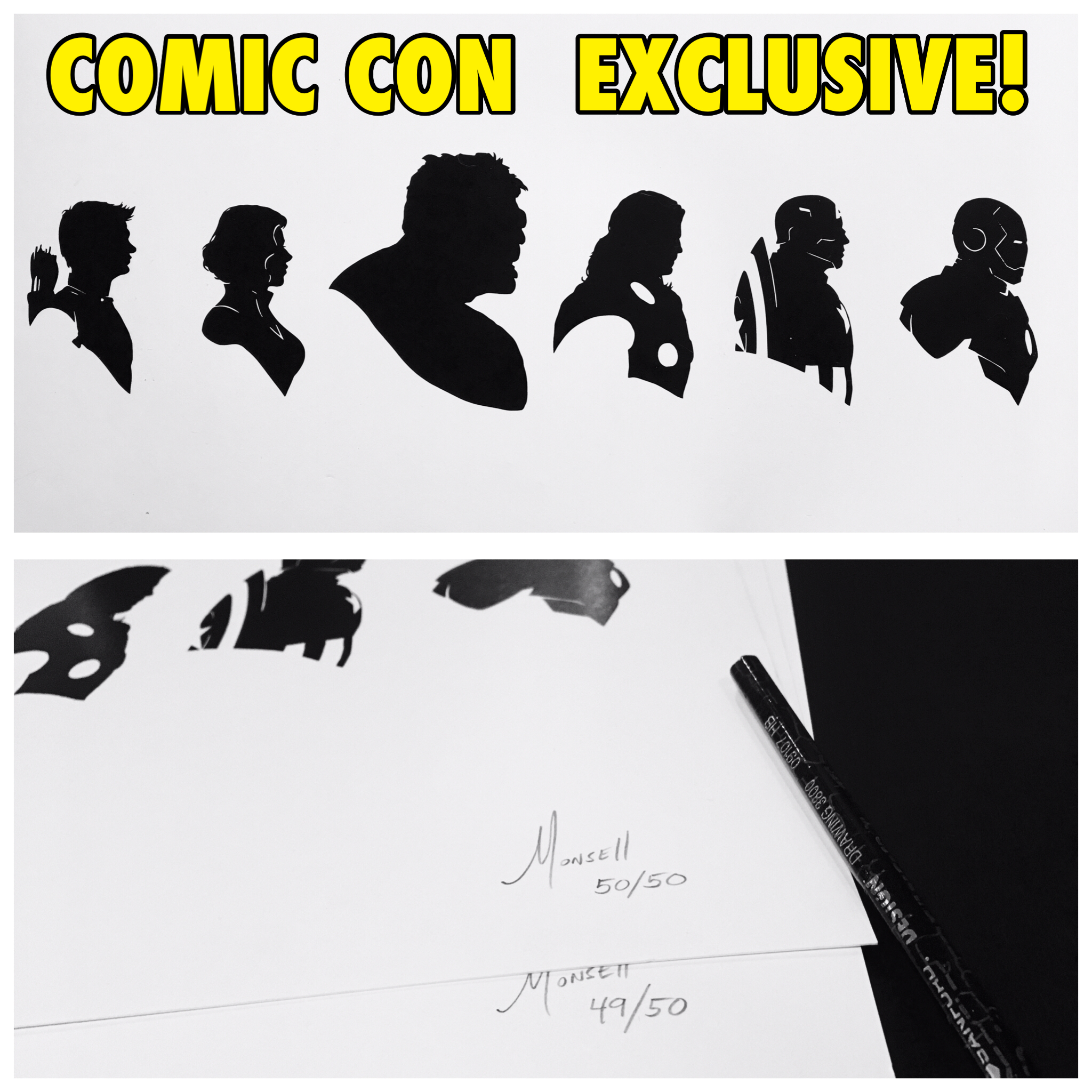 Artist Chris Gugliotti showed off some original watercolors he'll have available at Artists Alley BB-15. You can stop by all week long to commission one of your own.
https://www.instagram.com/p/BlRfK5rF5PD/
You can catch artist Josh Shalek at Table O-06 in Small Press, here he'll have his new Dinosaurs in Space coloring book. RAWR!
https://www.instagram.com/p/BlRf270Bo-4/
Stop by Booth #1535 to grab these 8″x10″ prints from Night Cake Press, which are limited to 100 each per color.
https://www.instagram.com/p/BlRfiENnPSq/?tagged=sdcc
https://www.instagram.com/p/BlRaE98Hocu/?tagged=sdcc
Professional cartoonist Ambrose Quintanilla IV will be participating in the Cartoon Art Museum's Sketch-A-Thon! Head over Thursday 5PM-7PM or Friday 6PM-7PM to catch him, or stop by all week to find other amazing artists.
https://www.instagram.com/p/BlRYzeDgxao/?taken-by=ambroseiv
Gourmet food truck Eat Your Heart Out is heading to San Diego Comic-Con from 1PM-8PM daily from Thursday-Sunday. We're guessing they'll be in The Experience.
https://www.instagram.com/p/BlRToM3HUB0/?tagged=sdcc
Arch Enemy will have only 150 of their San Diego Comic-Con exclusive packs available at the con. Swing by Booth #501 to pick yours up.
https://www.instagram.com/p/BlQ2aLbg5T2/?tagged=sdcc
SYFY gave fans their first look at a brand new Mystery Science Theater 3000 ashcan comic book. The 9-page edition will be available for free at Dark Horse's booth.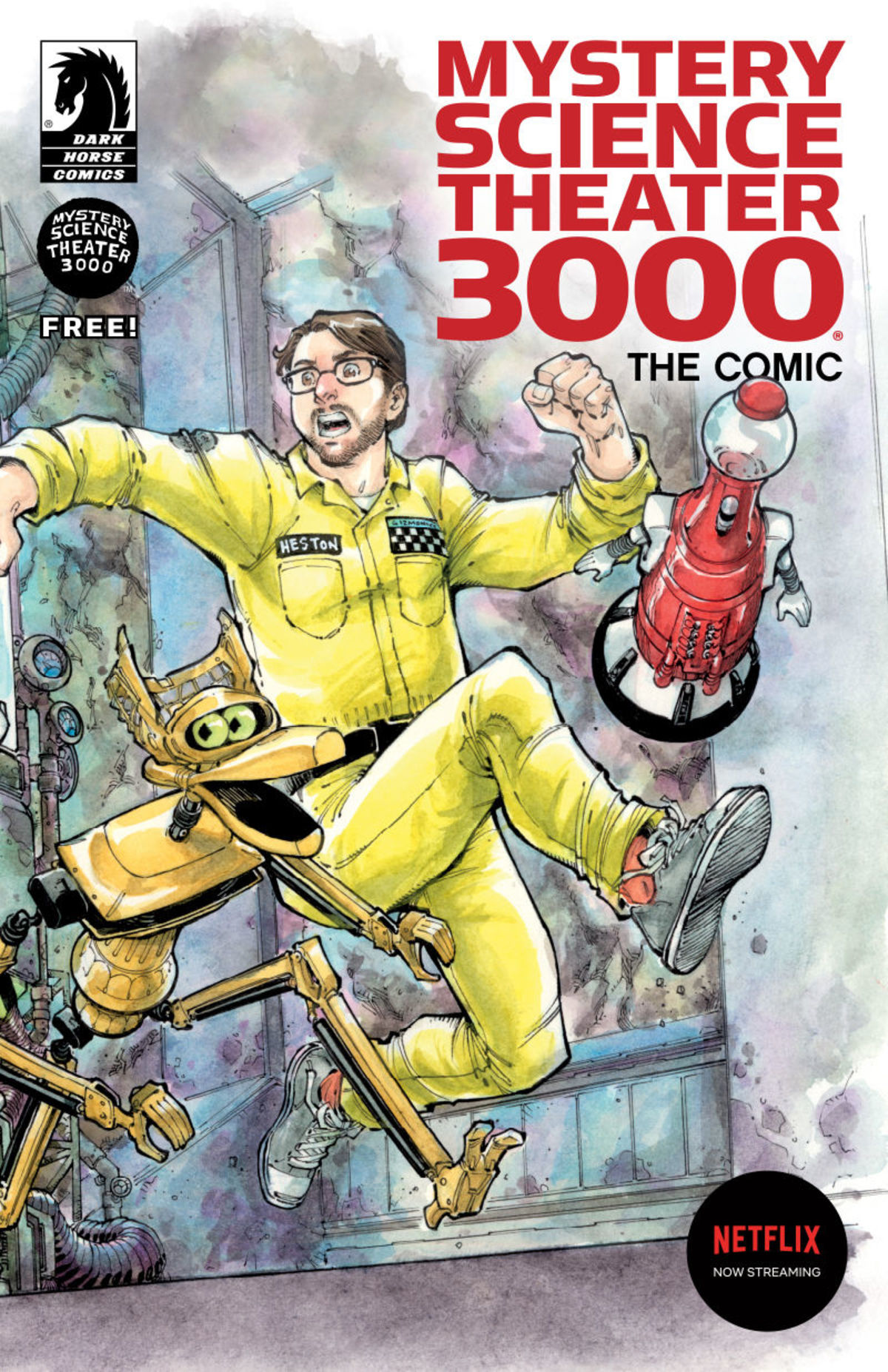 And speaking of SYFY, they also gave a little more information about the Mystery Drops merch they'll be offering daily at 9AM at the New Children's Museum. SYFY has partnered with Jock, Babs Tarr, Kim Jung Gi, BAIT, and In4mation to create the mystery items – which is a pretty stellar line-up.
We partnered with @jock4twenty, @babbsdraws, & @KimJungGiUS to create exclusive #SDCC merch for @BaitMeCom & @In4mation__. Get yours at The New Children's Museum starting Thursday, 7/19. Items are first come, first served. The line starts @ 9AM PT & Mystery Drops begin @ 10AM PT. pic.twitter.com/oFADC7oU4x

— SYFY (@SYFY) July 16, 2018
Thanos is just about to magic all of the people back to San Diego Comic-Con, so it's only fitting that LEGO has created an eight and half foot tall iteration of him. Created out of 91,350 bricks, he'll be on display at the LEGO booth.
Jason Edmiston has more Thanos for you, with the latest edition of his Eyes Without a Face series. In order to get your hands on this 8.25″x3.5″ acrylic painting ($750), you'll hae to battle it out and "be the first mortal being to successfully acquire all 6 Infinity Stones in a row, out of Thanos' celestial satchel without pulling a clear crystal stone". There will also be pencil editions for $250, which require no such superhuman feat.
https://www.instagram.com/p/BlS_Z-fnrSC/?utm_source=ig_share_sheet&igshid=1n73feasirvrg
Want to win a ticket to the #SDCC2018 FANDOM Party for you and a friend? Here's how to do it: pic.twitter.com/44Jb89Avis

— Fandom (@getFANDOM) July 16, 2018
There's more Tasmahii Nations giveaways, though. If you attend the Star Wars Collectibles panel on Friday at 11AM in Room 7AB, you could win a Tamashii Nations Meisho Movie Realization Yari Stormtrooper.
Come check out the SDCC Star Wars Collectible panel (Jul 20 Fri 7AB at 11am) for a chance at this Tamashii Nations Meisho Movie Realization Yari Stormtrooper (valued at $85!) and other prizes! Other SW Meisho MR Figures can be seen at Booth 3545! #sdcc #starwars pic.twitter.com/gDPx15EBmh

— TamashiiNations (@TamashiiNations) July 17, 2018
Come check out the SDCC Star Wars Collectible panel (Jul 20 Fri 7AB at 11am) for a chance at this Bandai Spirits Millennium Falcon (valued at $65!) and other prizes! Other SW kits can be seen at Booth 401! #sdcc #starwars pic.twitter.com/Wb9KvJ0fzu

— Bandai Collectibles (@BandaiCollect) July 17, 2018
Have you guys seen @rampagethemovie? I made a set of Rampage pins with @mondonews for the film's cast and crew earlier this year. I'll have George, Ralph and Izzy sets at #SDCC, along with some of my latest horror pin designs. Booth #4619. #rampage2018 #sdcc #monstermovies #pins pic.twitter.com/bLsuHmP0LJ

— Gary Pullin (@GhoulishGary) July 17, 2018
Are you cosplaying at the con as someone from LegionLegion Cosplay Meet-Up? Then don't miss the on Saturday, July 21 at 5PM at the FXhibition Legion Chamber Experience. You'll get to skip the line1
Are you in his MiNd? Show us your #LegionFX cosplay this Saturday at the #SDCC Legion Chamber on the Hilton Bayfront Lawn. 5PM. #FXSDCC pic.twitter.com/pSdVlt8CP0

— Legion (@LegionFX) July 16, 2018
Well surprise! The good news is I was actually able to illustrate a new print for #SDCC after all. 😃
Bad news is that printer messed up and printed on a thinner stock than I wanted. 😞 Too late to redo. But I'll still bring Batman & Catwoman for anyone that is interested. ✌️ pic.twitter.com/M7LWIAJHEx

— Dan Veesenmeyer (@dveese) July 16, 2018
#RobinHoodMovie is part of the blockchain, now and forever. There are whispers of a thief bringing Crypto-power to the people at #SDCC2018. Stay tuned. pic.twitter.com/GkyByg7lbX

— Robin Hood – 2018 (@robinhoodmovie) July 16, 2018
Anything we missed? Let us know in the comments, drop us a line, or tweet us at @SD_Comic_Con.