We are down to single-digit days to San Diego Comic-Con, folks. This is it – the final push to the con. This edition of Under the Tents has more commission openings from artists like Sean Forney and Bill Walko, and you get to see what a Mermaidicorn looks like. Hungry for SDCC news? Then read on.
Here's a look at what you might have missed:
Artist Sean Forney will debut his new Scarlet Huntress Preview Ashcan Book at Table #BB-05 in Artists Alley at SDCC 2018. The preview book will have a fan first look at two new Scarlet Huntress stories along with progress sketches and exclusive art and is limited to only 25 copies available only at SDCC. Look for a Kickstarter coming soon to fund the full-color Scarlet Huntress comic series.
War Machine Marketing is bringing some unique exclusives to Booth #1415 at SDCC this year. Pennywise's sewer lair got a treatment from artist Richie Mitchell in this SDCC exclusive limited to only five pieces at $350 each. You'll also find jewel-encrusted figures by Ben Flater: Moana's Tamatoa, Princess Leia, and Mermaid Deadpool (because it's 2018, why not?), each limited to five pieces at $200 each. Fans of the highly underrated Star Wars Holiday Special can celebrate the late, great Bea Arthur's performance with their SDCC exclusive Ackmena bartender action figure. Sadly, Ackmena is only available to those lucky few able to attend 501st Legion's sold-out party. War Machine truly rocks with their 2018 SDCC exclusives.
If you're interested in an SDCC commission from artist Bill Walko, he still has six spots open on his commission list. You can find samples and details on pricing and how to order on his latest newsletter. Find him in Small Press at Table #O-05.
6 spots left on the pre-show #commission list for #SDCC2018 #SanDiegoComicCon for fans of #originalart and #comics pic.twitter.com/j7cjz7tP4J

— Bill Walko (@TheHeroBiz) July 9, 2018
If you're following artist Scott Blair on Twitter, he treated his followers to a sample of what you'll find at Table #EE-11 in Artists Alley at SDCC this year.
San Diego Comic Con is right around the corner, here's what I'll have at Artist Alley EE-11 including two SDCC Exclusives this year! #SDCD2018 pic.twitter.com/YibUIgb8yi

— Scott Blair Art (@scottblairart) July 7, 2018
Mysterious Galaxy is teaming up with Random House to bring SDCC attendees an opportunity to pre-order the titles they're bringing to Booth #1515, some of which come with an exclusive item. You can find titles from authors such as Anne Rice, Seanan McGuire, and a lot more here.
Henry's Pub was so obsessed with whether or not they could throw their Jurassic Pub event, they never stopped to think whether or not they should. Stop by their Gaslamp pub during Comic-Con to see just what they've wrought. Remember the velociraptor in the kitchen? Hopefully, they don't have one of those.
https://www.instagram.com/p/Bk79HpCHddP/
The creative mind behind RockLove Jewelry, Allison Cimino, will be at FYE's SDCC pop-up shop in Horton Plaza along with her exclusive Black Panther series jewelry.
.@Marvel x RockLove's official #BlackPanther Jewelry will be available EXCLUSIVELY at FYE's #SDCC18 Popup! I'll even be there in person on Friday, so swing by the action-packed @officialfye space in Horton Plz, grab your Kimoyo Beads + Talons and throw your best Wakanda Salute! pic.twitter.com/48AfgWXgQ2

— RockLoveJewelry (@RockLoveJewelry) July 8, 2018
Val Hochberg is bringing her super-adorable Star Wars Critters to Table #N-12 in Small Press at SDCC.
Starting to color my super cute "Star Wars Critter" set of originals. 😀
10 down, 90 left to color!
Claim these precious adorable art-babies at #SDCC at Small Press Table N-12. They are one-of-a-kind, so show up as soon as you can for the best selection! pic.twitter.com/P2ESmFvxwV

— Valvalchu 💖 (@kickgirl) July 8, 2018
Commission sign ups for sdcc. Few spots left!! Don't miss out. Email for quote : davidcolmanassistant@gmail.com. DONT HAVE TO ATTEND SDCC TO GET COMMISSION ship all over the world pic.twitter.com/z7HjtcfhrG

— David Colman (@davidsdoodles27) July 8, 2018
SDCC 2018 attendees will have several chances to meet with artist and co-founder of tokidoki, Simone Legno. Pay close attention to their Instagram post to see where, when, and how you can meet him.
https://www.instagram.com/p/Bk_AtkXg7Qq/
As if this issue wasn't cute enough, artist Jeff Pina turns the cuteness all the way up to 11 with his Mermaidicorn print he'll have at Table #Q-06 in Small Press.
MERMAIDICORN IS HERE!!! You can grab my new print at #SDCC2018 in just over a week at my booth, Small Press Q-06!#mermaid #unicorn #indy #og #80s #fabulous #magical pic.twitter.com/J73F8WSo2U

— Jeff Pina Makes Comics! (@JeffPina78) July 8, 2018
Surreal artist Camilla d'Errico will have 20 hand-embellished prints total of her four exclusives she's bringing to Booth #4723 for her 20th SDCC.
Which is your fav? I can't pick just one so I made all four of these into SDCC 2018 Exclusives! I hand embellished each for @comic_con & limited them to only 20 prints! That means you guys better come visit Booth 4723 when the con starts in 10days! I'll be signing all con long! pic.twitter.com/d7I2HmiQiN

— helmetgirl (@Helmetgirl) July 8, 2018
Today is your last day to pre-order Ninjabot's limited-edition, hand-embellished SDCC exclusives.
Last day to Pre-Order my #SDCC Limited Edition and my Hand Embellished Exclusives! Don't wait on this because there aren't too many left! Go to https://t.co/irgc50o0f0 and order yours while you still can! pic.twitter.com/Yv13eUygSA

— Arnel Baluyot (@theninjabot) July 9, 2018
If Ninjabot's exclusives aren't of too much interest, you can head up to Mezzanine Room 15AB, where he's giving away free posters with a demo of his new game, PopCats Fighter. Then head down to his Small Press Table #L-08, where he'll even sign it.
If you're into free posters go up to the Mezzanine Level Room 15AB and play a round of PopCats Fighter to get your own! Plus, the Game Designer, & Artist (Me!!) of the game will be signing posters everyday at 5:30pm Small Press L-08! It's gonna be awesome! https://t.co/GN1Sk6Oa4e

— Arnel Baluyot (@theninjabot) July 9, 2018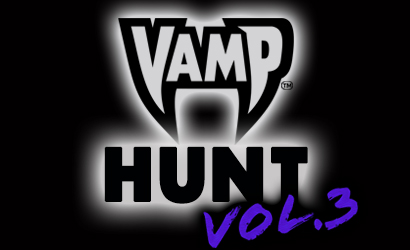 Cryptozoic announced they will debut their new Classic Harley Quinn vinyl figure, designed by Pedro Astudillo and sculpted by Anders Ehrenborg, at SDCC at Booth #115 for $29.99.
Artist Andrew Bell teased his Twitter followers with a piece of his Never Look Back print he's bringing with him to SDCC.
See this urchin? He's featured in the next Never Look Back print debuting @ #SDCC and in the Dead Zebra Shop towards the end of July! #uni #seafood #sushi #うに #雲丹 #seaurchin #onoco https://t.co/L8dgi2XvXx pic.twitter.com/Ejlfa31y8E

— Andrew Bell (@deadzebra) July 9, 2018
If you're donating blood in this year's blood drive, The Geeky Hooker would like to reward you with a chance to win one of her three critters she's bringing especially for those who donate blood.
Can't find a critter at SDCC? Win one at the blood drive! I've got 3 ready as blood drive prizes! https://t.co/dFuUCJt9Py

— Geeky Hooker (@GeekyHooker) July 9, 2018
Stop by Booth #4533 to visit Fat Rabbit Farm, where you'll find these adorable Ninja Babee vinyl stickers.
https://www.instagram.com/p/BlBDkZrglvt/
Anything we missed? Let us know in the comments, drop us a line, or tweet us at @SD_Comic_Con.