It's the weekend before San Diego Comic-Con gets underway, and the news just keeps getting better and better. This issue of Under the Tents has lots of it from great artists as well as an announcement from NBC's The Good Place.
Here's a look at what you might have missed:
Guild Wars would love you to come hang out with them while they're at The Experience at Petco Park. You won't need a badge to ride the Griffon or enjoy the food they're bringing. See their recent post for details on their schedule and just what they're bringing to the party.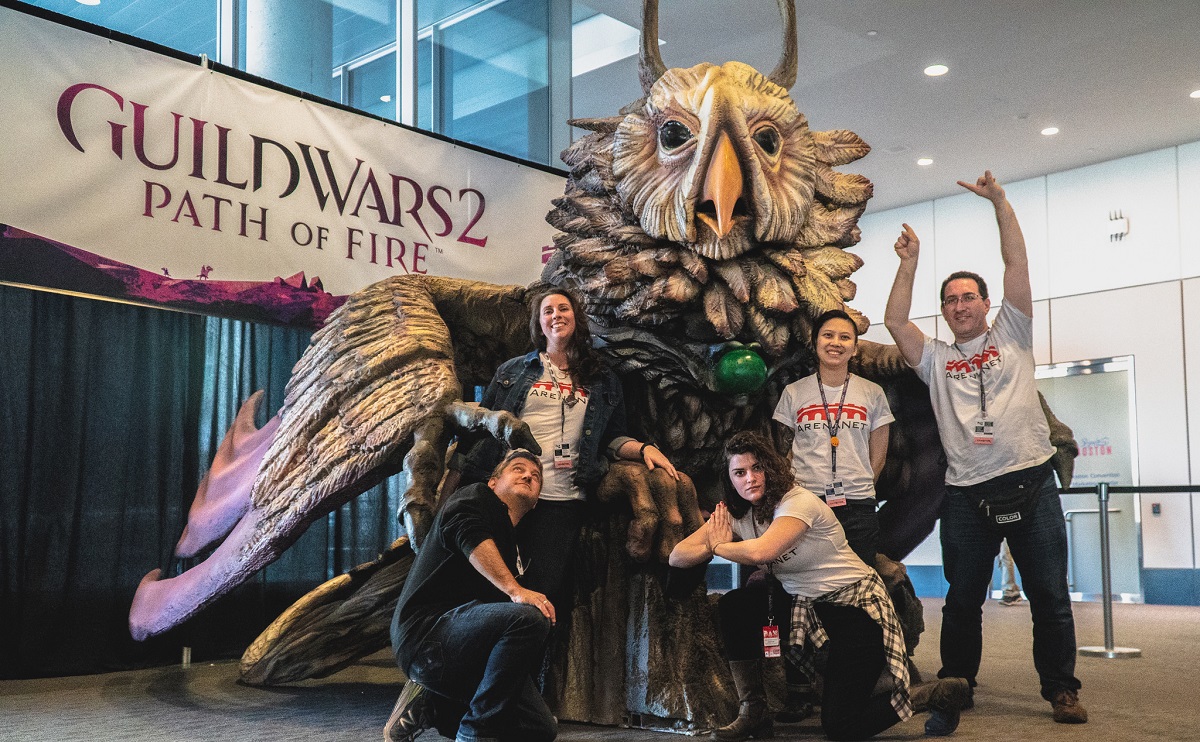 Gabriela Hernandez, founder of Bésame Cosmetics, will be on hand for a meet-and-greet following her panel, Agent Carter: We Know Her Value, at Table #AA18 in Sails Pavilion.
We're very excited to share that our founder Gabriela Hernandez (@BesameGirl) will be on the Agent Carter: We Know Her Value panel at #SDCC next Saturday, July 21st! She will also be at a Meet & Great following the panel at 2PM. Can't wait to meet you all! #cosplay #AgentCarter pic.twitter.com/u0u5yCnqu4

— Bésame Cosmetics (@BesameCosmetics) July 13, 2018
We'll be running to Factory Entertainment's Booth #2647 to take a look at the Jurassic Park-themed piece Randy Martinez designed for them. Stop by for a photo op and to see it in person!
https://twitter.com/RandyMartinez40/status/1017570211342385152
Pin-up artist Nicole Brune posted her latest SDCC piece, Harleen's Midnight Rendezvous, to her Instagram feed. Look for Dr. Quinzel (as well as Ms. Brune herself) at Booth #5007.
https://www.instagram.com/p/BlJ0EPFAcWY/
I can finally share these babies I made with @gregaronowitz ! We made babies! THUNDER BABIES! Debuting at #SDCC next week at our booth 5502. Stay tuned for more info and pics. So stoked on these! pic.twitter.com/GsmXdrhlTw

— Alex Pardee (@alexpardee) July 13, 2018
Truck Torrence, aka 100% Soft, revealed the SDCC exclusives he'll have at Booth #1532 via Twitter thread that's worth taking a look at.
Come see me at San Diego @Comic_Con! ✨ I'll be at booth 1532 with a ton of new exclusive prints, pins, and more! ✨ #SDCC pic.twitter.com/2FvYP6JRw9

— 100% Soft • ᴗ • (@100soft) July 9, 2018
Comic book artist J. Scott Campbell tweeted that he's bringing some heat to SDCC this year with all his great work. Good thing the convention center upgraded the air conditioning last year.
🌴It's THAT time of the year again, @comiccon is almost upon us!! Stay tuned for ALL the info on the goodies and 🔥HOT🔥 exclusives we'll be offering in the coming days, including pricing, appearance schedules, & MORE!! Booth 4601 #jscottcampbell #sdcc2018 pic.twitter.com/YT6lR02b5y

— J. Scott Campbell♠️🎨 (@JScottCampbell) July 13, 2018
David Baron announced via Twitter he is bringing 20 copies of the previously sold-out mini-series Stained to Booth #507 on Thursday only.
BREAKING #SDCC NEWS: @451official is shipping me 20 copies of the SOLD OUT #STAINED TPB to have with me for sale at #SDCC2018 They will be for sale on THURSDAY ONLY! pic.twitter.com/CiSzepd5hO

— David Baron has a #Kickstarter (@DavidBaronCMX) July 13, 2018
Artist Brian Erice tweeted he will have these Rick and Morty fan art prints with him at SDCC this year.
https://twitter.com/BrianSaysStuff/status/1017837617549701120
Our good friends at Ninjabot tweeted that they will debut these adorable new Painting Buddies pins at his Small Press Table #L-08.
New Enamel Pin Alert! I'm debuting these pins at #SDCC in my Small Press L-08 booth! They were inspired by my Painting Buddies Stickers pack, and I love them! pic.twitter.com/ub6hiN6h5I

— Arnel Baluyot (@theninjabot) July 13, 2018
Artist Todd Nauck is still taking commissions for SDCC. Look for info on how you can pick something up at Artists Alley Table #II-01 on his website.
Going to #SDCC2018?
Find me at Artist Alley table ii-01.
Visit https://t.co/V1qAZRIZH6 for info on booth appearances, signings, Preview Night's Comic KickOff Party & specs regarding my commissioned art with prices & list procedure.
See y'all at #SDCC! pic.twitter.com/TC4JkPE9Gp

— Todd Nauck (@ToddNauck) July 13, 2018
Vault Comics wants you to stop by Booth #1819 at SDCC this year, where you'll be able to meet Michael Moreci of Wasted Space.
Booth 1819 at #SDCC2018!
Tons of your favorite creators will be hanging out throughout the show, signing and slinging comics. Come meet 'em!
Like the mad genius @MichaelMoreci of #WastedSpace.#SDCC #GetWasted pic.twitter.com/RzkUg0zxoU

— Vault Comics (@thevaultcomics) July 13, 2018
Sony PlayStation announced via their PlayStation.blog that their wildly popular PlayStation Gear store will be at SDCC this year. See below for a video of what they brought to E3.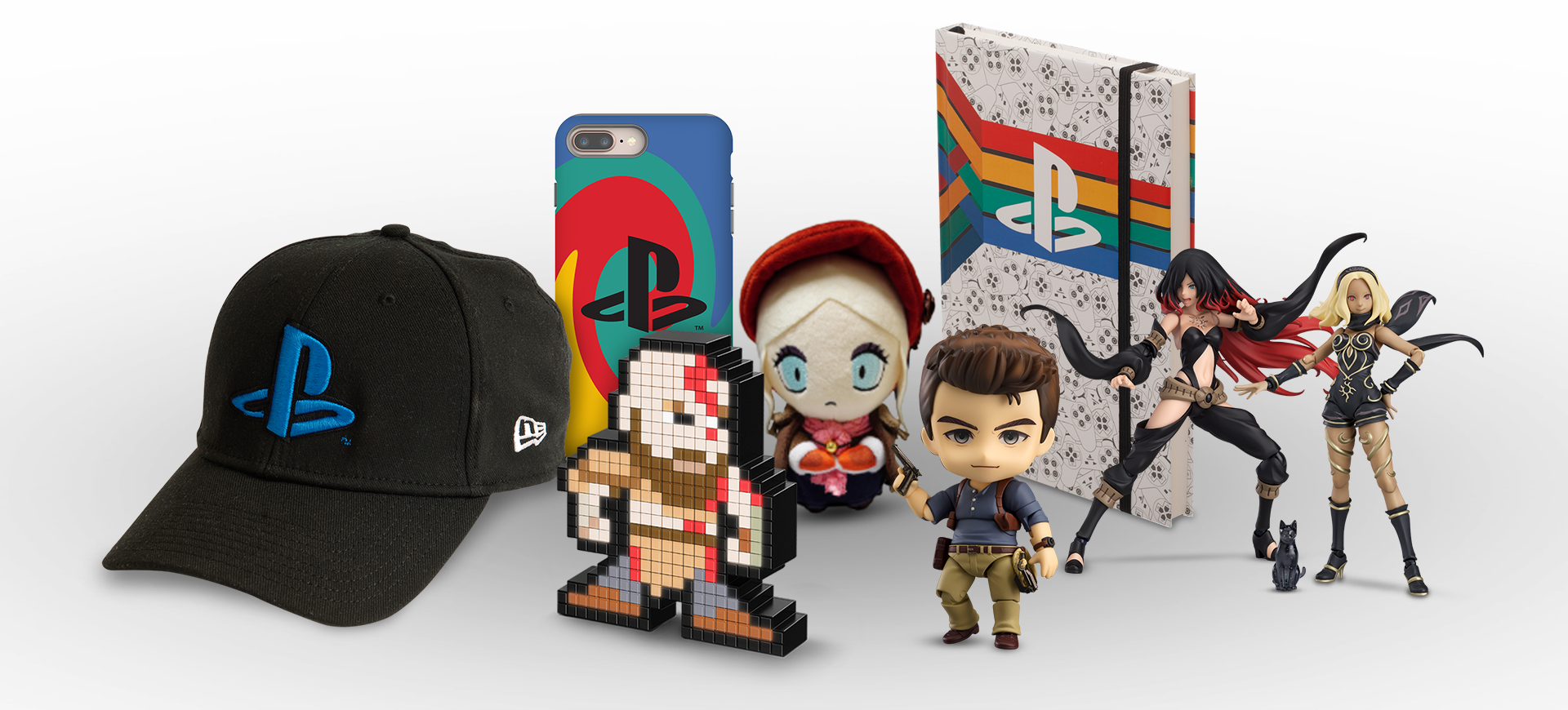 We highly recommend getting to Sheldon Comics' Booth #1228 before our editor-in-chief, Kerry Dixon, tramples you on her way to get her hands on all the pug cuteness they're bringing.
These totes Night Cake Press is bringing to Booth #1535 at SDCC this year are totes adorbs (see what we did there?).
I made a couple things to carry your things ✨

3 color screen prints on heavy weight 12oz canvas totes with colored handles. Each tote comes with a 1.25" button.

Available first at SDCC. #sdcc2018 pic.twitter.com/Jc5Aszl5bV

— Night Cake Press (@nightcakepress) July 13, 2018
When you stop by Booth #1714 at SDCC this year, you'll have the opportunity to become a charter member of the Comic-Con Museum. Charter members are treated with an exclusive lanyard, enamel pin, and pressed penny (while supplies last).
https://www.instagram.com/p/BlL1OE6nzZg/
https://www.instagram.com/p/BlL0EhpFqFq/
Just say her name, and she appears – Janet. NBC's The Good Place is taking over The Tin Fish in the Gaslamp, and are encouraging you to join them Saturday, July 21 at 4PM PT in your best Janet cosplay.
This is the remix. 🎶 Come say hi in #TheGoodPlace #SDCC on Saturday, July 21 at 4pm in your best Janet cosplay! 💁‍♀️ pic.twitter.com/aIIgv7GXg7

— The Good Place is taking it sleazy (@nbcthegoodplace) July 13, 2018
The folks behind The Last Sharknado: It's About Time are bringing even more star power to their SDCC panel. Vivica Fox joins Ian Ziering, Tara Reid, Cassie Scerbo, Alaska, Jonathan Bennet, and Anthony Ferrante to talk about the latest and, theoretically last, installment in the Sharknado series.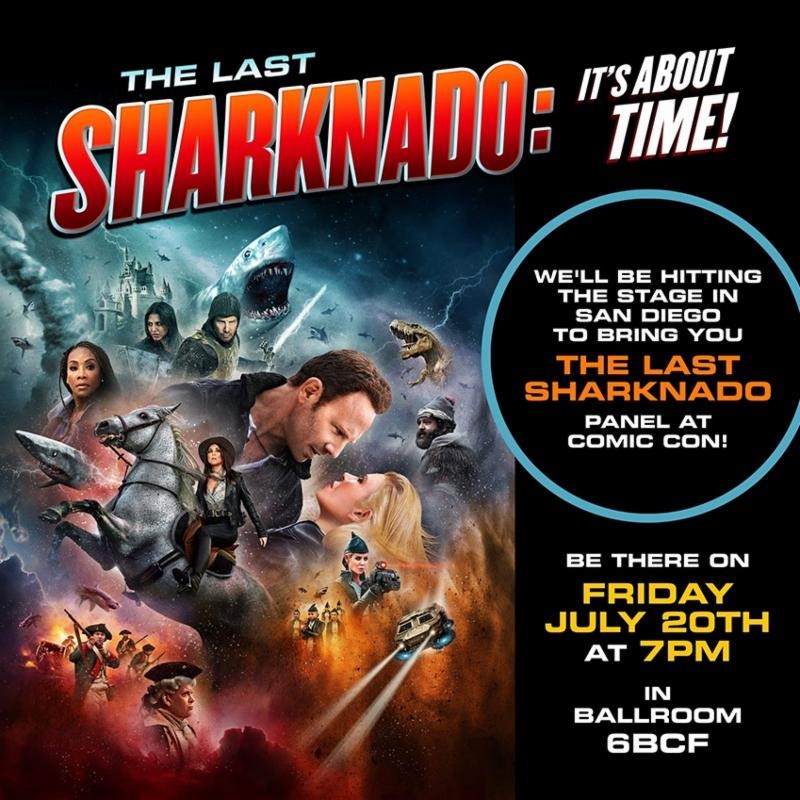 Sharknado isn't just inside the convention center; you can find Pandra's Sharknado fan art decorating the SDCC shuttle buses.
Watch out for the swarming sharks, San Diego. @pndraa's #Sharknado fan art will be on the #SDCC buses! pic.twitter.com/EJWKWZOK5u

— Sharknado (@SharknadoSYFY) July 14, 2018
Tentacle Kitty is back at SDCC with a new Booth number, 5148, and some adorable plushes. Everyone who purchases one of their plushes will receive this SDCC Limited Edition Legendary Golden Lanyard with safety clip that allows the wearer to quickly yank it off, should the need arise.
Not only will you find Joe Manganiello at BAIT's pop-up shop in Horton Plaza, look for face painter Misti Dawn painting fans' faces on Thursday, July 19 and Friday, July 20.
Excited to have @meowmistidawn join us for our @Wizards_DnD SDCC takeover at @BaitMeCom. She will be painting fans faces next Thursday and Friday while we launch @JoeManganiello new streetwear line @deathsaves and @ToddJamesREAS official D&D Coloring Book, Adventures Outlined. pic.twitter.com/BWdAV3EgQF

— Chris Erb (@ChrisErb) July 14, 2018
Douglas Pasko, executive producer of The Outpost, will be bringing these SDCC exclusive prints to the Legion M Lounge at SDCC this year, which you can have cast members sign for you..
Quick snap of @outpostseries test print posters for #SDCC next week. @JessGreen2 @JakeStormoen @ANANDDB #TheOutpost pic.twitter.com/14xVhSTyRk

— Douglas Pasko (@dougpasko) July 14, 2018
https://twitter.com/JakeStormoen/status/1018191728442945536
Another returning SDCC veteran is Kymera Press, who are bringing their Gates of Midnight series, the Gothic tales of Mary Shelley Presents, Pet Noir series (with plushies), Ivory Ghost #1, and some new releases to Booth #2003.
At #SDCC2018 we'll have Gates of Midnight 1-8 and collected ed 👹 Dragons by the Yard 1-2 🐉Mary Shelley Presents 1 👻 Pet Noir 1-4 (and plushies!) 😺 Ivory Ghosts 1🐘 And some NEW RELEASES (which we'll announce very soon!) Plus – Signings! pic.twitter.com/4pFyGgtD0Z

— Kymera Press (@KymeraPress) July 14, 2018
Everyone loves a good mystery, and IDW Publishing teased some of the contents of their Mystery Bag available at Booth #2743. Spend $100 minimum at their booth to find out the rest of what's in there.
Every Mystery Pack will have at least ONE DuckTales Blueprint variant! Plus a trade paperback, a signed IDW product, and another Mystery prize! Spend $100 at the IDW booth (#2743) during SDCC to get one! pic.twitter.com/2btMErN3to

— IDW Publishing (@IDWPublishing) July 14, 2018
Artist Alex Deligiannis, whose latest work includes Nickelodeon's Rise of the Teenage Mutant Ninja Turtles, will be at SDCC Booth #1537 with some exclusive art he created for the series as well as some of his other work.
Anything we missed? Let us know in the comments, drop us a line, or tweet us at @SD_Comic_Con.