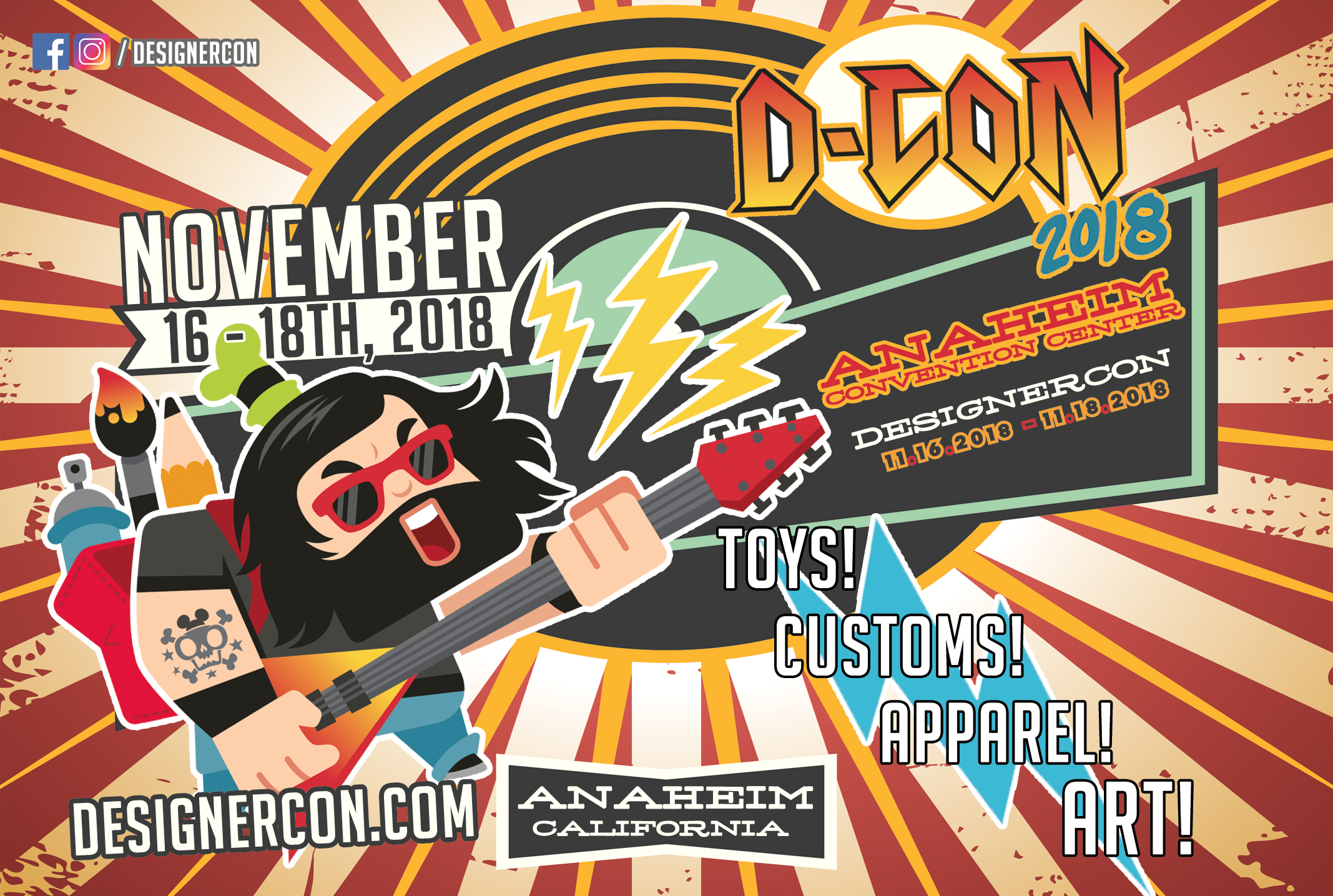 Fans looking to satiate their convention experience between one San Diego Comic-Con to the next need not look further than DesignerCon 2018 (DCon), taking place November 16 – 18 at the Anaheim Convention Center in Anaheim, California.
For those who haven't been to the convention before, DesignerCon incorporates everything in the world of design — including apparel, plush, printing, sculpture, designer toys, and art.
Having evolved from a 1,100 square foot collectible figure/vinyl toy market in Pasadena, DesignerCon is moving this year to the Anaheim Convention Center, where it will host over 500 vendors in more than 300,000 square feet of space. Several of your favorite SDCC artists and companies will be in attendance, including Mondo, Patrick Ballesteros, toddland, Cryptozoic Entertainment, Three A, Kidrobot, BAIT, Super 7, Toy Tokyo, tokidoki, Han Cholo, DKE, BeeFy & Co, Munky King, Alex Pardee, Camilla d'Erico, Flat Bonnie, Hyperactive Monkey, Scott C., SHAG, and many more.
Tickets for DCon are on sale now, with several options available including:
VIP Passes – $60.00
Entry on Friday, November 16th from 5:00-9:00pm
One hour early entry on Saturday, November 17th
One hour early entry on Sunday, November 18th
Exclusive VIP only pin
Exclusive VIP only Andy Warhol Be@rbrick
Access to purchase VIP only Johnny Cupcakes t-shirt
Weekend Passes – $35.00
Entry on Saturday and Sunday
Saturday Only Passes $20.00
Sunday Only Passes $20.00
With the purchase of any pass you can also purchase a ticket to DCon's Official Party epic party on Saturday night. This party includes performances by John5 and Chevy Metal, plus live painting and other surprises. Included with the $35.00 party ticket is an exclusive Chevy Metal Be@rbrick and the option to purchase exclusive merchandise, including a Chevy Metal print.