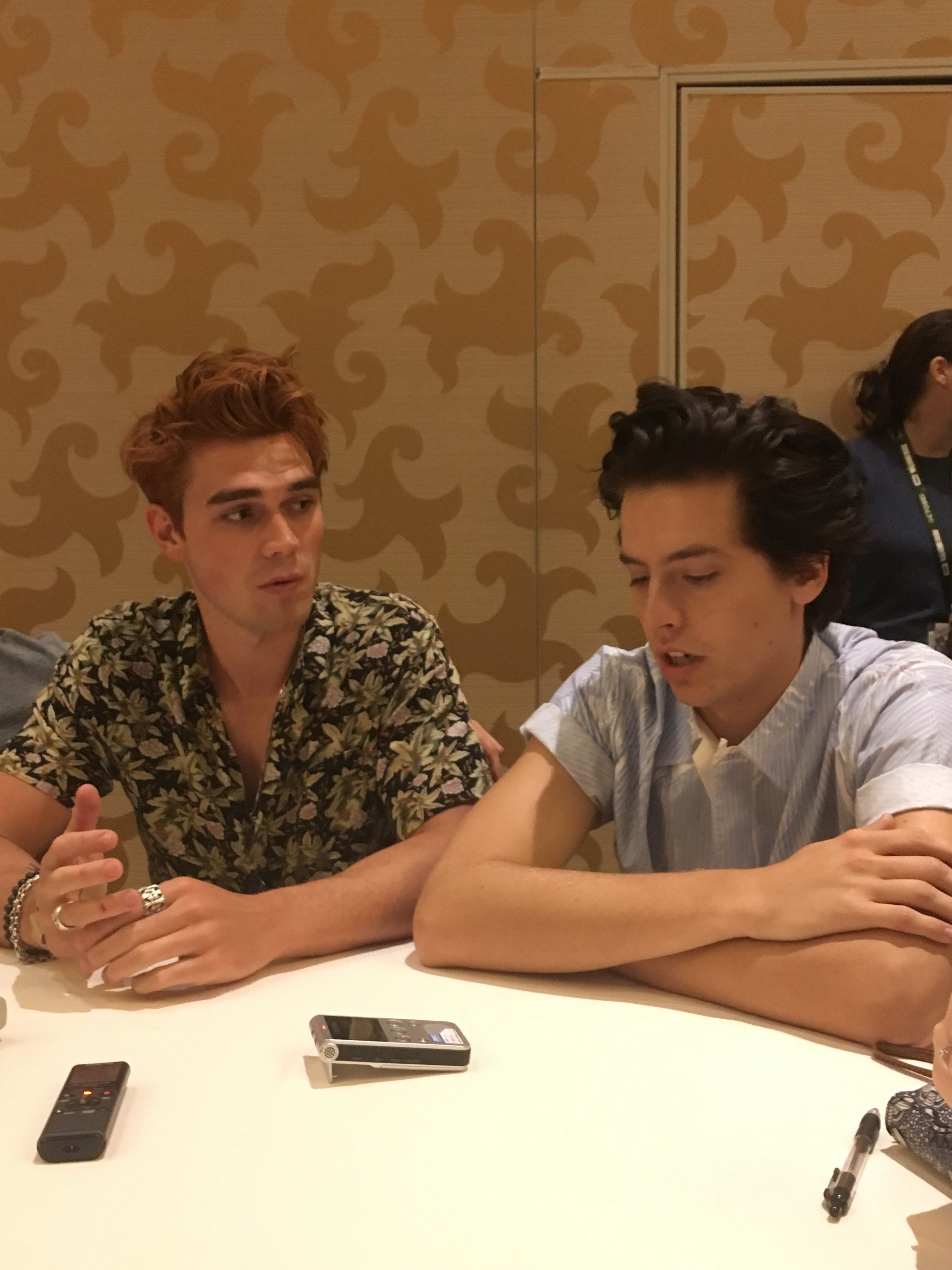 The CW's hit show Riverdale wrapped up it's second season back in May with plenty of surprises and even a few cliffhangers. Season three, which premieres tonight at 8PM on the CW, plans to be even bigger and bring even more problems to the town of Riverdale. We had the opportunity to catch up with the cast at San Diego Comic-Con to learn what's in store for season three.
With past residents coming back to town and a possible "cult", season three looks to be even more action-packed than normal.
Catch our coverage below (and our apologies for the poor audio quality in parts):
*If you haven't finished season one there will be spoilers beyond this point so continue at your own risk!*
Mark Consuelos (Hiram Lodge) and Marisol Nichols (Hermione Lodge) discuss the battle between Hiram and Hermione and who is going to ultimately take over, as well as if there will be a stronger female dynamic between Hermione and Veronica this season. They also discuss how Veronica feels about Hiram after he pins the murder on Archie, and what storylines they would like to see on the series.
Luke Perry (Fred Andrews), KJ Apa (Archie Andrews), and Cole Sprouse (Jughead Jones) talk about the dynamic changes between Archie and Jughead, whether or not we will see more of Hermoine and Fred together this season, how hard it was emotionally on Cole when he had to film the scene where he gets beat up,  and we also learned that Jughead's mother and sister will be returning to Riverdale and what that means for the rest of the characters on the show. (Gina Gershon and Trinity Links have been cast as Gladys and Jellybean)
Vanessa Morgan (Toni Topaz)  and Madelaine Petsch (Cheryl Blossom) reveal which side Cheryl is on since she is now with Toni, if there will be obstacles this season between Cheryl and Toni, where we see their characters at the beginning of the season, Madelaine talks about filming the musical episode and if there are plans for another one. Vanessa shares if we will ever get to see more of Toni's family in the show,  how Archie possibly going to jail will effect Toni and Cheryl, and Madelaine teases a scene that she would love to see happen on the show.
Skeet Ulrich (FP Jones) and Mädchen Amick (Alice Cooper) tease their relationship in season 3 and how Jughead's mom coming back will effect their characters, Mädchen speaks about the farm and what that means for her,  Skeet shares whether or not FP is really done with being a serpent, and they both speak about a storyline that they wish would happen for their characters.
John Goldwater (EP & CEO Archie Comics) and Sarah Schector (EP & CEO Archie Comics) discuss what it is like to see the characters from the comics come to life and what surprised him the most, whether or not we will see other characters from Archie comics come to Riverdale and if we will ever see Sabrina on the show. John also speaks about the evolution of Riverdale, and both tease about the upcoming flashback episode.
Camila Mendes (Veronica Lodge) and Lili Reinhart (Betty Cooper) talk about the effects of their relationships with their parents,  Lili discusses how Betty is the odd one out in her house and how we will see her outer darkness in season 3, and Camila teases new addition to Pops and how her new business will help her prove herself to those around her.
Casey Cott (Kevin Keller) and Ashleigh Murray (Josie McCoy) talk about the time jump in season 3, what they hope fans can see this season with their characters, and Casey talks about how much he loves his character and working on Riverdale.
Riverdale season three premieres October 10th at 8PM ET on The CW.
Do you love Riverdale? Let us know in the comments.