When it comes to San Diego Comic-Con exclusives, the cornerstones of the con have consistently been Hasbro and Mattel. With license to manufacture toys that are consistently at the top of the pop culture want list, both booths have been the craziest for many of Comic-Con's years.
The Mattel presale is now live, as of Monday, June 17 at 3AM PT.
In order to receive your presale purchase, during regular convention center hours, you will need to stop by Mattel Booth #2945 to "check in" and confirm your presale purchase — just like last year. You will need to show your Comic-Con badge, your ID, and order confirmation — and the name must match on all. Then, Mattel will ship your order to you after the event ends. The good news is, you don't have to carry the exclusive home with you!
Here's a look at this year's exclusives:
[UPDATE June 26]
Mattel has at least one more surprise up their metaphorical sleeves — as it was revealed today they'll be bringing a Hot Wheels Mouse Droid Character Car for $10. Since it wasn't part of the pre-sale, you'll presumably need to pick this one up at the booth only.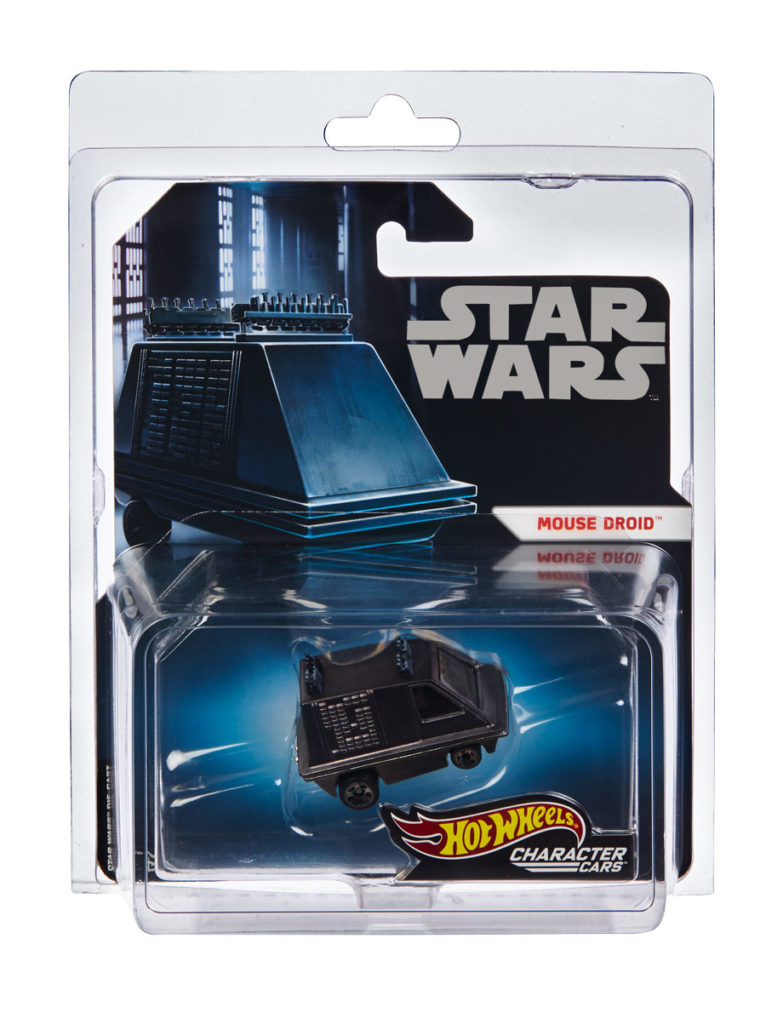 [UPDATE June 17]
Mattel quietly launched their presale at 3AM PT this morning, which had several items they had not yet announced. Up first is a She-Ra And the Princesses of Power She-Ra Vs. Shadow Weaver 2-Pack. She-Ra features an armor-clad look including her signature white jumpsuit, a holographic skirt, long red cape, and full battle armor, as well as her iconic winged tiara and her Sword of Protection. Each doll features 11 points of articulation, and the two-pack comes packaged in a Bright Moon Castle box for displaying. It will retail for $40.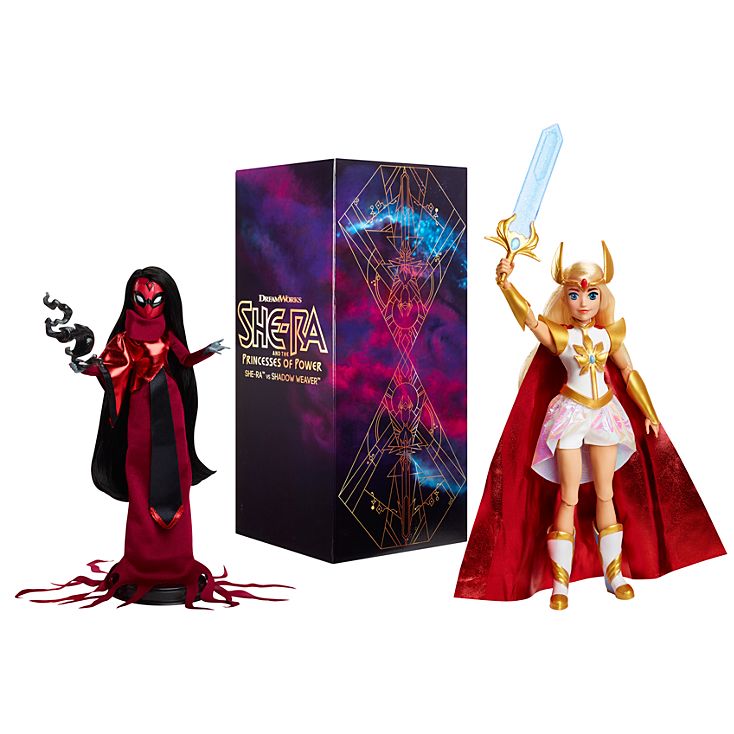 They've also got another Hot Wheels figure, this time in the form of Hot Wheels Marvel Spider Machine GP-7. Based on the 1978 Japanese TV series about an alien instilled motocross racer Takuya Yamashiro with amazing spider-like abilities. The 1/64 scale full die-cast car features Real Riders wheels, and will retail for $15.
Marvel offered a better look at the Hot Wheels exclusive: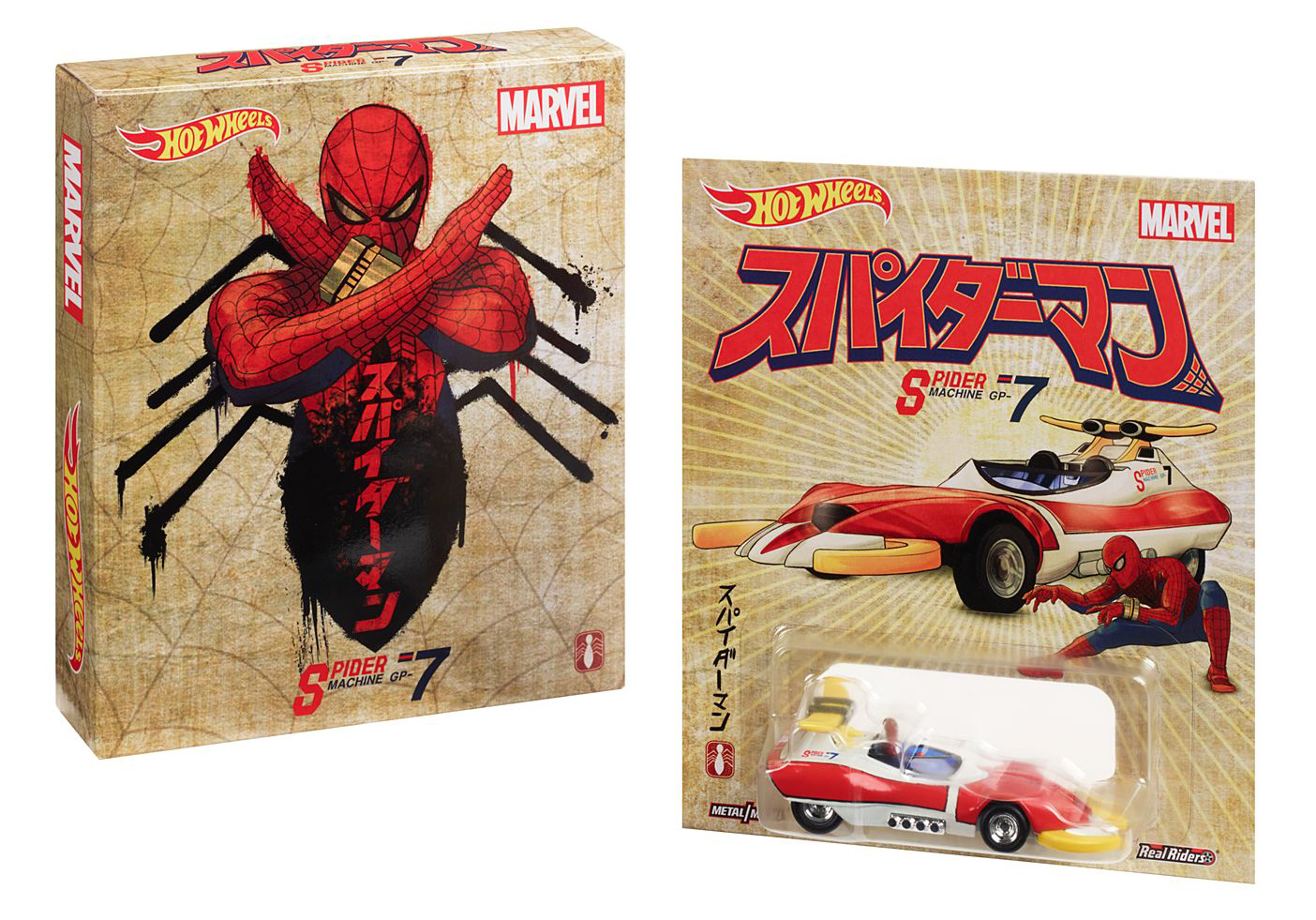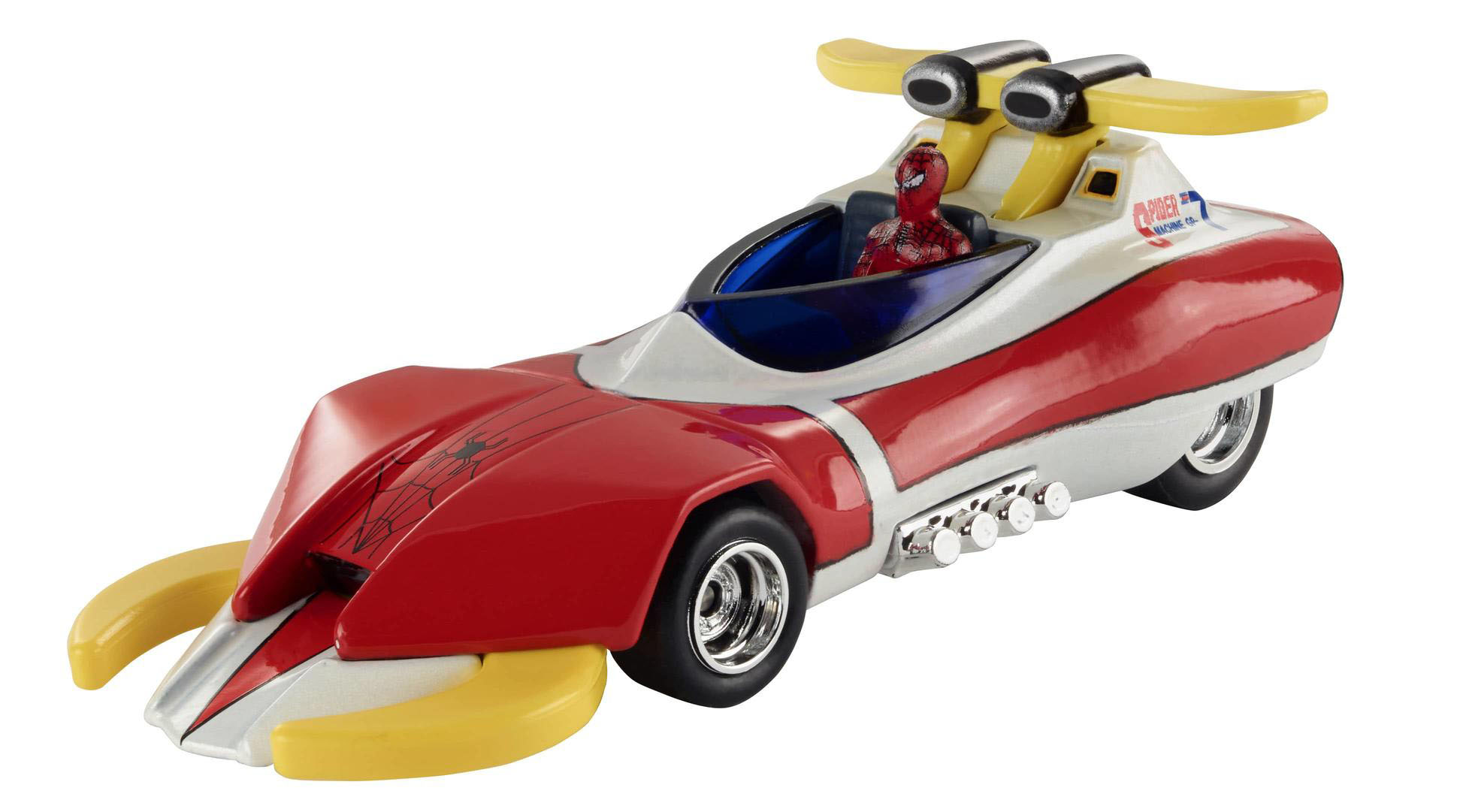 For fans of Jurassic Park and Jurassic World, there is a Jurassic World Legacy Collection John Hammond action figure. The 3″ action figure includes a cane and a stand with dinosaur eggs, and will retail for $15.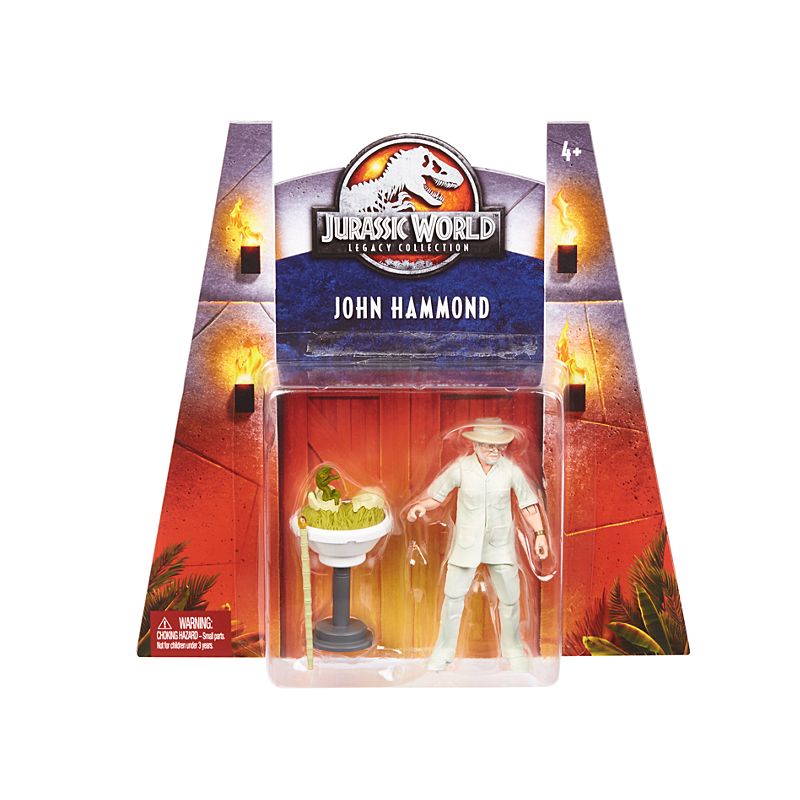 And finally, there is a SDCC exclusive Hot Wheels Teenage Mutant Ninja Turtles Party Wagon Vehicle. Nerdist gave a look at the die-cast van pops features twin missile launchers which can be raised and lowered, and you can open the side door for "the most awesome pizza party ever". It will retail for $20.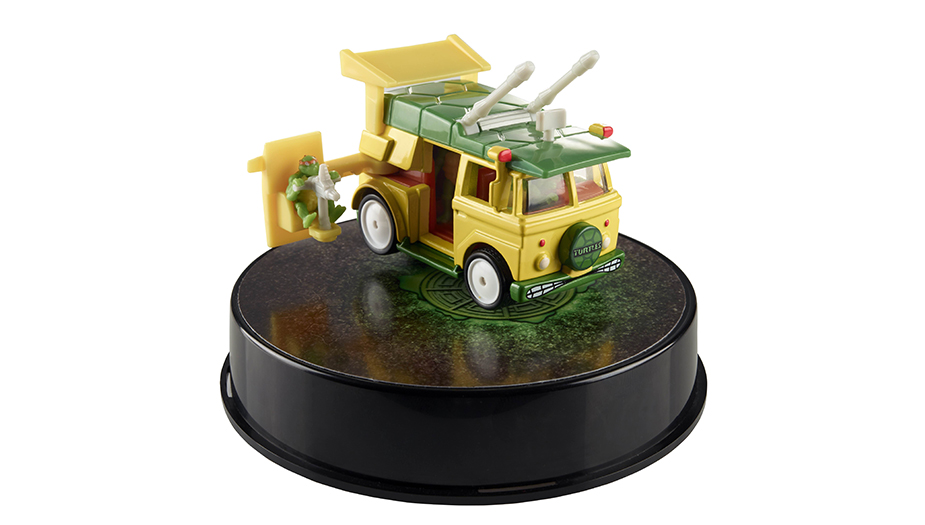 [UPDATE June 11]
By the power of Grayskull! Nerdist has the details on Mattel's next SDCC exclusive is going oldschool, with a Masters of the Universe He-Man & Prince Adam 2-pack. The figures are styled to look like vintage 80's versions, and Prince Adam comes equipped with a removable blue vest (as he wore in the original Mattel mini-comics), and He-Man comes with a removable knife accessory tucked into his boot, an axe, shield, and Power Sword. Each figure contains sixteen points of articulation, and they each have three sets of interchangeable hands, as well as interchangeable heads based on sculpts of the classic toys. It will retail for $40.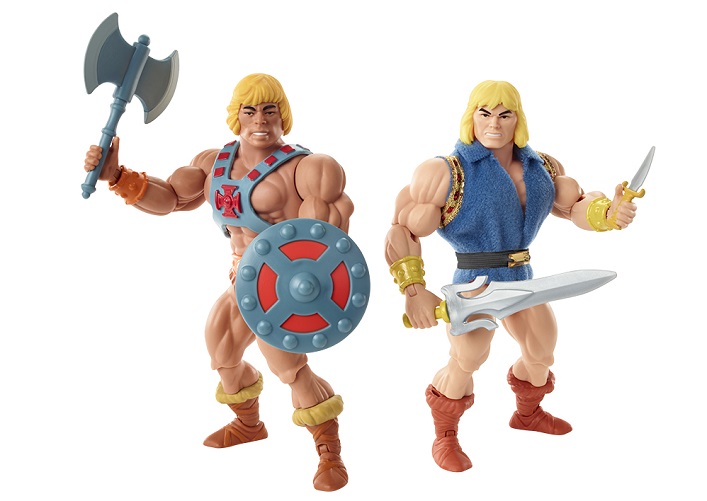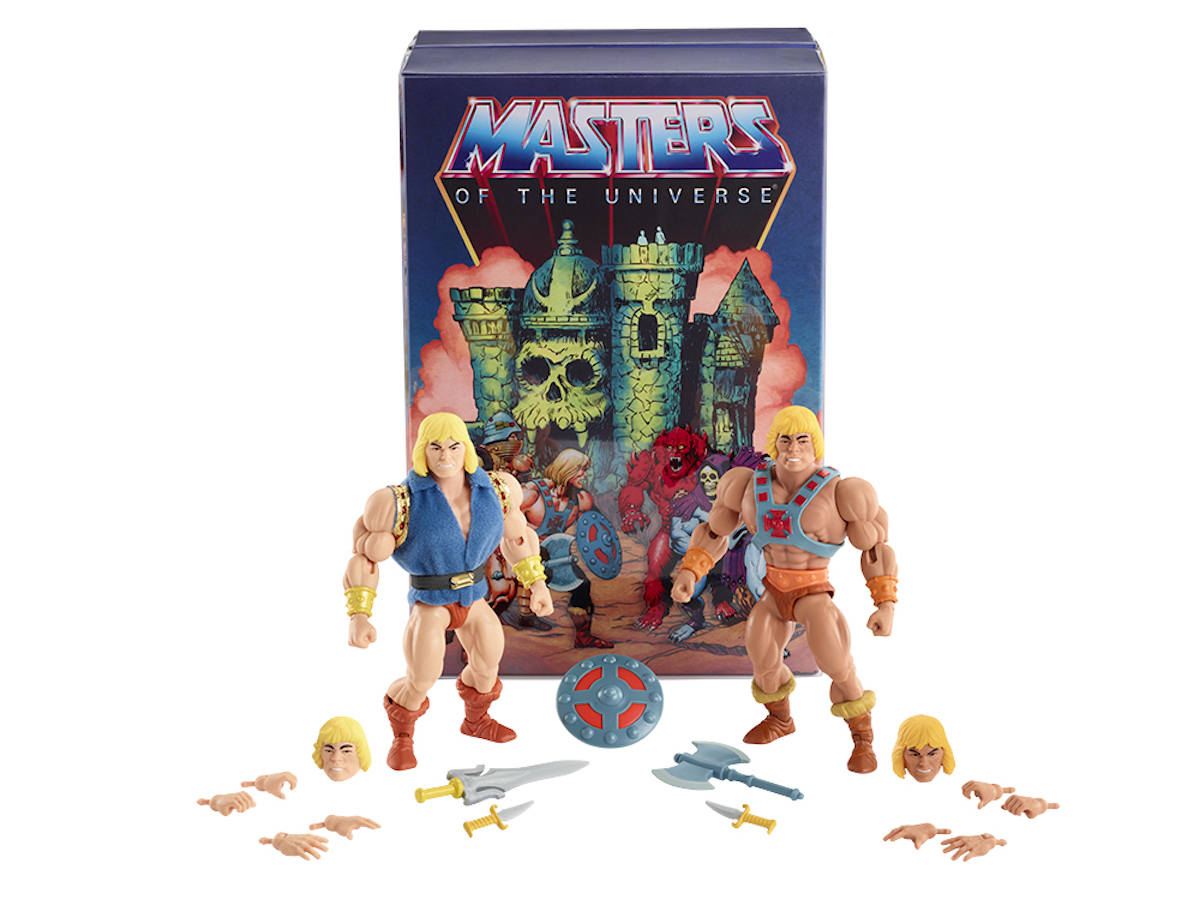 Additionally, Mattel is bringing along a SDCC exclusive Mega Construx Masters of the Universe Battle Bones set. The exclusive set features a Battle Bones collector's figure transport, with a built-in carry handle and open-and-close jaws to store weapons and accessories. It also includes four buildable micro action figures: Man-At-Arms, Teela, Faker, and a blocked Moss Man, as well as 20 weapon accessories, and a Moss Man pine-scented air freshner that "smells just like the original action figure". It will retail for $30.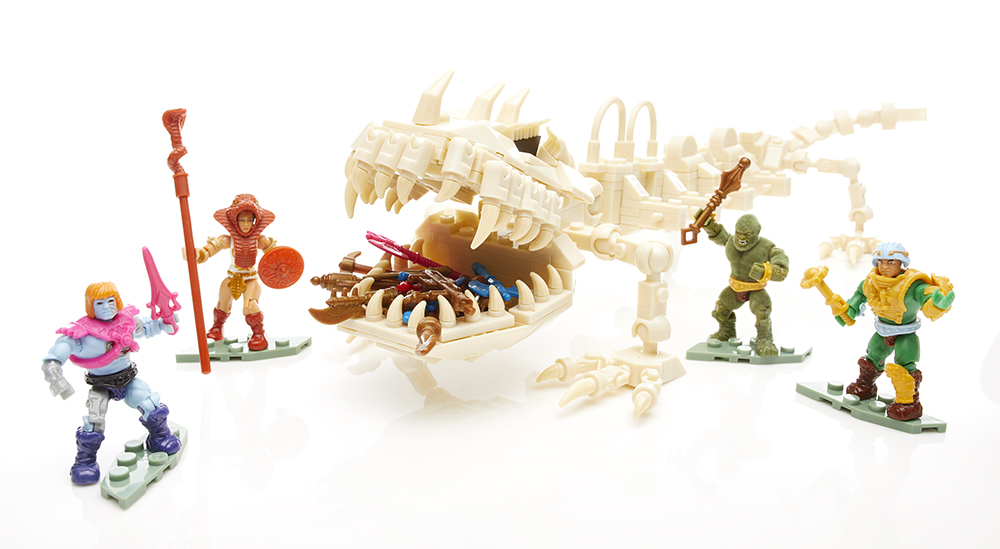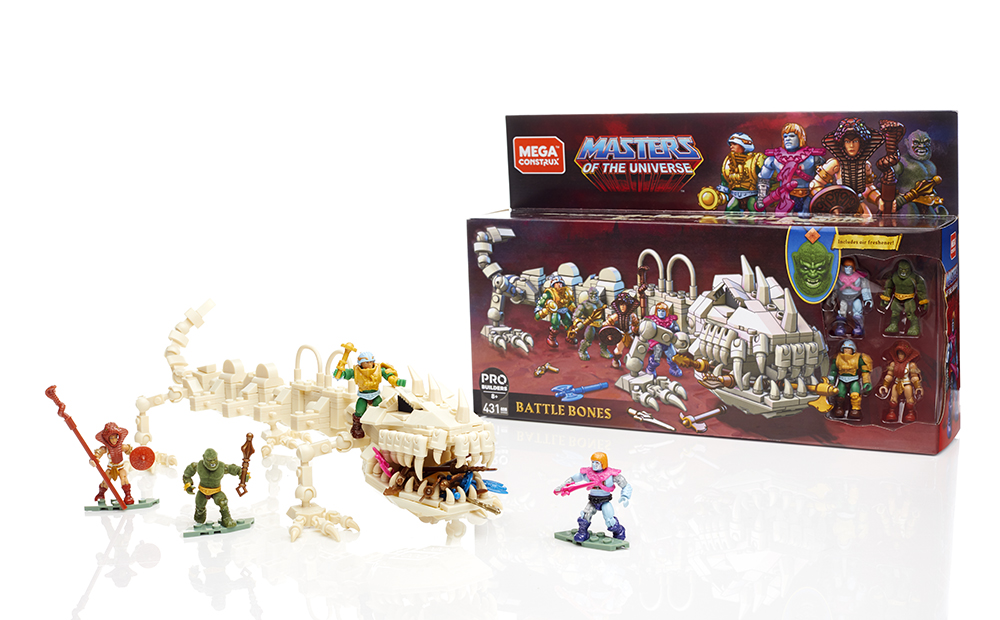 [UPDATE June 10]
It's Pride Month, which means it's fitting that for Mattel's next San Diego Comic-Con exclusive, Batman is displaying all the colors of the rainbow. Mattel's next San Diego Comic-Con exclusives are all about the Dark Knight, starting with a Silver Age four piece set, featuring Negative Suit Batman from Detective Comics #284, Zebra Batman from Detective Comics #275, Rainbow Batman from Detective Comics #241, and of course, a classic Batman as well. Each figure features over 23 points of articulation, and it comes packaged in a fun art themed box that's a throwback to the Silver Age. It will retail for $80.
From io9, here's a look: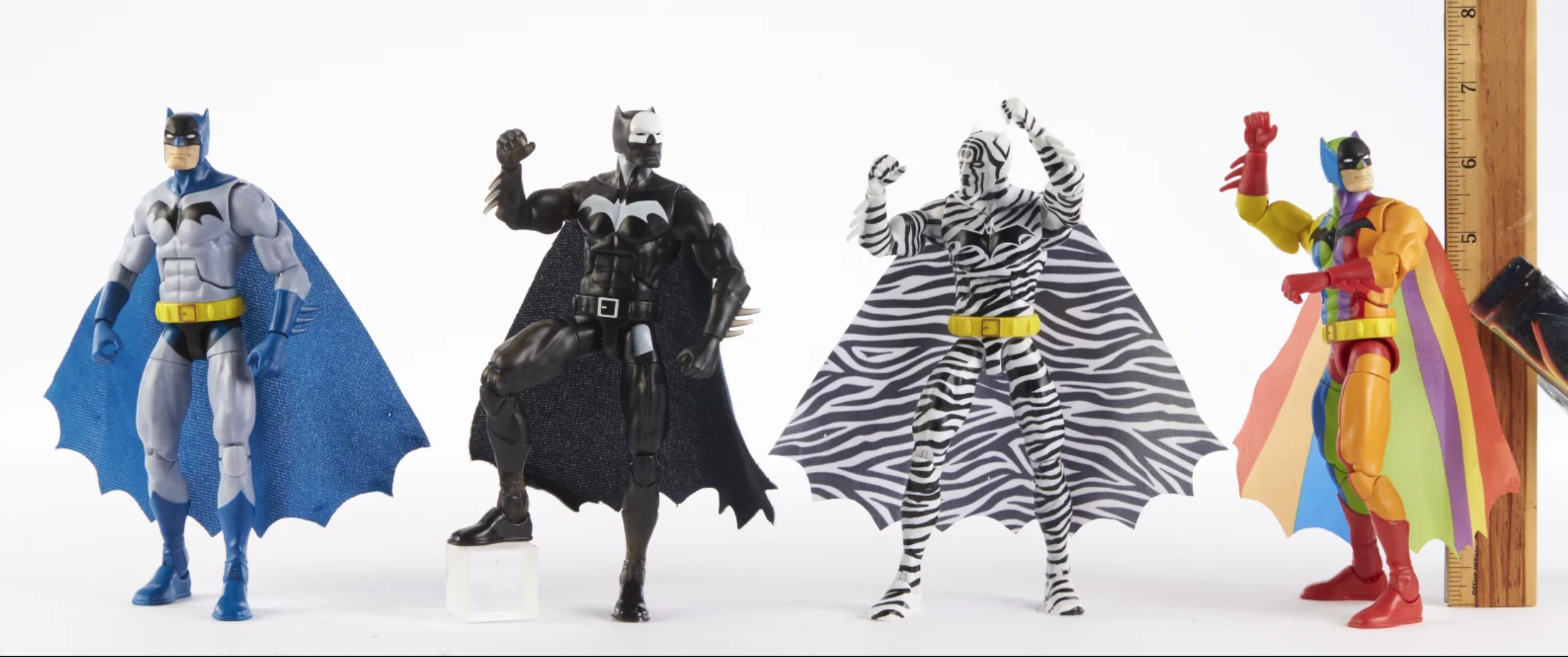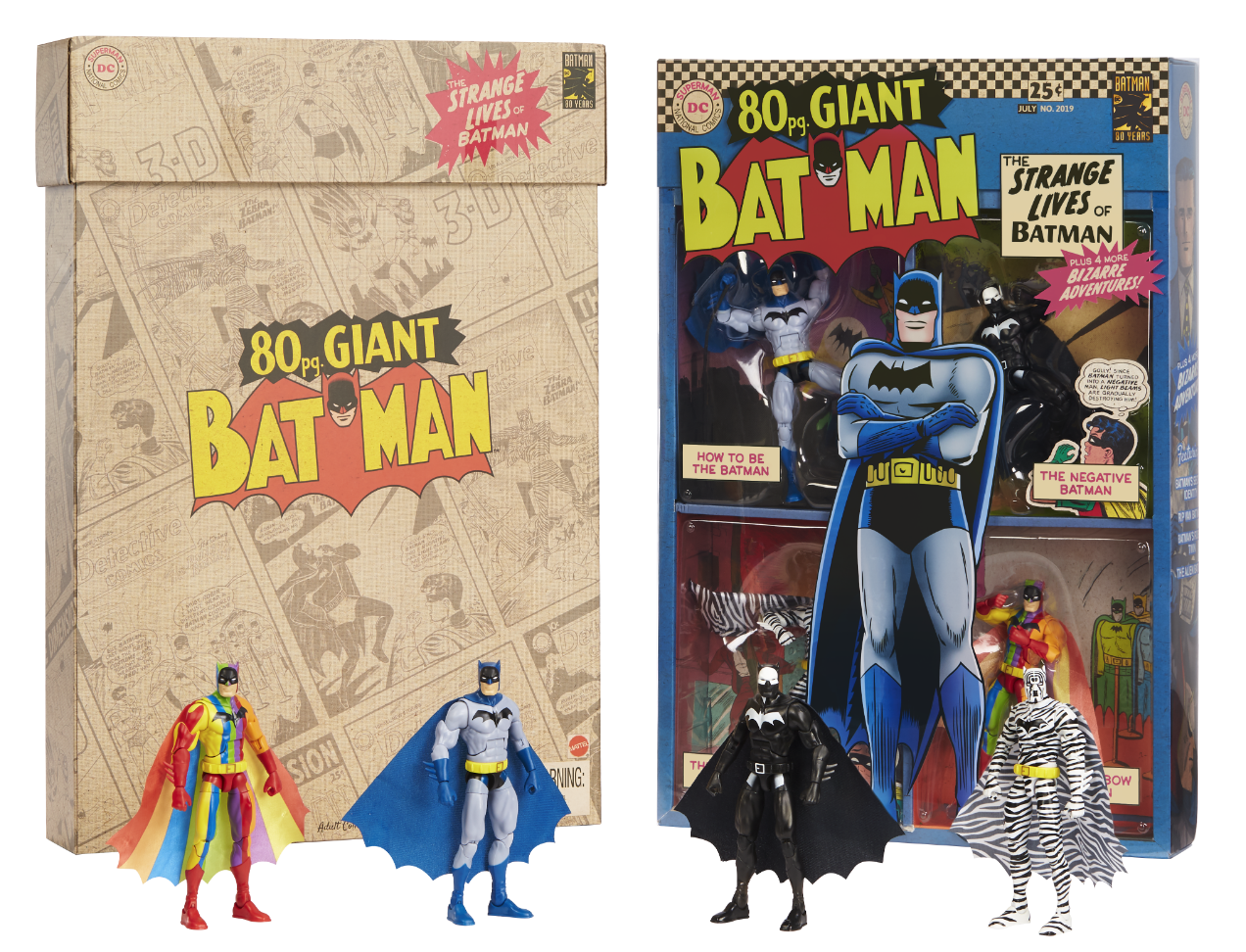 Then, they've got a Hot Wheels' diecast car of the Armored Batmobile from the 1989 Batman film, which features a diecast replica of the Batmobile itself and a protective shell which you can pop on and off. The two-piece set will retail for $25.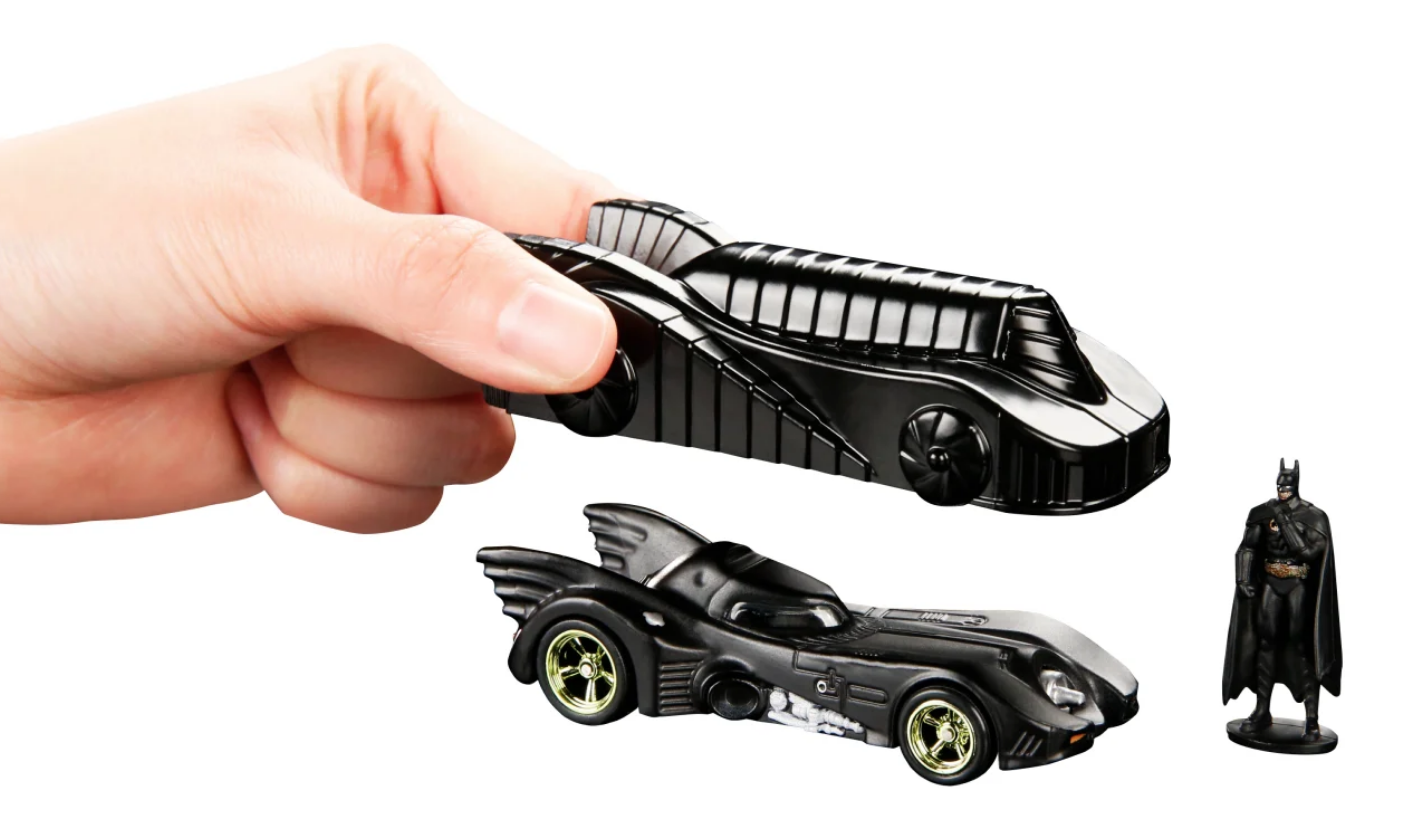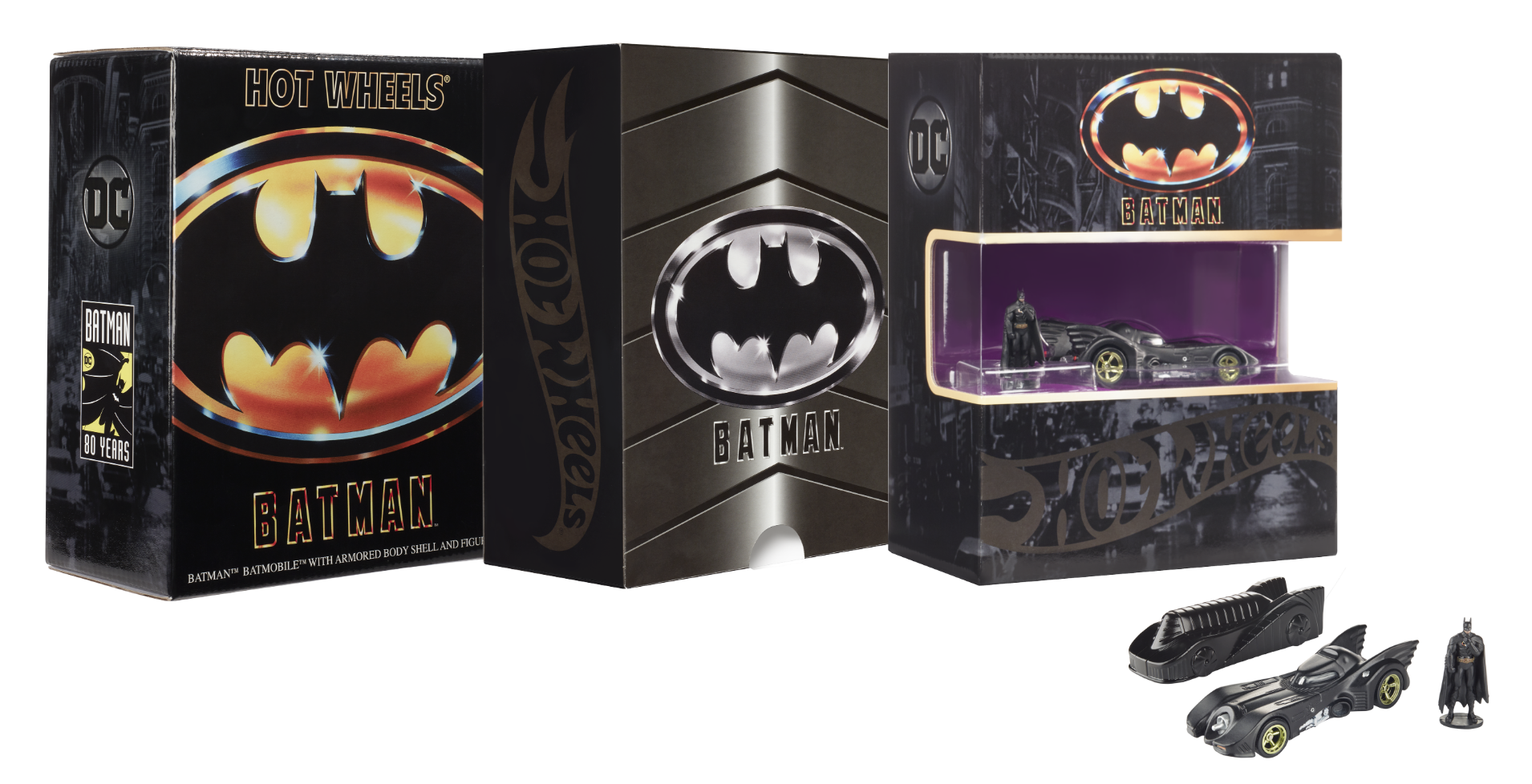 [UPDATE June 5]
Mattel's next San Diego Comic-Con exclusive is pretty "savage". As first revealed by Sports Illustrated, Mattel is bringing an exclusive "Macho Man" Randy Savage action figure to the con. The figure features deluxe articulation, enhanced facial detailing, accessories from a Slim Jim commercial, and comes wrapped in Slim Jim inspired packaging. It will retail for $29.99 through Entertainment Earth beginning Tuesday, June 18, and will NOT be part of Mattel's online pre-sales. However, you will be able to also pick it up at Mattel Booth #2945 for a discounted price.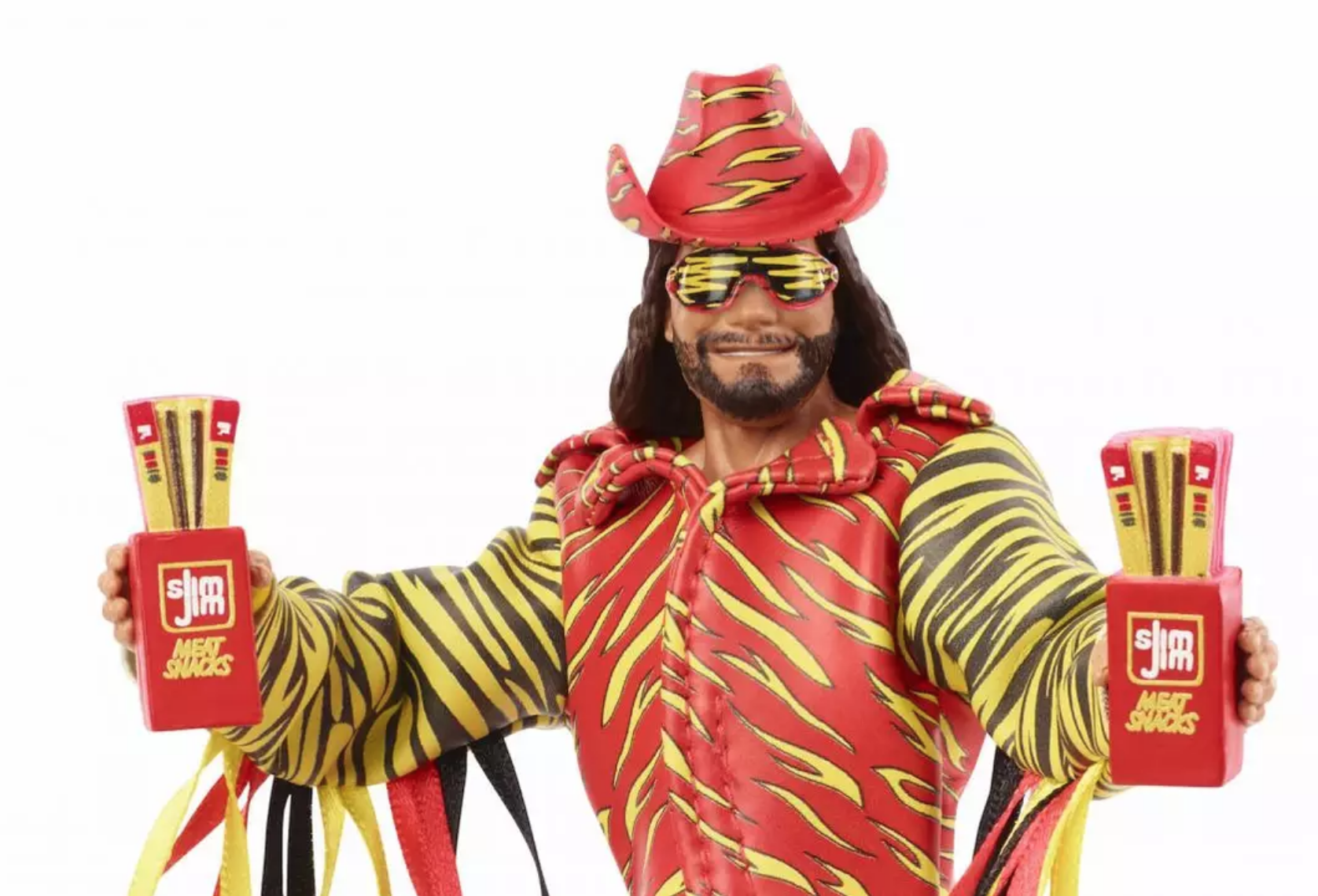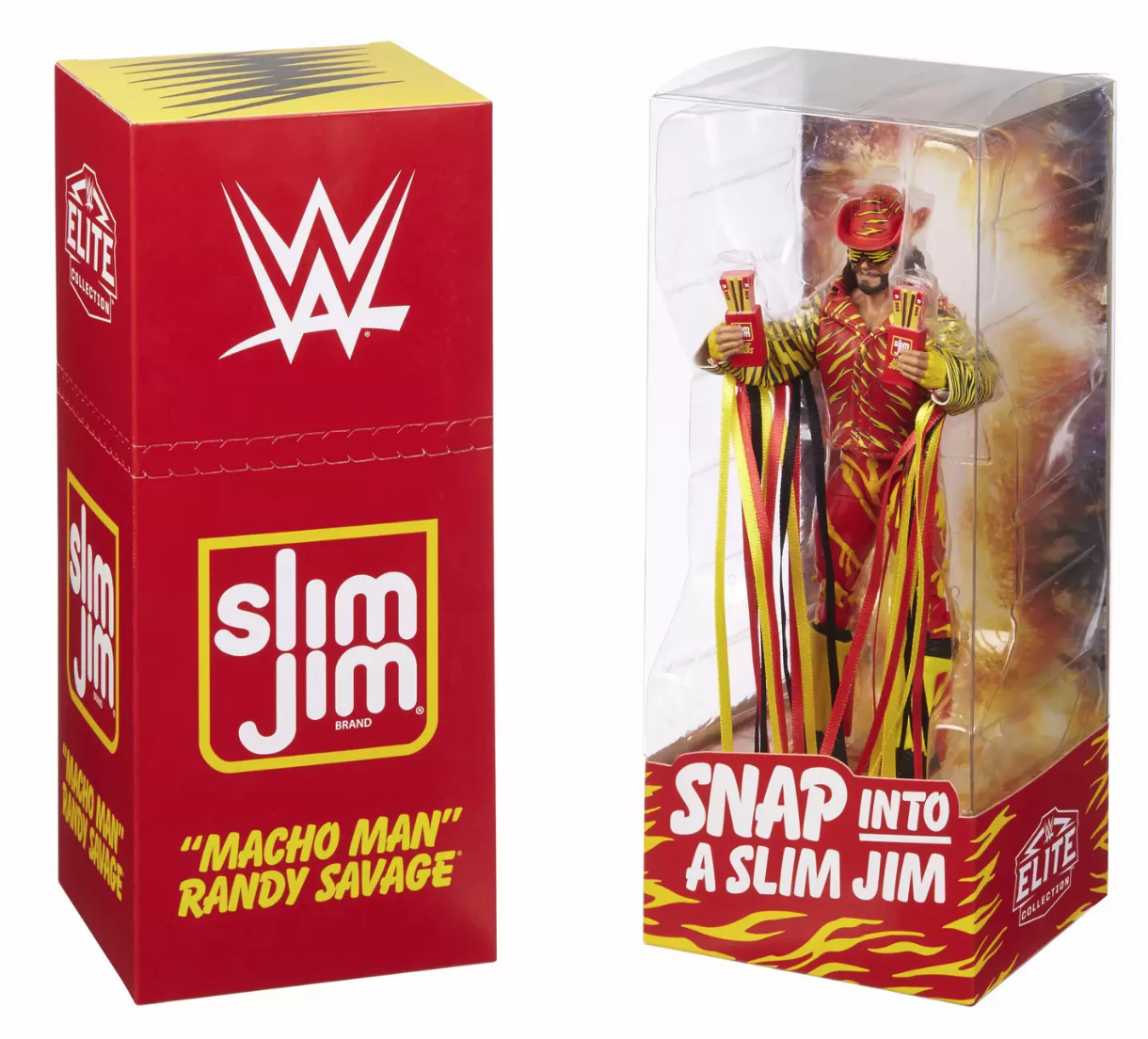 [UPDATE May 29]
It's a-me, Mario! Mattel's first San Diego Comic-Con exclusive comes all the way from the Rainbow Road: the Hot Wheels Metal Mario Die-Cast. The Hot Wheels figure, which is based on the Mario Kart 8 Deluxe game, features Mario piloting a die-cast replica of a Standard Kart, and equipped with a Power Glider. It will retail for $20.