Yesterday was an insane day for San Diego Comic-Con news, but we're not done yet. We've got news on a Doctor Who VR game, some LEGO sets you can scope first at the con, new artwork from several artists, and more.
Here's a look at the news you might have missed:
Make sure you stop by the BBC Booth #4129 next month, to be treated to a new Doctor Who VR Game Demo, created by Playstack and Developer Maze Theory. The new VR game, Doctor Who – The Edge of Time – will launch on PlayStation VR, Oculus Rift, HTC Vive, and Vive Cosmos in September, but you'll get to play it first at the con.
Artist Sam Grinberg, at D-05, will be offering SDCC exclusive Garbage Cat Shirts and Garbage Cat Massive Shiny Stickers at the con. Meow!
Comic Artist Sean Forney shared some of his original drawing he will have available at SDCC Artists' Alley BB-5
Just some of the original art that I will have available at @Comic_Con artist alley BB-05. #SDCC2019 # pic.twitter.com/KYMEYbTMXu

— Sean Forney at C2E2 O-6 (@SeanForneyArt) June 27, 2019
PopCultPlushies revealed a creepy cute Pennywise drop they will be bringing to San Diego Comic-Con. Follow them on Twitter for your chance to find him and other creations — just maybe don't follow any red balloons.
Want a balloon? 🤡 Creepy-cute #Pennywise will be floating into #SDCC on Sunday, July 21st. Follow PopCult Plushies to catch his hiding place. #IT #stephenking #sdcc50 #sandiegocomiccon #comiccon #sdcc2019 #popcultplushies #comicconcrochet #it2 #scarediego @PlushiesPop pic.twitter.com/83mBi3WmZr

— PopCultPlushies (@PlushiesPop) June 27, 2019
Makers of ZBrush, Pixologic invite you to check them out at Comic-Con booth #5120 next to Artists' Alley. You will have an opportunity to check out their 3D software, watch artist demonstrations, and win prizes.

Trends International tweeted two exclusive Star Wars posters they will have available at Comic-Con booth #2913-D. These include a Battle for Hoth poster by Brandon Yarwood and Rebel poster by Russell Walks. Additionally, they'll be selling a SDCC exclusive journal, as well as their 2020 Star Wars calendar.
Here are our exclusive San Diego Comic Con posters! Battle of Hoth is illustrated by our own artist Brandon Yarwood, and Rebel is illustrated by renowned artist @Russellwalks. If you're attending the show, visit us in booth 2913-D. #Reveal #SDCC #SDCC2019 #StarWars pic.twitter.com/Lq0ZweRoAd

— Trends International (@intltrends) June 27, 2019
Another #SDCC exclusive coming at you!
Our journal will be a #SDCC2019 exclusive. Visit our booth to purchase
Our 2020 Collector's Edition calendar will also be on sale during the show#Reveal #StarWars #Calendar #Journal pic.twitter.com/4Crl3wsAhL

— Trends International (@intltrends) June 28, 2019
You can check out LEGO's upcoming Overwatch sets at San Diego Comic-Con, at the Blizzard booth. They'll have both a set for Junkertown and Wrecking Ball. The sets will be 380 pieces and $49.99 and 227 pieces and $19.99 respectively.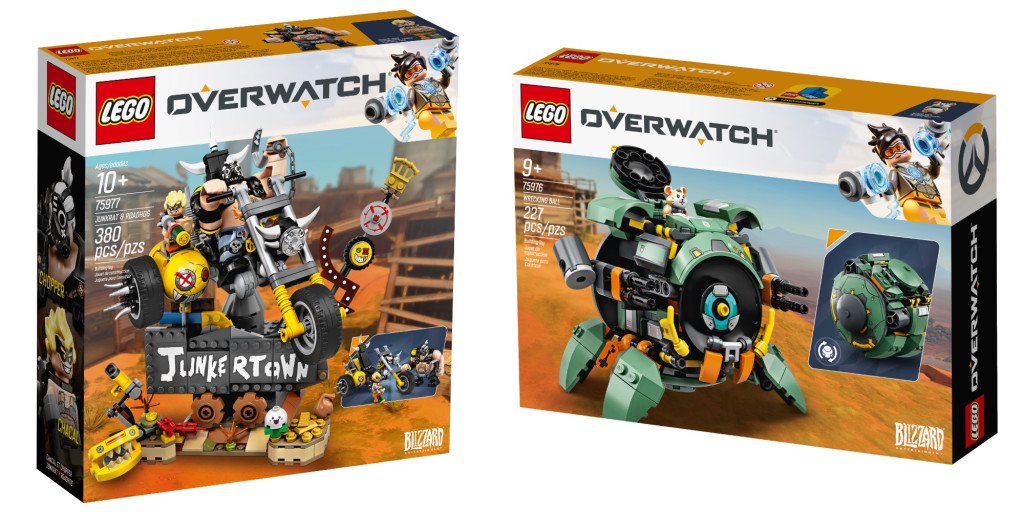 Author Daniel A. Humm will bringing 100 signed copies of his book The Rites of Zane to Comic-Con. He will be handing them out as well as dropping them. If you are interested in a "sci-fi adventure in the afterlife," then be on the look out.
You don't know me (yet), but I'm bringing 100 signed copies of my book "The Rites of Zane" to @Comic_Con this year to hand out & find around the con. If you find one, you may have just struck gold….or at the very least you could level a table with it. #SDCC2019 #SDCC #author pic.twitter.com/yve7LJsfsU

— Daniel A. Humm (@PumRibby) June 27, 2019
Want to get your hands on this print from Camilla d'Errico? You can order it now on her shop, or wait for San Diego Comic-Con 2019.
during the con! She's also available on my custom print shop at https://t.co/zMDmSyYJBz if you're looking to spice up your walls ☺️ Ok, hot stuffs, enjoy the upcoming weekend!
–
–
–#throwbackthursday #sdcc #lizardlady #ilovetheheat #melting #sandiego #california #summer pic.twitter.com/OnDD6J1wZ2

— helmetgirl (@Helmetgirl) June 27, 2019
Patrick Ballesteros has posted another reason to go check out his booth in Artists' Alley DD-08 (as if you needed another reason!). This adorable Optimus Prime magnet will be availableat his booth.
I know it's only Thursday but who's ready to roll out into the weekend? New magnet coming to #sdcc OH…and don't forget to set your alarms for tomorrow's exclusive canvas sale👈🏽!#optimusprime #sdcc50 #SDCC2019 pic.twitter.com/ASK7C3zef0

— Patrick Ballesteros SDCC DD-08 (@PatrickBallest) June 27, 2019
Jin Yung Kim is back with another Twitter post of another adorable robot piece. It can be found at Artists' Alley CC-08.
The #combiners are coming…! New addition to my #SuperMiniBots series will be the #Constructicons! We'll start off with #MixMaster. Stay tuned to see the rest of the team! #SDCC #SDCC2019 #Transformers #Decepticons #jyk_allday @SD_Comic_Con pic.twitter.com/EJXbItEq3T

— JYK All Day (@JYK_AllDay) June 27, 2019
Actor Todd Stashwick let slip that he's heading to San Diego Comic-Con – though it's unclear yet what he's there to promote. We'll find out soon enough!
Hey folks going to #sdcc this year. Who's gonna #slamcon with me?

— Todd Stashwick (@ToddStashwick) June 28, 2019
Anything we missed? Let us know in the comments, drop us a line, or tweet us at @SD_Comic_Con.