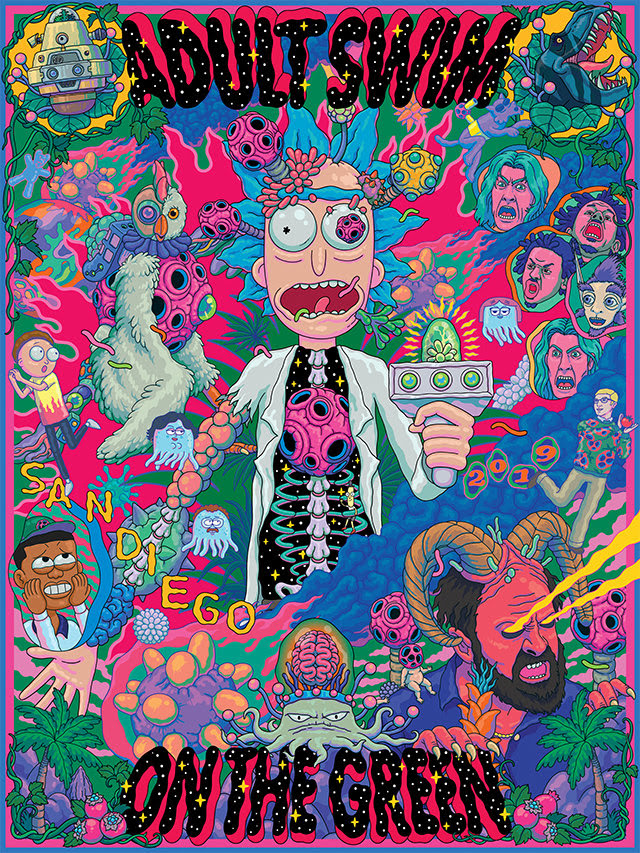 You've been asking — and now it's here. Adult Swim on the Green returns to San Diego Comic-Con this year for a week of fun in the sun, with meet and greets, a massive activation, an Adult Swim Gift Shop, and more. Tickets for all events will launch on Thursday, July 11 at 9AM PT.
You can stop by the Adult Swim carnival just behind the convention center on Thursday, July 18 – Saturday, July 20, where you can get transported into another dimension with the Rick & Morty Rickflector (open 9:30AM-7PM Thursday-Saturday, or 9:30AM-1PM on Sunday).Entrance is free for 18+.
You can also get your buns toasted in the mechanical hot dog, or try to pop one of the least unpoppable balloons on the planet. They'll also have the return of the Rickmobile, games, free water, and more. There will also be a Snickers "Strong Man" high striker game to test your hunger symptoms, and you'll receive a free Snickers bar to relieve you. Stop by Thursday from 4PM-10PM, or Friday/Saturday from 12PM-10PM, though the games will close at 7PM.
Want to meet cast members? You'll get your chance on Saturday, July 20 at the offsite with the cast of Rick & Morty, Genndy Tartakovsky's Primal, and Robot Chicken.
They'll also have an Adult Swim Gift Shop with merch from all your favorite series.
At night, you'll find Wham City, Anamanaguchi, Last Stream of the Left, Genndy Tartakovsky's Primal Time, Robot Chicken, and Rick and Morty. Here's a look at this year's nighttime schedule:
Thursday, July 18
As Seen on Adult Swim Live Auction (7PM-7:45PM)
Bid your heart out at the As Soon On Adult Swim Live Auction — free tickets here
Genndy Tartakovsky's Primal Time (7:45PM-8:45PM)
Come see an ever-changing nightly experience that includes never-before-seen content from the new series. — free tickets here
Anamanaguchi Presented by State Farm (9PM-10PM)
Rock out with the most bit-boppin' electronic band — free tickets here
Friday, July 19
Last Stream on the Left (6PM-6:45PM)
Don't miss your chance to hear some truly horrifying stories from Last Stream on the Left hosts Ben Kissel, Marcus Parks, and Henry Zebrowski
Adult Swim's Cosplay Cup Presented by Doritos (7PM-8PM)
Enter here
Genndy Tartakovsky's Primal Time (8:15PM-9PM)
Come see an ever-changing nightly experience that includes never-before-seen content from the new series. — free tickets here
Robot Chicken (9:15PM-10PM)
Come celebrate 10 seasons of Robot Chicken with the minds behind the madness — free tickets here
Saturday, July 20
Wham City: Live! (6PM-6:45PM)
Prepare for the emotional rollercoaster that is Wham City's brand-new stage show
Genndy Tartakovsky's Primal Time (7PM-8PM)
Come see an ever-changing nightly experience that includes never-before-seen content from the new series. — free tickets here
Rick and Morty (8:30PM-9:45PM)
free tickets here