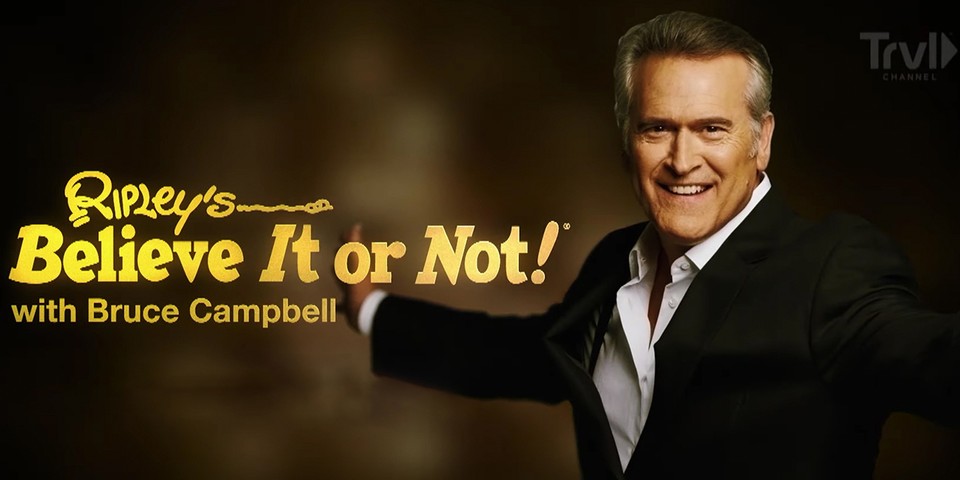 Whether or not you believe it — the upcoming Travel Channel series Ripley's Believe It Or Not is heading to San Diego Comic-Con.
To celebrate 100 years of Ripley's, the Travel Channel is bringing the franchise to small screens with a new 10-episode series, which began airing on June 9. The series aims to introduce viewers to "some of the most amazing people on the planet" — whether that's an expert card-thrower, a high-wire junky, or a contortionist.
The panel, set for Saturday, July 20 at 4PM in the Indigo Ballroom, will see host Bruce Campbell along with the extraordinary people featured in Ripley's Believe It or Not!, including "Cyborg" Angel Giuffria who lives with one of the most advanced prosthetic arms on the market, John "Hammerhead" Ferraro who boasts a skull more than two times thicker than average, and more.
Additionally, you can head to Booth #4015, which will be set up like Ripley's garage, and feature props and peculiar pieces from the Ripley's collection. Swing by to check out shrunken heads, the original Star Wars lightsaber, and more — plus, you'll also be able to purchase retail items like a shrunken head air freshner, and grab giveaways and prizes to redeem at the offsite at the Interactive Zone at Petco Park.
Speaking of, Ripley's heading to the Interactive Zone with inflatable tube men, human car washes, and a pinball arcade for the "Ripley's Believe It Or Not! Car Lot". You'll be able to step into "owner" LeRoy's office, where you can snap a photo as a souvenir, get prizes, and more.