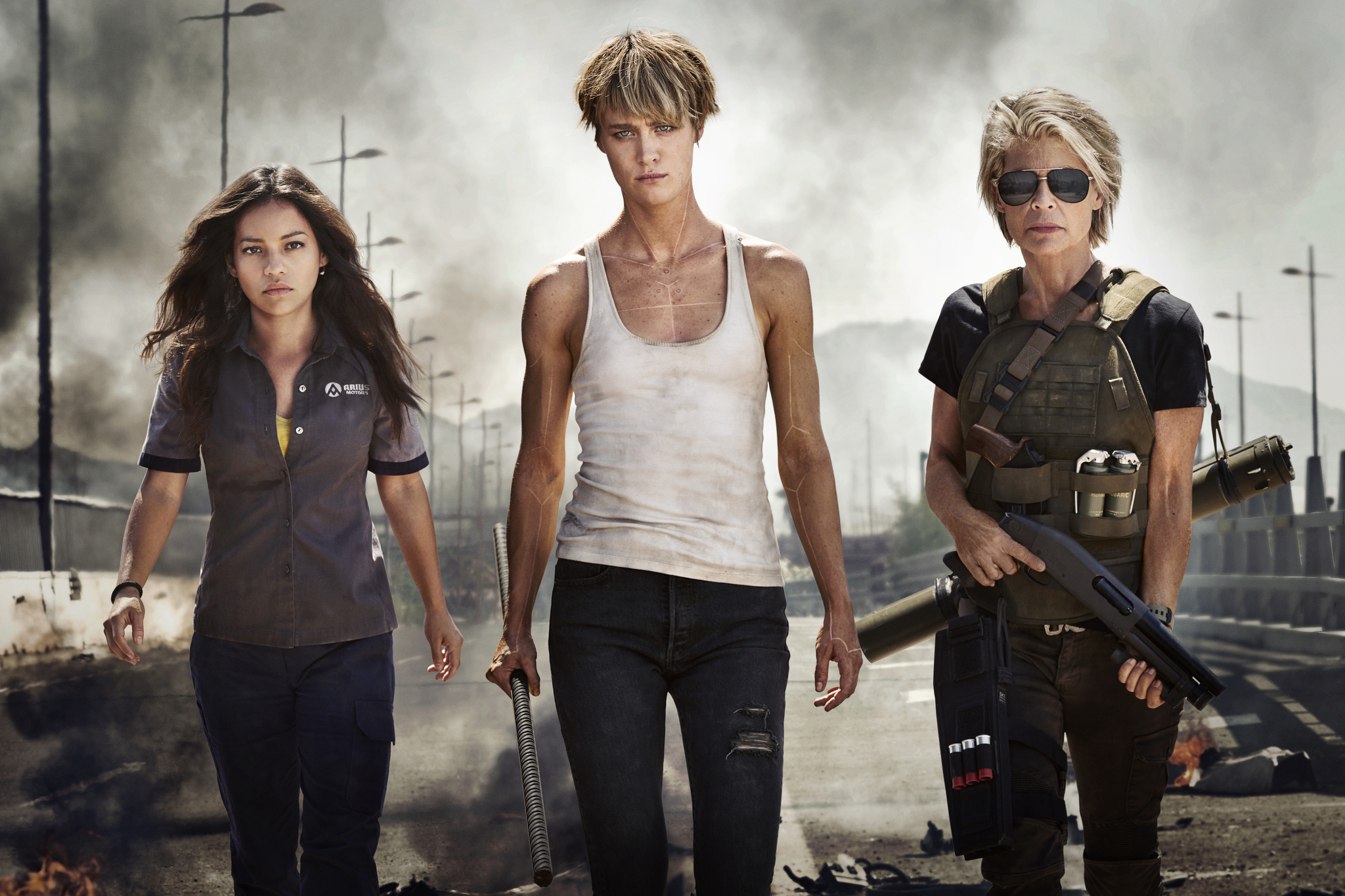 It's two weeks away from Comic-Con, and CCI is releasing the programming schedule for San Diego Comic-Con 2019 in its annual fashion. We'll be bringing you the highlights of each day as they're announced.
We'll also be discussing our thoughts on this year's lineup, including our top picks, what time we think you need to line up, room flow, and more — in a special series of live podcasts this weekend. The first of which will cover Preview Night, Thursday's and Friday's lineup, and will be on Friday July 5 at 9:30PM ET/6:30PM PT.
Since we already know the Wednesday sneak peek pilot screening schedule, it's a simple choice: Catch some cool television pilot episodes, or fight the crowds on the exhibit floor for that must-have exclusive? Having said that, bring on Thursday!
Paramount kicks off the day in Hall H at 11AM, with Terminator: Dark Fate and the return of Arnold Schwarzenegger, followed by a celebration of 20 years of Batman Beyond. Also in Hall H that day you'll find the Marvel Games panel for a look at content from Marvel Ultimate Alliance 3: The Black Order and a new Iron Man VR, Marvel's Agents of S.H.I.E.L.D. with a major room upgrade, and James McAvoy and Lin-Manuel Miranda at 4:45PM for HBO's His Dark Materials.
Terminator is pretty much the only major movie represented on Thursday, though you will find a 35th anniversary Ghosbusters fan discussion at 3PM at the Comic-Con Museum, a look back at The Art of Studio Ghibli at 4:30PM in the Horton Grand (which will require a ticket), and the world premiere of The Banana Splits Movie at 10PM in the Horton Grand (also requiring a ticket). Star Trek fans may also want to hit up the Inglorious Treksperts: Celebrating 40 Years of Star Trek: The Motion Picture panel panel at 3PM in 5AB.
Continuing on the TV side, which takes up a huge portion of the schedule, there's a million things we're pumped for. In Ballroom 20, you'll find Evil, the new Nancy Drew, and YouTube's Cobra Kai. Over in Indigo, it's basically all-TV, all-day, with the likes of Van Helsing, Netflix's The Order, Amazon's Undone, Emergence, Stumptown, Supertore (YES!), and Comedy Central's Crank Yankers.
There's plenty more TV where that came from though, with the day's offerings rounded out by The Toys That Made Us at 12:30PM in Room 6A, a celebration of 20 years of SpongeBob SquarePants at 1:45PM in Room 6A, a look at Funimation's My Hero Academia at 10:30AM in 6BCF, 30 years of Dragon Ball Z at 2:15 in Room 6BCF, a 20th anniversary panel for Home Movies with Bob's Burgers' Loren Bouchard, and more. Then there's this year's Impractical Jokers panel at 7:30PM at the Horton Grand, and of course, the 20th anniversary panel for Farscape (now with Claudia Black!).
Into comics? We recommend the Drawing with Stanley Artgerm Lau panel at 1PM in Room 2, a look at Cursed with Tom Wheeler and Frank Miller at 6:45PM in 6A, a peek into the process of bringing American Gods to life on the page with Painting American Gods at 5:30PM in Room 2, and a Dark Horse panel looking at process with some big names, including Phillip Sevy, Carlos Giffoni, Gabriel Bá, and Fábio Moon. DC's annual Meet the Publishers panel at 11:30AM in 6DE is a great way to get a "state of the union" from Dan DiDio and Jim Lee, though you can catch Lee again at 12:45PM in the same room for his Spotlight. You'll find another spotlight of a sort at 2PM in 6DE, this time focused on Tom King, and another spotlight at 3PM in Room 11 on CCI special guest, the legendary Marv Wolfman.
There's also a DC Fireside Chat with two of the biggest DC names, Scott Snyder and Greg Capullo, at 4:30PM in Room 8. We love the annual The Mark, Sergio, and Stan Show with the award-winning team of Sergio Aragonés, Mark Evanier, and Stan Sakai at 3:30PM in Room 8 as well.
2019 is Comic-Con's 50th anniversary, so expect a lot of looks back at the history of the convention throughout the week. Thursday kicks us off with a look at Comic-Con in the 1970's, hosted by Mark Evanier at 11AM in Room 5AB, with names like William Stout, Scott Shaw, and more. You can also find just some of the talented professionals from Comic-Con over the years at 1:30PM in Room 8.
There are plenty of other exciting things happening all day. Our #1 pick for the day has to be SYFY's The Great Debate, which returns with host Aisha Tyler and a new group of celebrity nerds for antics, hilarity, and general mayhem (seriously, GO TO THIS). We're also intrigued by "From OSHA Violation to Superhero: The Lab Accidents That Will Most Likely Give You Superpowers" if you're thinking of trying to become a superhero anytime soon, at 7PM in 6DE. You can find some big names (including Yvette Nicole Brown and Malcolm Barrett) on a pitching panel at 12PM in Room 7AB.
While Friday is the annual Star Wars Day at Comic-Con, you can get hyped a day early with a look into the Lucas Museum at 10AM in Room 5AB. Mattel returns with their annual WWE fan panel, this time with big names like Zack Ryder, Curt Hawkins, Rey Mysterio, Kofi Kingston, and "The Man" Becky Lynch at 11:15AM in Room 6A. Fans of the Funko Funkast can catch all their favorites live at 10AM in 6A. Love Broadway or Harry Potter as much as we do?  You can join an "interactive panel" looking at the theatre production of Harry Potter and the Cursed Child at 6PM in Room 6BCF. Come hear celebrated Disney animators speak at 2PM n Room 25ABC, or catch up with BOOM!'s LGBTQ line-up at 12PM in 28DE.
You can also find Legion M at 2PM in Room 7AB, and famed film critic Leonard Maltin giving a talk at 1PM in 6BCF that's sure to be both fun and informative.
If you want to pay your respects to Stan Lee, you'll have two opportunities — first at 2PM in Room 5AB and again at 3:30PM in 6BCF. Also on a more serious note, you can check out Art During the Holocaust at 1:30PM in Room 4.
We also love that there's a comics panel presented entirely in Spanish, at 8:30PM in Room 26AB.
You can view the full Thursday programming schedule on the MySched website.
What will you be lining up for on the first full day of Comic-Con? Let us know in the comments.