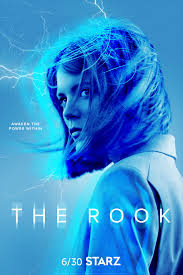 While Outlander won't be at San Diego Comic-Con this year, that doesn't mean that fans of Starz will be completely shut out. Deadline reports that The Rook, based on the novel by Daniel O'Malley, is heading to the convention.
Fans will find the series on Friday, July 19 in Room 6A, with stars Olivia Munn, Joely Richardson, and Emma Greenwell.
The new series follows Myfanwy Thomas as she attempts to reconstruct her memories after waking up in an unusual situation underneath London's Millennium Bridge. There's superpowers, a secret British agency, and lots of thrills along the way.
This will be Starz's only San Diego Comic-Con panel this year, with both Outlander and American Gods sitting out.