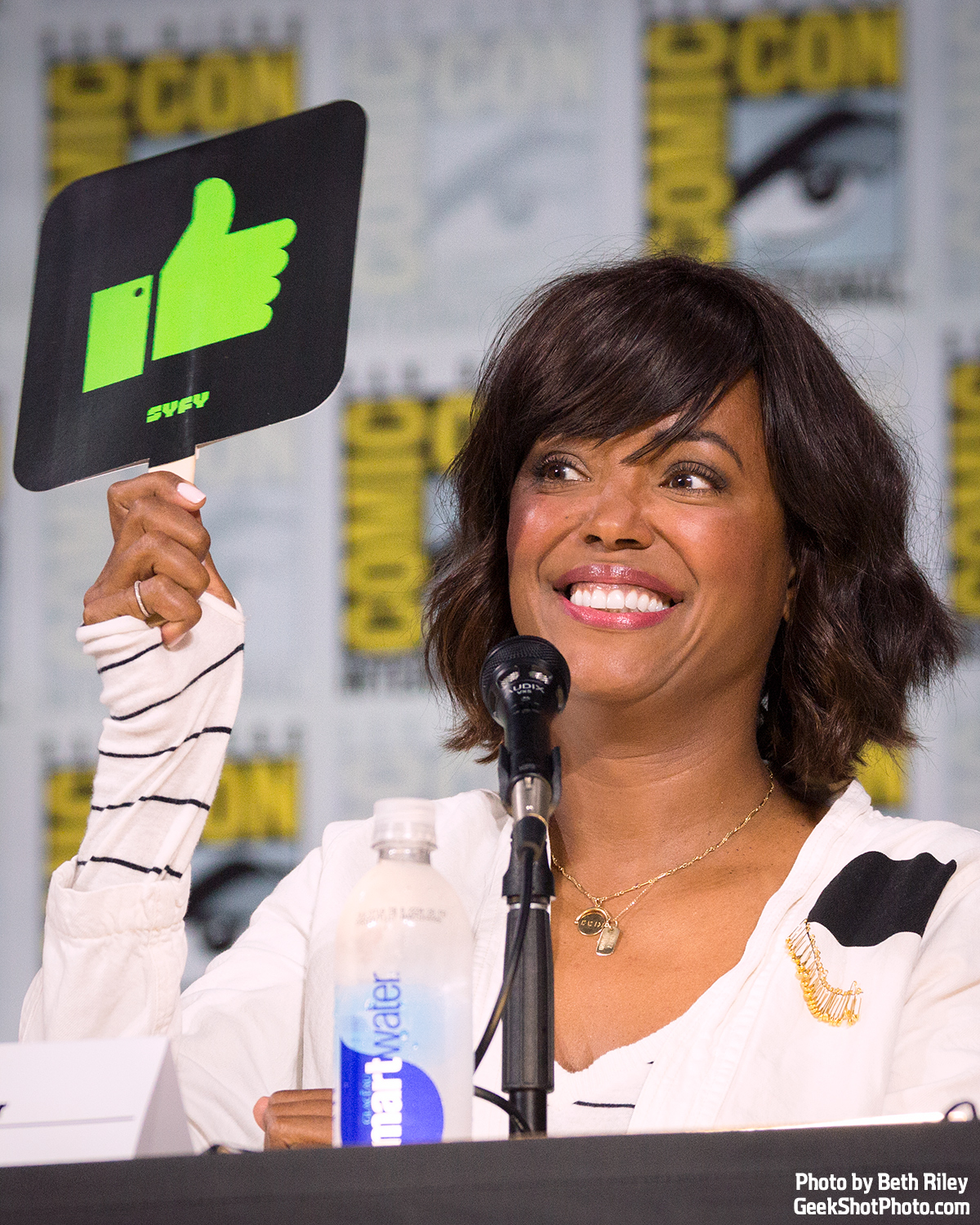 With SYFY's full list of panels now announced, many are turning their attention to what SYFY has going on in the Gaslamp District. And the answer is: A lot.
You can find SYFY at every turn in the Gaslamp, with Orlando Jones back to led everyone's favorite drumline.
[UPDATE] The popular SYFY karaoke bus and the trivia trolleys are also back, featuring songs and trivia from the 1980's, 1990's, and 2000's. The karaoke buses will depart Thursday, July 18 – Saturday, July 20 from from Union Cowork (704 J Street), while Trolleys leave from The Pendry Hotel  (550 J Street) — and fans can sign up for both the bus and/or trolley each morning beginning at 10:30AM at either location (Union Cowork or Pendry) to secure ride slots for that particular day.
The karaoke buses from Thursday – Saturday from 11AM-6PM, and the trolleys run 11AM-7PM Thursday-Saturday.
You'll also be able to collect free SYFY swag throughout the week, including branded mega bags, t-shirts designed with 80's, 90's, and 00's flare, sunglasses, and more.
However, one thing you won't find from SYFY this year: the fan parties, which we've confirmed won't be back in 2019.
Here's a look at SYFY's previously announced panel line-up, which includes fan favorite series like The Magicians, Wynonna Earp, Van Helsing, The Great Debate, and more:
THURSDAY, JULY 18
11:15am – 12:15pm: VAN HELSING
Location: Indigo Ballroom, Hilton Bayfront
3:30pm – 4:30pm: SYFY WIRE HOSTS THE GREAT DEBATE
Location: Ballroom 20
Moderator: Aisha Tyler
Let's settle this inside! Fearless captain Aisha Tyler returns with a new group of celebrity nerds for one of Comic-Con's most popular panels. Join them as they debate some of the biggest, best, and funniest issues in the geekverse.
4:30pm – 5:30pm: HORROR TIMES TWO: CRITTERS ATTACK! AND THE BANANA SPLITS MOVIE (with Warner Bros. Home Entertainment)
Location: 6DE
CRITTERS ATTACK!: Dee Wallace, Tashiana Washington, Bobby Miller, Keith Arbuthnot, Peter Girardi
THE BANANA SPLITS MOVIE: Jed Elinoff, Scott Thomas, Sara Canning, Peter Girardi, Eric Bauza
Moderator: Mike Avila (SYFY WIRE)
It's a double dip of horror as the casts and creatives from two upcoming films from Blue Ribbon Content, Warner Bros. Home Entertainment and SYFY unite.
10:00pm – 12:00am: World Premiere of THE BANANA SPLITS MOVIE
Location: Horton Grand Theatre
FRIDAY, JULY 19
10:15am – 11:15am: SYFY WIRE'S IT CAME FROM THE 90s
Location: Ballroom 20
Moderator: Dave Holmes
Lace up your Doc Martens and dust off that plaid shirt! SYFY WIRE is bringing together a panel of iconic 90s genre stars and today's celebrity superfans, to work together to test their wits (and memories!) about some of the greatest movies, TV, and gaming of the 90s. It'll be as fun as playing Myst but way less impossible to beat!
SATURDAY, JULY 20
5:00pm – 5:50pm: WYNONNA EARP
Location: Indigo Ballroom, Hilton Bayfront
Panelists: Emily Andras, Melanie Scrofano, Katherine Barrell, Beau Smith, Chantel Riley, Greg Lawson
Moderator: Kayti Burt (Den of Geek!)
6:00pm – 6:50pm: THE MAGICIANS
Location: Indigo Ballroom, Hilton Bayfront
Panelists: Stella Maeve, Olivia Taylor Dudley, Hale Appleman, Summer Bishil, Arjun Gupta, Jade Tailor, Rick Worthy, Brittany Curran, Trevor Einhorn, Sera Gamble, John McNamara, Henry Alonso Myers
Moderator: Damian Holbrook (TV Guide)