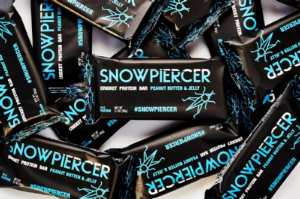 If you watched Snowpiercer and thought, gee, I'd love to try one of those daily rations of bars they're eating — here's your chance, and, uh, you might need therapy.
To promote Snowpiercer at Comic-Con this year, TBS has partnered with EXO for the first and only time to distribute "Bug Bars" via vending machines at the TBS Booth #4215. Attendees will be able to score one-of-a-kind protein bars made out of… cricket protein powder.
It's a throwback to both the film and the upcoming series, in which the Snowpiercer train carries the remnants of humanity around the world after the earth has become a frozen wasteland. While the front of the train enjoys the luxuries of first class, the Tailies huddled in the back of the train survive on daily rations of bars, which are made out of bugs. These bars at Comic-Con offer a taste of the story, but with a flavor one would expect from the front of the train.
So — enjoy your Bug Bars!