I read the news today, oh, boy… While this edition of Under the Tents doesn't have news about the Albert Hall, we do have great SDCC news from Val Hochberg, the Cartoon Art Museum, Bill Robinson, and a lot more.
Here's a look at what you might have missed:
https://www.instagram.com/p/BzrqjPODUl2/
https://www.instagram.com/p/BzroDfiB0u_/
https://www.instagram.com/p/BzrOsj1B-ww/
Some 80s themed original art that I will have available at @comic_con artist alley BB-05#80scartoons #shera #sheraandtheprincessesofpower #mattel #heman #mastersoftheuniverse #motu #dreamworks #thundercats #liono #mummra #tmnt #teenagemutantninjaturtle… https://t.co/cIQccFZwGo pic.twitter.com/cXtMq7n6Cq

— Sean Forney at C2E2 O-6 (@SeanForneyArt) July 8, 2019
https://twitter.com/ROMCardGame/status/1147932907094196229
https://twitter.com/ROMCardGame/status/1147932318545272832
A second shirt #design I created for @GraphicLabTees which will be premiering at #sdcc this year. Can't wait to wear this one!
#shirtdesign #artistsontwitter #nickkremenekart #startrek #startrektng #illustration #art #drawing #graphics #shirtart #artoftheday #creative #makeitso pic.twitter.com/TdXVy6PTrv

— Nick Kremenek (WonderCon Artist Alley Booth D-39) (@NickKremenek) July 8, 2019
I'll be signing copies of my books, including the new BACK TO THE FUTURE: RACE THROUGH TIME, at San Diego @Comic_Con. Join me at the @insighteditions booth (#3721) on Friday, July 19, at 11:30AM! #BTTF #books #signing #SDCC2019 pic.twitter.com/1hicN4oz7F

— Marc Sumerak (@msumerak) July 8, 2019
https://twitter.com/zdarsky/status/1148588275503943681
You'll float too! Just finished up this new Pennywise piece for @comic_con next week. Swing by artist alley BB-18 to scoop one up. @procreate @itmovieofficial @SD_Comic_Con #uminga #horror #pennywise #it #clowns #clown #art #artist #spooky #sdcc2019 #sdcc pic.twitter.com/OP6hHxKhLy

— Chris Uminga (@Uminga720) July 9, 2019
Hang on to your hairpiece! That's right, @dicksp8jr and I will be back at @Comic_Con hosting the final Supernatural panel. @cw_spn #SPNFamily pic.twitter.com/SBeJVwqCWS

— Rob Benedict (@RobBenedict) July 9, 2019
https://www.instagram.com/p/Bzs9MfpA3ht/
Our third #SDCC exclusive!! Pick up the Captain by visiting Booth 1623! Printed in metal & signed in white paint by @brycepapenbrook , this piece will be numbered to 40! 😈🔥‼️ #Wizyakuza pic.twitter.com/WLCUwXzEgR

— Wizyakuza Artwork (@wizyakuza_art) July 9, 2019
Breaking news! During San Diego Comic Con, I'll be signing at the @ChuckJonesArt Gallery and launching my new minimalist Looney Tunes collection. Signing will be in the afternoon on a Thursday 18th. pic.twitter.com/SAPhSoRhMJ

— S. Preston (@PootPoot) July 9, 2019
Attending San Diego @Comic_Con next week? Visit @SquareEnix booth 3829 and you can tear through the highways of Midgar on Cloud's iconic Hardy Daytona. Hop on and kick it into high gear. #FF7R pic.twitter.com/11hI3u3udH

— FINAL FANTASY VII (@finalfantasyvii) July 9, 2019
https://www.instagram.com/p/BztAosYHMdh/
https://www.instagram.com/p/BztJLwXB5B2/
https://www.instagram.com/p/BztHUcxBzqI/
https://www.instagram.com/p/BztEi0Sn_Pj/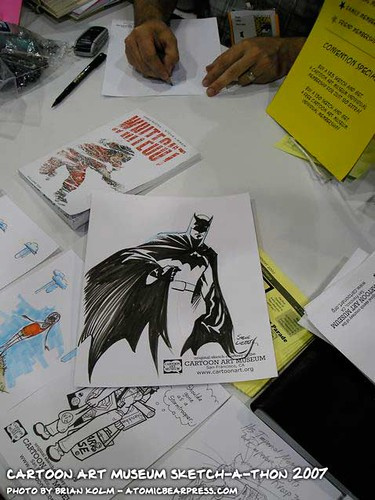 Anything we missed? Anyone you're really excited to see? Let us know in the comments, drop us a line, or tweet us at @SD_Comic_Con.