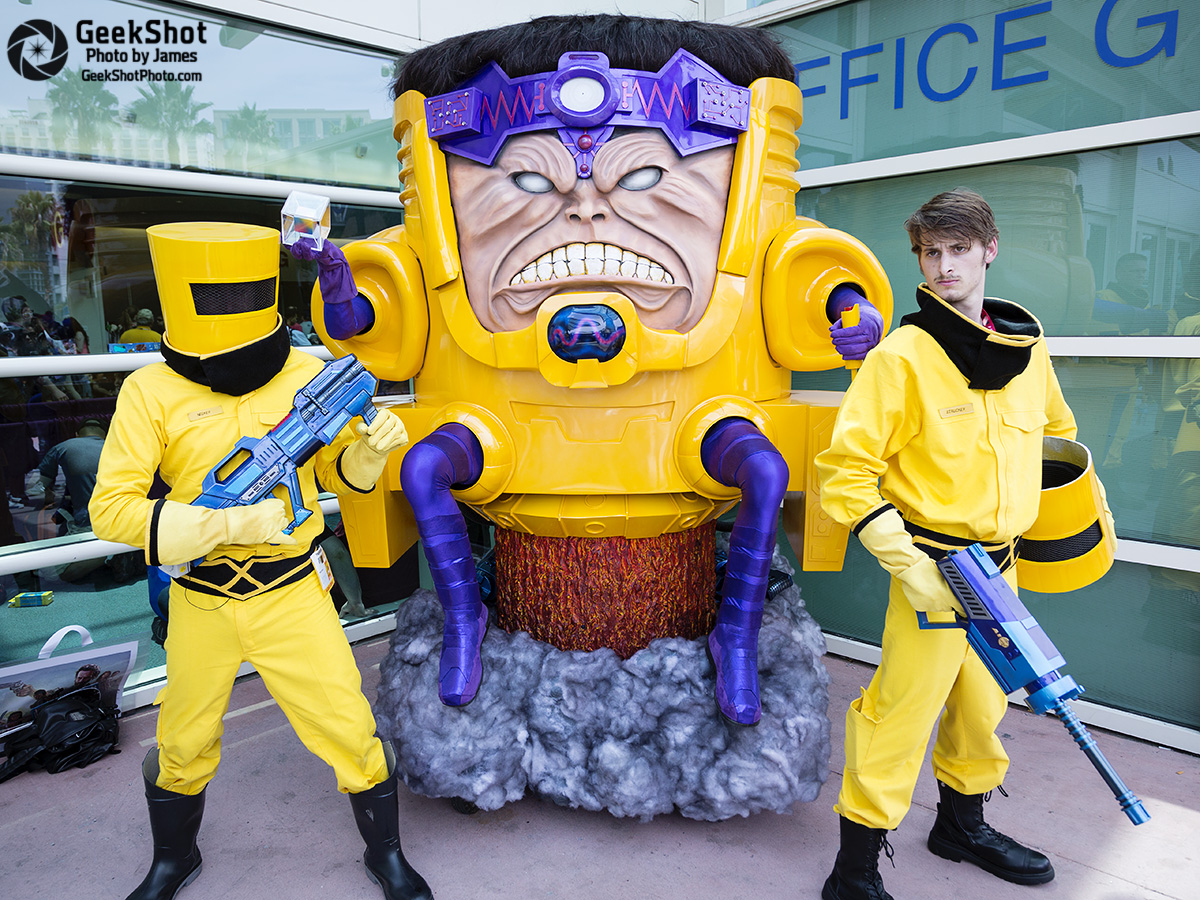 If there's one thing San Diego Comic-Con is synonymous with, it's amazing cosplay. And that's always the most true at the annual Masquerade, when competitors show off their amazing (and sometimes hilarious) creations. Plus, you never know who's going to stop by.
Entries are now open for the 2022 Masquerade, and you can find the official rules and entry for on their site.
The event, to be held on Saturday, July 23 in Ballroom 20 at 8:30PM, draws a crowd of 4,000 attendees (with 2,000 more watching in Sails Pavilion and other rooms, which act as overflow). Just as in previous years, the Masquerade is free to participate in for anyone with a Saturday badge.
Contestants can enter as a single participant or in a group, and medallions will be given to the winners in the following categories:
Best In Show
Judges' Choice
Best Re-Creation
Best Original Design
Best Workmanship
Most Humorous

Most Beautiful
Best Young Fan
Winners in the above categories will also receive a free 4-day badge to San Diego Comic-Con 2023 – which is a big prize in and of itself. In the event that a group wins, up to five memberships will be given.
Additionally, several companies and organizations offer cash prizes for sponsored awards, which include:
Frank & Son Collectible Show of the City of Industry, California, "The first and last stop for all your collectible needs" will take a break from their large bi-weekly mini-cons to present a generous $1,000 cash prize, plus a beautiful trophy, to the entry they deem to be the Audience Favorite (so be sure to generously applaud your favorites!).
The Art Directors Guild, IATSE Local 800. The ADG, which has presented panels at Comic-Con for over a dozen years, has among its members Art Directors, Graphic Artists, Illustrators & Storyboard Artists, Model Makers, Pre-vis Artists, Production Designers, Scenic Artists, Set Designers and Title Artists of the motion picture, theater, and TV industries. The ADG is presenting two awards: The Art Directors Guild Cosplay Award for Original Concept Design, presented to the entry most exemplifying a wholly original concept, and The Art Directors Guild Cosplay Award for Best Visual Media Design, presented to the entry whose design best interprets a character or concept from a television show or motion picture. Each award comes with a $500 prize.
The Costumer's Guild West (CGW), southern California's costuming fandom group, will present a one-year membership to CGW, as well as a full scholarship and a complimentary 1-night hotel stay to their weekend conference, Costume College®, held the last weekend in July at the Warner Center Marriott in Woodland Hills, CA (winner may choose 2023 or 2024) to the entry their representatives select as showing the most promise. Costume College provides educational lectures and workshops in every aspect of costuming.
3DHQ, a popular Exhibitor at the convention, will offer each Comic-Con trophy winner a free 3D Digital Self Avatar and create a free 3-D figurine of them in their winning costume, taken at 3DHQ's Exhibit Hall booth on Sunday (normal cost $324), plus a fast-pass to the start of the line. Best of Show winner will receive a larger size figurine. If a group wins a category, only one member will receive the figurine, but all contestants, winners or not, who are available to be scanned Sunday can receive a free 3D Digital Self Avatar of themselves in their costume.
Comic-Con International will present a special award given in memory of a long-time Committee and Board member Alan Campbell, who passed away and is sorely missed. Alan was a great fan of the Masquerade, at times generously donating his own prize. The Alan Campbell Award will be $500 cash, presented to the entry deemed Best Re-Creation of a Comics Character or Characters, as selected by a representative of the Board of Directors.
For those hoping to simply watch the competition, as always, free tickets will be available starting at 12pm PT on Saturday to those lining up near Ballroom 20, and available again from 3pm-5pm at the Masquerade Desk until all are given out.
You can find more information about the Masquerade on Comic-Con International's website.
What do you think about the new rules? Let us know in the comments.