Two months from right now, one thing is for certain: We will probably be standing in a line somewhere. But we'll be at San Diego Comic-Con — and for that, we couldn't be more excited. We're equally as excited for today's round-up of news, including updates on comic artists and writers, a look at the PC gaming schedule, art teases, and more.
Here's a look at what you might have missed:
Le Petite Elefant, also known as artist Genevieve Santos, has something singularly exciting at San Diego Comic-Con this summer. We'll have to wait for the full reveal.
 

 

View this post on Instagram

 
Comics maker and graphic novelist Nate Powell announced that an expanded paperback edition of his Save It For Later: Promises, Parenthood, and the Urgency of Protest will be making its debut at SDCC this summer, ahead of its full August release. The expanded edition will feature new illustrations, an in-depth conversation with Derf Backderf, process pages, recommended readings, and more.
The expanded paperback of my Eisner-nominated book will debut at SDCC this year— signings & panel info soon!

In the meantime, if you're eligible please vote in the Eisners— or register to vote here: https://t.co/Cc71fUo0Ug https://t.co/OMxiw1u8Zb

— Nate Powell (@Nate_Powell_Art) May 21, 2022
If you've spent your weekend watching the new Rescue Rangers film (and if you haven't, you should) — then let's just say we agree with a certain duck at the end of the film. Luckily, artist James Silvani is bringing his Darkwing Duck: Tales of the Duck Knight Comics Collection Vol. 2 to his booth at the convention.
Found a box of these volume 2 beauties online. They'll be available in my booth at SDCC. If there's any leftover I'll put them on my store afterwards. pic.twitter.com/UT5QFtJHnu

— James Silvani (@SilvaniArt) May 21, 2022
Toy company threezero revealed that they have plans to have new product on display at San Diego Comic-Con this summer, though exact details are still being finalized.
Yes, we have plans to have new product on display at SDCC 2022. Details are presently still being finalized with our partners.

— threezeroHK (@threezeroHK) May 20, 2022
Still looking for a way to attend San Diego Comic-Con? J. Scott Campbell Ltd. is currently seeking a Brand Ambassador to work at their booth for $15-$20 an hour, and it includes a hotel room. You can apply on Indeed.
Artist Patrick Ballesteros gave a sneak peek at a pin backing for San Diego Comic-Con — what could it be? A two-fer for everyone's favorite (and then least favorite) Assistant Coach of AFC Richmond, perhaps? That's our best guess — but we'd love to know yours.
Saturdays are made for SDCC prep 😂💪. pic.twitter.com/kBVGDjlQMR

— Patrick Ballesteros SDCC DD-08 (@PatrickBallest) May 21, 2022
Sunday vibes.#wipart #SDCC pic.twitter.com/NvDG69T55B

— Patrick Ballesteros SDCC DD-08 (@PatrickBallest) May 22, 2022
Comic book artist and writer Todd Nauck is making his first con appearance since 2019 this summer, and he's already got a packed schedule. He'll be doing a Thursday panel, a possible publisher booth signing, commissions starting at just $60, original art for sale, limited edition art prints, and he'll be signing autographs of a limited number of comics at his booth. Note that while most signatures are free, he does charge $10 per comic autograph for CGC or graded comic services. Catch him in Artist Alley II-01.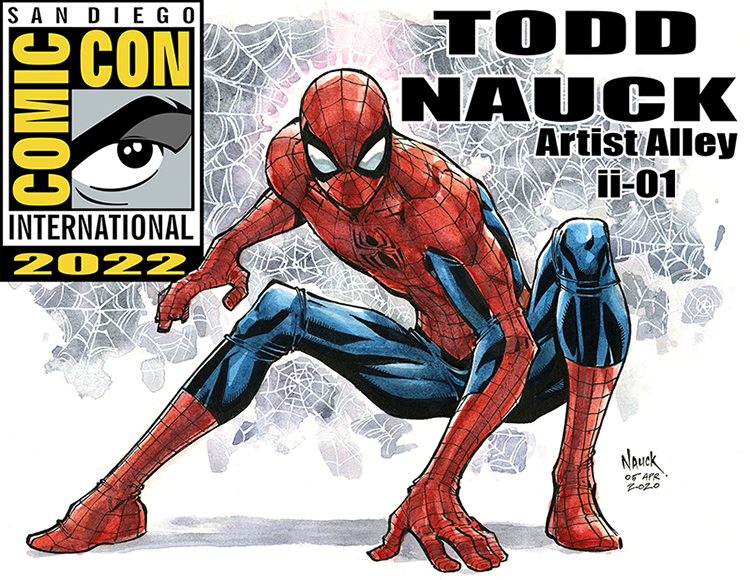 The Voyager Documentary, a look back at Star Trek: Voyager, may be boldly going to San Diego Comic-Con this summer. The Twitter account for the documentary asked followers if they were headed to the con, which implies they could be beaming up to the con themselves.
Voyager fans: Are you going to SAN DIEGO COMIC CON?

— The Voyager Documentary (@voydocumentary) May 20, 2022
Do you love PC gaming? San Diego LAN will be hosting the PC Game Room at SDCC this summer, in the Mezzanine Room 17B, which will include PC gaming tournaments, VR experiences, giveaways, and free play all weekend long. You can find more information on the Facebook event page. The schedule includes:

Thursday

10am-6pm: Free Play
2pm: Cod4 2v2

Friday

9am-6pm: Free Play
12pm: Blur Racing
2pm: Halo: CE 2v2

Saturday

9am-6pm: Free Play
12pm: Rocket League 2v2
2pm: Cod4 2v2

Sunday

9am-3pm: Free Play
12pm: Halo: CE 2v2
All day tournament till 2pm: Xortex VR high score contest

It's an announcement within an announcement! Writer Michael Heffron tweeted Paul Thayer, creator of Project Naosis, to say that they will be booth neighbors.
@Paul_IS_Truth Hey Paul. Looks like 'm going to be your neighbor at #SDCC. Wanted to introduce myself and say hello. See you in July!

— Mike Heffron 🇺🇸🇺🇦 (@michaelheffron) May 20, 2022
StashhhLoot is bringing a whatnot arcade to several conventions this summer, including San Diego Comic-Con. While not specified, we believe this will likely be a booth, similar to their booth at MegaCon this weekend, which you can view on their Instagram.
 

 

View this post on Instagram

 
Anything we missed? Let us know in the comments, drop us a line, or tweet us at @SD_Comic_Con.
If you missed our previous Under the Tents 2022 posts, you can find them HERE.