We are just THREE weeks away from San Diego Comic-Con! There's still plenty of news to come (so much news we're sort of terrified, in fact) — but we've got a round-up for you today of updates on Bandai, Kevin Smith, Funko, PermaFriends, artists, vendors, and more.
Let's take a look at the news you might have missed: 
You'll want to be sure to stop by the Bandai Namco Toys & Collectibles America booth this year, as they'll have new Gundam Infinity waves showcased, with sneak peeks of figures. They also promise to "give fans a hands-on mecha experience" at the con.
How high is a stack of over 80 original pieces of art? This high! Artist James Silvani has plenty of new, original artwork heading to Booth #5555 at the con, available starting at $120.
Anyone wanna see what a big pile of art looks like before I pack it up to head to SDCC? Over 80 original pieces available at booth 5555 starting at $120. pic.twitter.com/kLspHL8utE

— James Silvani (@SilvaniArt) June 29, 2022
Think pink! Young artist Ethan Castillo showed off a new Symbiote Spider-Man piece, heading to Artists Alley #AA-01.
 

 

View this post on Instagram

 
ONE WEEK FROM TODAY!
The CLERKS III trailer drops Next Wednesday! Get your first look at the return of Dante, Randal, Elias, Becky, Jay and Bob, and score your tickets for the first 19 cities we'll be touring in September (with the second wave of dates announced at @Comic_Con)! pic.twitter.com/bh264cwjzN

— KevinSmith (@ThatKevinSmith) June 29, 2022
Wondering what's going to be filling the Warner Bros./DC-sized hole on the convention center floor? Well, 7 Bucks A Pop is movin' on up to Booth #4845 which was formerly part of that area. Congrats on your new space, 7 Bucks!
BTW, you may have noticed in our drop email today that our booth # for #SDCC changed. We're going to be at booth #4845 (still near #Funko!) We're going to have some more announcements next week and they're going to be EPIC!

Stay tuned as #7BAPdoesSDCC! pic.twitter.com/2jDmQFeI4g

— 7 Bucks A Pop (@7BucksAPop) June 29, 2022
Not this time

— Funko (@OriginalFunko) June 29, 2022
For the lucky few who scored Funko Fundays tickets, here's Funko's tip on one of this year's event Freddy's: A crown might be involved. Well that's… not really a hint at all, Funko!
A crown might be involved 👑

— Funko (@OriginalFunko) June 29, 2022
Equally vague was their answer when asked whether Fundays attendees would get a chance at a Freddy Soda this year.
Perhaps

— Funko (@OriginalFunko) June 29, 2022
Think of me, think of me fondly PermaFriends author and illustrator Kaveh Taherian is heading to Booth #BB-02 this year, and his words will warm and calm you when you pick up a copy of his PermaFriends: The Quest for the Crimson Code. That's all we ask of you, Kaveh.
At long last everything is squared away and I can properly announce that I will be at @Comic_Con next month at booth BB-02 and have copies of the new PermaFriends book to sell!! pic.twitter.com/oDkrBSBatJ

— Kaveh Taherian (@kavehtaherian) June 29, 2022
Those poor unfortunate souls! Another #new #wip #print for #SDCC !#ursula #disney #littlemermaid #prints #90s #cartoon #movie #classic pic.twitter.com/HrLQtysqbI

— Jeff Pina Makes Comics! (@JeffPina78) June 29, 2022
Hero Within has announced their first SDCC exclusives for the year, a new collaboration with artist Deana Parlagreco. You'll be able to to choose between four options: Spock in Blue, Captain Janeway in red, Sulu in gold, and Guinan in purple. Grab them at Booth #1943.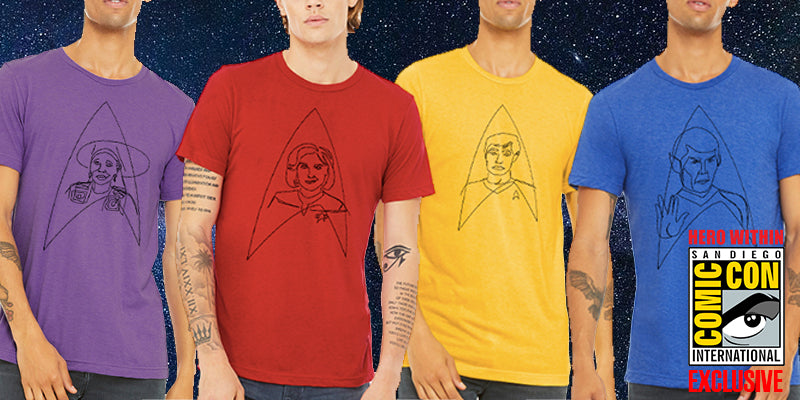 Artist Genevieve Santos gave us a preview of a new BTS vinyl sticker she'll have at the con, featuring Kim Tae-hyung in his runway outfit. Grab it at Small Press #L-7.
 

 

View this post on Instagram

 
These cute seasonal geishas are also heading to the convention. Artist Nan Hockin revealed she'll be bringing along 12″x18″ of her "four seasons" prints to the con this year.
 

 

View this post on Instagram

 
Anything we missed? Let us know in the comments, drop us a line, or tweet us at @SD_Comic_Con.
If you missed our previous Under the Tents 2022 posts, you can find them HERE.