Den of Geek looks to be nestling in just fine at what will be their largest presence ever at San Diego Comic-Con, starting with a blockbuster issue of their quarterly Den of Geek Magazine featuring Dwayne Johnson as Black Adam on the cover. The new issue will be distributed throughout the Comic-Con area by their brand ambassadors and features a comprehensive Black Adam preview written by Rosie Knight, with exclusive interviews with star/producer Johnson and the entire cast.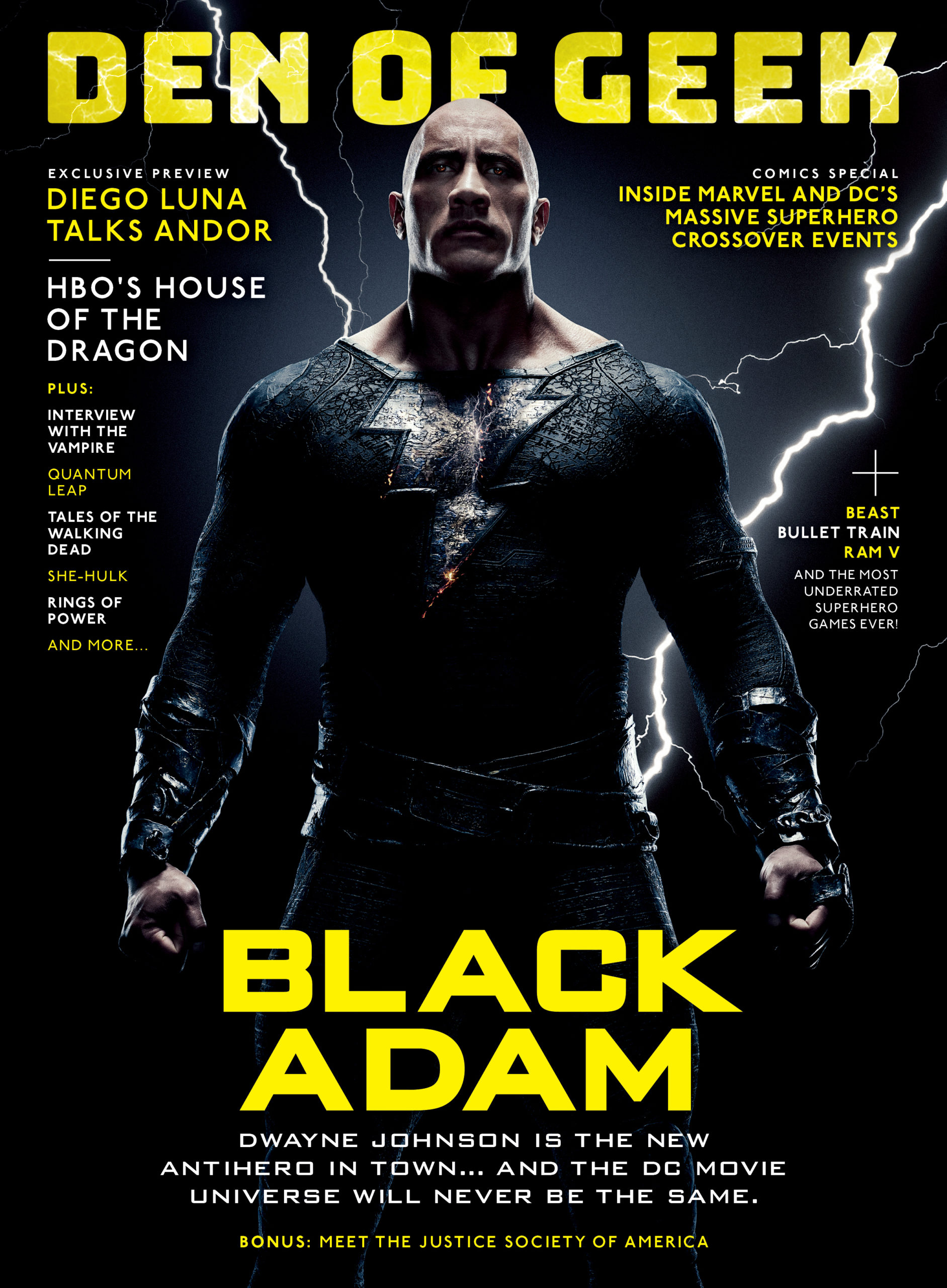 In addition to the Black Adam coverage, the new issue will be bundled with an exclusive special edition that celebrates the long awaited Netflix adaptation of Neil Gaiman's The Sandman. Readers will enjoy interviews with the stars, showrunners, and creators, as well as a spectacular new piece of art from illustrator J.H. Williams III.
Den of Geek fans can also enjoy exclusive coverage coming from Den of Geeks own interview studio at the Hilton Bayfront. The biggest stars attending the convention will have access to a full editorial, social media, and video production team on hand to capture coverage of Comic-Con from every angle.
Comic-Con attendees who need a little hydration boost can look forward to the Den of Geek brand ambassador team who will be  distributing ice cold cans of ZOA Energy, including Tropical Punch, White Peach, Wild Orange, Super Berry, and Pineapple Coconut flavors, in key locations throughout San Diego's Gaslamp district. They are also invited to an "After Dark" happy hour from 10pm – 12pm PT on Thursday, July 21 at the Social Tap 815 J St, San Diego. The "After Dark" event is open to all fans.
Back in the San Diego Comic-Con Convention Center, Den of Geek editors and staff will be hard at work leading discussions during some of the most anticipated panels of the weekend.
The Universal Cinematic Influence of Jack Kirby From Star Wars to the MCU
Thursday, July 21 12:30 – 1:30 Room 4
Tracy Kirby (Kirby's granddaughter), Rand Hoppe (Jack Kirby Museum) and Mike Cecchini (Den of Geek and Kirby Museum) are joined by screenwriter Ashley Miller (Thor, X-Men: First Class) to celebrate Kirby's influence in Hollywood and beyond throughout the decades. They'll share a prerecorded message about Jack Kirby from Star Wars legend Mark Hamill and other surprises. 
From Den of Geek and SuperheroIRL: Heroes and Villains . . . You Choose!
Friday, July 22, 2022. 11:30 – 12:30. Room 5AB
How does pop culture reflect the present while leading us into the future? The villains in media are all-too-similar to the supervillains in our 24-hour news cycle. Celebs and experts discuss the key onscreen villains we love to hate and how the pop culture community can be heroes IRL. Moderated by Chris Cummins (Den of Geek, Sci-Fi Explosion) and featuring Dr. Janina Scarlet (Superhero Therapy), Sabrina Cartan (Fandom Forward co-president), Dr. Elisabetta DiMinico, and Chase Masterson (Star Trek: DS9, SuperheroIRL founder). 
Introducing TRANSFORMERS: EARTHSPARK!
Friday, July 22, 2022, 2:15 – 3:15 PM, PT, Room 6A
Meet the next generation of heroes in the new original animated series, Transformers: EarthSpark. From Nickelodeon and Entertainment One, the all-new Paramount+ Original Series will showcase an insider event that celebrates a new take on the iconic global franchise. Featured panelists include all new-series voice talent– Danny Pudi (Bumblebee), Kat Khavari (Twitch) and Zeno Robinson (Thrash)–along with co-executive producer Dale Malinowski and executive producer Ant Ward. Moderated by Mike Cecchini, Editor-in-Chief, Den of Geek. 
Visualizing The Batman
Saturday, July 23, 2022, 5:30 – 6:30. Room 6DE.
For Warner Bros. Pictures' The Batman, Halon Entertainment (a NEP Virtual Studios Company) created dynamic previsualization action sequences, grounded in the real world to help define Matt Reeves's bold new vision of Gotham City. Halon's Casey Pyke (previsualization supervisor), Jess Marley (virtual art department supervisor), and Kristin Turnipseed (lead visualization artist) take a closer look at how virtual production served the VFX to help create these dark and thrilling sequences. Featuring exclusive never-before-seen material. Moderated by Mike Cecchini, Editor-in-Chief, Den of Geek.