Folks, we are getting so close to Comic-Con. I can smell that fresh San Diego air already and I've got a list of must eat restaurants ready to go. More importantly than that however is this edition of Under The Tents featuring a Loki gator, kickgirl art work, and the return of Neopets!
Let's take a look at the news you might have missed:
Let's start things off with an enamel pin! Genevieve Santos will have this cute Tangerine Suga pin featuring Yoongi which can be found at L-7 in Small Press. As a bonus, if there happens to be any left after the convention, they will be made available on Genevieve's online store on July 25.
View this post on Instagram
One thing has been true since 2019, we can't get enough of a certain 50 year old space baby. If you're like us and need all the merch then don't miss this first of four exclusive pin sets from inki-Drop. This is the way? The way is Booth #1703.
Wahoo! #SDCC2022 is almost here! Here's the 1st of my 4 exclusives—a #Mandalorian inspired Space Baby pin set 🥰💚 #grogu #sdccexclusive pic.twitter.com/9PI91J60Y6

— shelly @ Sakuracon Dlrs 612 (@inki_drop) July 7, 2022
Who doesn't love free stuff at Comic-Con? Well, if you are one of the people who do then you should keep an eye out for this crotched Loki Gator that will be a part of niftyneuron's crochet drops during SDCC. Watch your hand, it bites!
SDCC #crochetdrop reveal: Happy Thursday…Thor's day? How about Loki's day?

Welcome to the Crochet Void, where crocheters send all pruned/snipped yarn 🤣#Loki Gator will be at SDCC (nexus event?!). Catch him before the TVA!#artdrop #ComicCon #SDCC @Comic_Con @SD_Comic_Con pic.twitter.com/tH2TpuIwvO

— Nifty Neuron (@niftyneuron) July 7, 2022
Up next is a double dose of Val Hochberg. First off is a collection of a one of a kind Spider-Man and friends art. Swing, don't run, to N-12 in Small Press to grab yours before they are gone.
I'll have a lil' collection of chibi Spider-peeps with me at #SDCC! I hope you like them! 😄💖
These art pieces will be for sale at my Small Press Table N-12! They are one-of-a-kind ink & marker drawings. I'll share more arts with you soon! pic.twitter.com/4xo3DeVpQJ

— Valvalchu 💖 @ WonderCon C-60 (@kickgirl) July 7, 2022
The second Val Hochberg art piece? A classic Spider-Man! Make your way to Small Press N-12 to purchase this unique piece or any of the other offerings from kickgirl.
I currently have 70 original art pieces left to color 🫣💦 pic.twitter.com/iJjX06kKY3

— Valvalchu 💖 @ WonderCon C-60 (@kickgirl) July 7, 2022
Skadoosh! Fugitive Toys will have a San Diego Comic-Con exclusive that from Kung Fu Panda x Youtooz. What exactly is it? Guess you will have to wait to find out (or you can check out the Fugitive Toys booth 601).
View this post on Instagram
Neopets debuted in 1999, and they've made it all the way to 2022 — when they will have a presence again at San Diego Comic-Con. This year, Neopets will be sharing Booth #929 with "What's Your Passion Jewelry" and will have some Neopets swag, pins, and even a giveaway.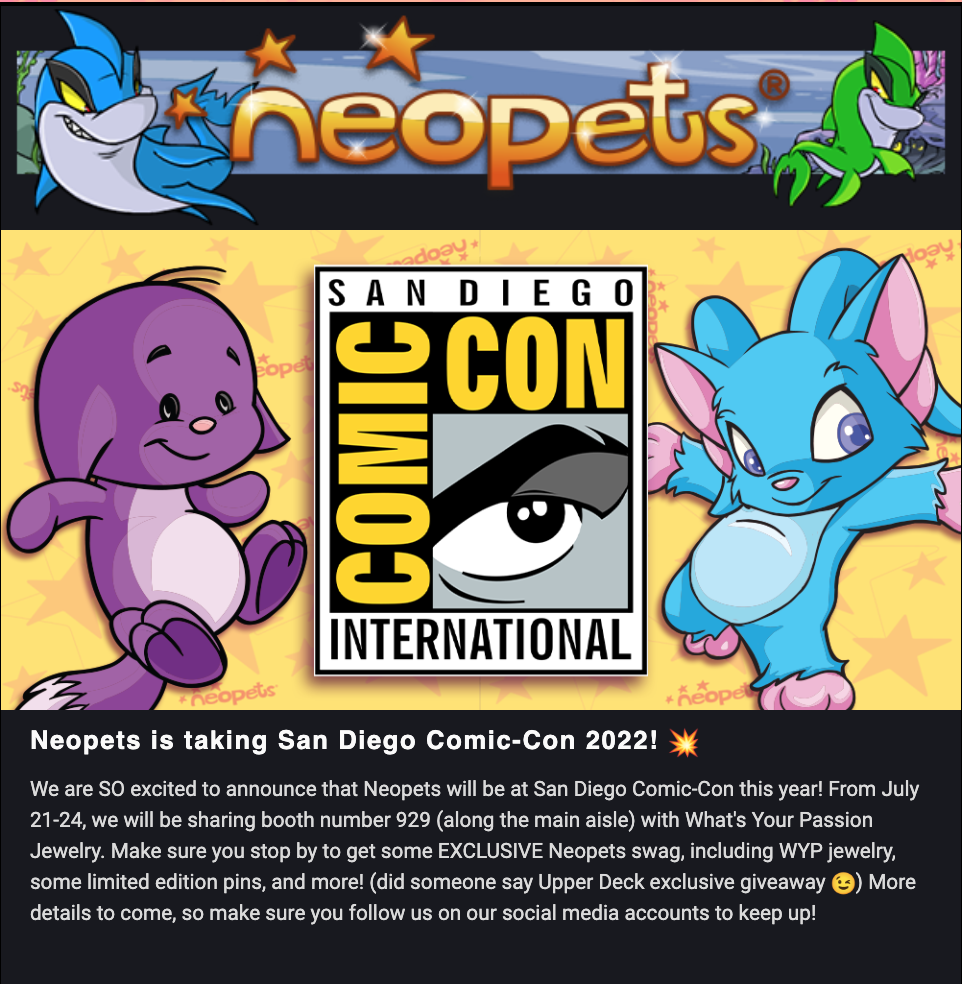 If you're thinking about getting into crowdfunding for your next creative project, then you'll want to stop by "Crowdfunding for Independent Artists" on Thursday, July 21 from 10am-11am in Room 2 to hear from some of the experts. The panel includes Rebecca Hicks of Luna Sea Studios, Laser of The Doubleclicks, and Ashley Hammond of Monkey Minion Press.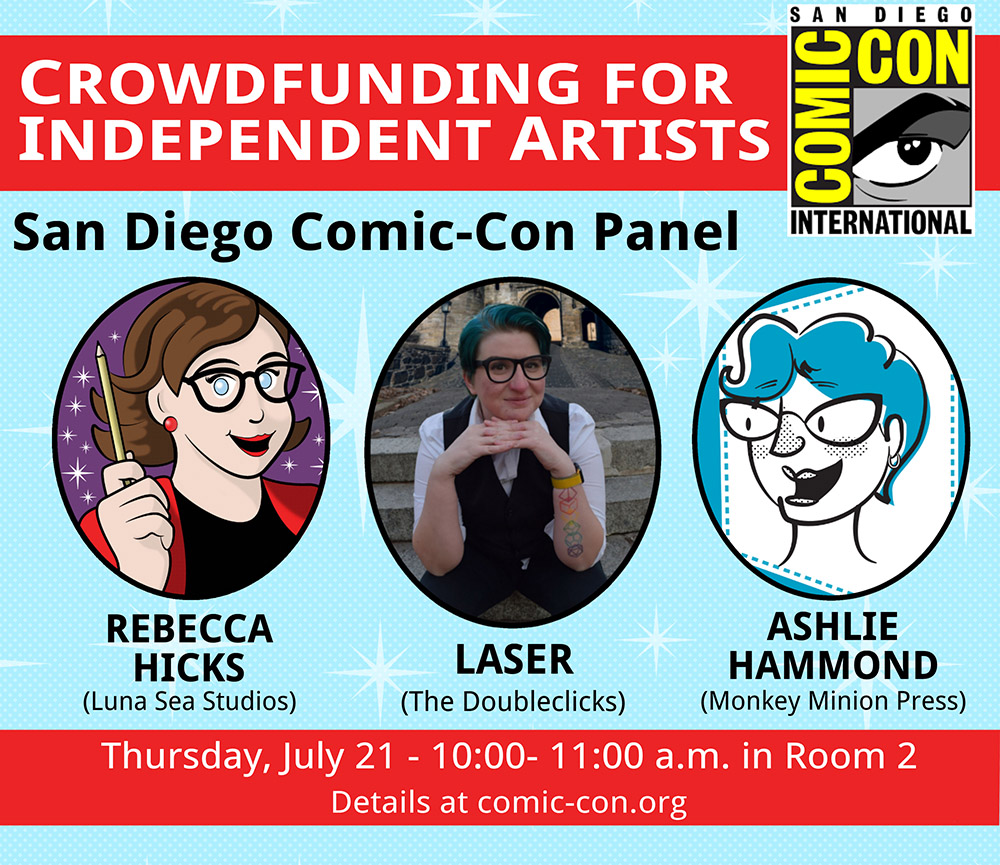 Drag icon Nina West, best known as Miss Congeniality from season 11 of RuPaul's Drag Race, is bringing her children's book "The You Kind of Kind" to San Diego Comic-Con. Nina will host a panel on Friday, July 22 at 6pm in Room 23ABC with illustrator Hayden Evans and moderated by Star Wars voice actress and Her Universe founder Ashley Eckstein. Attendees to the panel will receive a special one of a kind signed Item only available at the panel. In addition, Nina will be signing limited edition posters at the Her Universe Booth #1317 on Saturday, July 23 from 1pm-3pm.
ISOLATION creators Regie Simmons and Doug Bratton will be taking over various booths during San Diego Comic-Con. At these booths shown below, you'll be able to meet both Regie and Doug as well as pick up your convention exclusive copy of ISOLATION #1.
 

 

View this post on Instagram