San Diego Comic-Con was filled to the brim this year with a lot of amazing things – including panels, exclusives, offsites, and so much more.
We're excited to launch our fourth iteration of The Shruggie Awards, which, despite the name, is not celebrating the "wtf-ness" of the convention (though there's plenty of that to go around as well!). No, these are the best of the best (and okay, one of the worst) things about the convention – and now, after letting you vote, we're excited to announce the winners!
The Best Panel at San Diego Comic-Con 2022:

Marvel Studios
Let's be honest here: There wasn't much competition here. Marvel Studios is the dominating force every year it attends San Diego Comic-Con, as Kevin Feige and pals always know how to put on a show (and how to excite fans with a look at what's ahead). No one else brings the level of spectacle, announcements, or talent Marvel Studios does to the con. The panel also paid tribute to the late Chadwick Boseman, in some touching moments between the cast.
Kevin Feige said we'd see them back "next year" — and we're going to hold you to that, Kevin.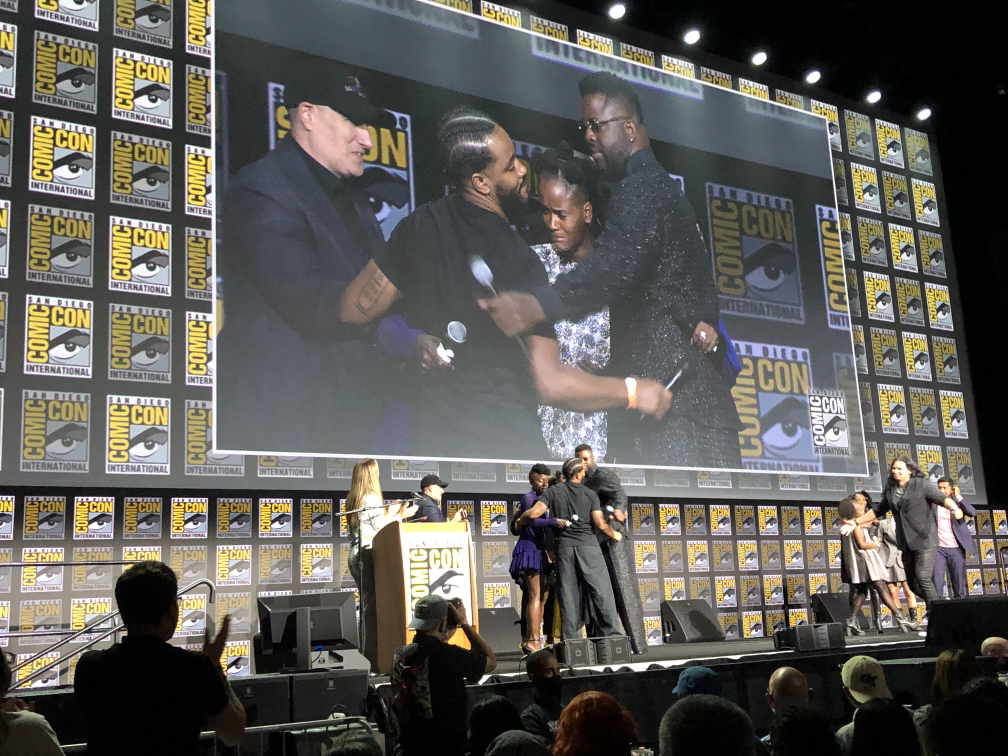 The Best Panelist at San Diego Comic-Con 2022:

Dwayne "The Rock" Johnson
Saturday in Hall H was (as usual) the hardest place to be at San Diego Comic-Con — and Warner Bros. Pictures rewarded fans on Saturday morning by kicking off the morning with Dwayne Johnson in full Black Adam regalia, levitating above the stage. Now that is how you make an entrance.
Following that grand reveal, Johnson was his usual charming self on stage, proving himself to be a fun panelist who was as excited as anyone to be in Hall H.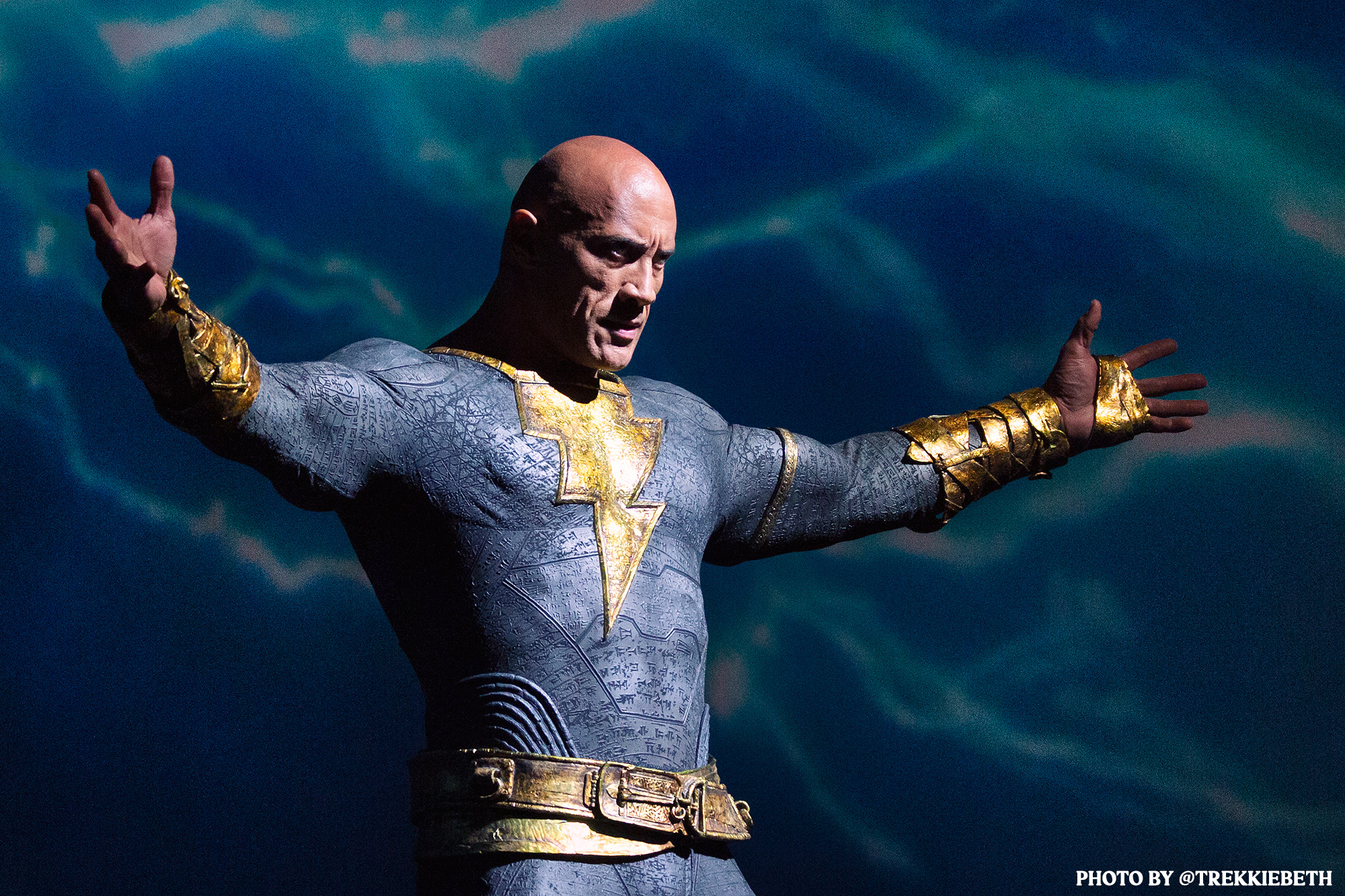 Photo by Beth Riley at GeekShot Photography
The Best Offsite at San Diego Comic-Con 2022:

Dungeons & Dragons: Honor Among Thieves
Severance put up a good fight, but in the end, it was Dungeons & Dragons: Honor Among Thieves who emerged victorious from this battle. The offsite offered the best line management that we've seen at the con, maybe ever, and provided attendees with a fun, cool experience that included a free drink (even alcoholic if you so chose!), visual effects, some quick photo ops, and great actors who were very into their roles.
We love the immersive offsites too, but sometimes all you really want is something that doesn't eat up more than an hour of your day. Huzzah, Dungeons & Dragons!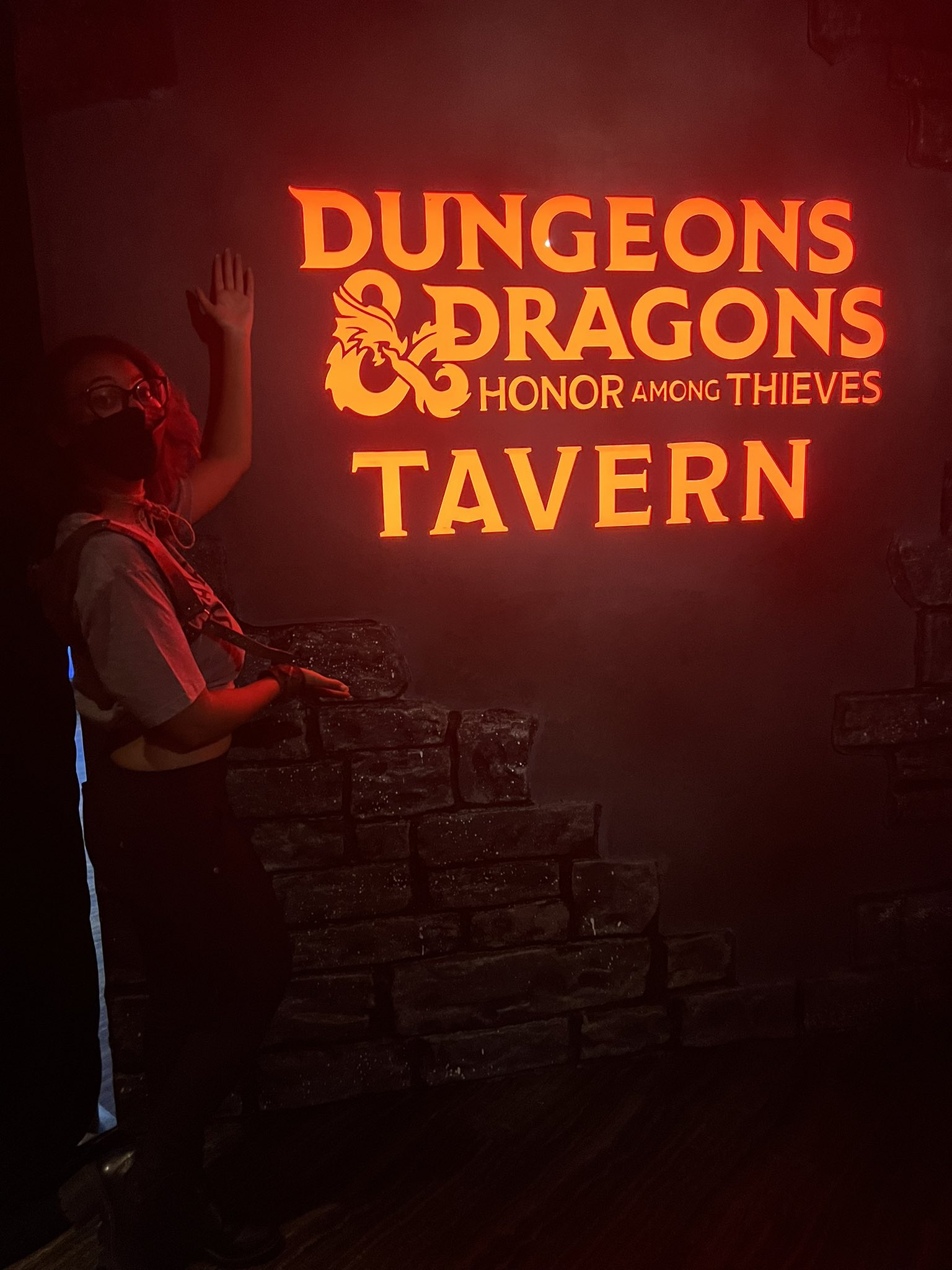 Photo by Parks & Cons
The Best Party at San Diego Comic-Con 2022:

Funko Fundays
Funko Fundays is one of the hottest tickets (if not the hottest ticket) at San Diego Comic-Con for a reason. In a year where many of the bigger vendors were scaling back, Funko went all out, and nowhere was that clearer than at their Fundays event. They showered attendees with free prizes and Boxes of Fun, had exciting celebrities like Danny Trejo and Emily Swallow take to the stage, and treated fans to games, free food, photo ops, and more.
The Best Booth at San Diego Comic-Con 2022:

Toddland
Toddland got a major upgrade this year — taking over two spots on the show floor, representing both Bob's Burgers and The Great North on one site, and Krapopolis across the aisle, in partnership with FOX Animation Domination. This year, the main Toddland booth was transformed into the Bob's Burgers Wonder Wheel (which lit up!), where fans could stop by all weekend to pick up their pre-orders in an easy system. On the Krapopolis side, attendees were given their first chance to buy merch for the upcoming series, participate in a signing with cast and creatives, and more. Toddland always puts their fans first (and it doesn't hurt they have some of the best merch around), and they put many of the bigger booths to shame. There's a reason they're the reigning champions of this category.
The Best Exclusive at San Diego Comic-Con 2022:

Toddland's Bob's Burgers SDCC Shirts
Another reason why Toddland has the best booth? Well, they have some of the best exclusives. Toddland narrowly beat out Yesterdays and their coveted heart pins to pick up a second win, this time for their exclusive Bob's Burgers shirts. We always say that the very best exclusives are the ones that honor the one thing we all have in common — the convention itself.
And Toddland's Bob's Burgers shirts really captured the feelings of most attendees after three long years away, from their "It's So Gouda to be back Burger" t-shirt and their "Grand Re-Opening" shirts with the Belchers. What Comic-Con attendees really want, it turns out, is just… to be back at Comic-Con. And Toddland knows their fans.
The Best Free Swag at San Diego Comic-Con 2022:

Funko Hall H Giveaway
Also picking up their second win for the con is Funko, who also takes the crown for the best free swag this year with their Hall H giveaway items. Attendees at the panel were given a ticket to redeem for two Funko Pop!s, with some being rarer than others. In a year where most companies were scaling back on their "programming premiums", Funko yet again leveled up, kicking off their first Hall H panel with one of the best panel freebies of all time.
For our money, though, the best item in their bunch was the Freddy, all decked out in his Comic-Con gear and ready to shop and enjoy the con. It captures a feeling many of us try to capture the other eleven months of the year.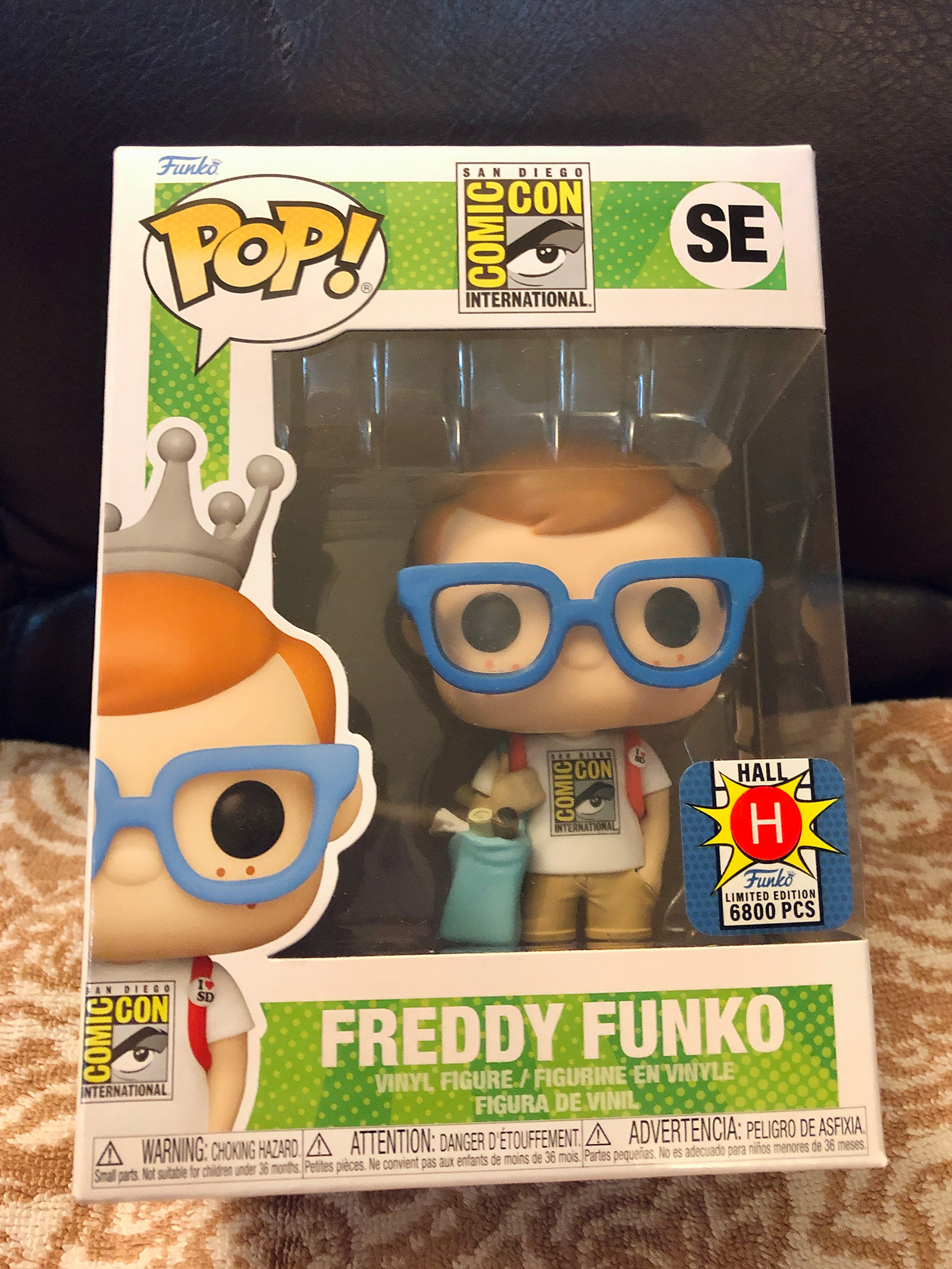 The Most ¯\_(ツ)_/¯ Thing About San Diego Comic-Con 2022:

Hall H Line Management
The most frequent comment we heard about this year's Shruggie Awards competition was, "I wish I could vote for everything for most ¯\_(ツ)_/¯." But in the end, Hall H Line Management won, likely because it was plagued with issues on multiple fronts.
Why is the ADA line still without a tent, good communication, or a real plan for how to handle ADA at all? ¯\_(ツ)_/¯
Why was the flag never removed and left up overnight one evening? ¯\_(ツ)_/¯ 
What even happened with Saturday's line? ¯\_(ツ)_/¯ 
Why was Sunday backed up and so slow moving during What We Do In the Shadows and Funko, leaving attendees baking in the sun while half the hall was empty? (Okay, this one we can answer, and it's because of the security checks).
This year was plagued by inconsistencies with security, including many who were misinformed or who did the wrong thing. While independent security companies handle the bulk of the line management, ultimately, it's Comic-Con International's responsibility to make sure they're trained and that their processes are being implemented. And really, it's beyond time that something better (and more humane) was figured out for ADA.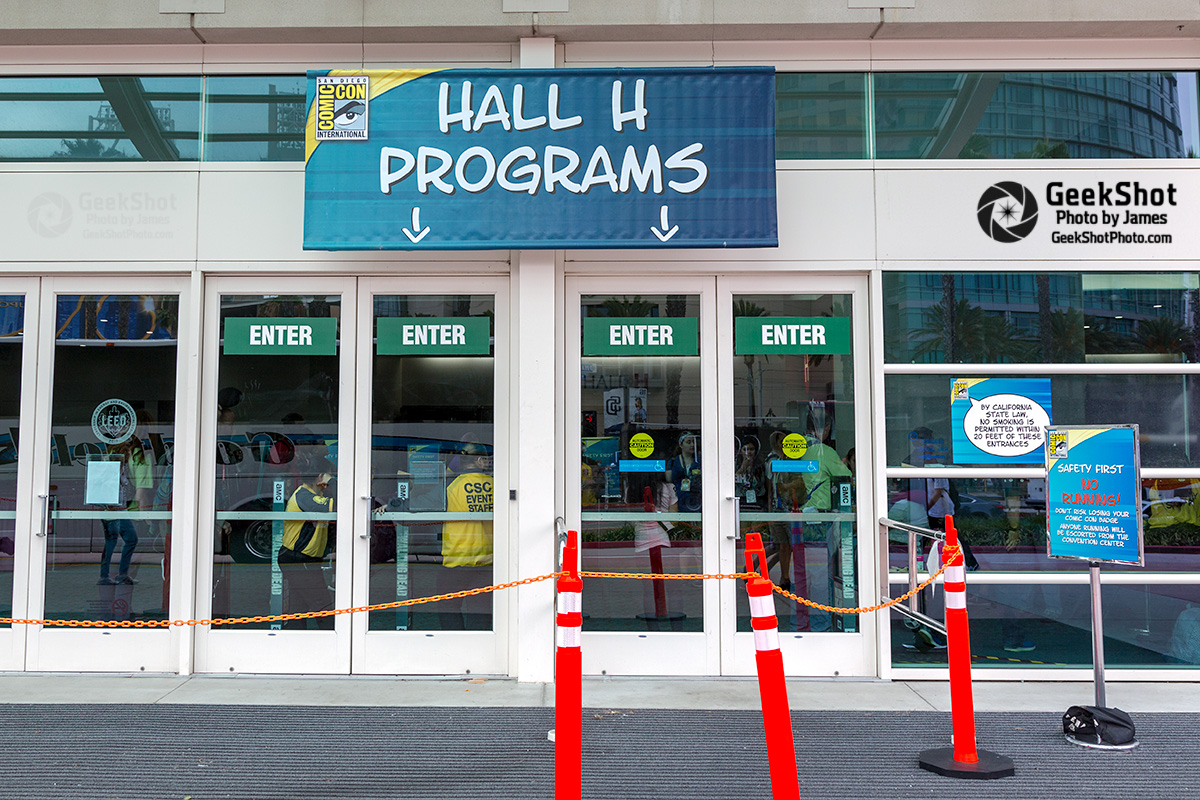 Photo by James Riley at GeekShot Photography