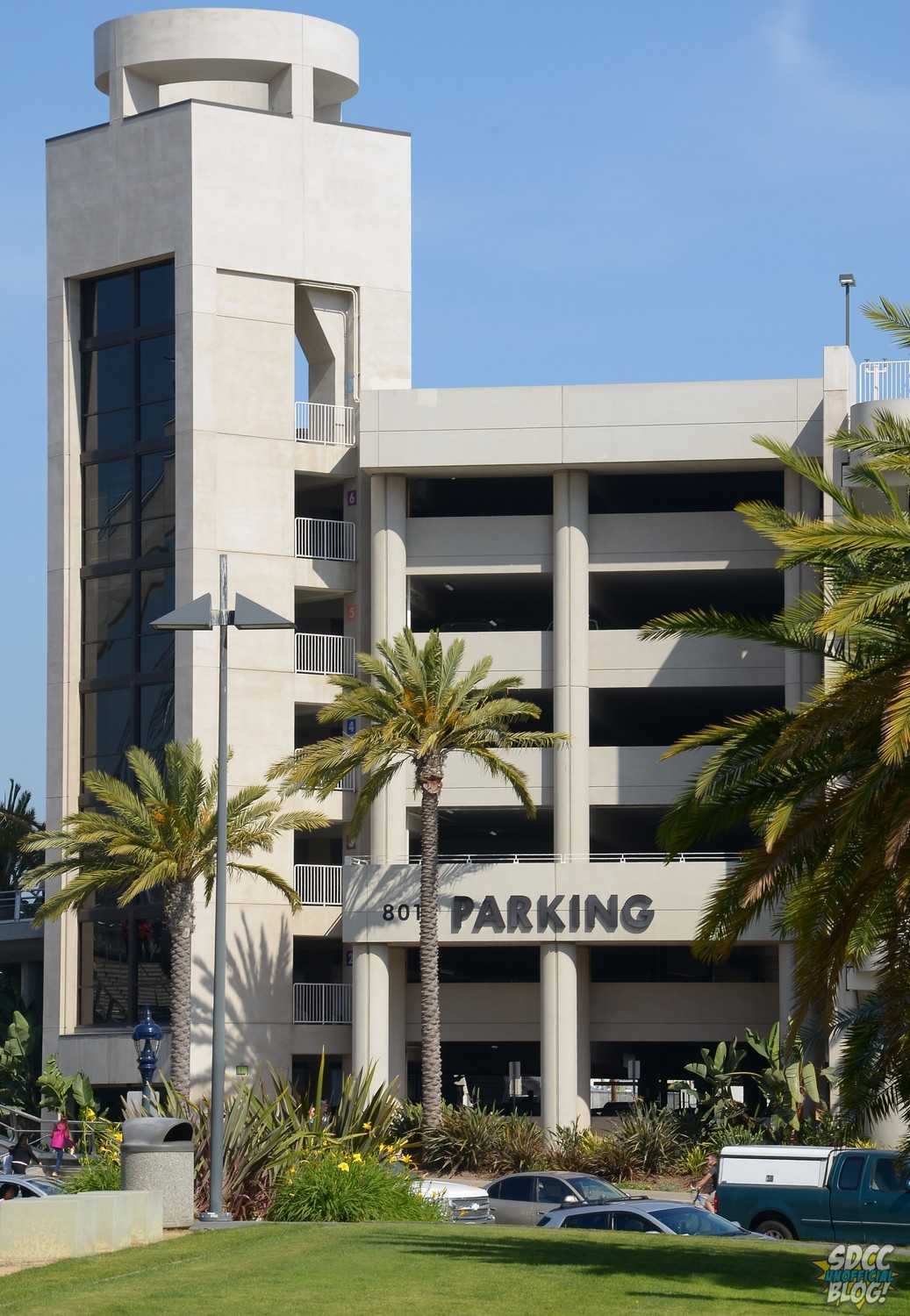 Now that you hopefully have your hotel for San Diego Comic-Con 2023, you may be wondering about parking. While we're still waiting for Ace Parking to launch their annual lottery of parking spaces which you can pre-purchase for lots in the Gaslamp (soon!), you may be driving in from LA or another area, and wondering about whether or not your hotel offers parking. Even if you plan on utilizing the free shuttle bus Comic-Con provides, you may still have to worry about paying a parking fee for your own car at your hotel.
For most hotels, the answer is yes, they do offer parking. We've contacted all hotels to ask about parking rates, the types of parking (Self or Valet), as well as if visitors (non-guests) can also park.
There are a few important caveats here: The week of San Diego Comic-Con, everything may be different. Hotels may choose to raise parking rates, or to not allow visitors to park that week. So we still strongly recommend that you contact your hotel directly to inquire if you'd like to verify the information below is correct. This is merely a loose guide.
It's also important to note that we can only verify this is the information we were told, and that rates can change, or the hotel staff we spoke to may have been misinformed.
Having said that, let's look at the lots by hotel, and the options.
Downtown Hotels
| | | | | | |
| --- | --- | --- | --- | --- | --- |
| Hotel | Parking Available? | Parking Rate (Self) – Overnight | Parking Rate (Valet) – Overnight | Can Visitors Park? | Rate for Visitors |
| Andaz San Diego | Yes | N/A | $56 | Yes | Valet: $36/hour |
| Best Western Plus Bayside Inn | Yes | $22 | N/A | Yes | Self: $22 |
| Carte Hotel | Yes | N/A | $60 | Yes | Valet: $15/hour for first two hours, max $25 |
| Courtyard by Marriott San Diego Downtown | Yes | N/A | $54 | Yes | Valet: $30 for flat-rate in day |
| Courtyard San Diego Gaslamp/Convention Center | Yes | N/A | $60 | Yes | Valet: $20 for first two hour, $5 after |
| Doubletree San Diego Downtown | Yes | $35 | N/A | Yes | Self: $35 flat-rate in day |
| Embassy Suites San Diego Bay | Yes | N/A | $60 / $55 (Hilton Members) | Yes | Valet: $15 for first hour, $10 additional – $60 max |
| Four Points by Sheraton San Diego Downtown – Little Italy | Yes | N/A | $50 | Yes | Valet: $15 per hour |
| Hampton Inn San Diego Downtown | Yes | $40 | N/A | Yes | Self: $40 |
| Hard Rock Hotel San Diego | Yes | N/A | $58 |   | Valet: $20 per two hours |
| Hilton Garden Inn SD Downtown/Bayside | Yes | N/A | $50 | Yes | Valet: $10/hour |
| Hilton San Diego Bayfront | Yes | $42 | $60 | Yes | Self: $11/hour for first hour, $8 each additional hour — Max $45 |
| Hilton San Diego Gaslamp Quarter | Yes | N/A | $55 | Yes |   |
| Hotel Indigo San Diego Gaslamp Quarter | Yes | N/A | $58 | No |   |
| Hotel Republic San Diego | Yes | N/A | $55 | Yes | $25 day rate |
| InterContinental San Diego | Yes | $42 | $60 | Yes | $6/hour |
| Kimpton Alma Hotel | Yes | N/A | $60 | Yes | Valet: $10/hour |
| Manchester Grand Hyatt | Yes | $40 | $60 | Yes | Self: $8/hour — Max $45 / Valet: $8/hour — Max $60 |
| Margarittaville Hotel (*Parking status/rates unknown as it's still under old management) |   |   |   |   |   |
| Marriott Marquis and Marina | Yes | $40 | $60 | Yes | Self: $13/hour |
| Moxy San Diego Downtown | Yes | N/A | $60 | Yes | Valet: $25 for first hour |
| Omni San Diego Hotel | Yes | N/A | $58 | Yes | Valet: $10/hour |
| Residence Inn Downtown San Diego | Yes | N/A | $30 | Yes | Free in day |
| Residence Inn Downtown/Bayfront | Yes | $40 | $60 | Yes | Self: $6/hour |
| Residence Inn Gaslamp Quarter | Yes | N/A | $56 | Yes | Valet: $30/hour |
| San Diego Marriott Gaslamp Quarter | Yes | N/A | $58 | Yes | Valet: $20/hour |
| Springhill Suites San Diego Downtown/Bayfront | Yes | $40 | $60 | Yes | Self: $6/hour |
| The Guild Hotel San Diego | Yes | $35 | $56 | No |   |
| The Sofia Hotel | Yes | N/A | $40 | Yes | Valet: $30/hour |
| The US Grant San Diego | Yes | N/A | $57 | Yes | Valet $15/hour |
| The Westgate Hotel | Yes | $50 |   | Yes | $12/first hour, $6 addtl/30 minutes $55 max |
| The Westin Gaslamp Quarter | Yes |   | $55 | Yes | Valet: $10/hour |
| Westin San Diego Bayview | Yes |   | $50 | Yes | Valet $20/hour |
| Wyhndham San Diego Bayside | Yes | $39 |   | Yes | $7/hour, max of $42 |
Airport/Mission Valley/Coronado Island:
Hotel
Parking Available?
Parking Rate (Self) – Overnight
Parking Rate (Valet) – Overnight
Can Visitors Park?
Rate for Visitors
Courtyard San Diego Airport / Liberty Station
Yes
$19
N/A
Yes
Free in day, $19 if overnight
Hilton San Diego Airport / Harbor Island
Yes
$35
N/A
Yes
Free in day, $35 if overnight
Holiday Inn San Diego Bayside
Yes
$18
N/A
Yes
Free in day, $18 if overnight
Sheraton San Diego Hotel and Marina
Yes
$47
N/A
Yes
$27 for first hour, $10 after – max $47
Coronado Island Marriott Resort
Yes
$42
$52
Yes
$25/hour (Self) / $13/hour (Valet)
Hotel del Coronado
Yes
$50
$75
Yes
Self: $20 (for 2 hours), $10 each additional hour – Max $70 / Shop or Dine get $10 off

Valet: $30 (for 2 hours), $10 each additional hour – Max $80
Courtyard San Diego Mission Valley
Yes
$30
 
Yes
$3/hour
Days Inn San Diego Hotel Circle
Yes
$10/first car, $15 addtl car
 
Yes
Unknown
Doubletree by Hilton Mission Valley
Yes
$36
No
Yes
$4/hour, no max
DroubleTree by Hilton SD Hotel Circle
Yes
$30
 
Yes
Unknown
Handlery Hotel San Diego
Yes
$18
No
No
 
Hilton San Diego Mission Valley
Yes
$34
No
Yes, but will be charged overnight rate after 9:00 pm
Free in day, $34 if overnight
San Diego Marriott Mission Valley
Yes
$34
No
Yes
Max: $34
Sheraton San Diego Hotel Mission Valley
Yes
$28
 
Yes
Free in day, $28 if overnight
Springhill Suites by Marriott Mission Valley
Yes
$25
 
No
 
Town and Country Resort
Yes
$30/night
 
Yes
Self: $4 for first hour, $3 per additional hour — Max $30
Bay Club Hotel and Marina
Yes
$18
 
No
 
Best Western Plus Island Palms Hotel and Marina
Yes
$25
 
Yes
Free in day, $25 if overnight
Humphreys Half Moon Inn and Suites
Yes
$20
 
No
 
Kona Kai Resort Spa and Marina
Yes
$45
 
Yes
Self: $10/hour