If you have spent the last several weeks thinking about, worrying about, tweeting about, paying for, and relentlessly checking your e-mail for confirmations of hotels…..you just might be a San Diego Comic-Con attendee. Hotels are usually the final, most complicated piece of the SDCC puzzle and now that (for most) it's largely over with, it's time to look towards the FUN STUFF. 
What's fun? Well, I'm glad you asked! How about some commissions? SDCC exclusive comic book covers? Pin-up style sketch covers? I told you we had fun stuff.
Let's take a look at the "fun stuff" you might have missed:
Illustrator and toy designer Mari Lobo was just as taken with the HBO series The Last of Us and well, the rest of us. She created this beautiful illustration that will be made into a print for Comic-Con.
 

 

View this post on Instagram

 
 

 

View this post on Instagram

 
According to this tweet, Dan Veesenmeyer is just days away from opening up his San Diego Comic-Con commissions. If you haven't already, now is a good time to bookmark our List of Open Commissions post, which is where we'll have all the details when Dan announces them. 
My plan to start taking pre orders for sketch commissions delivered to attendees of SDCC in July will begin in early May. Will not be first come, first served. I'll be sorting through requests to judge the work load against ongoing assignments. Prices and deets yet to come.

— Dan Veesenmeyer (@dveese) April 23, 2023
In honor of AAPI Heritage Month in May, Patrick Ballesteros has created a few prints which he teased on Twitter, promising to save a few for SDCC too.
Working on 2 new pieces for a couple of AAPI themed art shows next month. Full reveal coming soon and I plan on having a few of these at SDCC as well 😊.#AAPIHeritageMonth #SDCC2023 pic.twitter.com/6q7fUJXEXP

— Patrick Ballesteros SDCC DD-08 (@PatrickBallest) April 24, 2023
Our SDCC prep usually involves spreadsheets and more spreadsheets, but when you're artist Chris Maze your prep looks a little different. Looks like prints are getting stamped with Maze's very appropriate logo. We look forward to the day Maze flips those over for us.
It's that time of year again: #SDCC prep! pic.twitter.com/pJyFX860EV

— Chris Maze (@MAZEhimself) April 25, 2023
Speaking of Chris Maze… if you want to see all the cool things that he will be releasing at Comic-Con be sure to sign up for his newsletter, Maze Musings. He'll be providing sneak peeks there first.
With #SDCC just around the corner, I'll be having sneak peeks & updates about my new work dropping at the con in the next few issues of my newsletter, Maze Musings. If interested, check it out! New issues drop every 1st of the month.https://t.co/wGZ4uYHZFH

— Chris Maze (@MAZEhimself) April 26, 2023
Even the most wrenched hive of scum and villainy can help make a difference. Members of both the Republic and the Empire should make note that The Comic-Con Museum is hosting a May The 4th Blood Drive. From 10am – 4pm hydrated Jedi and Sith will receive free museum tickets by participating and also be entered to win tickets to the Blink-182 Reunion Concert on June 20. Schedule your appointment today!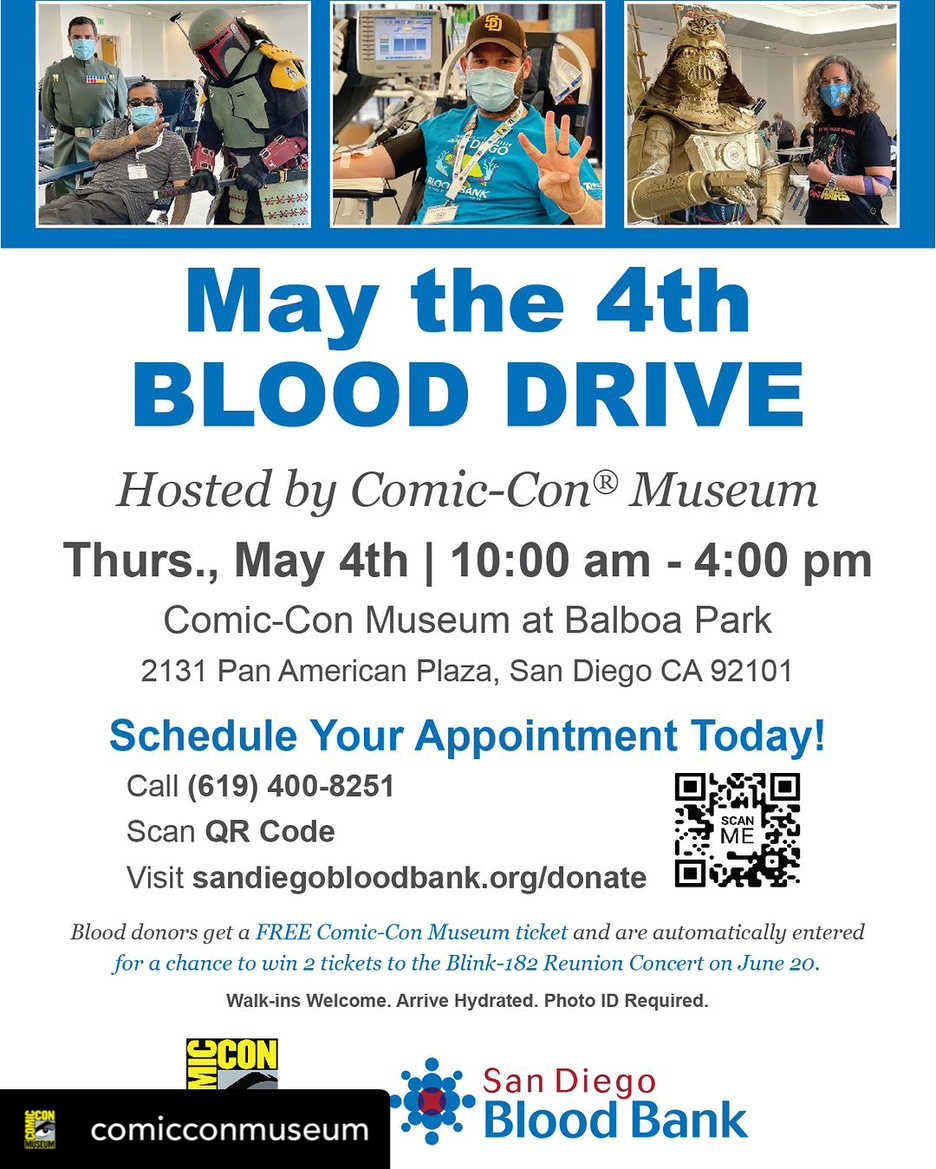 Heidi over at Comicsbeat.com recently posted about a new comic book from Christopher Yost, prolific X-Men writer and co-creator of the X-23 character. Unnatural Order is an amalgam of sci-fi, fantasy, with a bit of dark humor as well. Issue #1 will release just ahead of San Diego Comic-Con and publisher Vault has said that events are in the works for the convention. It's my sworn duty to mention that you can (and should) preorder this book from your local comic book shop (and maybe bring it with you just in case!)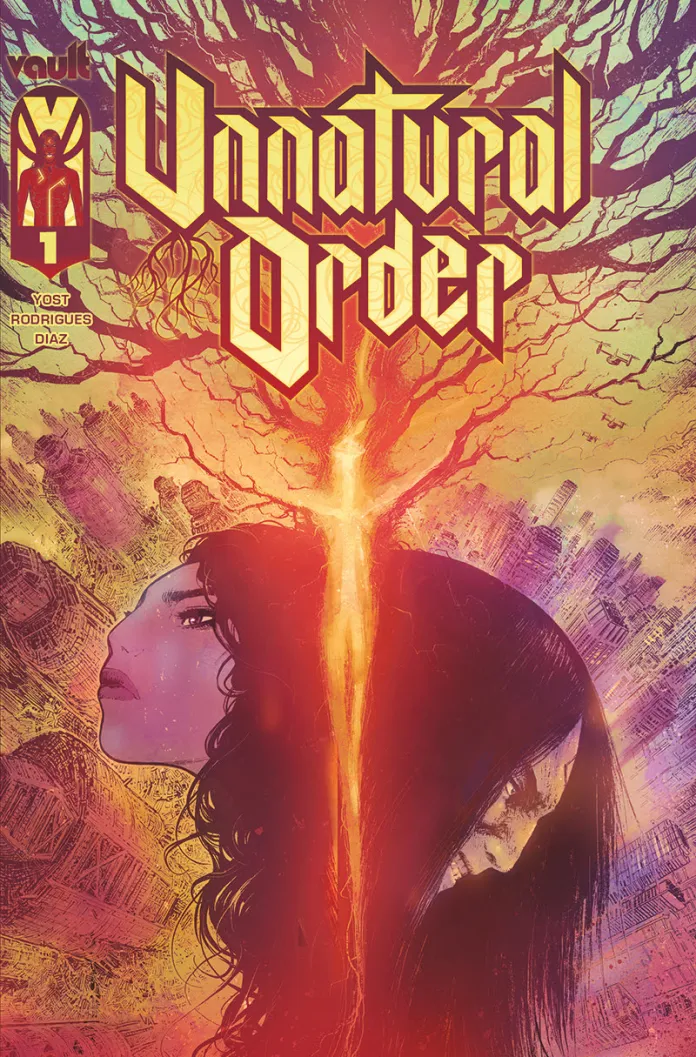 How amazing has it been to see Paul Sun-Hyung Lee on The Mandalorian as Captain Carson Teva of the Adelphi Rangers? The Captain recently posted on Instagram some glamour shots of an upcoming 1:6 scale bust of his character by Gentle Giant. Lee mentioned that it would be a "Comic-Con" exclusive and even included "fingers crossed for SDCC," to which we say "Yes, please!"
 

 

View this post on Instagram

 
Every year artist Alex Pardee drops strange and delightful pieces of terrifying and enchanting artwork from his corner of the exhibit hall and 2023 will be no different. Pardee announced on Twitter that he will be unleashing "Dopplegangers 2: The New Batch" at the event. I honestly don't know if I want to run towards his booth or away from it and I bet that would make Pardee very happy.
No better time to announce it than when I'm sitting at Kaiser waiting for my physical therapy appointment… "DOPPELGANGERS 2: The New Batch" dropping at my booth at San Diego Comic Con in July. pic.twitter.com/Lgc884SCHH

— Alex Pardee (@alexpardee) April 25, 2023
Legendary pin-up artist Olivia de Berardinis is busy at work on some original sketch covers, including this stunning trio of Catwomen, including Bettie Page and Barbie in Michele Pfeiffer's iconic costume. The covers will be auctioned off during Comic-Con and on display at the Olivia/Tweeterhead shared booth in July.
Having a good time painting blank comic book covers for our auction during @Comic_Con this July. We'll be showing these covers at our @tweeterheadsf / Olivia booth. Our 2024 Calendar Kickstarter campaign is coming up soon, sign up 👉🏻 https://t.co/etTEHwItf8 #OliviaPinupArt pic.twitter.com/7HCm0fVDXQ

— Olivia De Berardinis (@OliviaPinupArt) April 25, 2023
BARBIE!💥Having a good time in doing these blank comic book covers for our auction during @Comic_Con this July. We'll be showing these at our @tweeterheadsf /Olivia booth@Barbie #barbie #catwoman #Cat #BlackCat #Pussycat #Meow #Pinup #PinupStyle #OliviaPinupArt 💙💛 pic.twitter.com/zcdWUfdSFD

— Olivia De Berardinis (@OliviaPinupArt) April 27, 2023
I'm having a good time painting comic book covers for our auction during @Comic_Con this July. I'll be showing a selection in our @tweeterheadsf / Olivia booth. Stay tuned for our 2024 Calendar Kickstarter campaign in a few weeks! #OliviaPinupArt pic.twitter.com/QwblC0bIbL

— Olivia De Berardinis (@OliviaPinupArt) April 19, 2023
Looks like someone has Power Rangers fever and that someone is Jin Yung Kim, also known as JYK All Day. Kim has been sketching up a storm and posting the works in progress over on Instagram.
This week comic fans were treated to the great news that master artist Greg Capullo (X-Force, Spawn, Batman) would be joining the 2000 AD universe with a variant cover for Judge Dredd: The Darkest Judge, a collection of the 2022 crossover event. IGN exclusively revealed Capullo's variant cover, which will be sold at San Diego Comic-Con. There will be only 500 copies of this variant and only 300 will be sold at SDCC.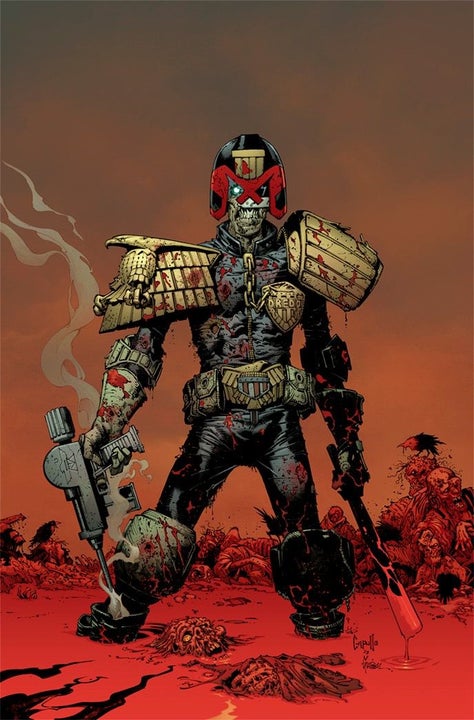 A quiet artist is a busy artist. I think someone important once said that. Maybe. Either way, it rings true for Priscilla Wilson who's "To-Do" list is almost as long as the line to buy her items. Don't adjust your screens, it's blurred on purpose, but even so, we can see there is a LOT to look forward to. 
I know I've been a bit quiet lately but it's because I've been working hard on things for SDCC. I can't (but will have to) wait to show you everything I have planned, so here's a blurry list of things I have in the works.
🖤 Need to start
🧡 In progress
💙 Ordered
💚 In hand
👀 pic.twitter.com/lEOtl3Hzq7

— Art of Priscilla Wilson 🔜 SLO Comix Fair (@valorandvellum) April 26, 2023
And one of those blurred-out mysteries is no longer quite so mysterious! Priscilla gave a sneak peek at a work in progress, which appears to be a piece of Soonay sailing past the Convention Center in the bay. Yes, we're a fan (and it may be too!)
Work in progress 👀 #SDCC pic.twitter.com/PQTbq8e6TZ

— Art of Priscilla Wilson 🔜 SLO Comix Fair (@valorandvellum) April 28, 2023
Are you a FAN of them?

(Was that a hint??)

— Art of Priscilla Wilson 🔜 SLO Comix Fair (@valorandvellum) April 28, 2023
Critical Entertainment's Mason Mendoza released some images from the forthcoming book, Life Is An Open Door, featuring watercolors by artist Alonso Molina. We love the looks of these anthropomorphic pooches and can't wait to see more at San Diego Comic-Con.
 

 

View this post on Instagram

 
And finally today, we leave you with the sweetest little commissions this side of the galaxy, from artist Nan Hockin, who you can commission for your very own work of adorable art. Order now and pick up at Nan's Artist Alley table in July.
Bad baby. No squeezie! Sharing some of my favorite commissions. Comic con San Diego commissions are open now. I can work on them now and you can pick them up at the show in July! #sdcc2023 #comicconsandiego #groguandbabu #babufrik #grogu #mandalalorian pic.twitter.com/Lp3399dEX5

— ArtByNan (@nanhockin) April 26, 2023
One more commission I wanted to share today – Nightwing with Bitewing. It shimmers. ✨✨✨ #nightwing #bitewing #sdcc2023 pic.twitter.com/iZAQwjEd29

— ArtByNan (@nanhockin) April 26, 2023
Anything we missed? Let us know in the comments, drop us a line, or tweet us at @SD_Comic_Con.
If you missed our previous Under the Tents 2023 posts, you can find them HERE.