There's always something magical about the artwork of pop surrealist Camilla d'Errico, who uses vibrant colors to create a mesmerizing world that's all her own. This year she's back at San Diego Comic-Con with exclusives, debuts, and more.
For 2023, d'Errico is also opening up just three commission slots. She rarely offers commissions, so this is an amazing chance to own an original piece from her. She'll be offering two 8″x10″ pencil drawings (no color, graphite shading only) for $500 each, and one 8″x10″ painting for $5,500. If interested, email info@camilladerrico.com with only  "SDCC Commission" in the subject line. UPDATE: Commissions are now closed.
Stop by Booth #4723 to find her prints, paintings, and merch. Plus, if you need an extra incentive to stop by her booth, the first 500 people who spend $50 or more at the booth will also receive a beautiful SDCC poster.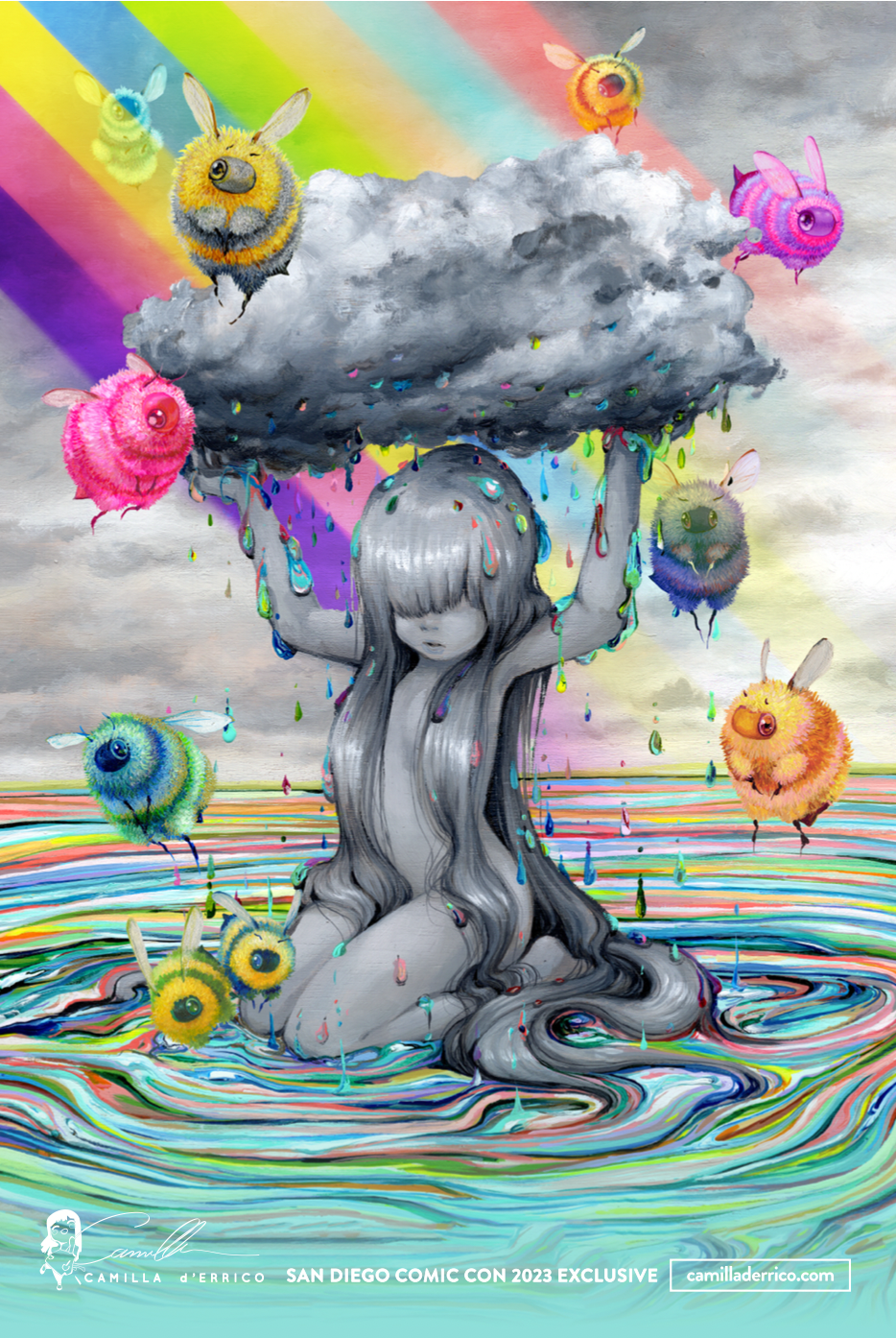 Let's take a look at what she's bringing to the con:
Peach Fuzz Holographic Print – $150
Camilla is paying tribute to one of our favorite Princesses in this new 16″x20″ holographic print, an home and parody of the Mario Bros world. This limited-edition print sees your favorite characters transformed into her iconic Fuzzbut bees, adding a bee-utiful new take on the world, reimagined as a colorful and vibrant place. 
This limited edition signed and numbered print is limited to only 200 copies, and will be available for $150 each.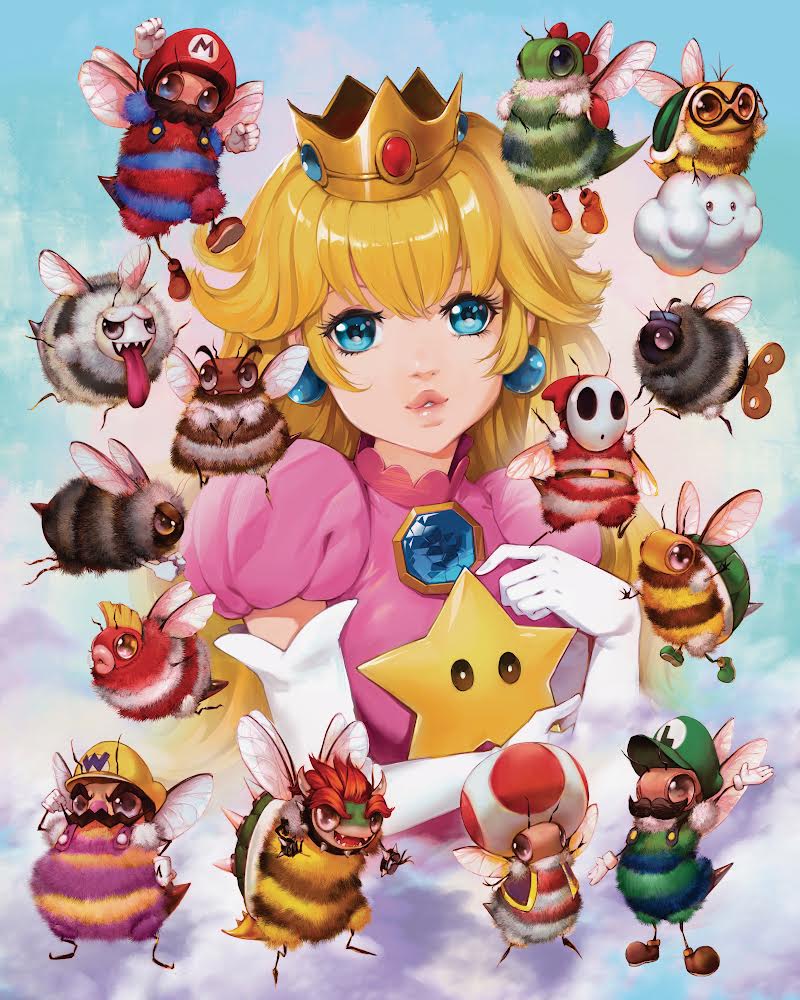 Self-Pawtrait Sliding Pin — $30
This oversized pin is not only beautiful, but also full of glittery goodness. Add some sparkle to your collection with this limited edition pin, which showcases the inner beauty of munchkin cats. It features a sliding animal design, and is limited to just 200 pins. It's an official Comic-Con International exclusive.
Harmonie Handbag Purse — $85
You can show off your love of Camilla's work every day with this new Harmonie Handbag purse. Crafted with faux leather that is completely vegan, these bags are not only stylish but also eco-friendly and guilt-free. It takes "wearable art" to a new level, all while offering sustainable luxury.
The artwork celebrates the beauty of humanity, diversity, and inclusion, and is crafted with careful attention to detail to reflect the beauty of our multi-cultural world. It's limited to 150 pieces and is an official Comic-Con International exclusive.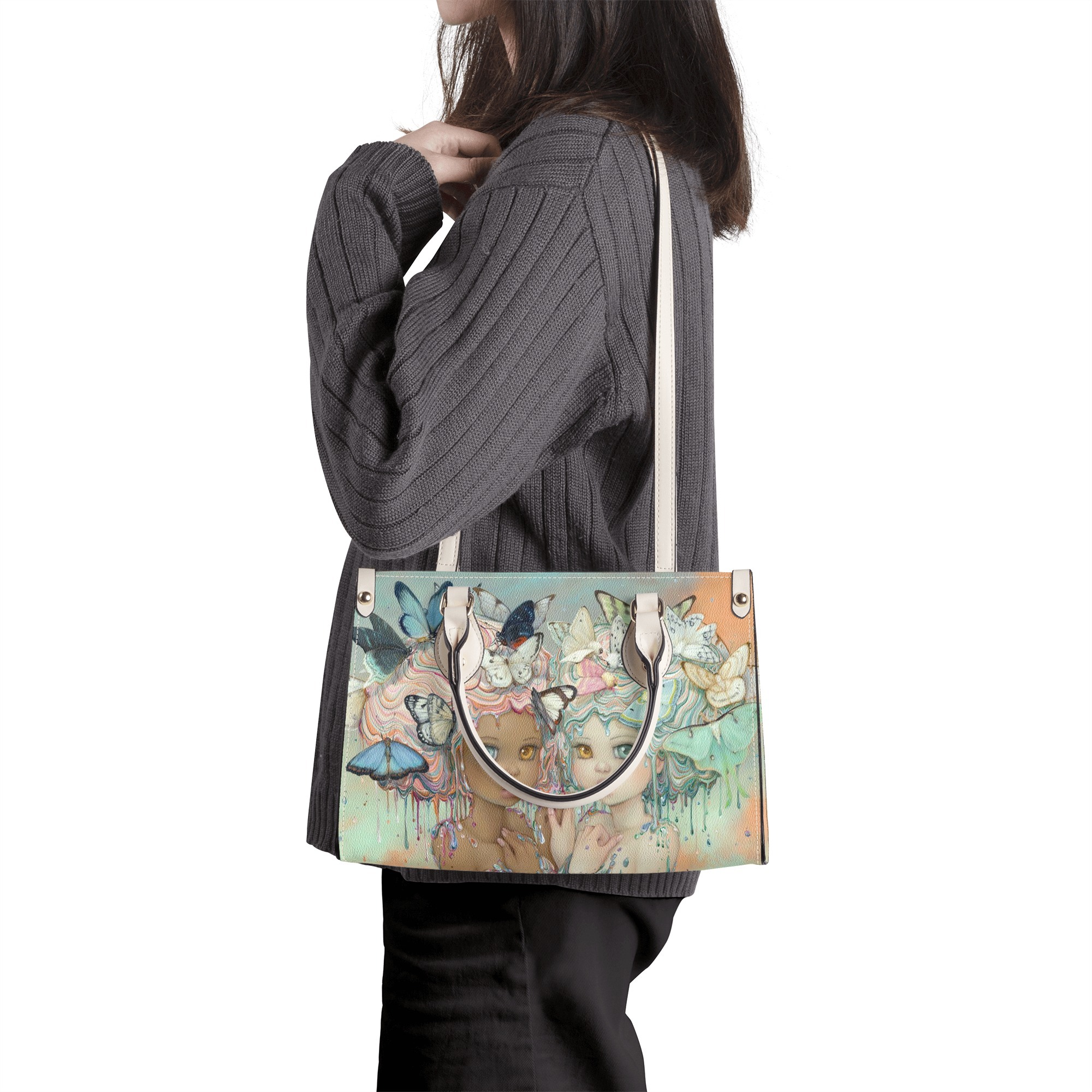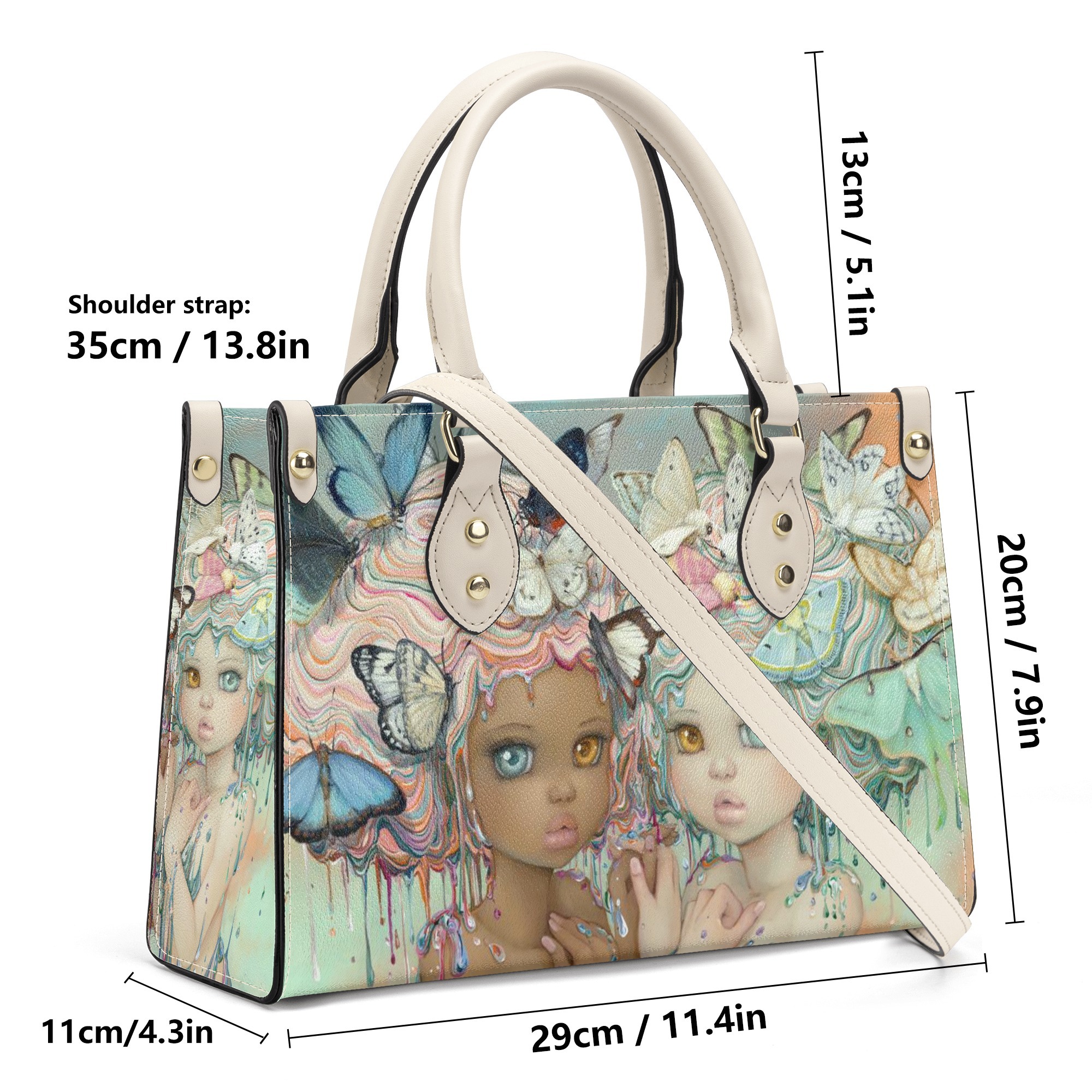 Camilla d'Errico Anniversary Mystery Box — $150
Yes, the mystery box is back again. To celebrate 25 years of San Diego Comic-Con, Camilla is bringing back her exclusive limited edition mystery boxes. Each box contains two unique and stunning holographic prints, as well as several exclusive items. There are also three original sketches by Camilla hidden in the boxes, and since it's limited to 150 boxes total, you have a 1:50 chance of scoring one.
Pick it up for $150 at her booth.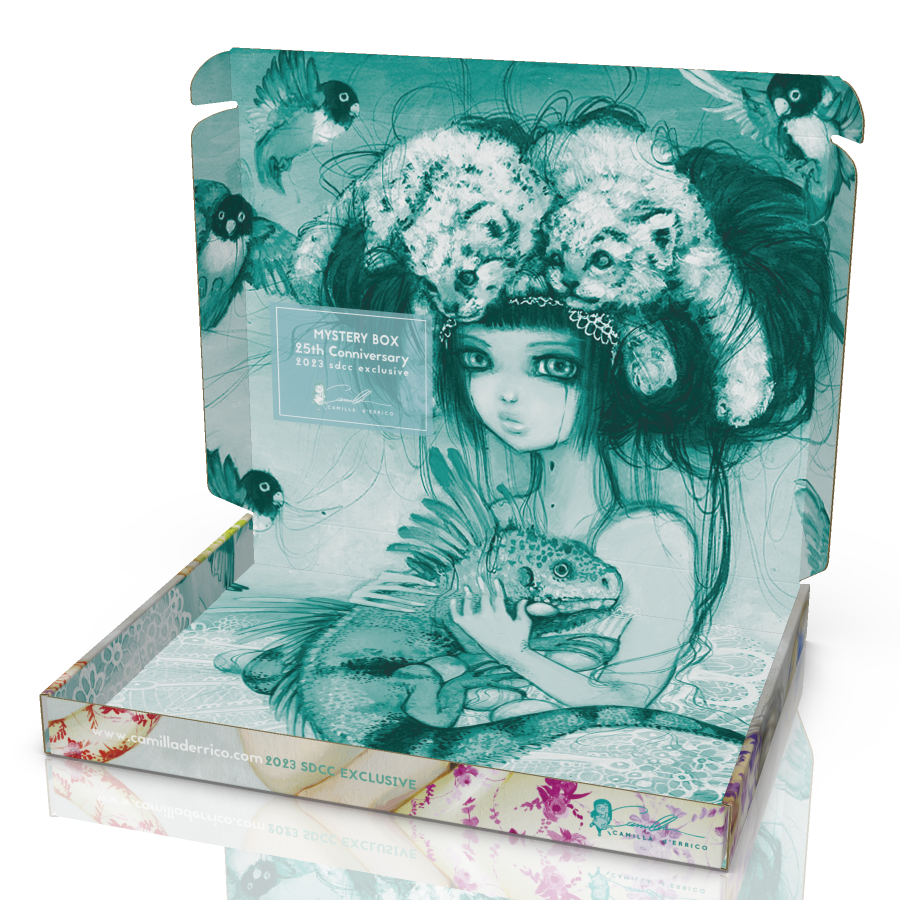 Mighty Fine Wallet – $25
Camilla's Mighty Fine Wallet is making its debut at San Diego Comic-Con as an official Comic-Con International Limited Exclusive. Made from recycled materials, the wallet combines eco-friendliness with style. 
The Mighty Fine wallet is not only sustainable but also features the dining edition, making it an exclusive and unique accessory. With only 300 pieces available at the convention, this limited-edition wallet is a must-have for anyone who wants to stand out from the crowd. And additional 100 will be sold on Camilla's site for those who can not attend the show, and another 100 will be sold on Mighty Fine Wallet's website as well.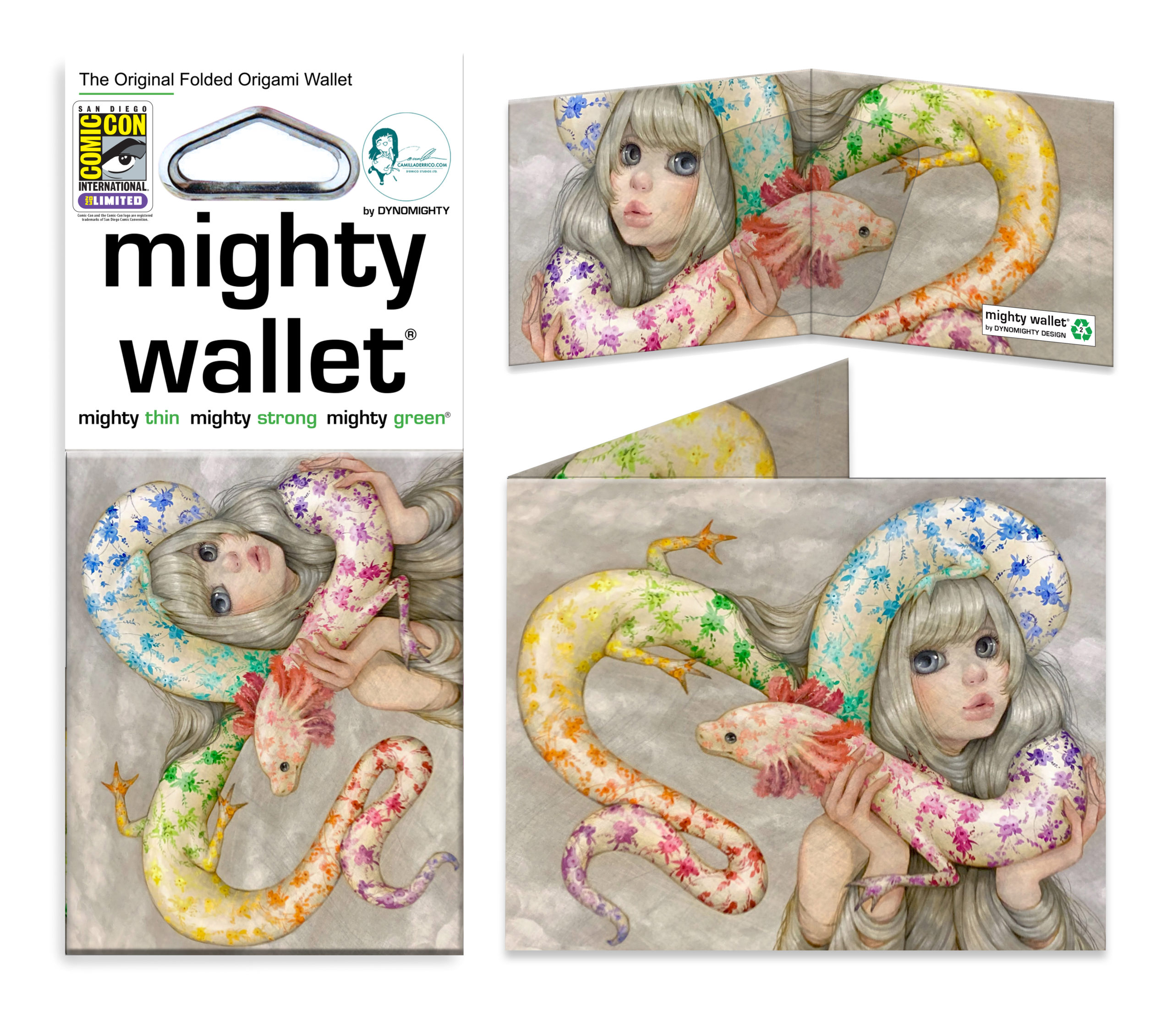 Sailor Moon Blind Box Enamel Pin Series 1 — $15
What do you get when you combine Camilla's adorable fuzzbut bees and Sailor Moon? Something worthy of some buzz.
Camilla will be introducing her Sailor Moon Pin Mystery Pin Collection at the convention, celebrating the characters from the original season one. Each pin showcases intricate artwork capturing the essence of the Senshi's charm and grace. You can collect all eight regular pins (with 1170 boxes available in total for $15 each), and there will also be a chase pin within the set, limited to only 50 pieces total.
There will also be a pin board with a beautiful image of all the fuzzbuts and you can fill them in as you discover them.