We are so incredibly grateful to our Patreon supporters, who help keep the lights on around here at the UBlog — and that's why we're (finally) relaunching the Patreon with some new perks, merch, and more for our most loyal fans.
Meet our new tiers:
Gary's Minion – $1/month pledge
For this tier, you get our (and Gary's) eternal thanks.
Prize Dragon – $5/month pledge
For those who have already been a Patron, this tier isn't changing much. You'll still receive a monthly Patreon-only SDConCast from James and Kerry, as well as access to the Group Hangout every June, and early access to our party tickets in years when we have them (note: no party this year, but we plan to be back next year!). We've also recently launched a Patreon-only channel in our Discord.
Prize Mule – $10/month pledge
In addition to everything in the tier above, you'll also receive an additional monthly bonus podcast episode from our team, the ability to vote in polls (help us choose our buttons and more!), and we'll also be doing some Patreon-exclusive prize mule drops at the con this year.
Prize Demi-God – $15/month pledge
Here is where we really start getting excited! In addition to everything else, you'll also be entered to win into a monthly prize pack drawing (one winner randomly chosen each month), receive a UBlog team holiday card, get a name shoutout on the regular SDConCast once per month during the regular season (May-July), and you'll also receive a special pin or swag item each year. See the brand new pin we're having made in the graphic!
Prize God – $25/month pledge
In addition to everything already mentioned, as a Prize God, you'll get a second bonus podcast each month, and also receive a weekly SDCC news mini-episode weekly May-July with Kerry (think 5 minutes of the week's biggest news — for your ears!), and a Patreon-exclusive t-shirt. Yes, our famed Hashtag Shirt that's been sold out for years is finally available again as a Patreon-exclusive variant.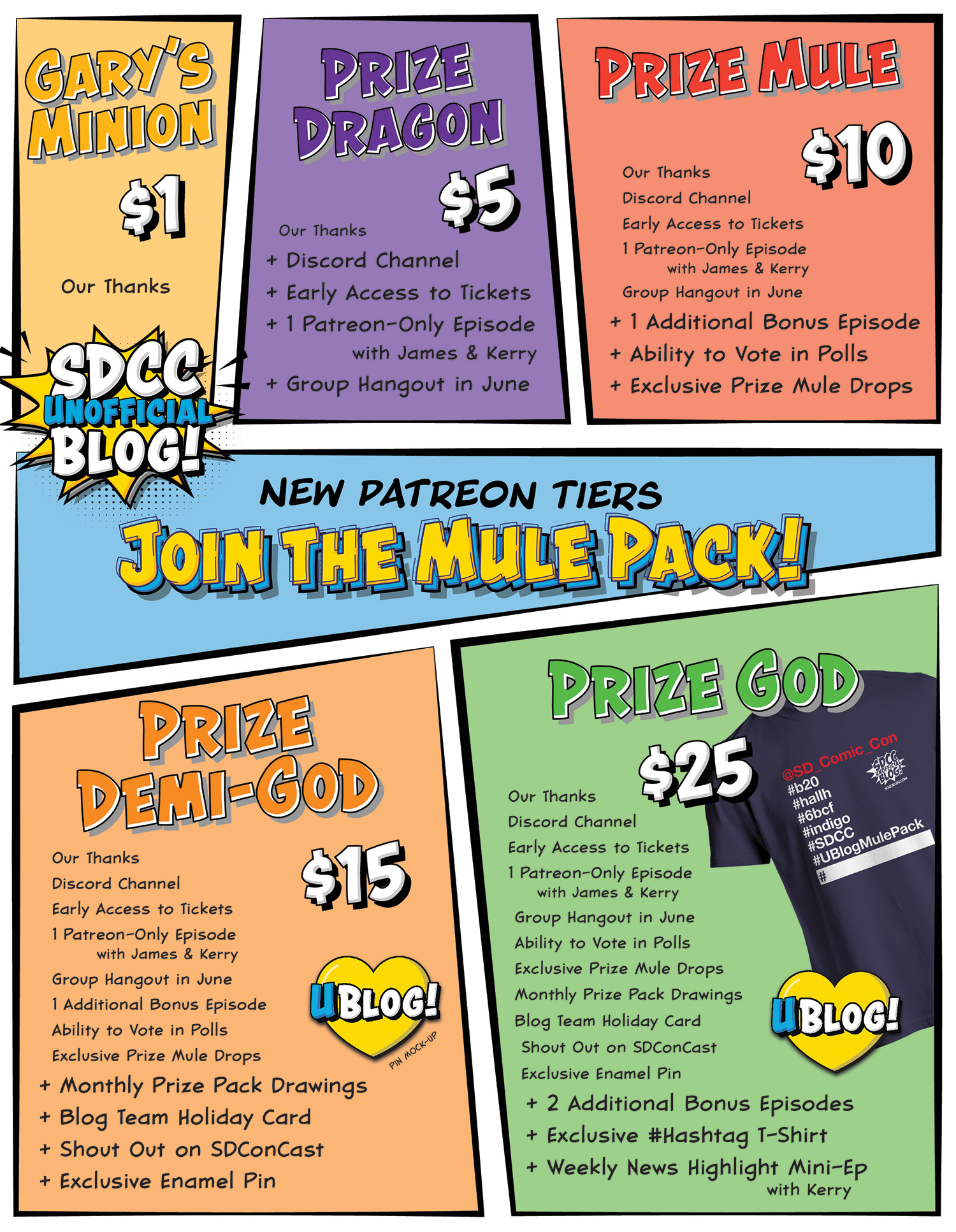 FAQ
I'm already a Patron! How do I get the new perks?
You don't need to do anything! You'll be automatically subscribed to the new tier level, and receive all the new perks that come with your tier. For the physical rewards (the pin/swag and t-shirt), you will have to have three consecutive payments under the new tiers before they're shipped out — or if you choose to pay annually (a new option), you'll get your merch three months into the subscription. So basically, as long as you stay subscribed for at least three months, you'll receive all rewards for your tier without having to do anything.
When will I receive my items?
The new bonus podcasts for Prize Mule tier and up will start immediately. There are a few perks that are limited to May-July only (such as the weekly news mini-episodes and the name shoutout on the regular SDConCast). For the physical rewards, those will ship after three consecutive payments.
What about if I pay annually?
We are now offering the option to pay annually, and you'll receive a 5% discount if you do this. In this case for the physical rewards (pin/swag and t-shirt), you'll receive these three months into your membership.
How can I edit my membership?
While logged in, visit your Pledges page and click Edit. You can change your tier, or select to pay annually if you'd like.
Will the perks ever change?
Yes! It's our plan to update the pin/swag and t-shirt once a year, so that our Patrons continue to get extra goodies each year. It may not always be a pin, but we have some exciting ideas for the future we think you'll like.