If your favorite part of Comic-Con is panels, then this issue of Under the Tents is for you. We've got more panels than my parents' living room in 1973. Plus, we have photo shoots, commissions, and more panels. Panels on panels. From first-time panels to panels from artists returning after 15 years, you guessed it, there's panels.
(Author's Note: Thanks to UBlog superstar Erin Tapken for the word "Panel-monium")
Here's a look at what you might have missed:
Do you dress like a sailor and not look like one of the Village People? Do you end every conversation with a public service announcement? If so, you might be interested in the 2023 SDCC Fan GI Joe and Hasbro Characters Shoot happening during San Diego Comic-Con. The Coastal Defense Command, a Finest California Garrison, will send out the specific time, date, and location for the shoot the week before, but in the meantime, you can work on polishing those boots and ironing those summer creases out of your uniform. Now you know, and knowing is half the battle.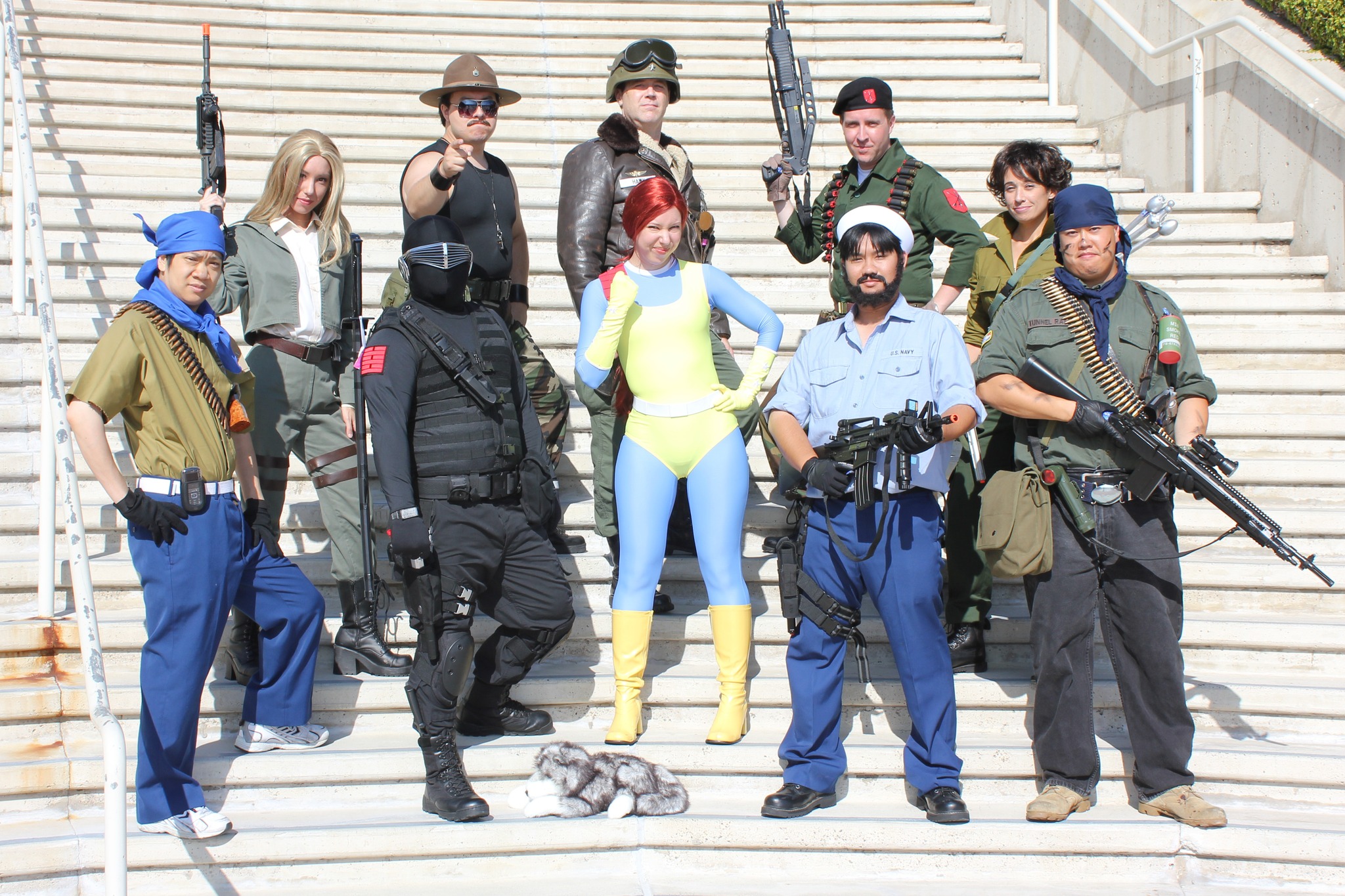 "Believe it or not… I'm walking on air.." sorry for another post, but my FAMILY's panel presentation was just accepted for San Diego Comic con!!!!! My introverted kids are excited and terrified all at the same time! My oldest was sold when we said she could put it on her college… pic.twitter.com/XIg3j4QYiE

— Tim Smyth Eisner Award Nominee!!!!! (@historycomics) May 25, 2023
My wife, kids, and I put in a wildcard proposal for San Diego Comic Con and were just approved! My introverted family will be sharing all about the immense impact comics have had on our lives and their use in education! pic.twitter.com/5Uuj8WACdo

— Tim Smyth Eisner Award Nominee!!!!! (@historycomics) May 25, 2023
Super talented comic artist Liana Kangas also had her first ever panel approved for SDCC 2023, and she's teasing a "very special guest and one of the best moderators in the industry."
It is made and featuring a very special guest and one of the best moderators in the industry, I cannot wait to announce it.

— Liana Kangas (@lianakangas) May 25, 2023
Ask, and the answer shall be given unto you. That's what happened when one of our readers inquired about any law-related panels this year, which are a lot of fun. The ever-vigilant Comic Book Legal Defense Fund (CBLDF) saw this and teased, "Watch this space…". While we don't know specifics, the answer to your question, @jdfurever, appears to be yes.
Watch this space …

— Comic Book Legal Defense Fund (@CBLDF) May 25, 2023
Now this is a tease. Collider editor-in-chief (that's how you spell it, San Diego) Steven Weintraub announced via his Twitter feed that he will be back at SDCC 2023 with a panel like the one he did last year, which will include exclusive footage from a really big upcoming movie. Not a lot of details, we know, but based on Weintraub's previous panels (which have included conversations with the Russo Brothers, a "Directors on Directing" panel in which Keanu Reeves showed up to debut some John Wick: Chapter 4 footage, and more), you know it's going to be good.
I'm doing a panel at @Comic_Con this summer. Can't say when, or what room, or anything about the panel but if you enjoyed what I did last year you'll probably like what I'm doing this year. And like last year I should be premiering exclusive footage from an upcoming film…. pic.twitter.com/oGpx9UO91t

— Steven Weintraub (@colliderfrosty) May 26, 2023
Comic artist Mark Beyani Teodosio let his Instagram followers know that publisher The City Needs You will be bringing The Power of Kommunity in the Indie-Komik scene to San Diego Comic-Con this year.
 

 

View this post on Instagram

 
Tony Kim, founder of Hero Within, also had a Star Trek-themed panel approved for SDCC 2023.
My Star Trek themed panel was approved for San Diego Comic-Con! I can't wait to share more details in the weeks to come!🖖🏽😄#SDCC pic.twitter.com/94k5hDnuqF

— Tony B Kim @ AwesomeCon (@Crazy4ComicCon) May 26, 2023
Local Hillsdale Middle School Teacher William Stuchell thanked his assistant principal for helping him get his panel, just approved for SDCC 2023, submitted. I don't know about you, but my teachers were never this cool in middle school.
Guess who's doing a panel at Comic-Con? This guy! Thanks to @APGarcia2022 for the heavy lifting in this endeavor. If you're there on the final day and want some edu-talk swing on by. I'll post deets later. pic.twitter.com/mk1B0eTyYv

— William Stuchell (@Mr_Stuchell) May 26, 2023
Quentin Lee, head of Margin Films, recently posted an unboxing video to his YouTube channel showing all the merch from his latest release, Pumpkin Head Lost His Head, he'll be bringing with him to Small Press Table #O-07 at SDCC this year. 
After years of enjoying San Diego Comic Con as a professional attendee, I am going to be a panelist this year!

Looking forward to sharing details soon. Let me know if you'll be attending! 🦹🏻‍♀️🧛🏼‍♀️🧟‍♀️
#SDCC #SDCC2023 #SanDiegoComicCon pic.twitter.com/cl3HKuvzln

— KC Grifant, Author (@KCGrifant) May 26, 2023
Super awesome artist and friend to the UBlog, Don Nguyen, is doing things a little differently this year. While he has opened his SDCC commissions (he's on the list), he won't have a booth/table on the Exhibit Hall floor. Instead, you're more than welcome to pick them up after any of his panels or schedule a meet-up with him (no weirdos).
Um, in an unexpected turn of events my #commissions list is open for #SDCC.

I don't have a table but I can meet up or deliver art after any of the panels I'll be a part of 😅 (info coming soon) #originalart #guerilla pic.twitter.com/c0b3DwG2ff

— Don Nguyen 💥 Heroes Con (@nguyeningit) May 26, 2023
Super talented San Diego sci-fi author J. Dianne Dotson is also pretty excited to be on at least one panel at San Diego Comic-Con this year. 
Looks like I'll be on a panel at #SDCC! More details soon. #ComicCon

— J. Dianne Dotson (@jdiannedotson) May 26, 2023
Cartoonist Colleen Doran is making her return to San Diego Comic-Con after a 15-year hiatus as a guest of the Comic-Con Museum and panelist. You'll also find her in Artists' Alley at Table #HH-07, where she'd love to have you drop by, and doing autographs though details are still TBA. [Editor's Note: Will we hear more about the upcoming Good Omens graphic novel? I for one hope so.]
If you're a fan of any of the amazing talent represented by New Paradigm Studios, you'll be excited to hear some of them will be on panels at SDCC this year.
#SDCC panels with some of our talent. Stand by for details!

— New Paradigm Studios Booth – Werewoofs out now! (@NPStudios) May 26, 2023
University of San Diego professor Chris Garcia will be presenting a panel at SDCC this year about the Engineering Design Process of Superhero Technology. It's pretty neat to peek behind the curtain and see how something goes from concept to reality (and no matter what anyone says, there's always a process).
Humbled at the opportunity to share about the Engineering Design Process at this year's @Comic_Con on Saturday, July 22nd. It's always fun to be able to elaborate on the "science" in science-fiction. #ComicCon2023 #MarvelStudios @MarvelStudios @Marvel pic.twitter.com/IyUAeE8qQC

— chrisgarcia03  (@chrisgarcia03) May 26, 2023
Newly-minted comic creator Cliff Bleszinski will be on not one, but two panels at San Diego Comic-Con this year to promote his new comic with Alex de Campi, SCRAPPER.
Just got confirmed for TWO panels at San Diego Comic Con.

Gonna be pretty crazy to actually have an actual comic that @alexdecampi and I did to promote!

Dog superheroes FTW! #SCRAPPER pic.twitter.com/UPloGVrWxU

— Cliff Bleszinski (@therealcliffyb) May 26, 2023
Anything we missed? Let us know by dropping us a line, or tweet us at @SD_Comic_Con.
If you missed our previous Under the Tents 2023 posts, you can find them HERE.