Renowned artist Alex Ross always brings his A-game to San Diego Comic-Con — as well as his exclusives to Alex Ross Art, the official art dealer of Alex Ross. You can find his exclusives and debuts over at Booth at Booth #2415 and Booth #2515.
Let's take a look at this year's offerings:
[UPDATE June 27 #2]
Alex Ross is celebrating the Teen Titans with a new San Diego Comic-Con exclusive Tales of the Titans #1. This all-new series of spotlight issues is in the spirit of the beloved 1980's classic Tales of the New Teen Titans.
Alex Ross has teamed up with DC Comics to create an exclusive comic cover, which features a George Perez homage on Cover A, while cover B is a never-before-seen sketch of Starfie as a Virgin Variant.
Cover A will be available for $30 unsigned, $75 signed, and $200 for CGC 9.8 graded. Cover B will be available for $75 unsigned, $150 signed, and $400 CGC 9.8 graded.
A limited pre-order will launch on Alex Ross' website on July 6.
[UPDATE June 27]
Yesterday's "Marvel Villains" artwork reveal has an even bigger component for San Diego Comic-Con. The beautiful artwork will be featured in a mural at Booth #2415 in a life-size rendering, taking up a full wall of Alex Ross Art's booth. Fans are encouraged to stop by for a special photo opp to pose with the artwork, featuring 37 classic villains.

[UPDATE June 26]
Are you feeling villainous? You will after you see Alex Ross' next piece, "Marvel Villains", which features some of the baddest of the bad when it comes to Marvel's roster.
This stunning piece is a companion piece to Ross' "Marvel Heroes Mural", and will be making its debut at San Diego Comic-Con.
There will be a 39″x18″ lithographic limited to 395 pieces, or a 42.5″x16.25″ canvas limited to 100 pieces.
[UPDATE June 14]
You can rest easy knowing "The Protectors" are keeping watch.
This beautiful digital print on fine art paper, which was originally created by Alex Ross for the cover of Captain America & Iron Man #5, features the two heroes ready to launch into action. It will be available for $35 at San Diego Comic-Con, where the exclusive will be premiering at Booth #2415. For those not attending the con, it will also be available on his website beginning Wednesday, July 19.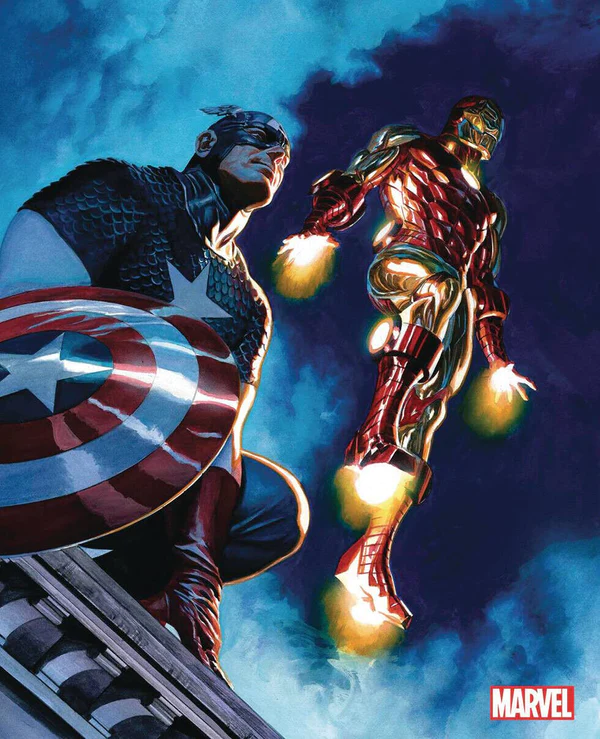 [UPDATE June 8]
Alex Ross is kicking things off with two announcements today. You'll want to pick up his 2023 Alex Ross Sketchbook, which is filled with a collection of pencil studies, cover roughs, character designs, and sketchbooks.
The sketchbook will be exclusively premiering at San Diego Comic-Con 2023, and available as both an unsigned hardcover for $50, or a signed hardcover for $100.
Stop by his booths to pick it up at the con, or you can join the waiting list online for if inventory opens up on his site.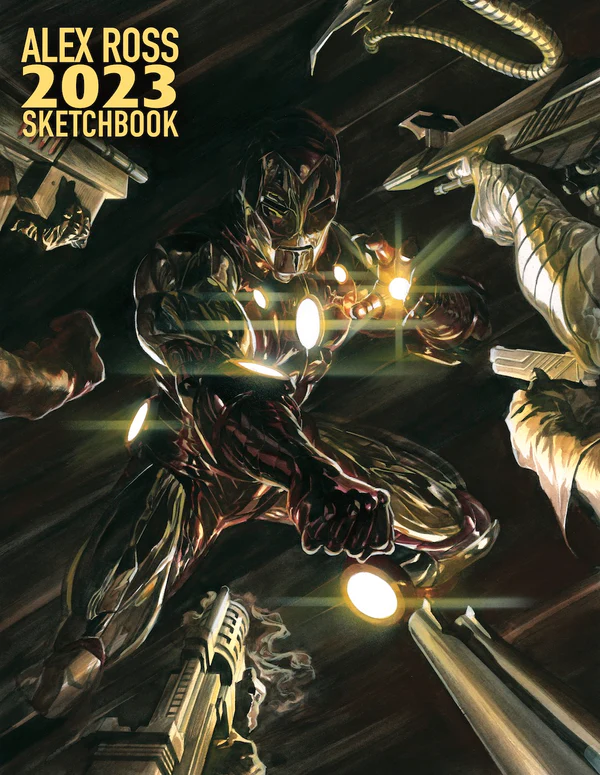 Ross is also celebrating to your favorite mutants this year, with an epic X-Men 60th Anniversary Tribute. The sweeping piece features Ross' signature realism, reimagining the iconic 1991 X-Men #1 cover by Jim Lee.
It will be available as a 39″x18″ lithograph limited to 395 pieces for $395 each, or as a 42.5″x16.25″ canvas limited to 100 pieces for $975 each.
A limited pre-order will be available on his site starting June 20, with only 50 prints available online for pre-order. The rest will be heading to San Diego Comic-Con this July.

And while not a premiere or exclusive, if you missed out on Ross' Batman #900 variant, they will have a "very limited" number of copies reserved for SDCC this year. The original set featured a Cover A unsigned for $30, signed for $75, or CGC 9.8 graded for $200; as well as a set of both covers A & B unsigned for $75, signed for $150, or CGC 9.8 graded for $400.