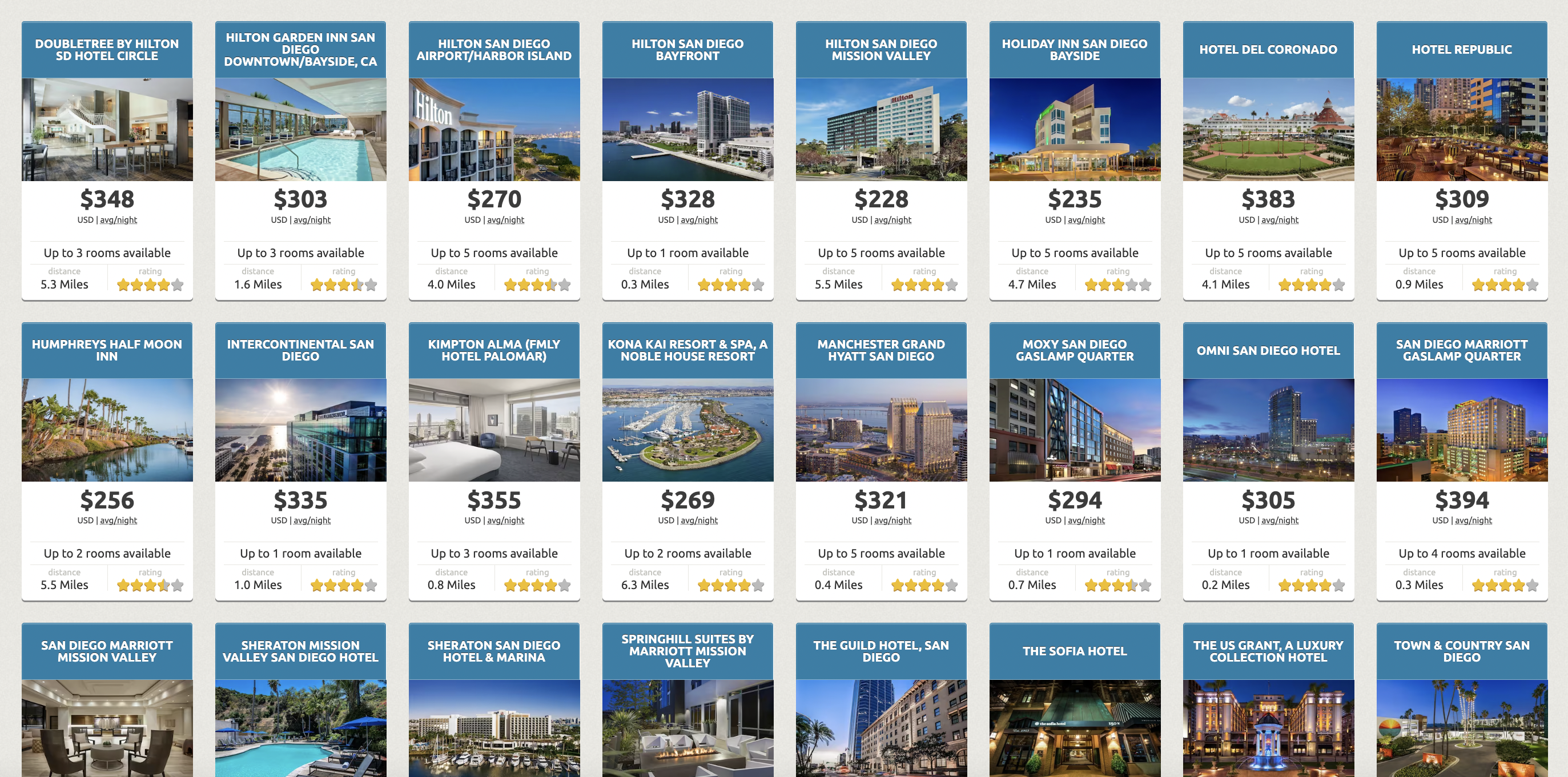 For anyone who wasn't lucky enough to score (and keep) a hotel in this year's General Hotel Sale, the last few weeks have been… interesting. Inventory for hotels for this year's San Diego Comic-Con room block has seemingly been lower than it's ever been (unless demand is truly just that high, but we have our doubts), while at the same time lately, a handful of hotels will pop up at random times.
It's made the entire situation feel much more stressful, and as attendees have snatched up any hotel they could get their hands on because it was available for those few seconds, it's led to a lot of gaps and split-stays. Perhaps you have Wednesday-Saturday nights booked at your hotel, but have been desperately searching for a Sunday night. Or perhaps you've got a Tuesday-Thursday stay at one hotel and a Saturday-Monday at another, but are still missing Friday.
@sdccHotelTrackr has been a life-saver for Comic-Con attendees trying to snag that missing reservation (or any reservation), posting as rooms pop up on OnPeak, the official hotel booking partner for San Diego Comic-Con.
Because of the way the onPeak hotel booking site works, even if hotels have select nights available, they don't always show up on the list of what's available. For that reason, @sdccHotelTrackr has created a list of hotels with direct links, so that you can check if your specific hotel has availability for the dates you need. It's important to note that most hotels require a two-night deposit/minimum, so this list will likely work best for those looking to extend their stay by an extra night.
In order to view the links, you'll need to first open the hotel link on OnPeak, which is https://compass.onpeak.com/e/43CCI2023HIR.
That link will then convert to a link with a number on the end. After that number, you will delete #hotels, and replace with the end of the url for the individual hotel looking to check from the list below.

Andaz San Diego:

#hotelInfo/19183

Bay Club Hotel & Marina:

#hotelInfo/5719

Best Western Plus Bayside Inn:

#hotelInfo/4440

Best Western Plus Island Palms Hotel & Marina:

#hotelInfo/7684

Carte Hotel San Diego Downtown, Curio Collection by Hilton:

#hotelInfo/22720

Coronado Island Marriott Resort:

#hotelInfo/4446

Courtyard by Marriott San Diego Downtown:

#hotelInfo/3958

Courtyard San Diego Airport/Liberty Station:

#hotelInfo/20418

Courtyard San Diego Gaslamp/Convention Center:

#hotelInfo/19975

Courtyard San Diego Mission Valley:

#hotelInfo/20532

Days Inn by Wyndham San Diego Hotel Circle:

#hotelInfo/16838

Doubletree by Hilton Mission Valley:

#hotelInfo/4453

Doubletree by Hilton SD Hotel Circle:

#hotelInfo/4454

Doubletree San Diego Downtown:

#hotelInfo/18364

Embassy Suites by Hilton San Diego Bay Downtown:

#hotelInfo/3960

Four Points San Diego Downtown:

#hotelInfo/4442

Hampton Inn San Diego Downtown:

#hotelInfo/3965

Handlery Hotel:

#hotelInfo/20528

Hard Rock Hotel San Diego:

#hotelInfo/18365

Hilton Garden Inn San Diego Downtown/Bayside, CA:

#hotelInfo/21567

Hilton San Diego Airport/Harbor Island:

#hotelInfo/4449

Hilton San Diego Bayfront:

#hotelInfo/18082

Hilton San Diego Gaslamp:

#hotelInfo/3964

Hilton San Diego Mission Valley:

#hotelInfo/4455

Holiday Inn San Diego Bayside:

#hotelInfo/5671

Hotel del Coronado:

#hotelInfo/4448

Hotel Indigo San Diego – Gaslamp Quarter:

#hotelInfo/18715

Hotel Republic:

#hotelInfo/4459

Humphreys Half Moon Inn:

#hotelInfo/5683

InterContinental San Diego:

#hotelInfo/21343

Kimpton Alma (fmly Hotel Palomar):

#hotelInfo/19153

Kona Kai Resort & Spa, A Noble House Resort:

#hotelInfo/4452

Manchester Grand Hyatt San Diego:

#hotelInfo/21

Margaritaville Hotel (frmly Solamar SD Hotel):

#hotelInfo/17482

Marriott Marquis San Diego Marina:

#hotelInfo/943

Moxy San Diego Gaslamp Quarter:

#hotelInfo/21481

Omni San Diego Hotel:

#hotelInfo/9263

Palihotel San Diego:

#hotelInfo/23027

Pendry San Diego:

#hotelInfo/20643

Residence Inn by Marriott San Diego Downtown/Gaslamp Quarter:

#hotelInfo/18367

Residence Inn by Marriott San Diego Downtown:

#hotelInfo/4444

Residence Inn San Diego Downtown/Bayfront:

#hotelInfo/20388

San Diego Marriott Gaslamp Quarter:

#hotelInfo/18030

San Diego Marriott Mission Valley:

#hotelInfo/20538

Sheraton Mission Valley San Diego Hotel:

#hotelInfo/6398

Sheraton San Diego Hotel & Marina:

#hotelInfo/4160

SpringHill Suites by Marriott Mission Valley:

#hotelInfo/20536

Springhill Suites San Diego Downtown/Bayfront:

#hotelInfo/20390

The Guild Hotel, San Diego:

#hotelInfo/21810

The Sofia Hotel:

#hotelInfo/17460

THE US GRANT, a Luxury Collection Hotel:

#hotelInfo/3967

The Westin San Diego Gaslamp Quarter:

#hotelInfo/568

Town & Country San Diego:

#hotelInfo/4457

Westgate Hotel:

#hotelInfo/3956

Westin San Diego Bayview:

#hotelInfo/350

Wyndham San Diego Bayside:

#hotelInfo/4443