Designer toy company Kidrobot always makes some of the most visually interesting, high-end (but still affordable) exclusives at the convention – and this year is no different. . We'll undoubtedly see items from their signature Dunny series, Hello Kitty, and more.
The presale is back for 2023 (yay!), starting Wednesday, June 14 at 9AM PT on their site, with new inventory replenished daily on both Thursday, June 15 and Friday, June 16 as well.
If you'd prefer to purchase on-site, you can head to Booth #2846 during the con.
Here's a look at this year's exclusives:
[UPDATE June 9]
The final of Kidrobot's San Diego Comic-Con reveals is all about "ship". You can pick up:
Mickey Mouse "Sailor M." 8-inch Collectible Vinyl Figure by Pasa – Nautical Edition — $60
Anchors aweigh! Kidrobot is proud to present a special edition collectible vinyl art sculpture starring Mickey Mouse. Mickey sailed onto the big screen in the 1928 classic animated short "Steamboat Willie," and now he's ready to cast off on a new adventure! This vintage-style, 8-inch-tall "Sailor M." figure wears a gold and blue sailor outfit, complete with Mickey's iconic button shorts. For this dynamic creation, Kidrobot worked with Pasa, a Brazilian sculptor whose fun and fresh designs draw on a deep love of pop culture and toys combined with a background in tattoo arts. Packaged in a premium collectible window box with nautical elements, this is a great addition to any Disney collection. This con exclusive is limited to 300 pieces worldwide.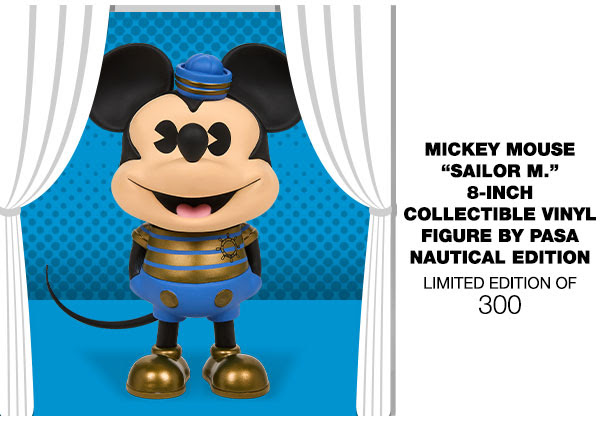 Hello Kitty UFO Medium Vinyl Figure – White and Gold Edition — $60
Get ready for an out-of-this-world adventure with Hello Kitty®! In true cosmic style, the sweet icon will fly through your life in her colorful UFO. Behind a clear dome, she's got the perfect view of outer space in her arcade-themed spaceship. (And check out that Kidrobot patch on her spacesuit!) Pop off the dome and remove the figure for some extra interactive adventures! This adorable 5" vinyl figure set by Kidrobot comes in a limited-edition white and gold colorway. This con exclusive is limited to 400 pieces worldwide.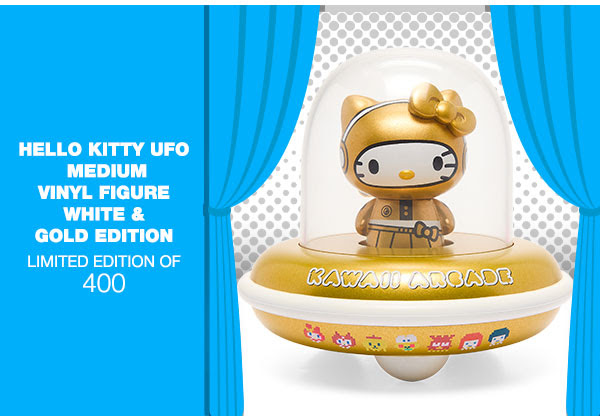 [UPDATE June 8]
Life's better with friends, and that's the theme of today's Kidrobot reveals. Up first is a South Park Anatomy Boys 2″ Vinyl Figure 4-Pack, which allows you get a peek "inside" the stars of South Park's Stan, Cartman, Kyle, and Kenny. It's limited to 500 pieces and will be available for $50.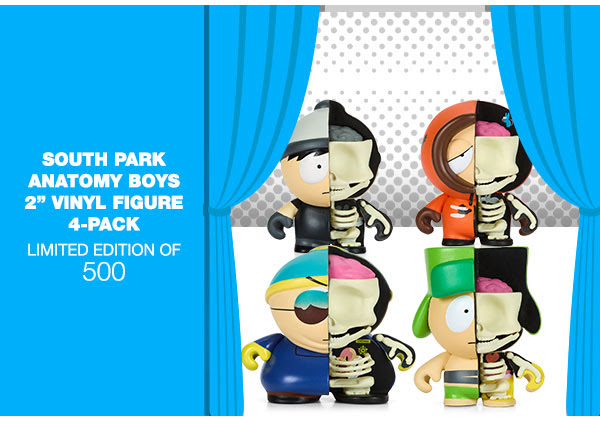 They also showed off a Hello Kitty® and Friends Kawaii Arcade Premium Pins and Lanyard Set, which includes three deluxe, interactive pins: Gashapon machine, claw machine, and glow-in-the-dark neon sign. Like the other, it's limited to just 500 pieces, and will be available for $28.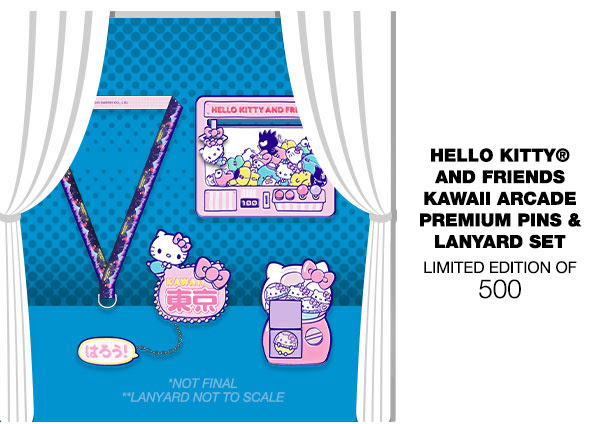 [UPDATE June 7]
Kidrobot has unveiled the next set of exclusives, this time with the theme of "soft". And it doesn't get much softer than their Kidrobot Signature Hoodie, which is 100% cotton, with a contrast lined hood. It features an embroidered logo patch and a Kidrobot-inspired all-over pattern.
It's a LE of 250 and available in unisex sizes S-2XL, and will be available for pre-order starting June 14 for $60.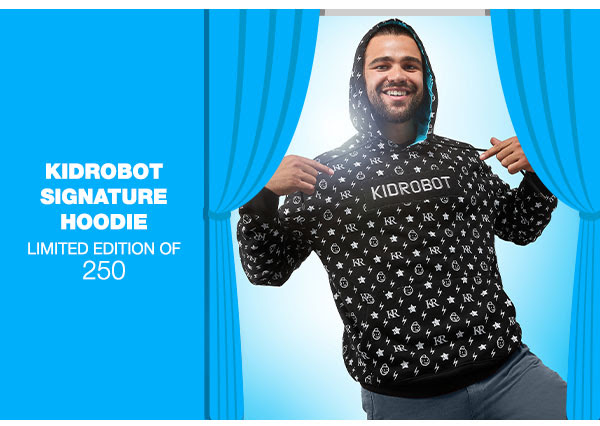 They also showed off their South Park Towelie High AF 2″ Premium Pin, which features a flocked texture as well as movable arms. It's a LE of 500 and will be available for $12.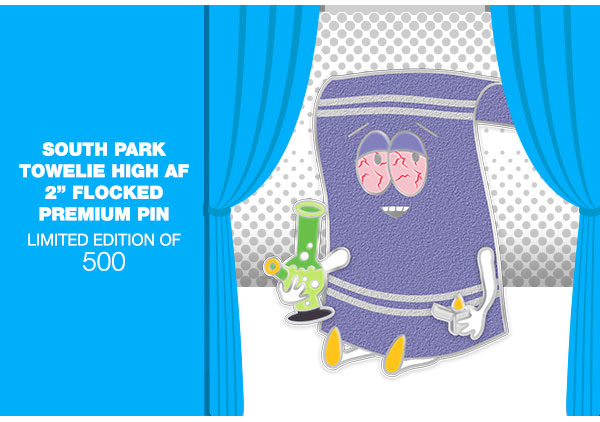 [UPDATE June 6]
Today, Kidrobot revealed the first of their San Diego Comic-Con exclusives, with the theme of "dark". They aren't showing off the full images or details yet, merely a sneak peek which includes South Park, Dungeons & Dragons, and Wednesday.
South Park Anatomy Kyle 8" Figure — $90
Take a peek inside one of South Park's most iconic characters! This premium Anatomy Kyle Vinyl Art Figure from Kidrobot stands 8 inches tall and features a skeleton that glows in the dark! This con exclusive is limited to 300 pieces worldwide.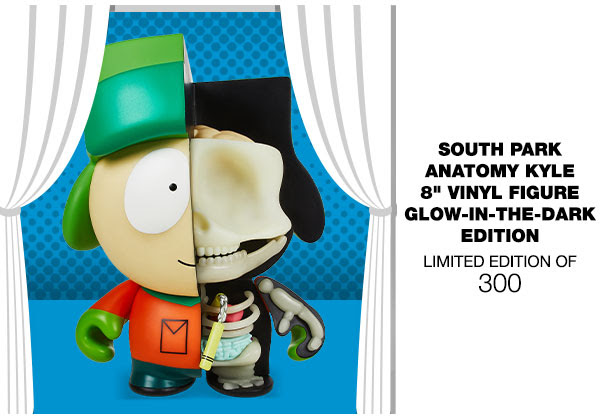 Dungeons & Dragons 3" Vinyl Figures – Displacer Beast and Dark Mimic 2-Pack — $30
Do my eyes deceive me, or is that a 2-pack of exclusive Dungeons & Dragons vinyl figures containing two of the game's most iconic creatures? It is! The chest of this purple Mimic is a new, sleek dark color with polished, shiny silver trim; surely, a shiny chest should contain shiny loot!… Right? The figure's hulking fist is a purple gradient, revealing its true nature. Best stay clear! Accompanying this Mimic is a purple translucent Displacer Beast — and don't worry, although it might be transparent, you won't miss it in the dark as its teeth, claws, eyes, and tentacle spikes glow! Is this beast corporeal? Is it illusory? There's only one way to find out!  This con exclusive is limited to 600 pieces worldwide.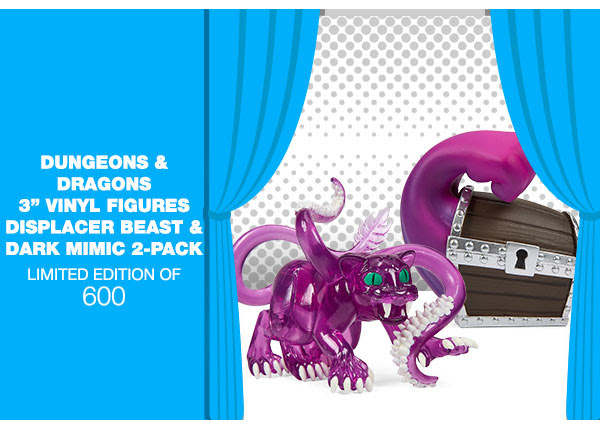 Wednesday Premium Pins and Lanyard Set — $28
She's creepy and she's kooky and she knows how to cut a rug! Celebrate (but in a dark way) the Netflix series Wednesday every day of the week with this demonically adorable Wednesday Addams Pins and Lanyard Set by Kidrobot! It includes three deluxe, interactive pins: Wednesday and Thing, Dancing Wednesday, and Wednesday and Enid. This con exclusive is limited to 500 pieces worldwide.