Happy Friday, everyone! I hope you al enjoyed Thursday's frenzy of San Diego Comic-Con news. Did you get a reservation for the Jurassic Park offsite? Did any of the Funko reveals make your "MUST BUY" list? Have you memorized the exhibitor map yet? I know it might have seemed like a lot of news came out at once, but I hate to tell you, it's just the tip of the iceberg. So take some time this weekend to browse our News and start making your plans. Comic-Con 2023 will be here before you know it!
Now let's take a look at the news you might have missed:
Tom King took to Twitter to show off his comp copies of the San Diego Comic-Con exclusive Supergirl: World of Tomorrow #1 foil cover. Check out all of DC's exclusives on our post.
Just got comps for this very cool, very shiny SDCC Supergirl 1 exclusive. See you there. pic.twitter.com/cah792n79I

— Tom King (@TomKingTK) June 29, 2023
Let's give a warm Comic-Con round of applause to Chad Hardin of Hardin Comics who is making the hop from Artist's Alley over to a larger booth #4716. You'll want to check out all the original art, limited edition prints, graphic novels, exclusive merchandise they have.
 

 

View this post on Instagram

 
New Your Time bestselling author and writer of IDW's Dungeons and Dragons Saturday Morning Adventures, Sam Maggs, is inviting you to come see them and get your comics signed at SDCC.
 

 

View this post on Instagram

 
Boom Studios upcoming Sirens of the City will be promoted at San Diego Comic-Con in some capacity. We know this because artist John Giang, who created this beautiful variant cover, spilled the news on Instagram. Look for more details soon.
 

 

View this post on Instagram

 
The writing team of Ken Bebelle and Julia Vee will be on tour, and swinging through San Diego Comic-Con to promote their novel Ebony Gate, due out July 11. Exact details will be announced closer to the event. 
 

 

View this post on Instagram

 
If you're looking for a VERY one-of-a-kind SDCC souvenir, and you're a fan of Priscilla Wilson, then you're going to want to stay at the con until the bitter end. Wilson is offering her show banner to a lucky attendee.
Also, I probably won't want to keep this after SDCC is over. So if anybody wants a truly unique/bizarre collectible, somebody can probably take it towards the end of the day on Sunday.

— Art of Priscilla Wilson 🔜 AX I38 (@valorandvellum) June 29, 2023
A new SDCC exclusive variant for Image Comic's W0rldtr33 #1 has been revealed. This cover, limited to 250 copies is a black and grey scale cover by Oshred and will be available from No Masss Comics at the convention.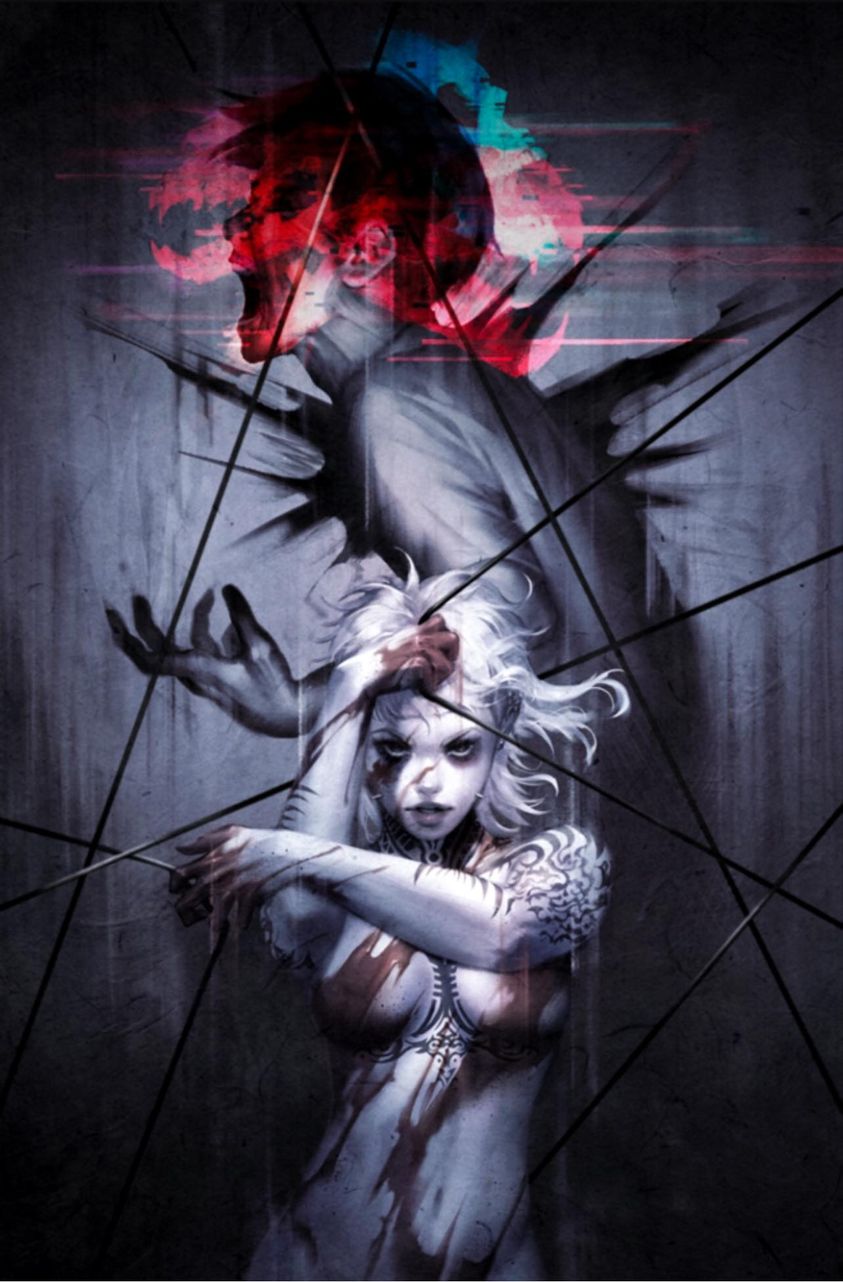 Jeff Pina has opened a Stargate, but it's only for 38 minutes so you might want to hurry over to Small Press #Q-06 to resolve it. While you're there, you can pick up this awesome original art. 
 

 

View this post on Instagram

 
Now the gang's all here and Alex Deligiannis is finished with his SDCC exclusive T.M.N.T. print set. You can pick this set up at Comic-Con, or order it online starting Friday, July 30.
 

 

View this post on Instagram

 
Remember when we were talking about IDW's Dungeons and Dragons Saturday Morning Adventures? Well, now we have an SDCC exclusive variant cover for issue #4 by artist Bruno Oliveira. 
How cool is that? This #dungeonsanddragons cover will be #SDCC2023 exclusive! Love how this came out! Can't wait to do more covers! Thank's for the invitation, @IDWPublishing ! pic.twitter.com/m2g5z56YvB

— Bruno Oliveira-Commissions Open (@oliveira_bbruno) June 29, 2023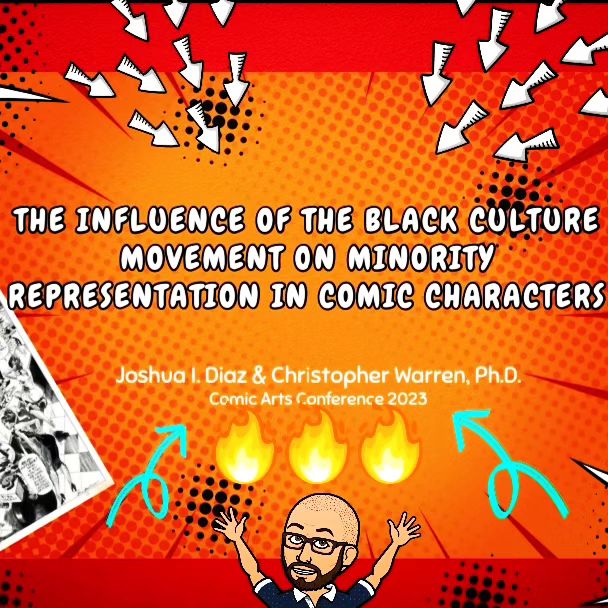 Eddy Rios of Taco Boy Designs is giving us some serious brain freeze with this Last Ronin popsicle art. Rios will have limited edition prints of this image at Comic-Con, booth #DD-04.
 

 

View this post on Instagram

 
This lil' crocheted critter Deadpool comes with an extra special accessory: His doodle for his new bestie. Want to make him yours? Be sure you're following Geeky Hooker to catch the drops this year.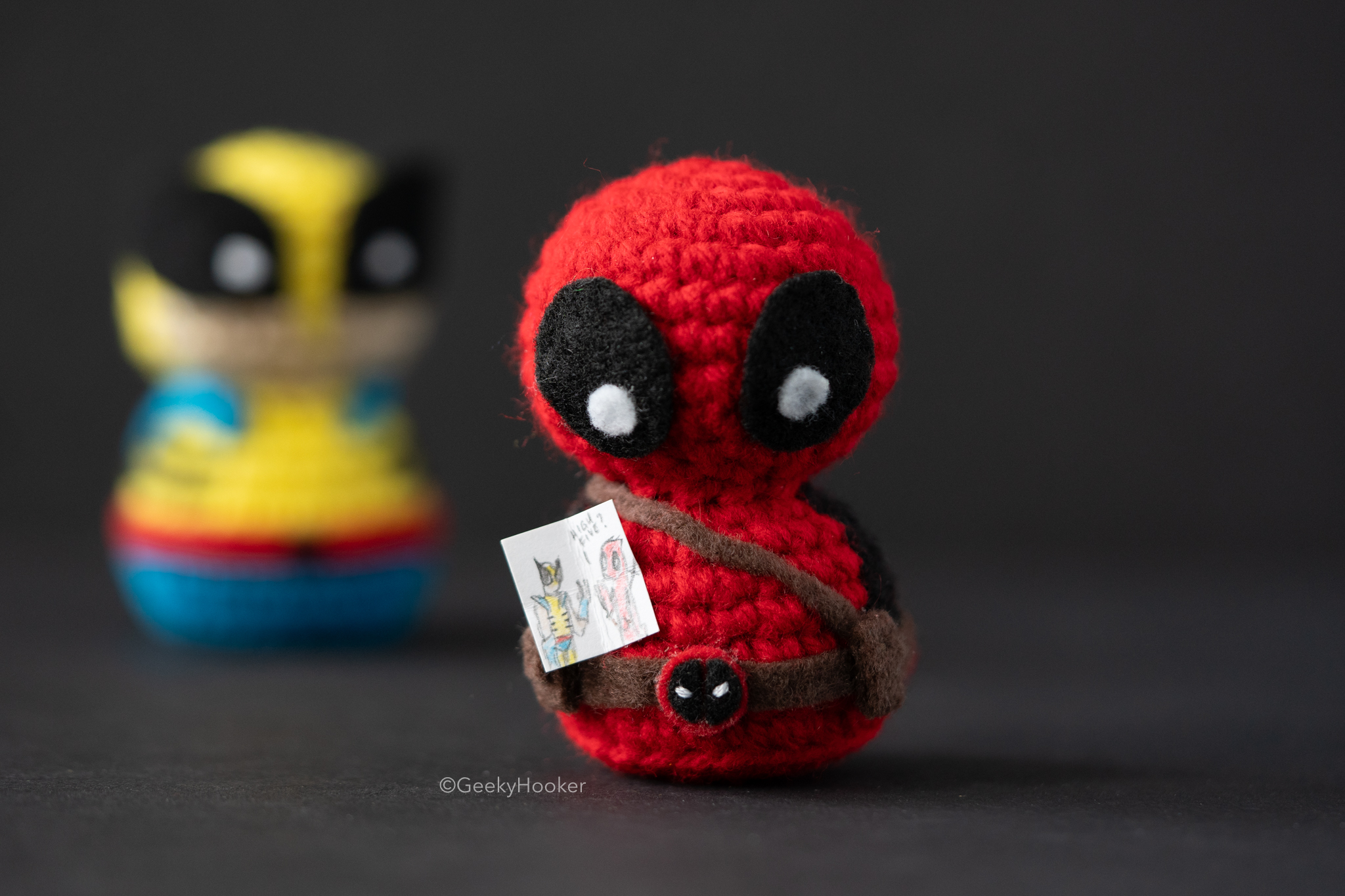 You wanna get nuts? Show off your love for The Caped Crusader with two SDCC exclusive Batman pins from True Edge Knives at Booth #5606. You don't even have to fight Gotham's worst to score them — simply hand over $9.99 each.
Cliff Cramp Illustration is taking flight at San Diego Comic-Con with a new SDCC exclusive. "Partners" is the first illustration in the Brimstone saga, and this 13″x19″ print is signed and numbered, and will be available at Booth #1929.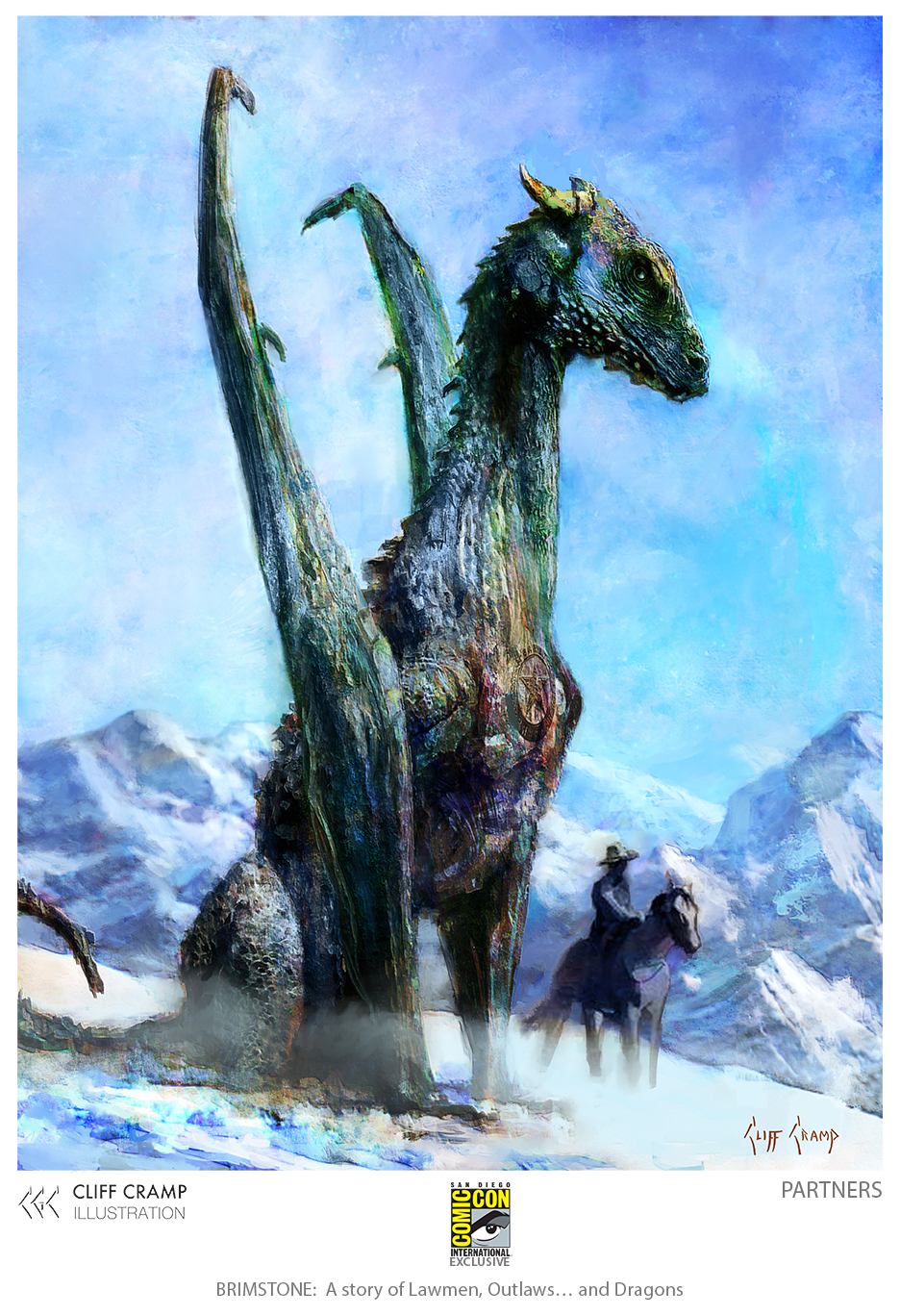 One dragon in an "Under the Tents" isn't enough, though, how about Infinity Dragons? Or at least Infinity Dragon, which is the name of a SDCC exclusive pin from Fian Arroyo Art. This 1.75″ black nickel hard enamel pin will be limited to 100 pieces, and available at Artists Alley #BB-11 for $15.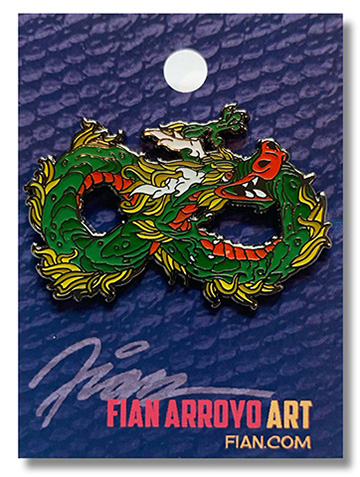 Yes, we'll have sashes again! The badges all have iron-on backings, so it's easy to attach them that way, some people will sew to reinforce them, but the ironing does make a strong seal

— The Con Rangers 🔜 SDCC #1336 (@theconrangers) June 29, 2023
Artist Stuart Sayger will have two variant covers for Red Sonja #1 this year. Cover A will be available for $20, while the other cover will be $40, at Booth #5003.
VanderStelt Studio is bringing their San Diego Comic-Con exclusive licensed art print from The Lord of the Rings to Booth #1929-B next month. This 3-pack of prints are printed on 80 pound Silk Paper, complete with aqueous matte coating, and will be available for $40 for the set.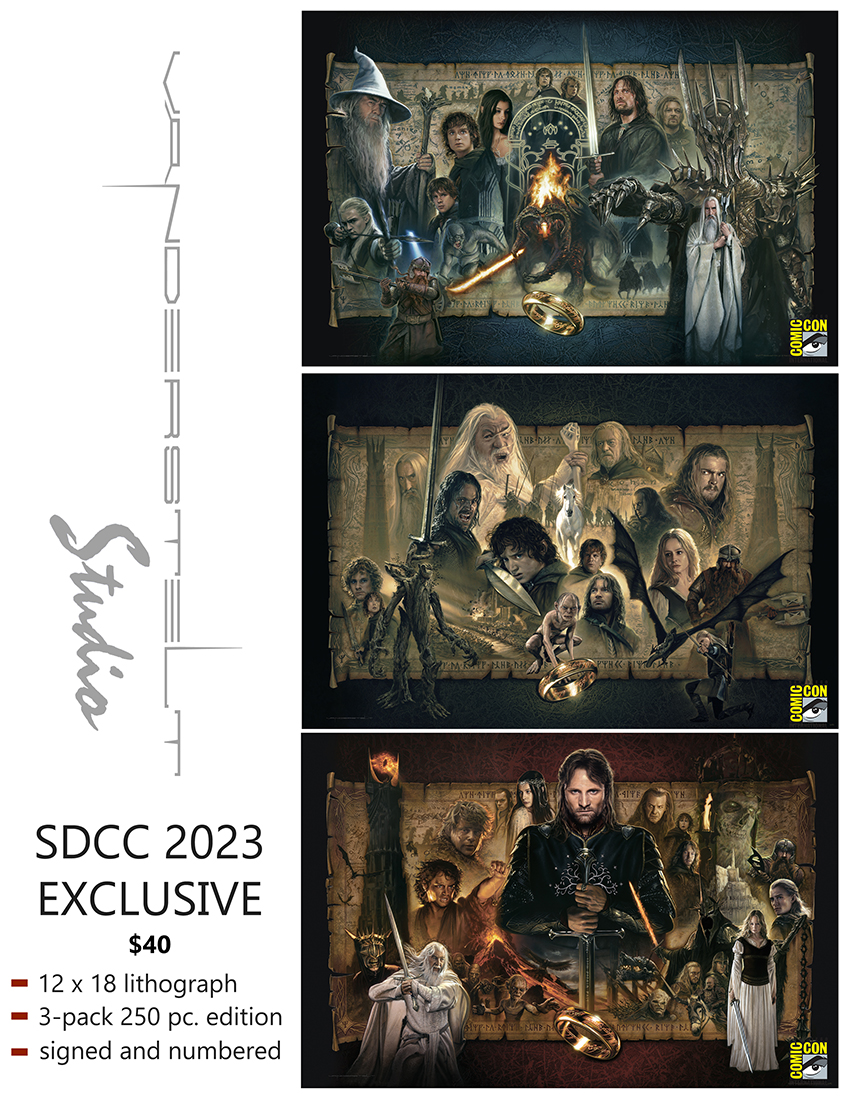 This isn't the lullabies from your youth. Arsenic Lullaby Publishing is bringing Scorched Earth No. 0 to the con, a new story following an all powerful malicious cosmic entity that has come to our planet with evil intentions, but no plan and not much of a grasp on how anything works here. This issue has a blank back sketch cover, and fans will be able to get a sketch from writer/illustrator Douglas Paszkiewicz every day during the con at Booth #2200.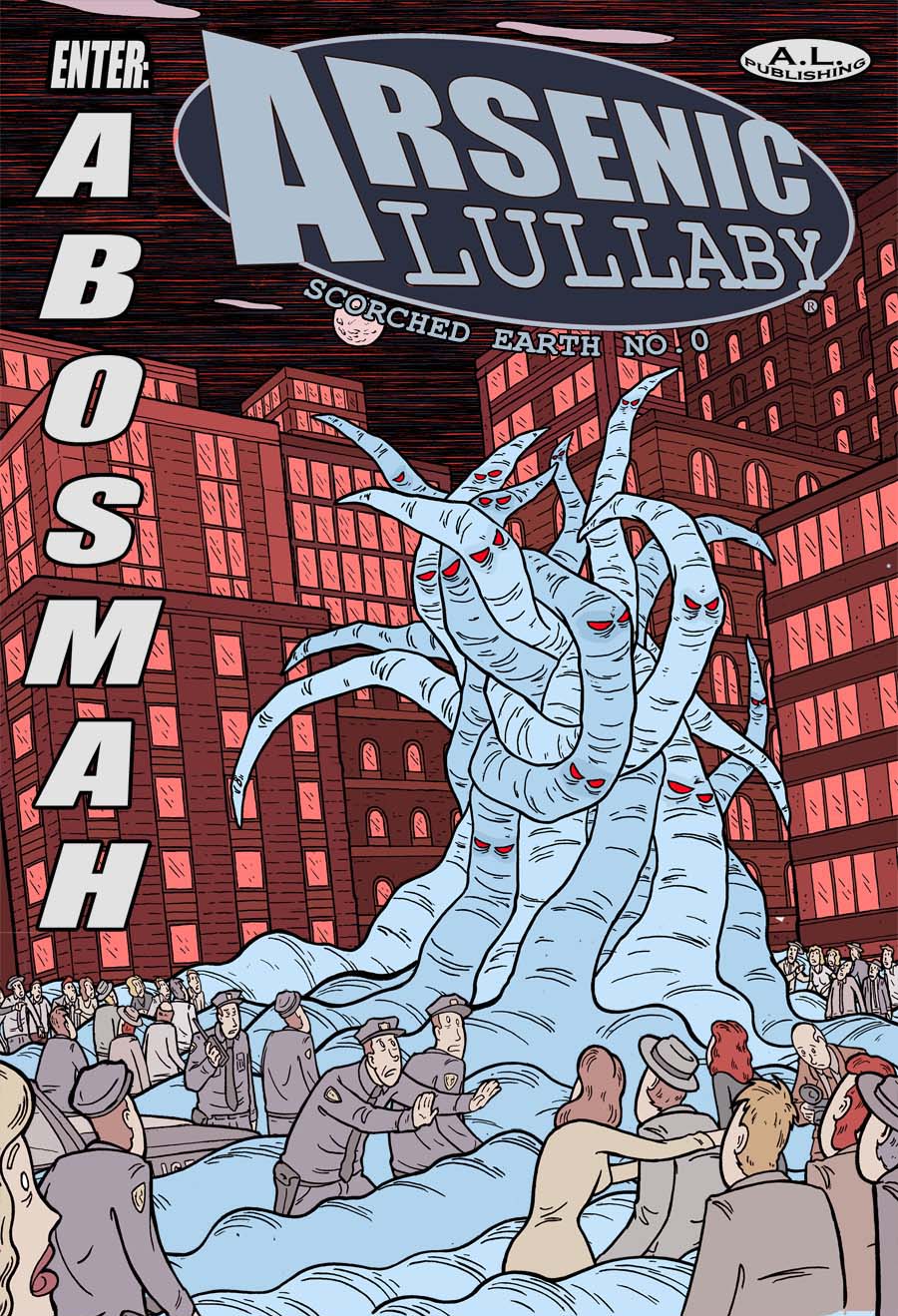 Anything we missed? Let us know by dropping us a line, or tweet us at @SD_Comic_Con.
If you missed our previous Under the Tents 2023 posts, you can find them HERE