This weekend I was holed up in my house with the A/C blasting (it got up to 95ºF yesterday) and wishing we could fast forward about 6 weeks and get this San Diego Comic-Con party started. Then again, if we did that, we'd miss all these delectable sneak peeks, all the teases and all the finger-crossing speculation. The preparation is (almost) as much fun as the event. 
This Under the Tents as a little bit of everything; a Bluey x Chewie mash up, boba babies, beach loving dinos, a Corey, a few panel confirmations, and so much more. 
Let's check out the news you might have missed:
It's "Bottom's up!" for the baby with these adorable boba ornaments and pins from Nan Hockin. They will be availa-boba in a limited quantity at Comic-Con.
Grogu Boba anyone? Pins and ornaments. Handmade with love. Just a limited quantity at SDCC in July! #SDCC #sdcc2023 #sandiegocomiccon pic.twitter.com/ULh7tZ0VlS

— ArtByNan (@nanhockin) June 1, 2023
From a galaxy not too far away, and just as cute, BeKyoot is considering making this "May the Floof Be With You" hard enamel pin a Comic-Con exclusive. Use the force (or Twitter) to tell them what you think of it.
In a classic last minute idea for SDCC, I came up with this pin idea tonight. Might make it an exclusive? 🧐🧐 #dailypaint 2804 pic.twitter.com/NTX5wWd8mC

— BeKyoot (@bekyoot) June 5, 2023
PermaFriends author and illustrator Kaveh Taherian will be back behind a table in Artist's Alley this year. Now get back to work on that new book, Kaveh!
Oh right I guess I should tell people I'm gonna be in artists alley again. I'm currently hard at work finishing my next book which I will make an announcement about next week!! https://t.co/6qdJAJNuQw

— Kaveh Taherian (@kavehtaherian) June 2, 2023
How do you celebrate Uncle's Day? If you're Martin Hsu, it might involve kitties! This will likely be part of Hsu's Ted Lasso x Cats series that we enjoyed so much last year. (I spent waaaayyy too much time trying to think of what cat versions of swear words sound like thanks to this, btw.)
Funny you should mention Roy Kent… I'm currently working on a certain 'Uncle's Day' piece 😉🐈‍⬛🐈‍⬛

— Martin Hsu 徐 👨🏻‍🎨 SDCC Booth 4530 (@MartinHsu) June 2, 2023
Not that we ever had a doubt, but it's always great when companies like Jada Toys confirm that they will be attending San Diego Comic-Con. They will be at booth #3477 with their selection of amazing die-cast pieces and action figures on display. No exclusives have been announced yet, but it's still very early and we'll keep our hopes up.
 

 

View this post on Instagram

 
Responding on Twitter, Dan DiDio revealed that he and Frank Miller will have (at least) a panel at Comic-Con, featuring their publishing endeavor, Frank Miller Press. Unfortunately for artists, they have no plans to do any portfolio reviews.
Frank and I will have a panel at the show but no plans for portfolio review at this time

— Dan DiDio (@TheRealDanDiDio) June 5, 2023
Also over on Twitter, Monkey Minion gave us just a peek at something both prehistoric and futuristic.  We really can't wait to see more.
Working on my SDCC Exclusive for this year. Who wants a sneak peek? pic.twitter.com/GwJCXUmAu3

— @monkeyminion.bsky.social (@monkeyminion) June 2, 2023
Character designer and illustrator Liana Hee has just finished up month long Mer-May endeavor. Her next in-person event will be San Diego Comic-Con, at booth #4615.
After a trial run at WonderCon, Britton Payne is taking their panel "Turning a Comic Book into a Franchise" to San Diego Comic-Con. You can catch it on Thursday, July 20 at 5pm in room 5AB.
We missed artist Scott C. so much last year and we are very excited that he'll be back at Comic-Con in 2023. Like so much of Scott C.'s work, this beachy little dinosaur is giving us all the happy vibes. Hope they remembered the sunscreen!
 

 

View this post on Instagram

 
Amy Mebberson has confirmed that while she will be at Comic-Con for a few days, she will not be exhibiting. If we knew how to play the trombone we would certainly play a little sad trombone for this Tweet.
Nope. I'm only at SDCC for a couple of days, but im not exhibiting at all this year.

— Amy Mebberson 🍺 (@amymebberson) June 2, 2023
Beloved science fiction franchise Robotech is bringing their brand to San Diego Comic-Con as part of their 2023 convention tour circuit. This likely means they will have a panel discussing all the latest Robotech news.
We are pleased to announce that the San Diego Comic-Con is now part of the 2023 #Robotech Convention Tour.

Get your tickets here: https://t.co/3WR0TTLZvJ#SDCC #SDCC23 #SDCC2023 #80s #anime #toys pic.twitter.com/xcMXz7pend

— ROBOTECH (@RobotechNews) June 3, 2023
 

 

View this post on Instagram

 
Leanne Krecic "Mongie," creator of the bestselling and award nominated webcomic Let's Play has announced that she will be attending San Diego Comic-Con, in conjunction with Rocketship Entertainment, including signings.
Actor and musician Corey Feldman was recently a guest on the Vulnerable with Christy Carlson Romano podcast, discussing his long history in the entertainment business as well as his many tribulations. Feldman also revealed that he will be at San Diego Comic-Con  and has "very big" things brewing. You can listen to the full episode here.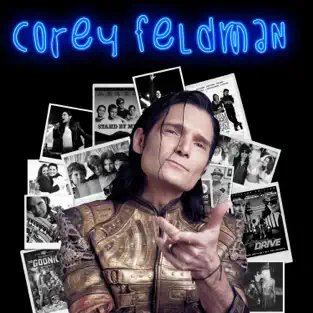 Are you looking for a temporary job and don't mind working while everyone else is playing? CCI is hiring temp staff for San Diego Comic-Con. You must be 18 years of age or older and living locally to qualify. Apply for the positions available on Indeed.


This one might be a stretch but we're keeping our hopes alive. Wrexham FC owner Ryan Reynolds recently tweeted that he'll be in attendance for the "friendly" match between his team and Manchester United on Tuesday, July 25, just days after SDCC (tickets available here). We'd like to think that Reynolds might also be in town earlier for Comic-Con, but nothing has been confirmed as of yet. I guess we need to just "BELIEVE".
Thank you @ManUtd for the hospitality at the #FACupFinal
See you in San Diego July 26th pic.twitter.com/Dtv9rqYz8A

— Ryan Reynolds (@VancityReynolds) June 3, 2023
Patrick Ballesteros appears to be splitting his time between working on mini-originals and finishing up larger projects intended for SDCC. If anyone can multi-task, it's Ballesteros. Here's another work in progress from the artist, featuring a critical scene from John Wick 4.
Working hard to get this done in time for #SDCC. pic.twitter.com/awj0N0SAWb

— Patrick Ballesteros SDCC DD-08 (@PatrickBallest) June 3, 2023
Designer and printmaker Kirsten Mishay ("idinkthat") posted on Instagram that they will be making an epic leveling-up, going from San Diego Comic-Con attendee to exhibitor. Hashtags indicate that we will find her at booth #4620.
 

 

View this post on Instagram

 
Are you ready to roll for initiative? Over on Facebook, TJ Shevlin announced a "Dungeons & Dragons – 40 Years of a Saturday Morning Legend" panel. Scheduled for, when else, Saturday morning in Room 6DE.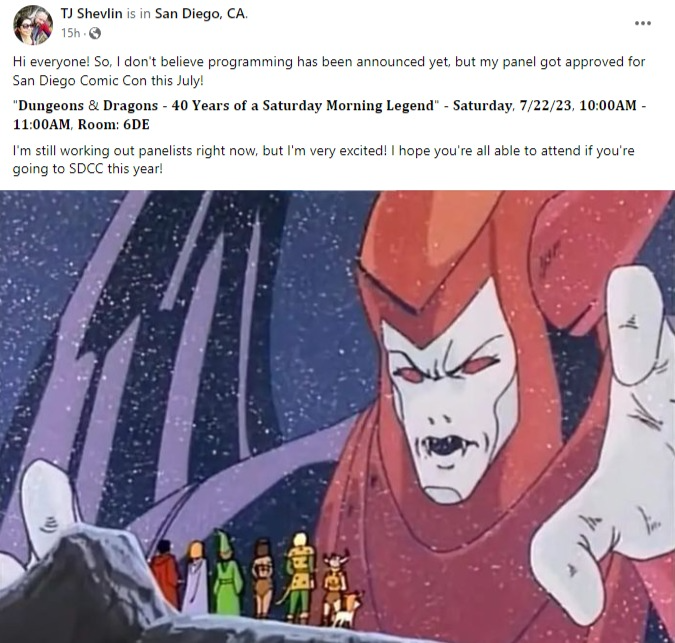 NRCity has announced that their booth, #2548, will be stocked with special guests during Comic-Con. You'll be able to meet legendary composer Vince DiCola (Transformers, Rocky IV) as well as actor Munolf Ri-Kus.
Meet our Main actor @Munolf_RiKus for the First time in @Comic_Con Booth 2548.. https://t.co/kcIxZjyapY

— NRCity (@NRCity_Universe) June 4, 2023
Gap Closer Games, publishers of Rival Restaurants, Rival Restaurants: Back for Seconds, and Illiterati, are seeking outgoing individuals interested in demoing their games for 4 hours each day during San Diego Comic-Con. In exchange, volunteers will receive a badge and meal allowance. Fill out their form if you are interested.
Lockheed is begging for attention in this X-Men print from artist Steven E. Gordon, destined for San Diego Comic-Con.
 

 

View this post on Instagram

 
The mash up we didn't know we needed or wanted and now we can't stop thinking about! This "Chewy" fan toy by Jeremy "Dead Greedy" Bourquin and Paul Draper should see it's release at SDCC, if we're very lucky. Fingers crossed!
 

 

View this post on Instagram

 
Artist and creator of the comic Skull Masquerade, Carla Wyzgala has been exhibiting non-stop already, but will be attending SDCC, and offering commissions. Her list opens on Monday and you'll want to act fast.
 

 

View this post on Instagram

 
For the first time ever, select role-playing games at San Diego Comic-Con will be played in Spanish. We have Amaury De Leon to thank for this, who advocated for the addition during WonderCon 2023.
 

 

View this post on Instagram

 
And lastly, Scott Shaw never misses a San Diego Comic-Con (when it's not cancelled anyway) and in 2023 he will have a brand new book to promote; Scott Shaw!s Comix & Stories a monster at 333 pages. Find it at Shaw's usual booth, #I-08.
Anything we missed? Let us know by dropping us a line, or tweet us at @SD_Comic_Con.
If you missed our previous Under the Tents 2023 posts, you can find them HERE