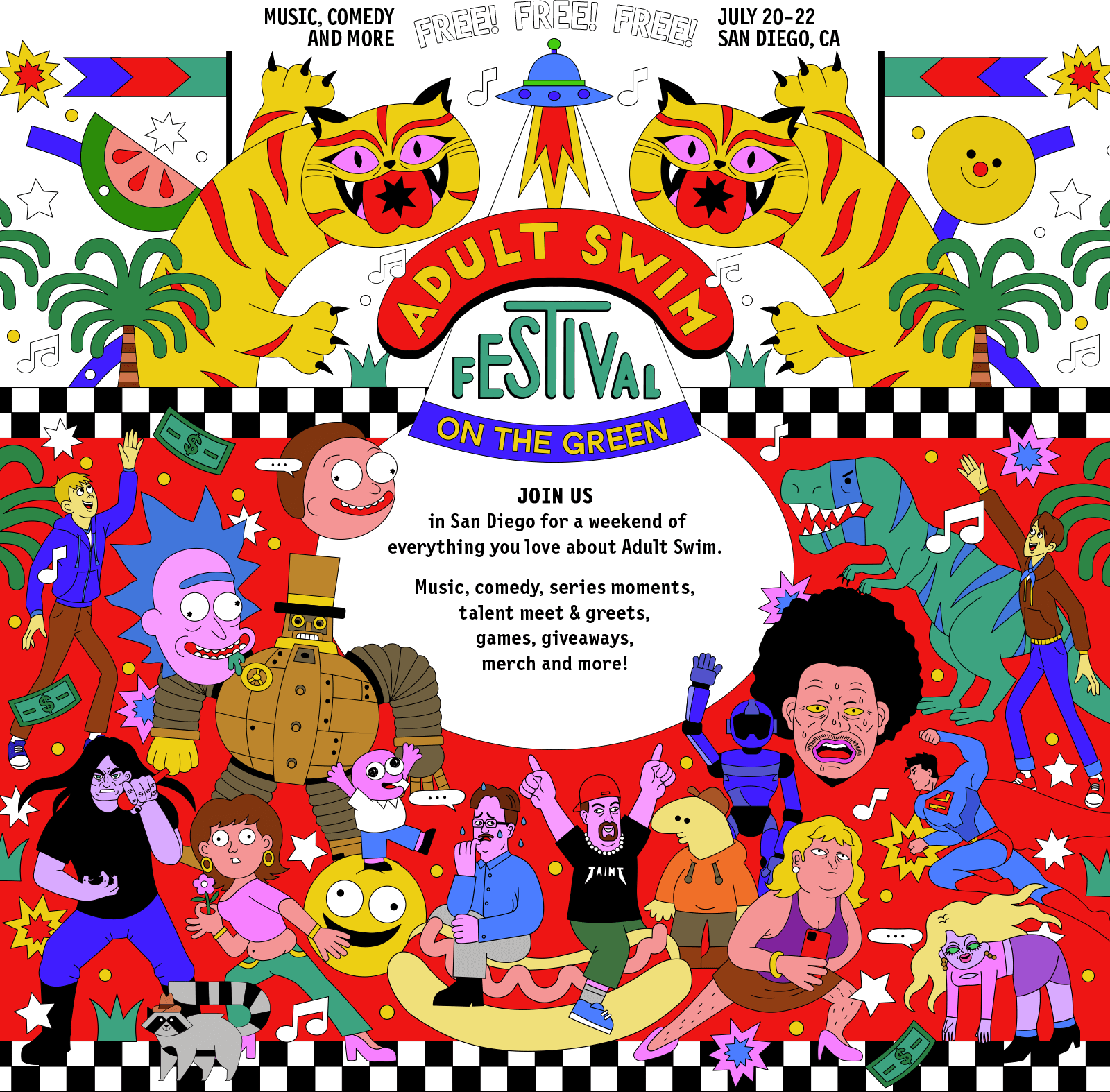 After skipping last year (aside from a mysterious box on the lawn), Adult Swim is back in full force with their Adult Swim Festival on the Green.
From Thursday, July 20 – Saturday, July 22, you'll find three days of meet and greets, music, comedy, games, giveaways, and more. All events are 18+.
[UPDATE]
While the meet & greet's and entertainment are now sold out (unless more tickets pop up randomly), there's still plenty of fun to be found at the Adult Swim Festival.
Fans will be able to stop by for a break and a snack at The Toasting Room: A Pop-Tarts Dining Experience, which will offer a delectable three-course prix-fixe menu (featuring, of course, a variety of Pop-Tarts flavors and Pop-Tarts swag). The event will last around ten minutes, with a total of 8 people max in the experience at each time. No reservations are required for this, it will be first come/first serve.
The Toasting Room will be open:
Thursday, July 20 – 5pm-8pm PT
Friday, July 21 – 1pm-4pm PT
Saturday, July 22 – 1pm-4pm
Festival attendees can also beat the heat with a hydration station that will be offering delicious, fruit-infused Hint Water and vitamin-boosted Hint+ Vitamin.
A special pink hearse celebrating the upcoming season two premiere of the Adult Swim animated comedy Teenage Euthanasia will also be handing out bottles of Hint Water throughout the Gaslamp Quarter.
For those who were lucky enough to get tickets (or who get in through stand-by), the "SMILING FRIENDS Rodeo" will feature creators Michael Cusack and Zach Hadel on Friday at 6:15pm.
On Saturday at 5:15, "Toonami on the Green" will feature breaking news, surprise guests and never-before-seen reveals.
That will be followed at 6:15pm, ticket-holders (or stand-by) will get to experience the musical scores of Genndy Tartakovsky's Primal and Unicorn: Warriors Eternal's Tyler Bates and Joanne Higginbottom, joined by a live orchestra for "The Genndy Tartakovsky Musical Experience," with an introduction by acclaimed creator Genndy Tartakovsky himself.
[PREVIOUS]
You can reserve your spot now for Venture Bros the Movie, Metalocalypse the Movie, Smiling Friends, Rick & Morty, Genndy Tartakovsky, and Smiling Friends meet and greets.
There will also be nightly performances, featuring Flying Lotus, Sherman Sherman, and Hemlock Springs on Friday, and the Eric Andre Show Live with Ginger Root on Saturday. There will also be a free Akira Akira dance party on Thursday, with no reservations needed.
Reserve your tickets now, spots are first come/first serve, or you can wait in line.
Here is a map of where they will be located: