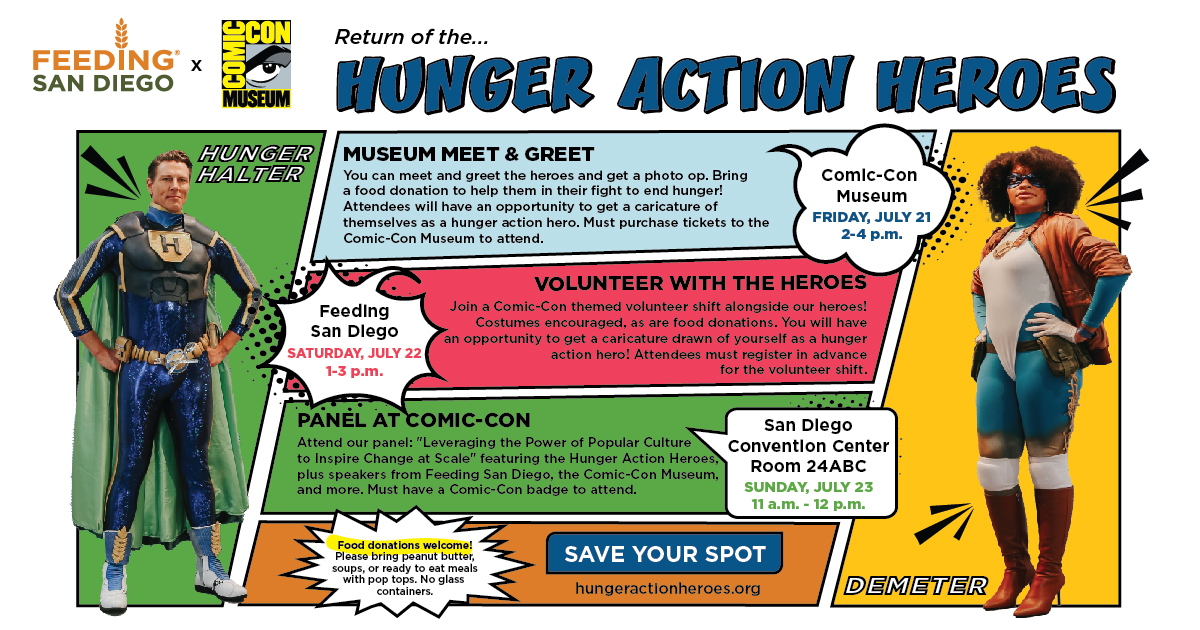 Use your superpowers to help the San Diego community.
The Comic-Con Museum has again teamed up with Feeding San Diego during San Diego Comic-Con, for a week of celebrating "Hunger Action Heroes" and helping to end hunger through food rescue.
You can join the Feeding San Diego team at a meet & greet on Friday, July 21 from 2pm-4pm at the Comic-Con Museum, for a fun photo op. Food donations are encouraged, and you'll even have a chance to get a caricature of yourself as a Hunger Action Hero.
Want to do more? You can also volunteer alongside Feeding San Diego on Saturday, July 22 from 1pm-3pm at Feeding San Diego (9477 Waples St, Ste 100). Costumes are encouraged, as are food donations. Similar to the meet & greet, you could get a caricature of yourself as a Hunger Action Hero.
And finally on Sunday, July 23, you can join them for a panel at the convention center from 11am-12pm. "Leveraging the Power of Popular Culture to Inspire Change at Scale" will feature Hunger Action Heroes, as well as speakers from Feeding San Diego and the Comic-Con Museum.
You can find more information on the Hunger Action Heroes website.