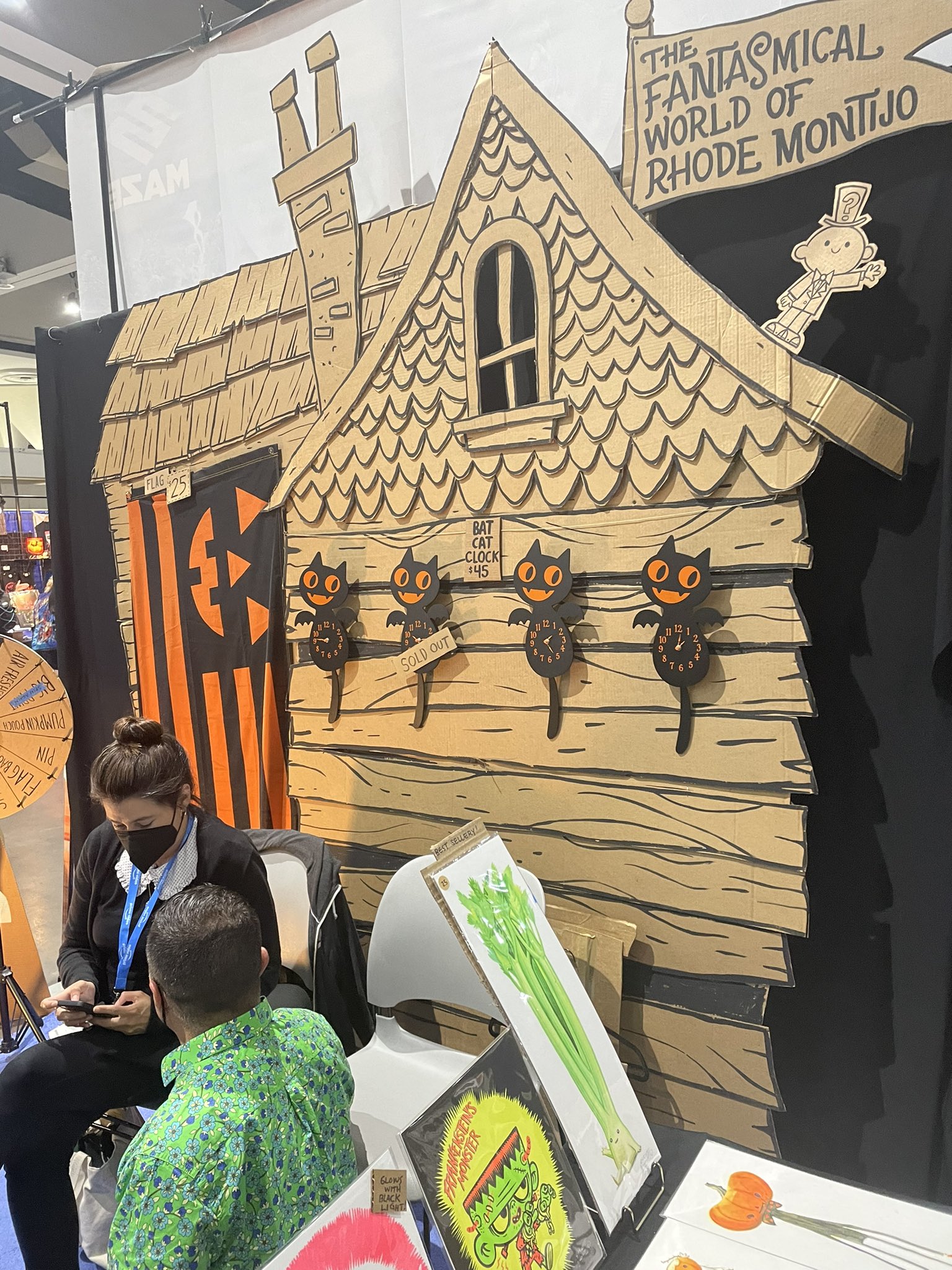 Artist Rhode Montijo is always scaring up a good time at his booth at San Diego Comic-Con, where his "spooky cute" designs often celebrate Halloween and a childlike sense of wonder about "scary" things. This year, he's back at Booth #1329 — and you must stop by to marvel at his cardboard creations. In a show floor that's full of sensory overload, Montijo's booth is a bit like stepping foot into the pages of a children's book, where you want to pause and admire the craft that went into making it.
We spoke with Montijo recently about his years of exhibiting at San Diego Comic-Con, his upcoming children's book Skeletown: Sí. ¡No!, and more.
How long have you been attending/exhibiting at the convention and what keeps bringing you back?
Rhode Montijo: I think I started exhibiting around 1998 or 1999 and my table was all the way at the back of the convention center. I remember that section was dimly lit compared to the rest of the convention hall. Not that many attendees would brave to venture out there but a few found me and supported my first comic book, Pablo's Inferno. I was grateful then as I am today for the support of each and every person that comes by the booth as there are tons of things to choose from and see at the con.
How does SDCC differ to other conventions for you?
Rhode Montijo: There's an incomparable excitement and energy that is in the air that keeps me coming back. I always leave super charged and inspired after the show.
 

 

View this post on Instagram

 
It can be really hard to stand out on the show floor, but your cardboard creations at your booth are always one of my favorite parts. How did the idea to do those come about?
Rhode Montijo: When the big corporations started exhibiting at Comic Con they came in with elaborate and massive displays, and I imagine big budgets. My friend, fellow creator, and boothmate, Jamie Baker (Rocket Rabbit) and I thought about how we could stand out in this sea of mega corporation booths. We started having fun and coming up with ideas for our booth displays. We would come up with wacky and creative themes for our booth display each year.
One year we were cheesy used car salesmen with tiny mustaches and we covered ourselves and the booth with plaid. We had used car lot style signs that read, EVERYTHING MUST GO! We even had a toaster at our booth that had a sign that said FREE TOASTER but when people would read the fine print it said *with a purchase of $1000 or more!" Another year we staged our booth as a yard sale with all of our merchandise on astro turf grass and a real wooden fence behind us as if we were in our front yard. Attendees would rummage through our comics and our art prints on the ground through boxes labeled "Bric-a-brac." Another year, we had a massive aluminum foil robot that looked like a kid made it. We were comic creators from the future. We had pretentiously silly signs saying, THE FUTURE IS TOMORROW!
One part I didn't anticipate from doing different themes every year hit me when an attendee declared his excitement upon discovering our booth and asked if this was our first year exhibiting. In that moment I realized that with all our creative shenanigans we had changed so much year to year, we were not recognizable. I'd been exhibiting Comic-Con for about 20 years by then! We were having so much fun every year but failed to have something that people would recognize year after year. Although our themed booths are some of my most cherished Comic-Con memories, that comment really stuck with me.
Fast forward to 2014 where I had so much fun making my booth all out of cardboard for SDCC. Because I was so used to having a new theme every year I felt compelled to come up with something new for my next convention — WonderCon, but I ran out of time. I hesitantly decided to re-use (gulp!) my cardboard display. I felt self-imposed guilt about reusing the same display again, but what happened next changed everything. I remember when I was setting up my cardboard booth at WonderCon before the doors opened to the public, I was organizing boxes underneath the table, where I wasn't visible. I could hear other vendors passing by and happily saying things like, "Hey! It's the cardboard booth, they were at Comic-Con!" and "Hey, it's the cardboard guy, he was at Comic-Con!" I had accidentally stumbled right into my branding! So I thought, I'll keep using the cardboard! It's cheap and if something falls apart, I can easily patch things up. It also fits with my company's motto, MAKE! BELIEVE! I love seeing people's faces light up when they walk up, you can almost see the moment they are reminded of that cardboard creation they made as a kid. It's the best when that happens.
What is the process to make your cardboard setups each year?
Rhode Montijo: It's definitely a process and takes awhile but I love doing it. I find cardboard pieces and think about what I would like to add to the display every year- sometimes things work and sometimes things don't, but the trickiest part is that it has to be able to break down to transport the display to conventions. The cardboard is hand painted, cut with a sharp utility blade, and there is lots of hot glue involved!
Several of them have moving parts. How technical are they?
Rhode Montijo: I've always wanted to have moving parts but couldn't wrap my head around HOW I would be able to pull it off, but thankfully my friend, Aaron, has helped make the magic happen — he's a mad genius. I couldn't start to explain the mechanics but it definitely took things to another level and made more attendees' faces light-up with wonderment!
 

 

View this post on Instagram

 
How important is having a booth that is eye-catching on the show floor?
Rhode Montijo: I unfortunately think it is very important. One would hope that your work would speak for itself but at Comic-Con there's such a visual overload that you have less than a second to grab someone's attention. But I think there are ways of creatively doing things without having to spend the money to stand out.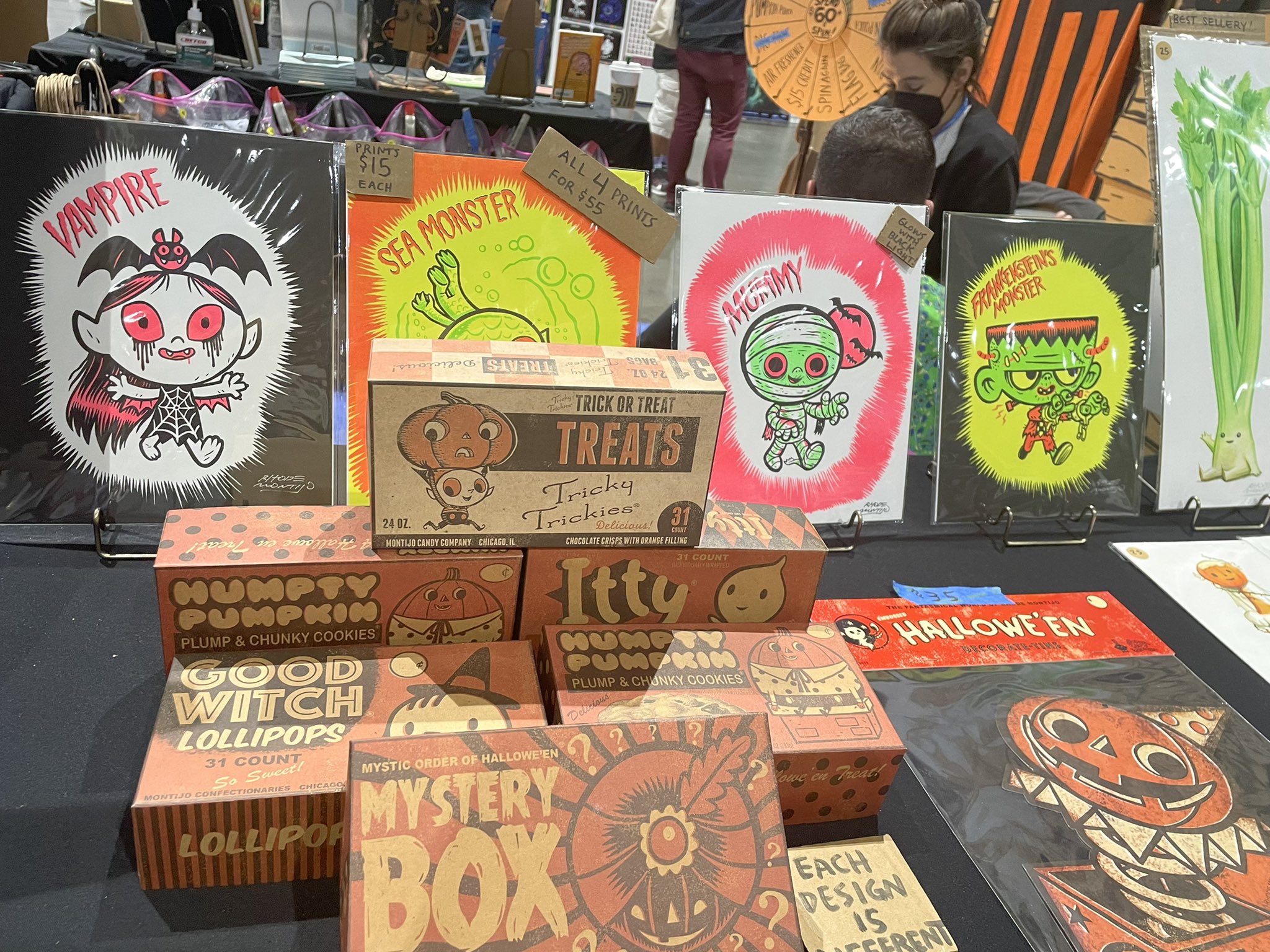 Halloween obviously is a huge love of yours. Where do you think that love of spooky-but-cute and Halloween comes from?
Rhode Montijo: Definitely the love for Halloween comes from when I was a kid. I love the colors and the supernatural element to the holiday and how the holiday is community oriented. To me, it is the most wonderful time of the year! The art that speaks to me and inspires me today is the spooky Halloween art of yesterday. I love spooky Halloween over scary Halloween.
I love that you do "Sketchgiving" every year, an auction where you auction off sketches, and 100% of the proceeds go to families in need for the holidays. Can you tell us a little about how you got involved and why you think it's important?
Rhode Montijo: Initially I wanted to help over the holidays as there are always families that are in need. I thought about how I could help with what I do. I thought I could raise money with sketches and auction them off. I later opened it up so anyone could contribute sketches. Any of us is able to help in our own way. Sketchgiving has grown every year and I recently had a thought, what if one day this grew to a small fraction of something like the viral INKTOBER (where artists across the world create artwork using traditional inking tools) but imagine raising funds with each INKTOBER drawing to help families in need? That would be something!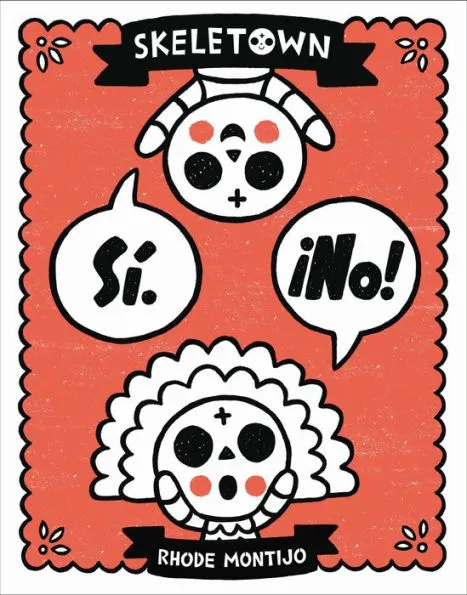 Your new book Skeletown: Sí. ¡No! releases this August. Can you tell us a little about the inspiration behind the story and the decision to just use those two words — sí and no — for the text of the book?
Rhode Montijo: Skeletown was inspired by the Mexican holiday Dia de los Muertos. I conceived the idea of Skeletown in 2004 and began pitching the concept of Skeletown as a book in 2008. It is wild to think that this journey of bringing Skeletown to the public started almost 20 years ago! Back then editors and publishers were not familiar with Dia de los Muertos as they are today but I kept trying and trying, and I then finally got a 4 book series deal with the good folks at Little, Brown and Company. I challenged myself with the first book to have only two Spanish words in hopes that the visuals could lead the story as well as show the concept of Si, No. My hope is that the book is universal to every kid, adult and non Spanish speaker. The books are truly made for everyone!
And should we expect anything for Skeletown at SDCC this year?
Rhode Montijo: Because of the con happening two weeks before the release date of the first book, I'll have an advanced copy of the book that attendees can flip through and pre-order. And I'll have a special Skeletown goodie for anyone that pre-orders the book there at the show!
Anything else you'd like to be sure we mention?
Rhode Montijo: I encourage everyone to check out and support independent artists at the con. It's OK to support the big corporations but there are so many amazing artists at Comic-Con whose art might speak to you if you are open to it!