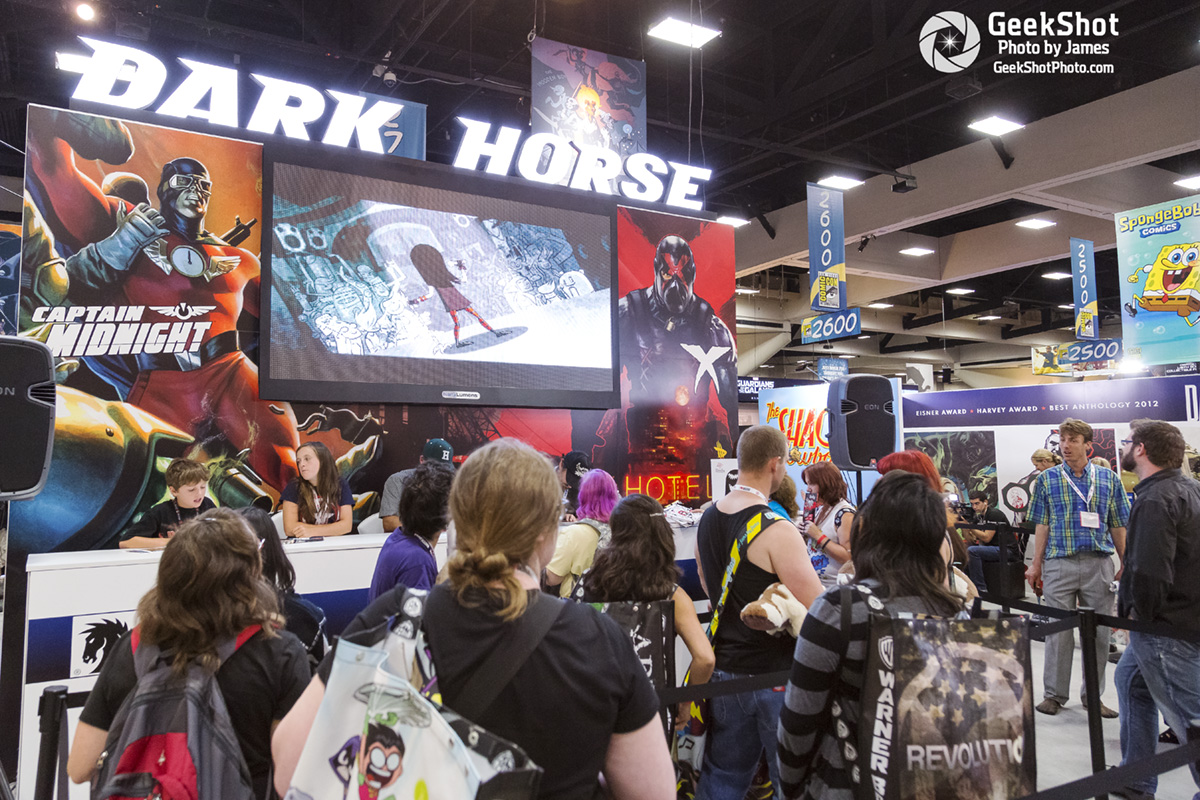 After skipping in 2022, Dark Horse is back at San Diego Comic-Con in a big way.
The popular publishing house has announced its complete signing schedule for this year's San Diego Comic-Con, and talent from Elfquest, Groo, Minor Threats, Hellboy, and more will be on hand.
Some events will be ticketed and require a wristband, including the signings for Minor Threats (which includes Patton Oswalt), Hellboy Web of Wyrd with Amanda Kruse, Turtle Bread with The Great British Bakeoff finalist Kim-Joy, Barnstormers with Scott Snyder and Tula Lotay, and Count Crowley with David Dastmalchian.
For those signings, you'll need to head to Booth #2615 in the morning for a drawing the morning of that day's signings. The drawing will end when that day's allotment have all been given out.
All signings are free! There will also be free prints, comics, or posters provided for most signings. You may purchase or bring items to be signed, but Dark Horse may restrict the type or number of items to be signed as necessary.
Here's the full signing schedule:
THURSDAY, JULY 20
11-11:45 am – HOTEL REM – Zack Keller
SONS OF ASHGARD: ILL MET IN ELMGARD – Chad Corrie
12-12:45 pm – ELFQUEST – Wendy and Richard Pini
1-1:45 pm – THE ODDLY PEDESTRIAN LIFE OF CHRISTOPHER CHAOS – James Tynion IV, Tate Brombal
2-2:45 pm – GROO – Mark Evanier, Carrie Strachan
3-3:45 pm – THE HOUSE – Phillip Sevy, Drew Zucker
KILLER QUEENS – David M. Booher
KEPLER – Phillip Sevy
4-4:45 pm – CREEPY – Dan Braun, Ben Braun
5-6:30 pm – MINOR THREATS – Patton Oswalt, Jordan Blum, Scott Hepburn
BLACK HAMMER; BARBALIEN: RED PLANET – Jeff Lemire, Tate Brombal, Patton Oswalt
WRISTBAND REQUIRED
– NO POSED PHOTOGRAPHY
– LIMIT ONE FREE PRINT AND ANY MINOR THREATS COMICS/ART
– OTHER RESTRICTIONS WILL APPLY–SEE STAFF FOR INFO
FRIDAY, JULY 21
11-11:45 am – USAGI YOJIMBO – Stan Sakai
12-1:30 pm – MINOR THREATS – Patton Oswalt, Jordan Blum, Scott Hepburn, Joëlle Jones, Nate Piekos
WRISTBAND REQUIRED
– NO POSED PHOTOGRAPHY
– LIMIT ONE FREE PRINT AND ANY MINOR THREATS COMICS/ART
– OTHER RESTRICTIONS WILL APPLY–SEE STAFF FOR INFO
2-2:45 pm – THE GOON – Eric Powell
3-3:45 pm – JAMES CAMERON'S AVATAR – Sherri L. Smith, Corinna Bechko, Michael Heisler
4-4:45 pm – HELLBOY, KOSHCHEI IN HELL, YOUNG HELLBOY – Mike Mignola
YOUNG HELLBOY – Tom Sniegoski
KOSHCHEI IN HELL – Ben Stenbeck
HELLBOY WEB OF WYRD – Amanda Kruse
WRISTBAND REQUIRED
– LIMIT FOUR ITEMS MAXIMUM PER PERSON (INCLUDING FREE PRINTS)
– OTHER RESTRICTIONS WILL APPLY–SEE STAFF FOR INFO
5-5:45 pm – STRANGER THINGS AND DUNGEONS & DRAGONS – Jim Zub, Jody Houser, Nate Piekos
SATURDAY, JULY 22
11-11:45 am – STAR WARS: THE HIGH REPUBLIC ADVENTURES; JAXXON ANNUAL; HYPERSPACE STORIES – Cecil Castellucci, Cavan Scott, Amanda Deibert, George Mann, Fico Ossio
12-12:45 pm – SURVIVAL STREET – James Asmus, Jim Festante
DEATH STRIKES: THE EMPEROR OF ATLANTIS – Dave Maass
HANS VOGEL IS DEAD – Sierra Barnes
BREAK OUT – Zack Kaplan
1-1:45 pm – ELFQUEST – Wendy and Richard Pini
2-2:45 pm – SHOOK! A BLACK HORROR ANTHOLOGY – Bradley Golden, Brandon Easton, John Jennings, Alverne Ball, Rodney Barnes
3-3:45 pm – TURTLE BREAD – Kim-Joy
WRISTBAND REQUIRED
– PIN PURCHASE REQUIRED FOR POSED PHOTOGRAPHY
– LIMIT ONE FREE PRINT, THREE ITEMS MAXIMUM PER PERSON
– OTHER RESTRICTIONS WILL APPLY–SEE STAFF FOR INFO
4-4:45 pm – BARNSTORMERS – Scott Snyder, Tula Lotay
WRISTBAND REQUIRED
– NO POSED PHOTOGRAPHY
– LIMIT ONE FREE PRINT, THREE ITEMS MAXIMUM PER PERSON
– OTHER RESTRICTIONS WILL APPLY–SEE STAFF FOR INFO
5-5:45 pm – THE WITCHER; CYBERPUNK 2077 – Bartosz Sztybor, Marcin Batylda
SUNDAY, JULY 22
11-11:45 am – COUNT CROWLEY – David Dastmalchian
WRISTBAND REQUIRED
– NO POSED PHOTOGRAPHY
– LIMIT ONE FREE PRINT, THREE ITEMS MAXIMUM PER PERSON
– OTHER RESTRICTIONS WILL APPLY–SEE STAFF FOR INFO
12-12:45 pm – KALI, BIRDKING – Daniel Freedman
1-1:45 pm – CARMILLA: THE FIRST VAMPIRE – Amy Chu
2-2:45 pm – ADORA AND THE DISTANCE – Marc Bernardin
3-3:45 pm – PLANETES – Makoto Yukimura