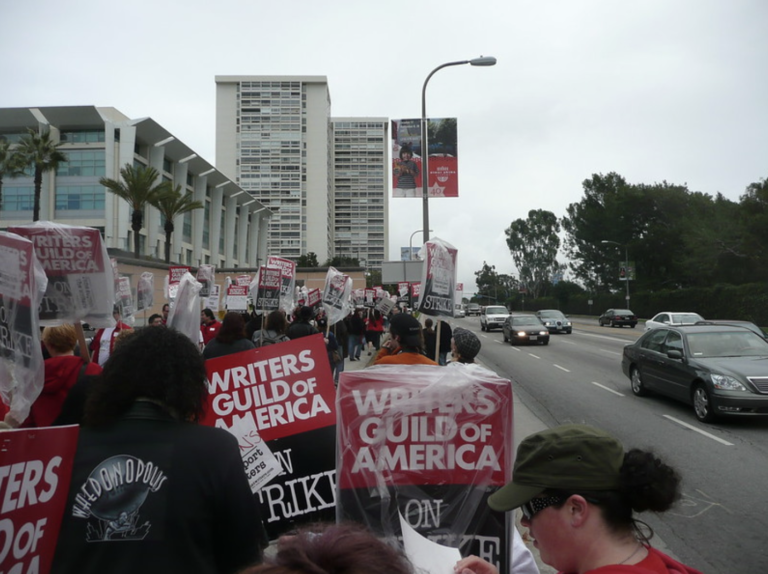 Today, SAG-AFTRA announced that they were going on strike, joining the WGA in striking against the Alliance of Motion Picture and Television Producers (AMPTP).
So what does this actually mean for San Diego Comic-Con?
Well the good news is that none of this is "shocking", and hopefully if you've been paying attention to us (or the news), you've been aware this was a possibility now for some time.
Now let's get into what it means specifically for this year's convention.
Are all of the panels cancelled??
First of all, San Diego Comic-Con is a lot more than just Hollywood, and while the studios do bring panels, there are still hundreds of panels on comics, publishers, toys, video games, and more. Those are all unaffected (or mostly unaffected — keep reading) because the strikes are specifically related to TV and film appearances/writing (and it's also worth noting that animation writers fall under The Animation Guild, so they are not on strike currently).
As for the Hollywood studio panels, here is what you can likely expect — any panel that a studio was planning to bring, such as Good Omens, may still happen, but actors and writers won't be on them. However, the studios have been pivoting, with many of them turning the panels into screenings, as Good Omens did when cast presumably pulled out (as there was originally a signing scheduled until late last week). So not all of the Hollywood panels are cancelled, but you won't be seeing celebrities on them.
This includes actors, voice actors, puppeteers, and more.
You can view a running list we're keeping of cancelled panels and signings here.
What about panels unrelated to studio projects?
For the WGA, the rules are fairly clear cut. If it's related to a studio project, you're not allowed to do it — so you won't be seeing writers for Family Guy on their panel. But they are allowed to attend to discuss writing in more general terms, or for other projects unrelated to the WGA (such as for comics). There are plenty of examples on the schedule, including "Inside the Writers' Room: Building a Better Future for Writers", where tons of amazing writers and showrunners discuss what's at stake as writers fight for their future. It will be a great opportunity for WGA writers to help get their message out with attendees.
For SAG, the notice given to members today noted that certain "promotion of/publicity of services for work under the TV/Theatrical Contracts" was prohibited, including conventions and fan expos. The way that we are reading this is that it's essentially the same as the WGA wording — that actors are allowed to attend for non-TV/Theatrical Contracts work (such as again, comics or general acting/performing panels that are not tied to a specific studio or project), but not for something specific, like Sesame Street.
The one caveat here is that at a meeting among Hollywood publicists, SAG said they would "prefer" that its members skip San Diego Comic-Con entirely. As that does not seem to be a directive, it's likely that some will still choose to skip, and some will still choose to attend, so long as they are not breaking union rules.
The panel/signing I want to go to isn't listed yet — is it safe?
Again, it will just depend. Several of the panels were already purposefully vague or discussed screenings, and some of those will surely stay, simply without talent. But for anything that hinged on actors being able to attend, you can probably count that out, even if it isn't technically marked yet.
What is even going to be at San Diego Comic-Con?
Plenty! Again, the convention is so much more than just Hollywood, and there are still tons of amazing comics, publishing, toys, and more for panels. The show floor is also filled with tons of vendors, both small and large, and this is a great year to check out many of the things you don't get to normally.
Where can I learn more about why the WGA and SAG are striking?
Their respective strike websites are a great place to start to learn more about the issues they are fighting for, for both the WGA and SAG-AFTRA.