With WonderCon now over, it's time to set our sights on San Diego Comic-Con — and one of our favorite artists, Patrick Ballesteros, has already been hard at work at creating new pieces for the con. This year, you'll find him at #DD-08, where he's sure to have new exclusives, prints, mini originals, and more in his signature style.
For those looking to take home an original piece of Ballesteros' art, his commission requests will open on Monday, April 3 at 10am PT. There will be at least 25 spots open, and more may possibly open later. To reserve a spot, be sure to e-mail iwantyourart@gmail.com at 10am on Monday. Ballesteros' commission spots are now closed.
[UPDATE July 18]
For Patrick Ballesteros' final San Diego Comic-Con announcements, here's a look at this year's exclusive release schedule: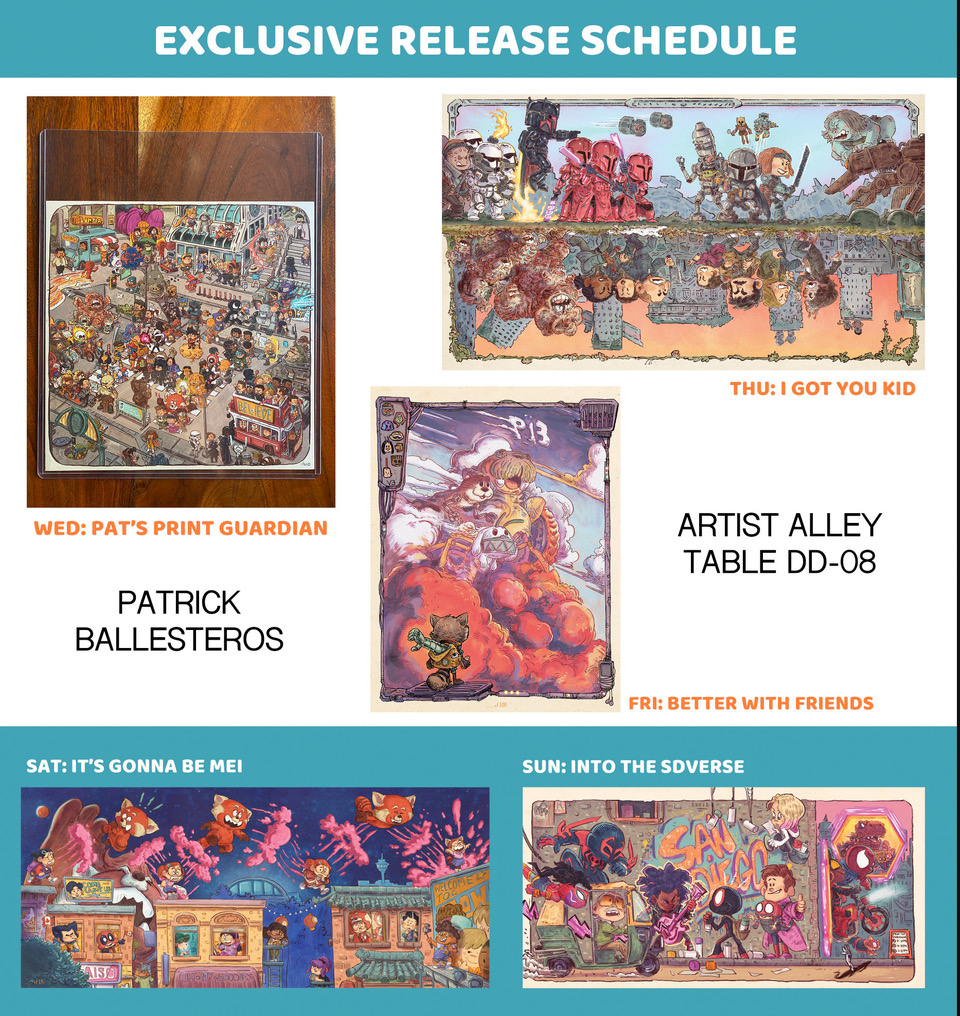 For those interested in his Sketchbook exclusive, those will be shipping in, and will be on hand for Saturday and Sunday for sure, but hopefully sooner.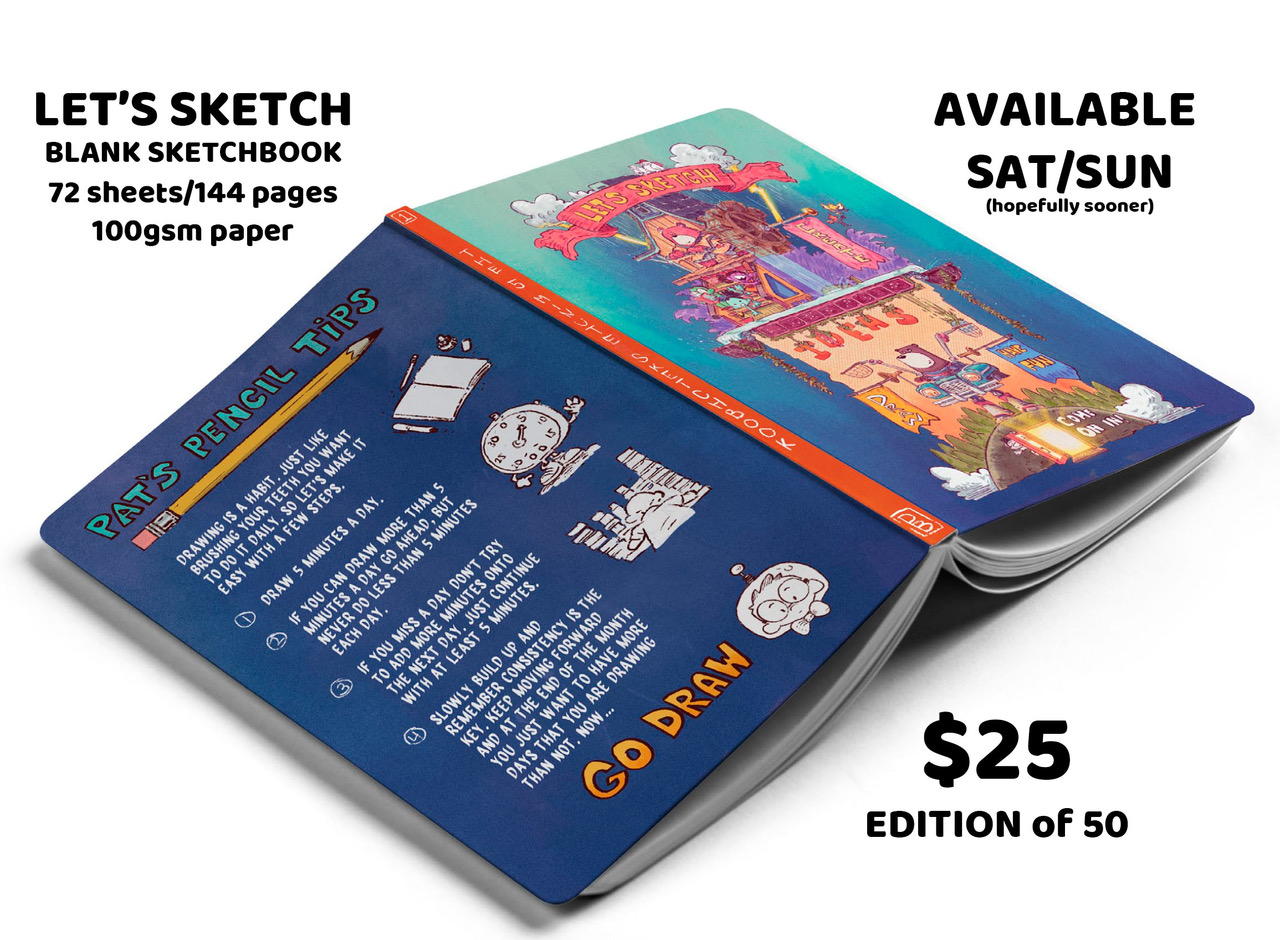 And for those stopping by the Pop-Up at James Coffee Co (2355 India Street in San Diego TONIGHT from 3:30pm-6pm), you can pick up a pop-up t-shirt special for $14.95 — but get a $5 discount with purchase of pastry and coffee at James Coffee Co.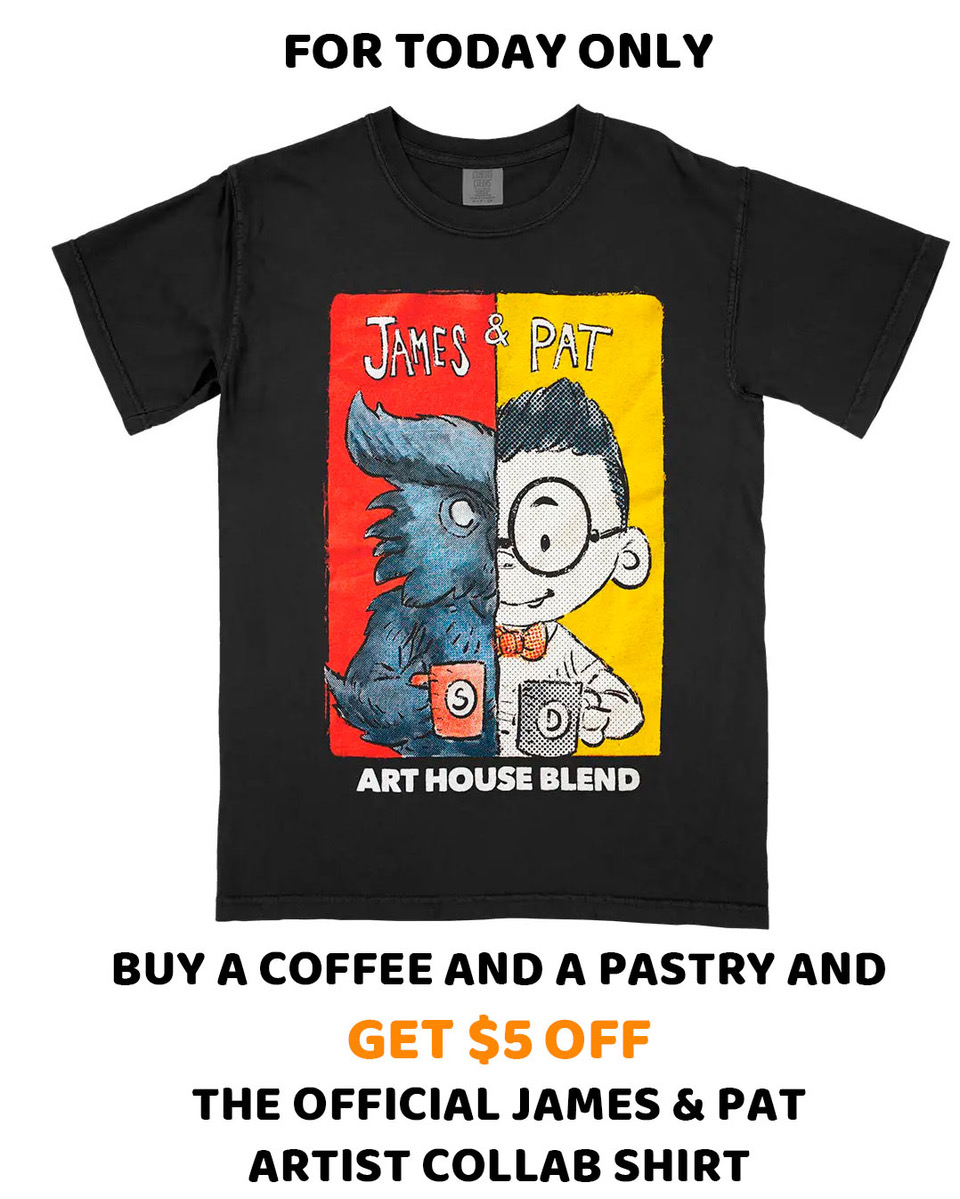 He will also have framed crystal prints of his "Mr Williams Opus: PRELUDE" in a 15.5″x19″ for $175, with a limit of 10 available.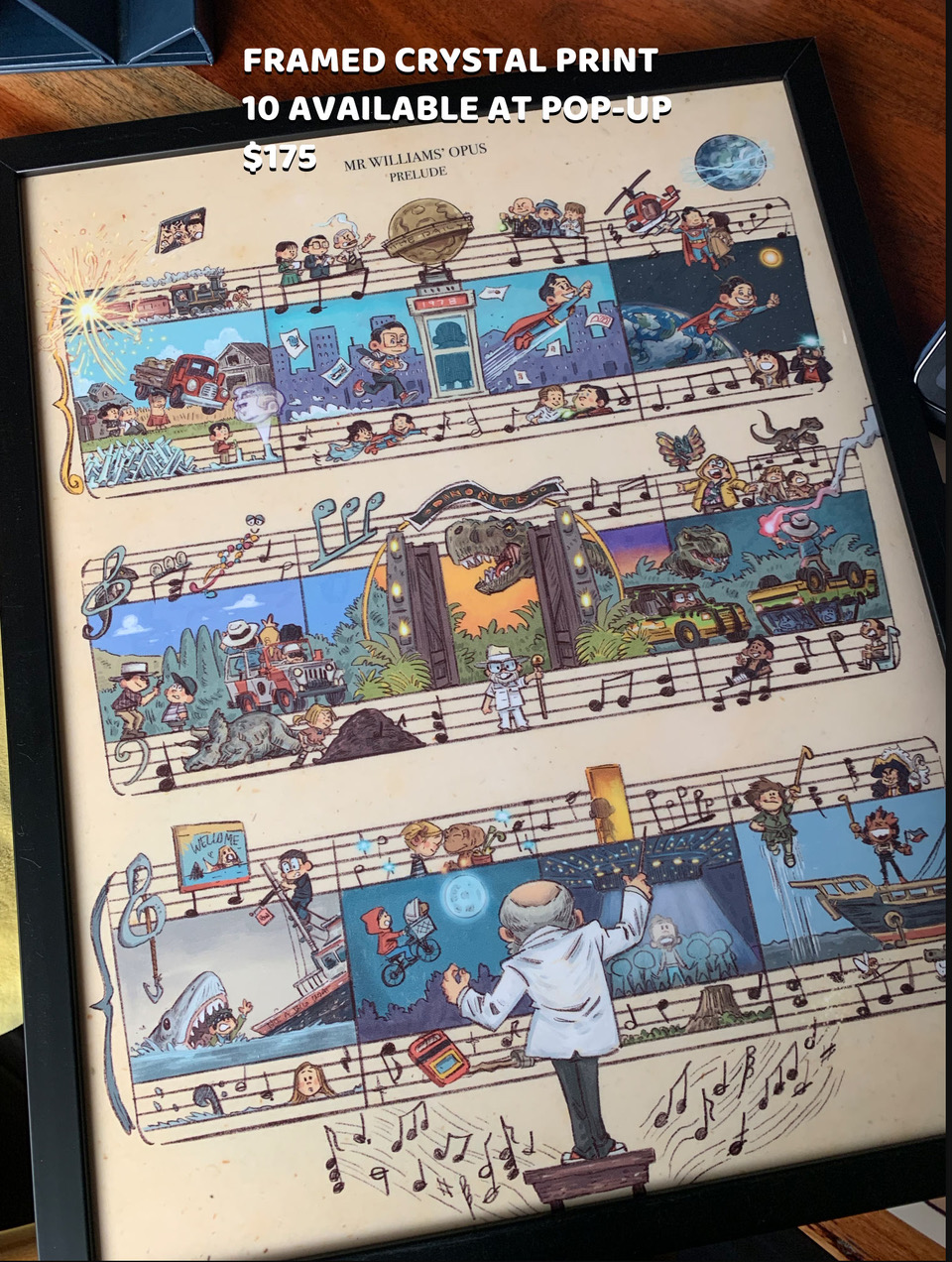 [UPDATE July 16]
Are you ready to kick off your San Diego Comic-Con 2023 with a jolt? Patrick Ballesteros will be popping up at James Coffee Co, 2355 India Street in San Diego, from 3:30pm – 6pm on Tuesday, July 18, for a fun filled pop-up with several exciting exclusives.
Everybody Loves Coffee Print
It's true, everybody does love coffee, and this limited edition artist collaboration print with James Coffee Co. is proof of that, featuring so many heroes and iconic characters from the realm of pop culture. They are all getting fueled up for action with a cuppa joe.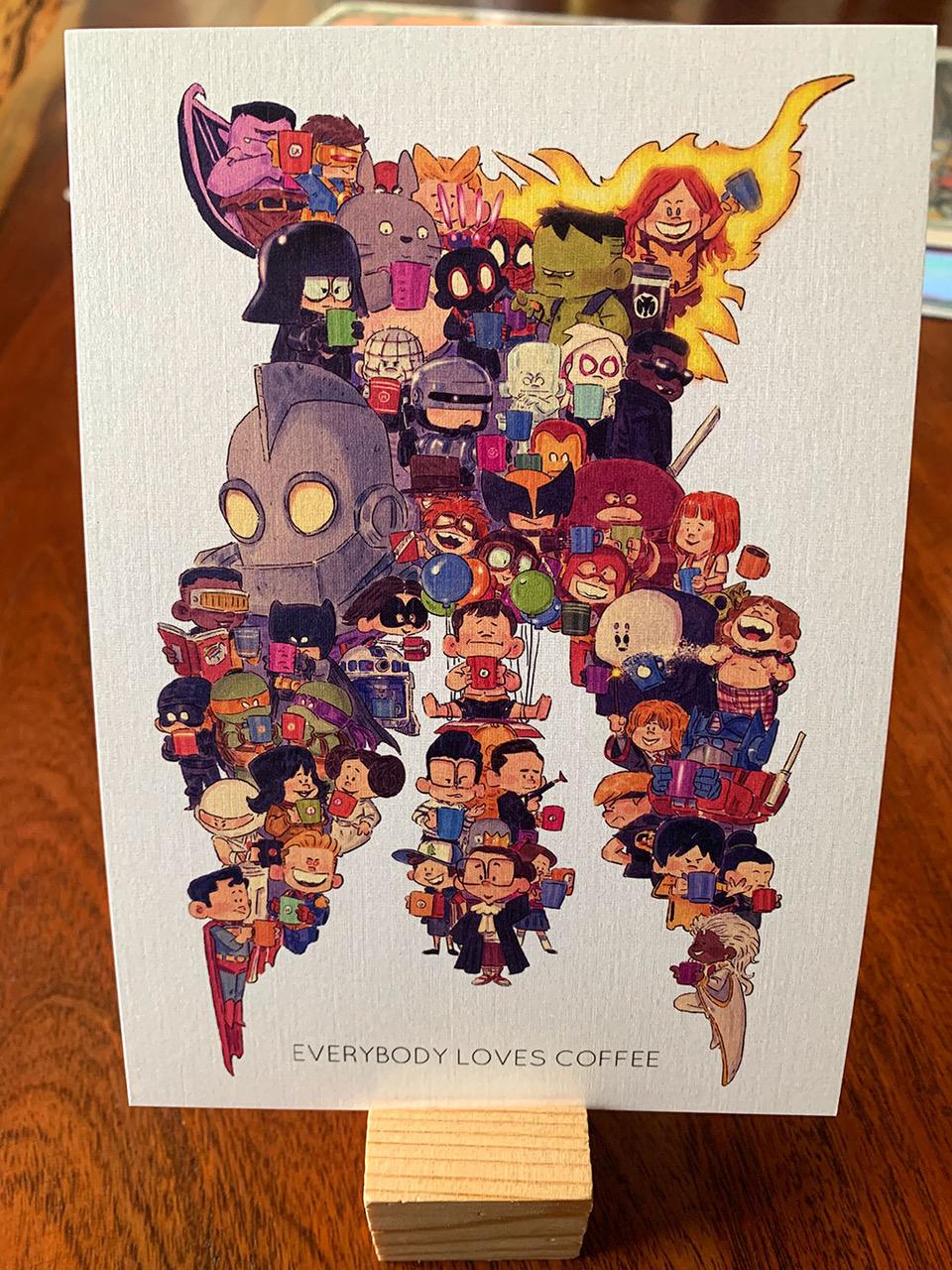 Toro Express Print
There's something special about pop-ups; the "hurry up before it's gone" aspect of not wanting to miss out on it, the desire to be a part of something temporary and transitory and of course, to pick up some limited products. This Toro Express print celebrates that, and is only available at Patrick's rare and popular pop-up events.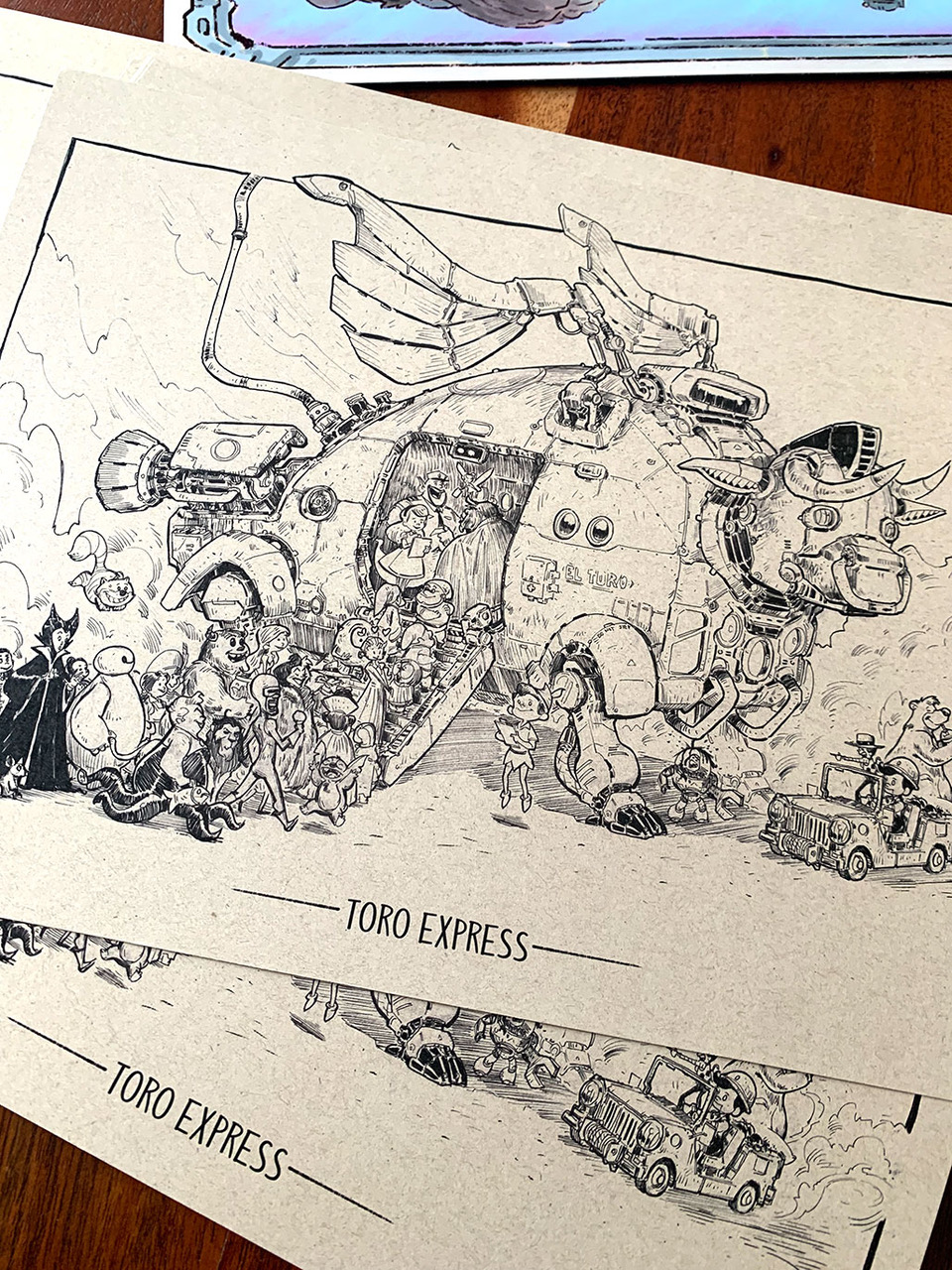 Hand Drawn Coffee Bag Labels
This 150 minute event is the one chance to get these unique and original works of art from Patrick. He will be taking 15 to 20 custom coffee label commissions, done on brown bags that will be filled with James Coffee Co. Shop Blend.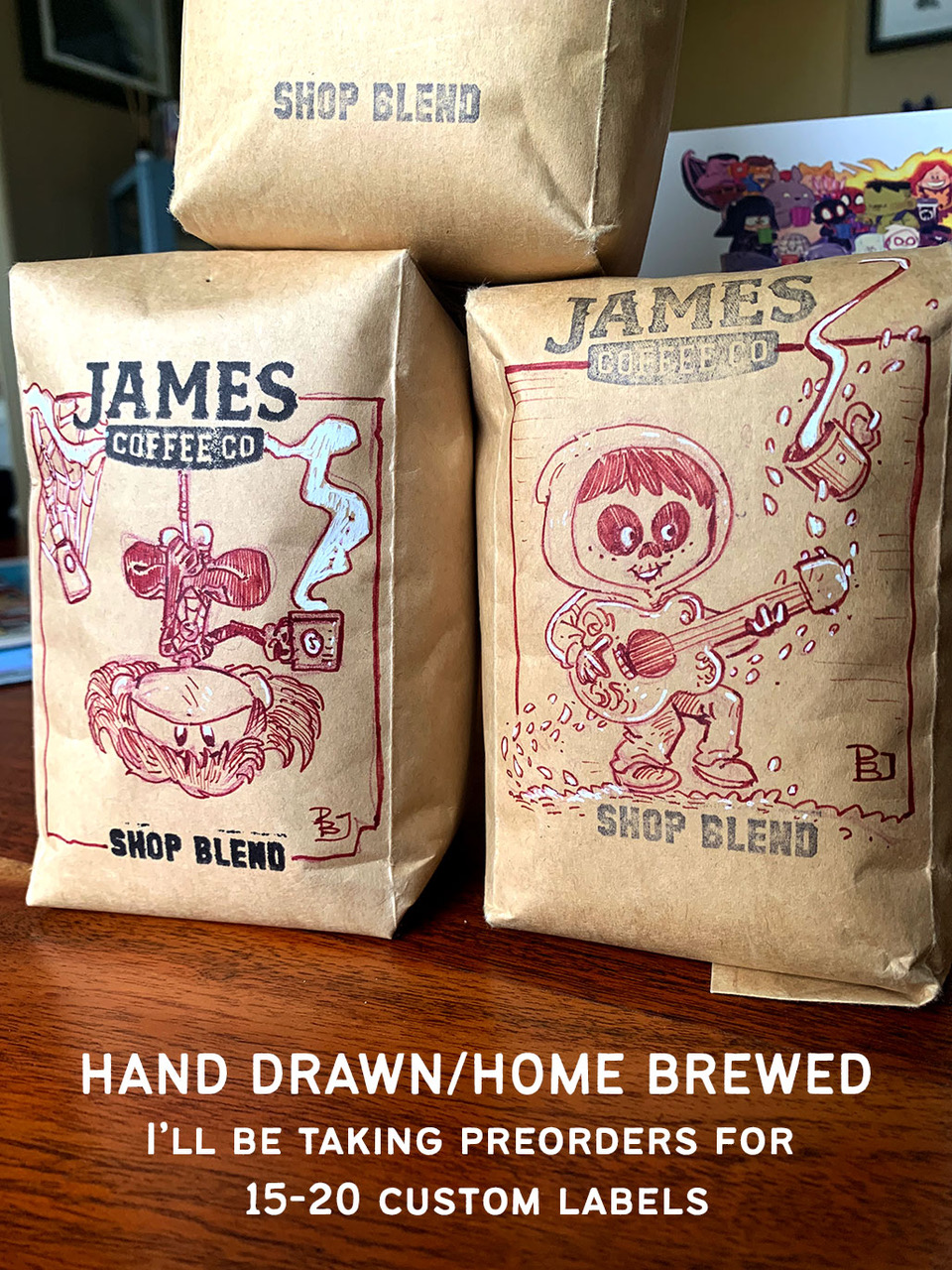 Cuddle Fish Original Resin Figure
Sometimes a cuttle fish just wants to cuddle. This precious original resin figure is looking for a loving home, could that be yours?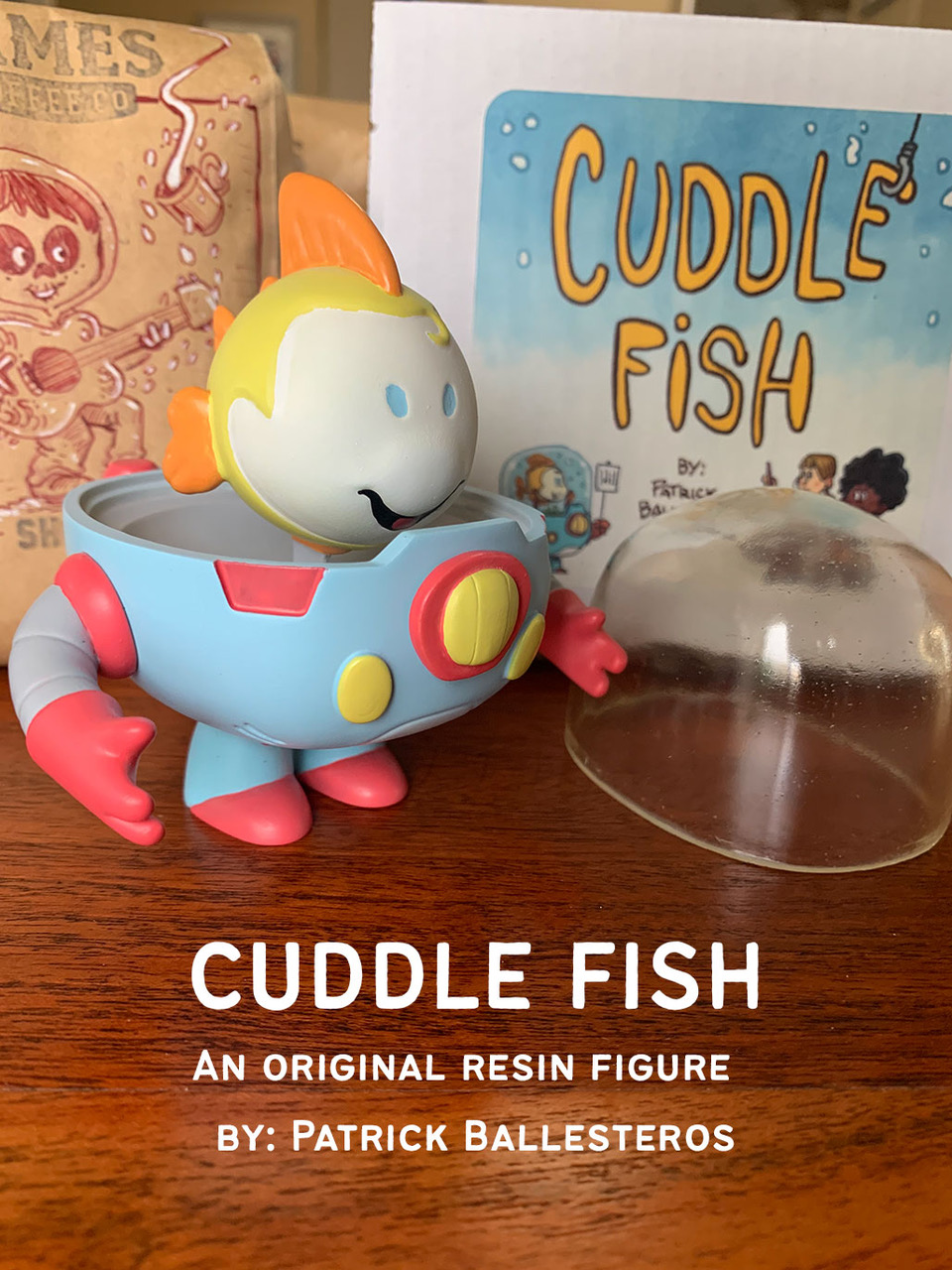 Desktop Mats
Patrick will be bringing a limited selection of these handy dandy desktop mats. But they aren't just convenient, they are also fun to look at with all of Patrick's signature details.
And in Ballesteros style, expect fun and delightful surprises.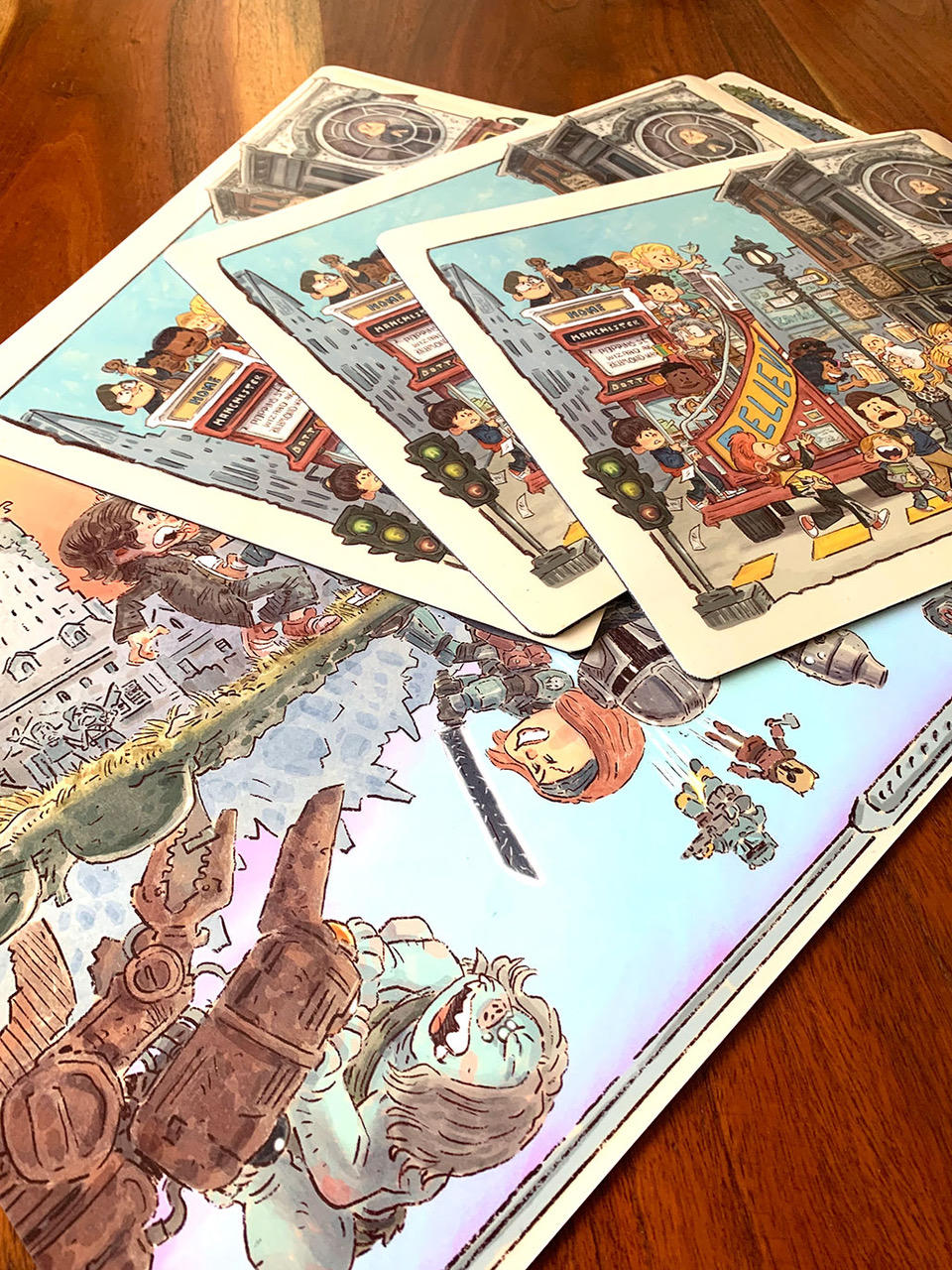 Hand Drawn/Home Brewed-custom labels by me with James Coffee Beans
Desktop Mats (limited Quantity)
Toro Express ( limited print only available at Pop-Ups)
Everybody Loves Coffee (Limited edition artist collab prints with James Coffee)
Cuddle Fish-original resin figure
And a few more surprises 🙂
[UPDATE July 14]
It's time, UBlog readers, for Patrick Ballesteros' big reveal. But first, let's talk about protecting your prints.
"I wanted to do something special for the con fam," Ballesteros said. "One thing I saw last year was a lot of people just jamming their prints in their bags or holding their print preciously trying to find somewhere safe to put it. This made me a little sad, so I decided to get some of the highest quality sleeves i could find and label it Pat's Print Guardian."
The idea is for people to have an exclusive set and ready to put away, knowing it's safely protected — and if you continue to purchase other prints across the show floor, you can keep adding to the plastic sleeve.
And, you'll also receive an incentive decal, as Ballesteros' way of showing appreciation to his returners who come back each day. Using the declay you will have the opportunity to unlock unique rewards with purchases.
Now, it's onto the big reveal… and it's this year's love letter to the convention and the characters we all love. "San Diego…ASSEMBLE" is an 11″x11″ print, which will be limited to 200 units at the show. It will come with an 11″x14″ Pat's Print Guardian sleeve, so you know it's safe and secure, and each print is signed and numbered with an official seal. It's a limit of two per person.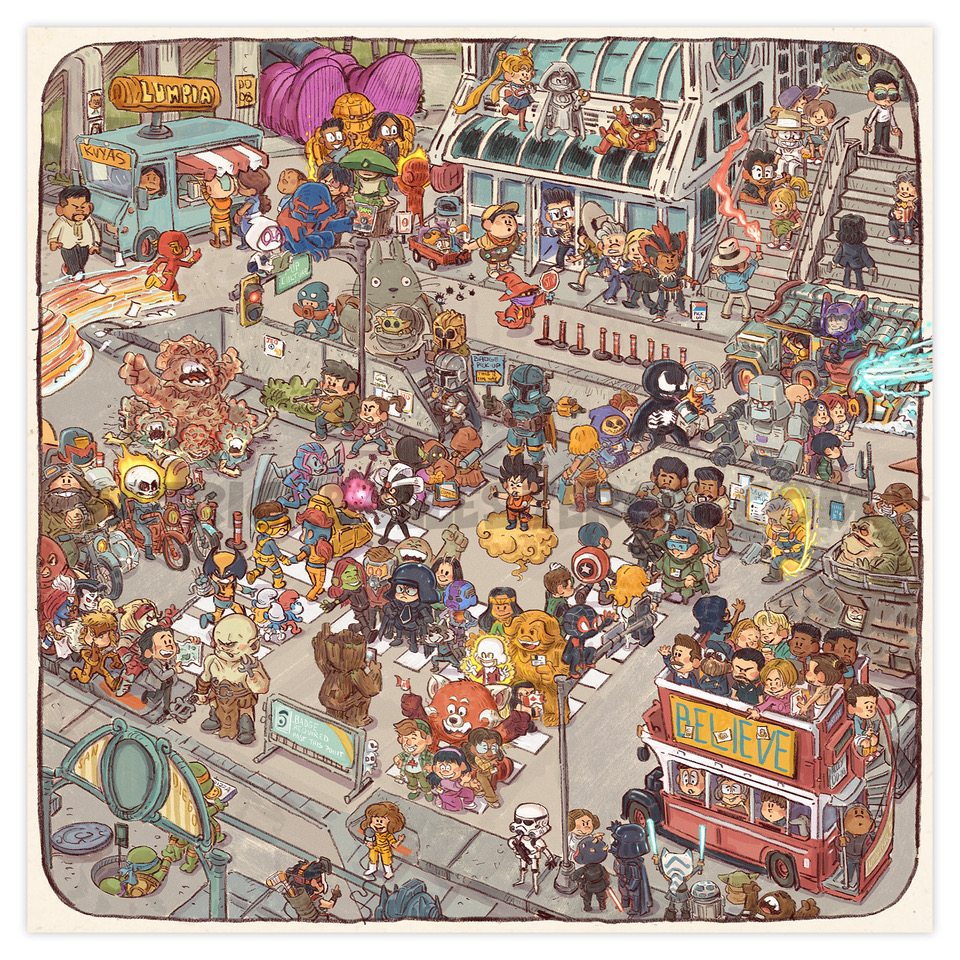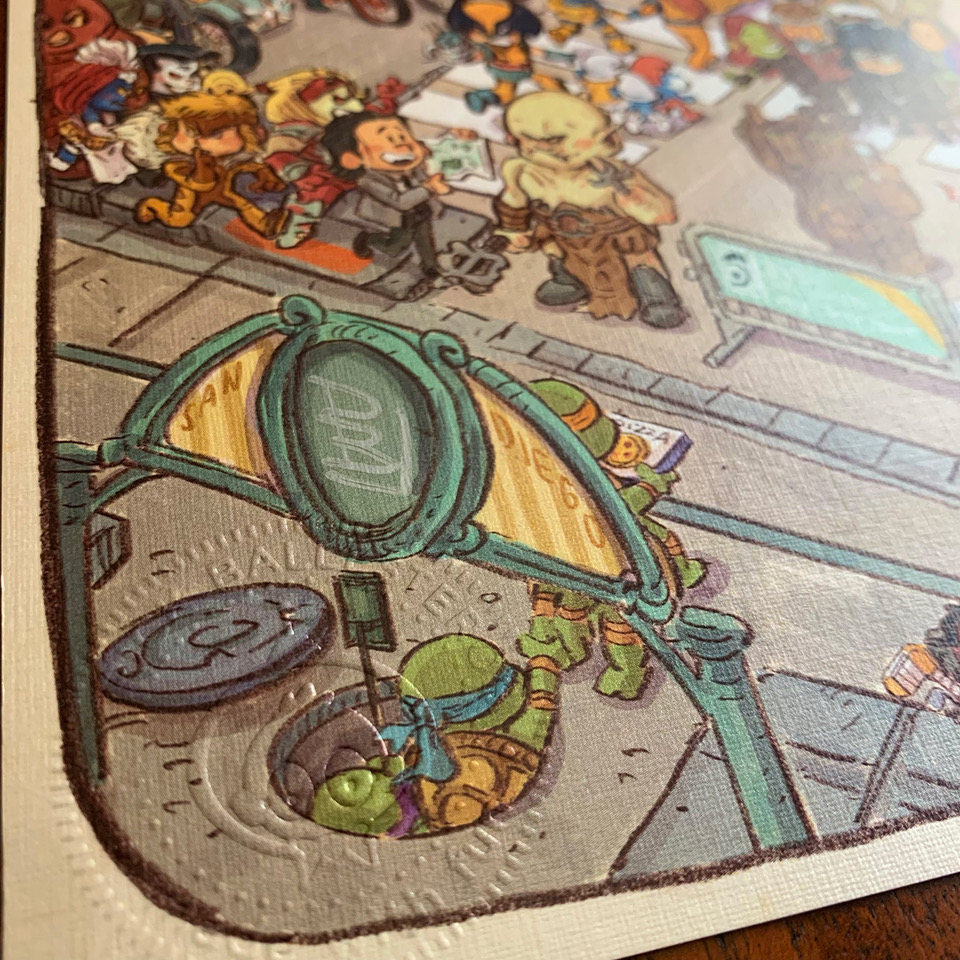 Again, you'll also receive an Incentive Decal, which you will be able to redeem one block per visit (and the plastic sleeve must be in hand to redeem). Once all blocks have been used, you will progress to the next level at another event. As seen in the example below, Level 1 includes options like a "4 stickers for $10" special, a $3 exclusive exclusive collectable art card (LE 50), and/or $5 off purchase of $40+.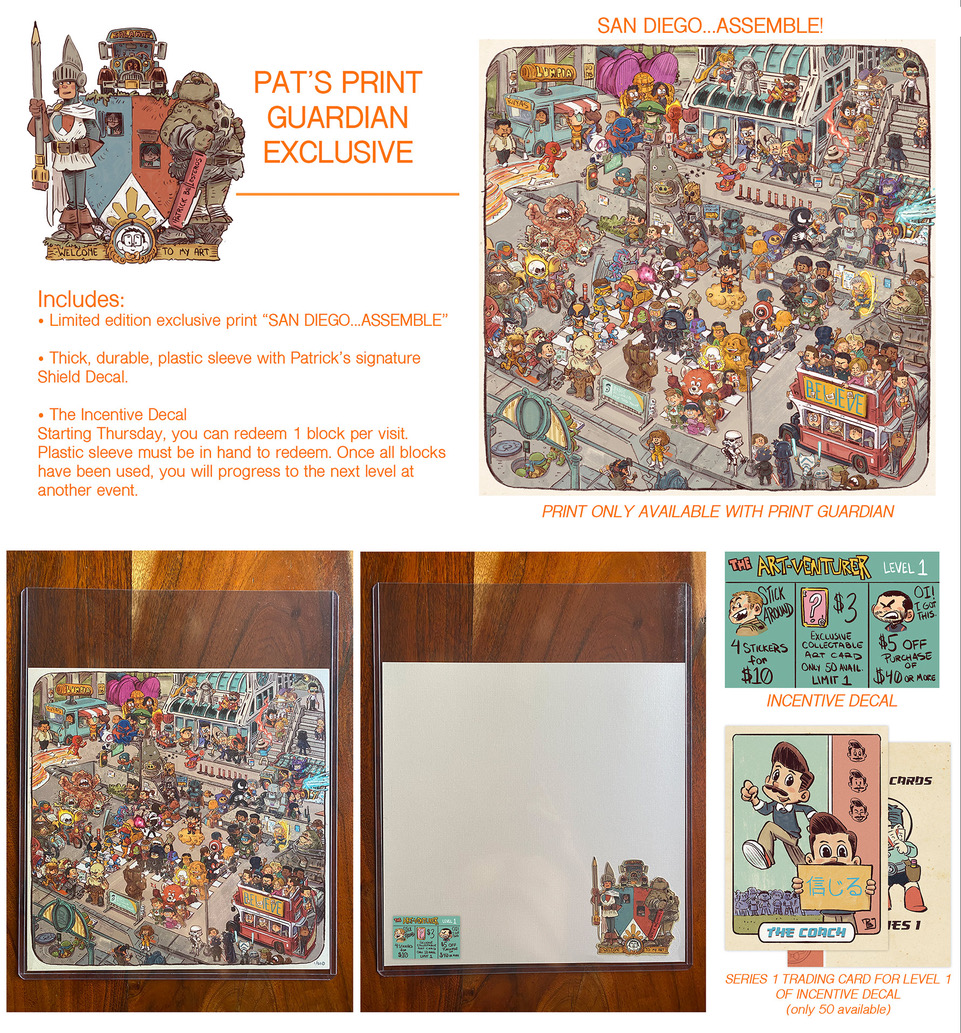 [UPDATE July 12]
Ballesteros will also be celebrating his children's books at the convention, including his latest book, Broken Bones Broken Hearts, a fun tale (with whimsical artwork) about navigating the process of getting a cast. It will be available in hardcover for $20.
He'll also have The Difference Between Needles and Noodles andRunning of the Noses hardcover editions for $20 each.
Plus, when you buy all three books, you'll also receive a limited edition print, while supplies last.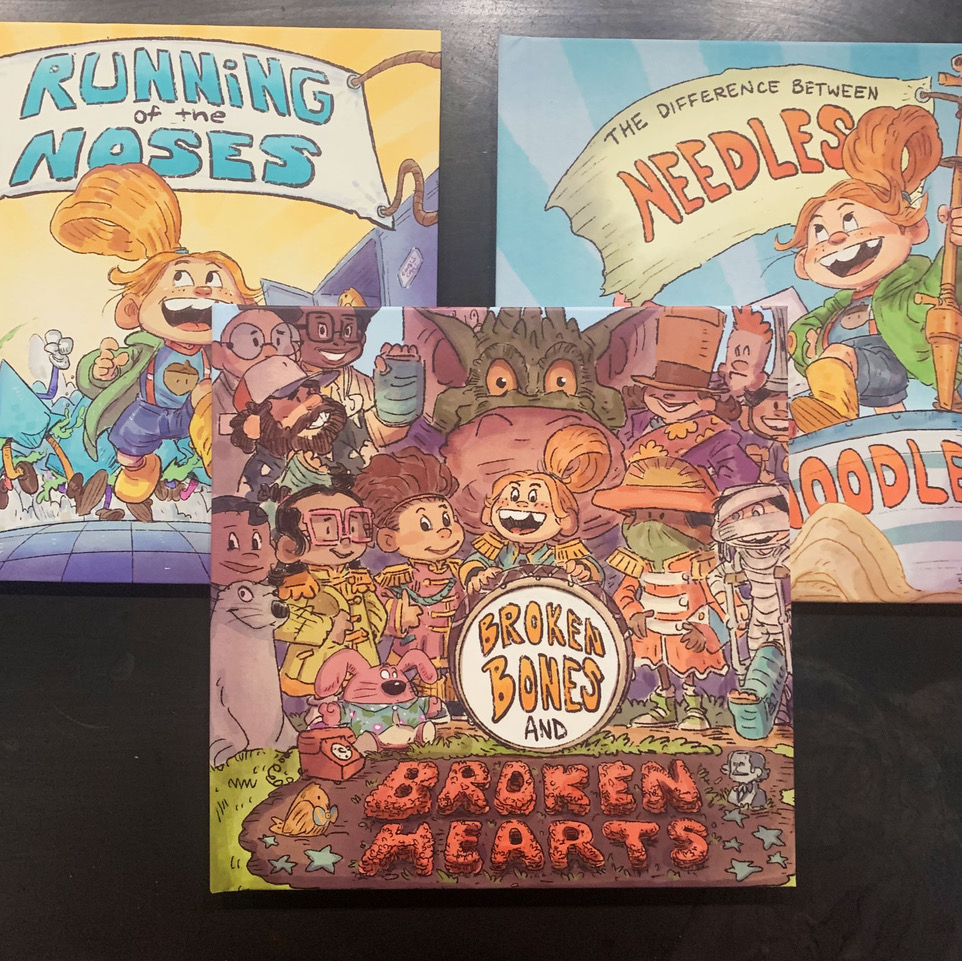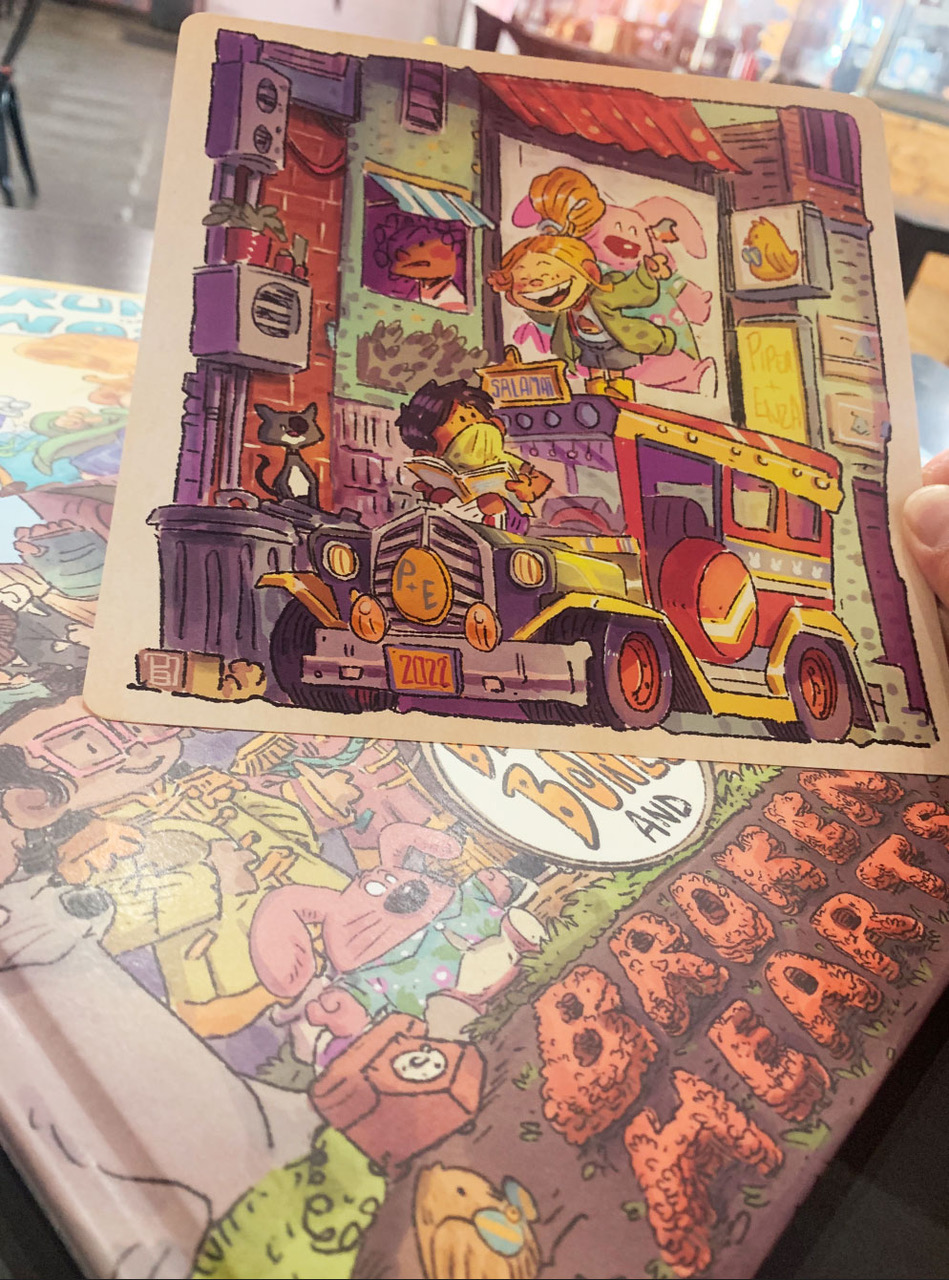 And for those in town early, Ballesteros' annual Pop-Up returns on Tuesday, July 18 at James Coffee (with the start time still TBA, though like 3pm or 4pm PT). At the Pop-Up Shop, you'll find all three books at a special price of $55, and you'll receive a limited-edition print while supplies last. If you spend an additional $10 on any product (limit one per person), Patrick will also include a simple sketch of your child (or recipient of the book) with one of the three main characters from the story.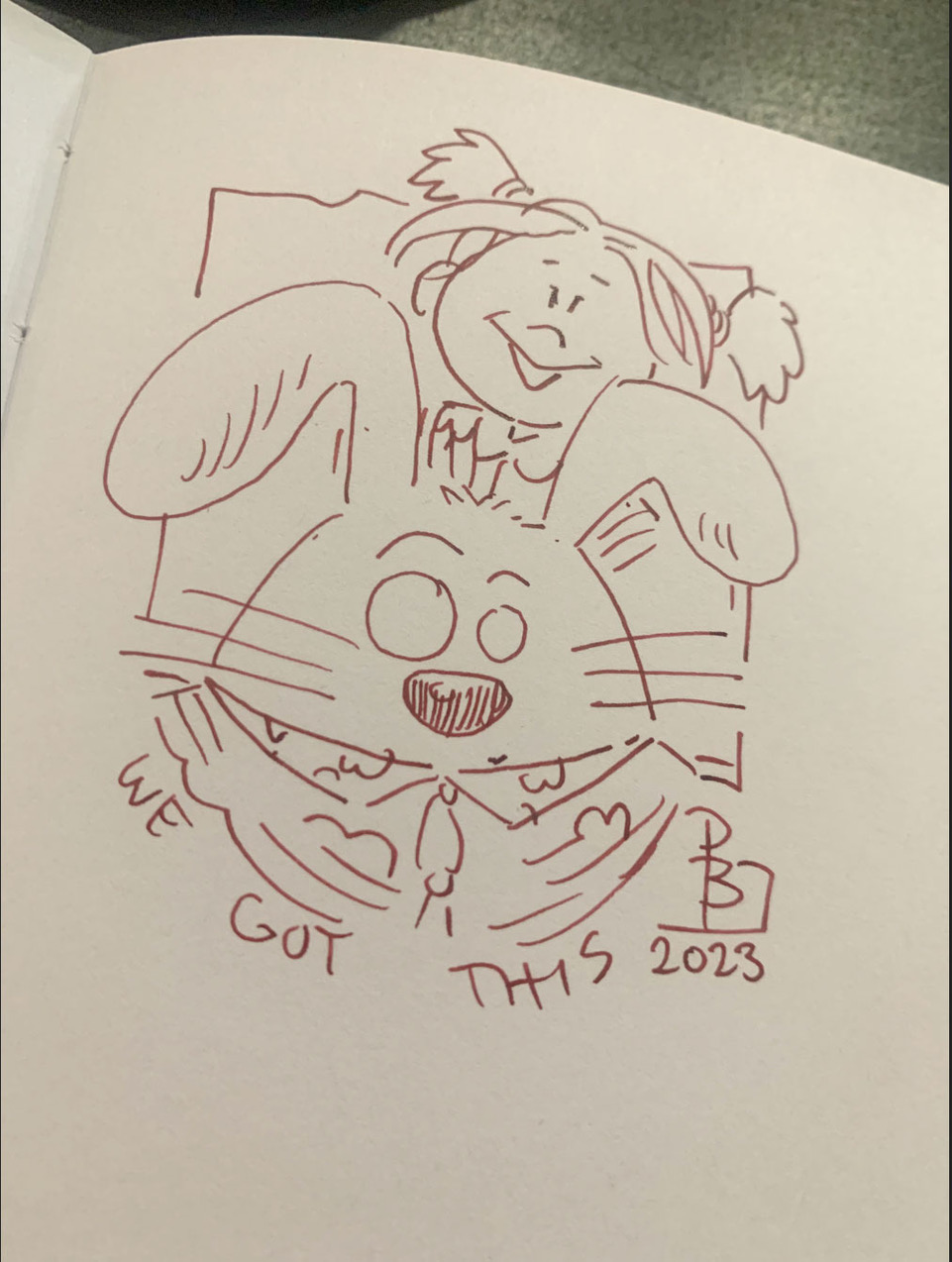 [UPDATE July 11]
Patrick Ballesteros still has a few tricks up his sleeve — including four new pins. Each measures between 1.5″ to 1.75″ for $12 each.
Raccocuties – $12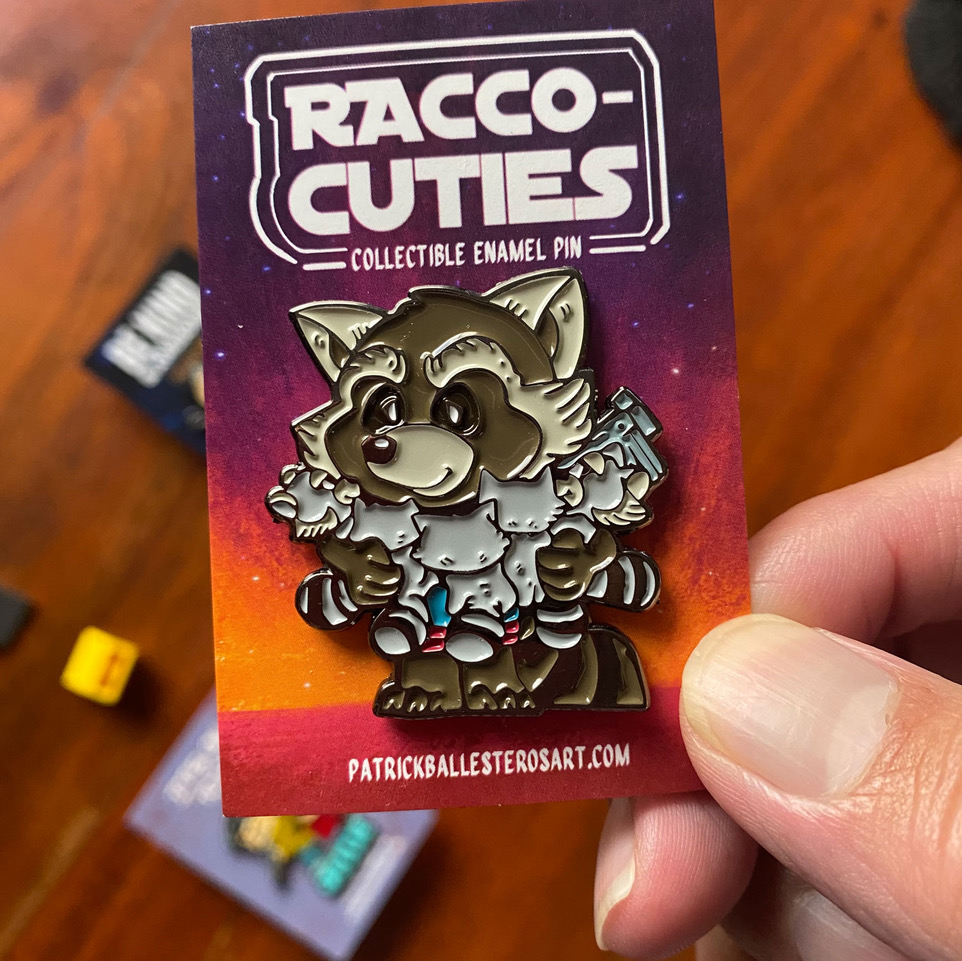 Be Kind and Awesome – $12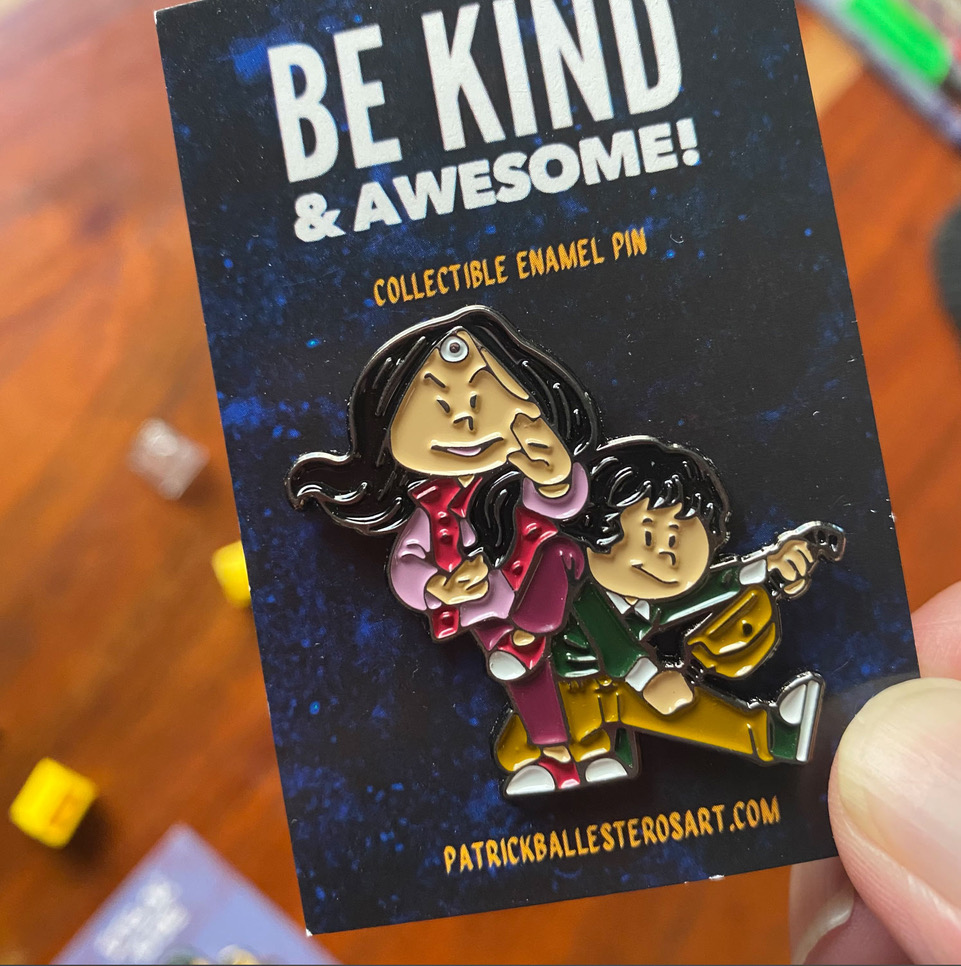 Wanted Bayani-Rang – $12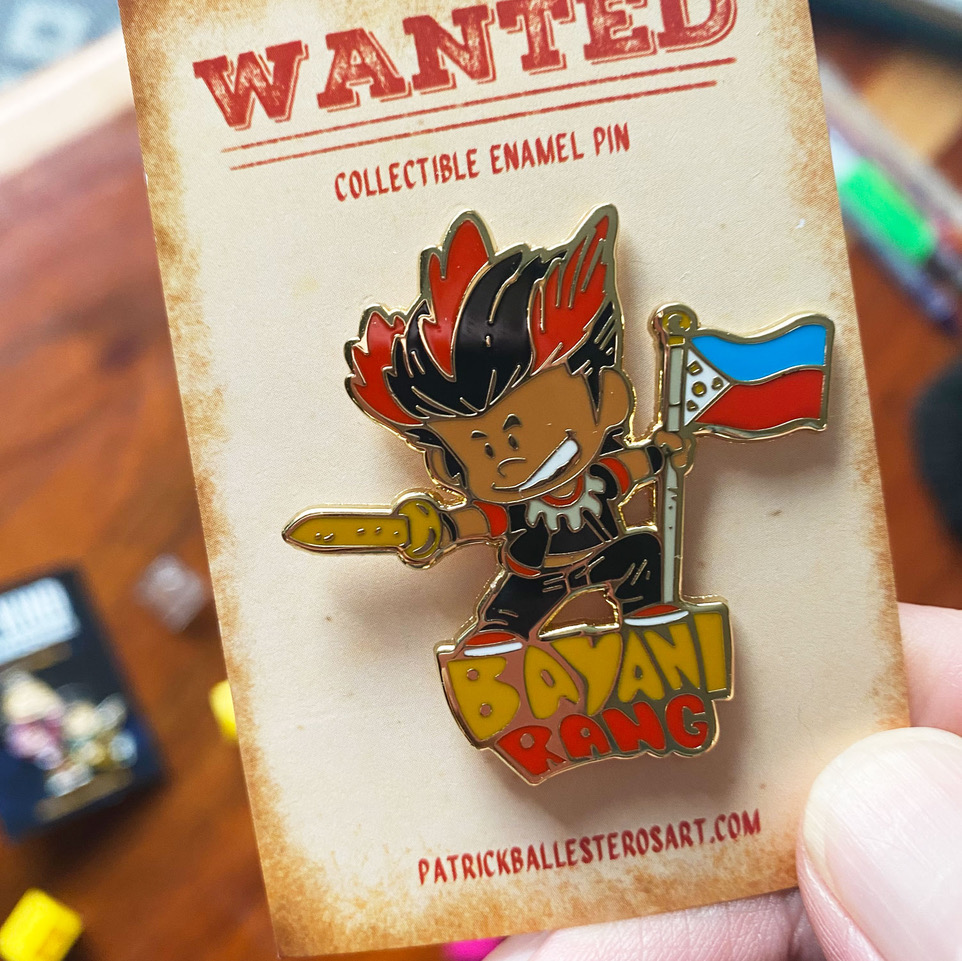 It's OK to be… Jellie – $12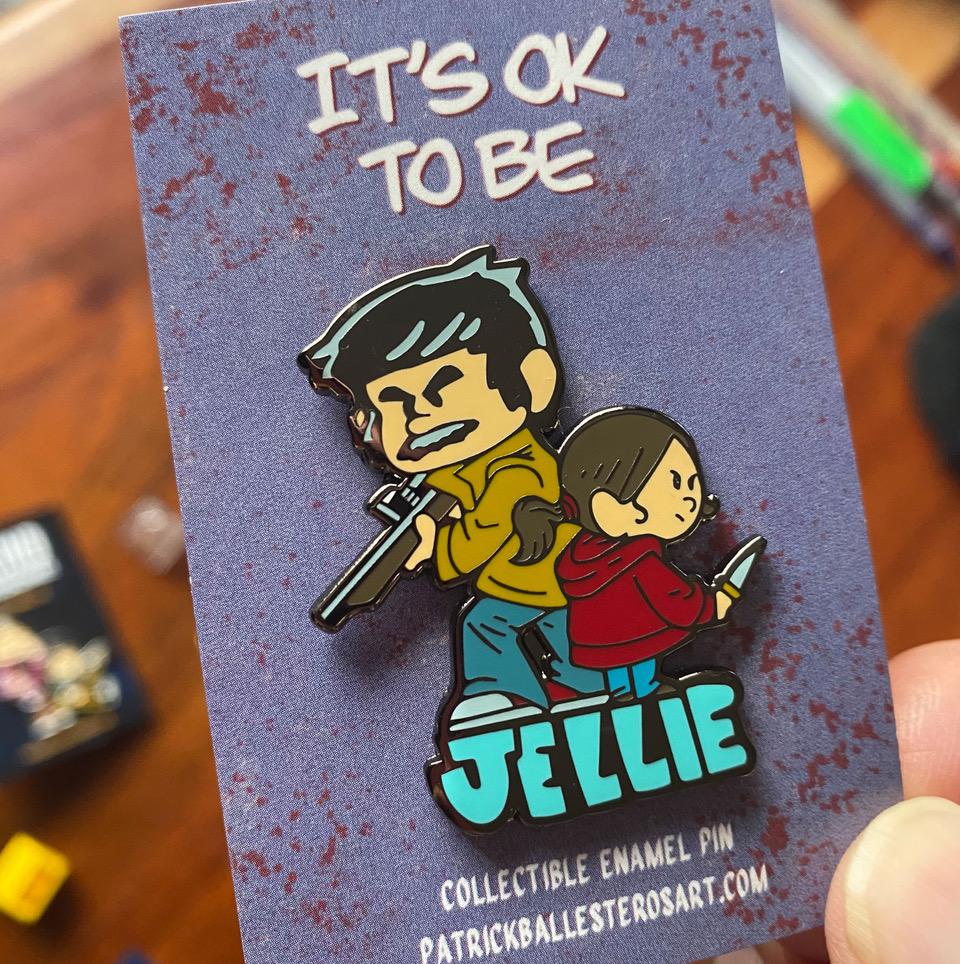 [UPDATE July 9]
Step into your favorite multiverse(s) with this new San Diego Comic-Con print from Patrick Ballesteros. All your favorite webslingers are here in this new 5″x10″ print, titled "Enter the SDVerse", which is printed on Fine Art Linen.
Each of the 125 LE prints comes signed and numbered, and will be available for $20 at Artists Alley #DD-08.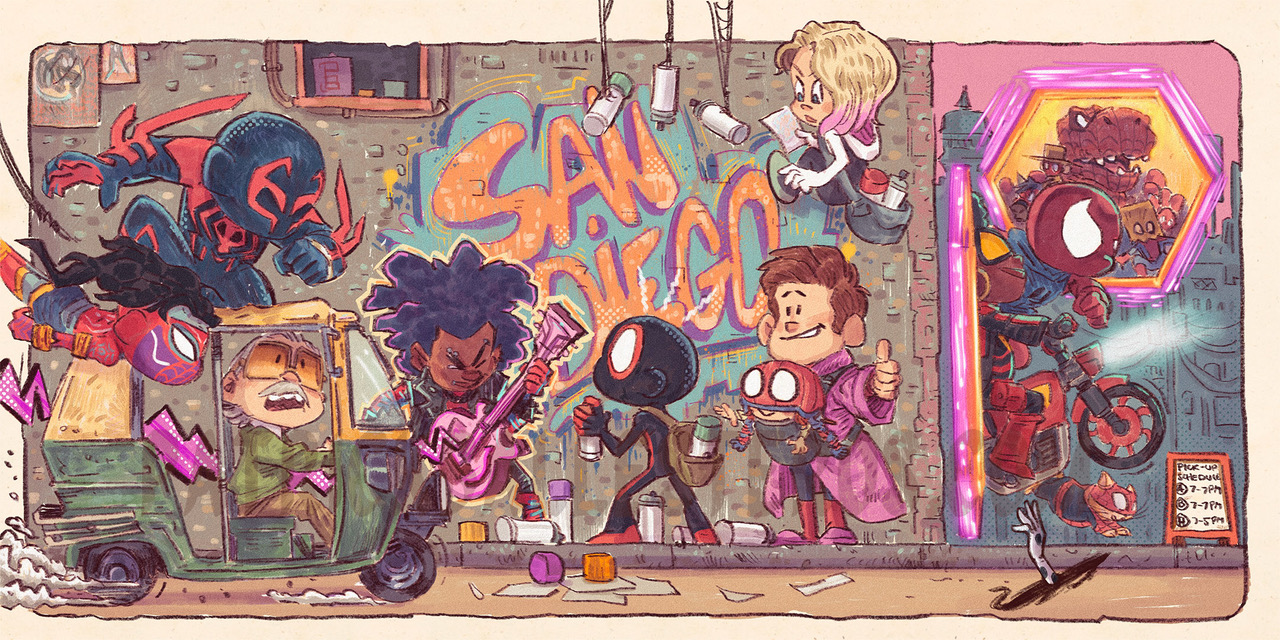 [UPDATE July 7]
If you love Patrick Ballesteros' "Home Sweet Home" print, then there's good news for you… he's also turning that artwork into a Desktop Art Mat. These 15.5″x12″ mats are the perfect way to decorate your desk, as they're both functional and beautiful. It's a very small run of only 25, and these SDCC exclusive editions will be available for pre-order starting Saturday, July 8 at 9am PT for $55 plus tax (and shipping will be free), or available at the show at Booth #DD-08. Ballesteros will also have a few on hand at his Tuesday Pop-Up event (with details still TBA).
There's a limit of one per person.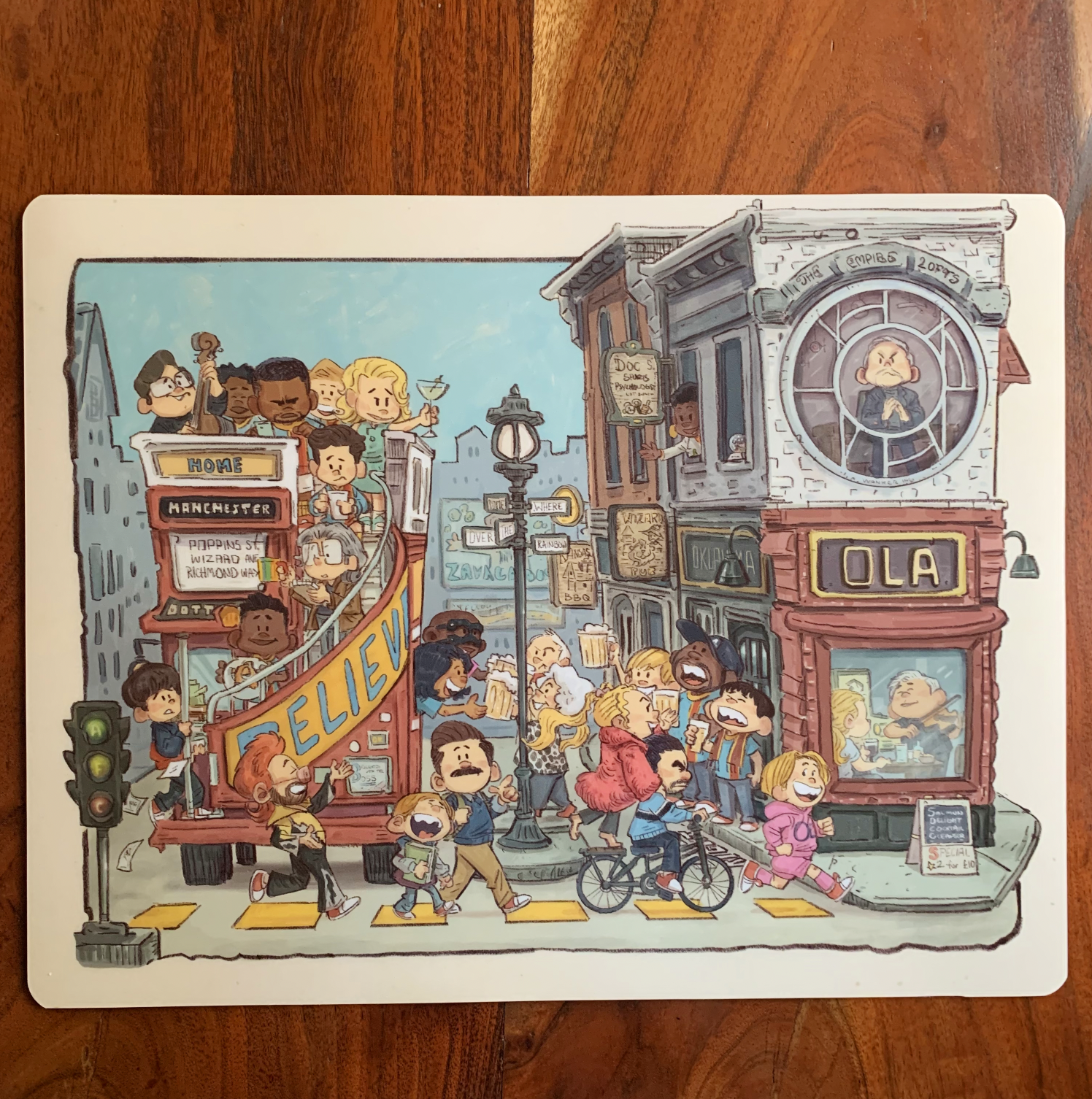 [UPDATE July 2]
We've got a truth bomb to drop on you: Patrick Ballesteros will have a "Believe" sticker sheet, full of all your favorite Richmond characters. The 4″x6″ sheet contains five stickers, perfect for putting on your favorite barbecue sauce or team locker. It's limited to 100 sheets, and will be available for $8 at Artists Alley #DD-08.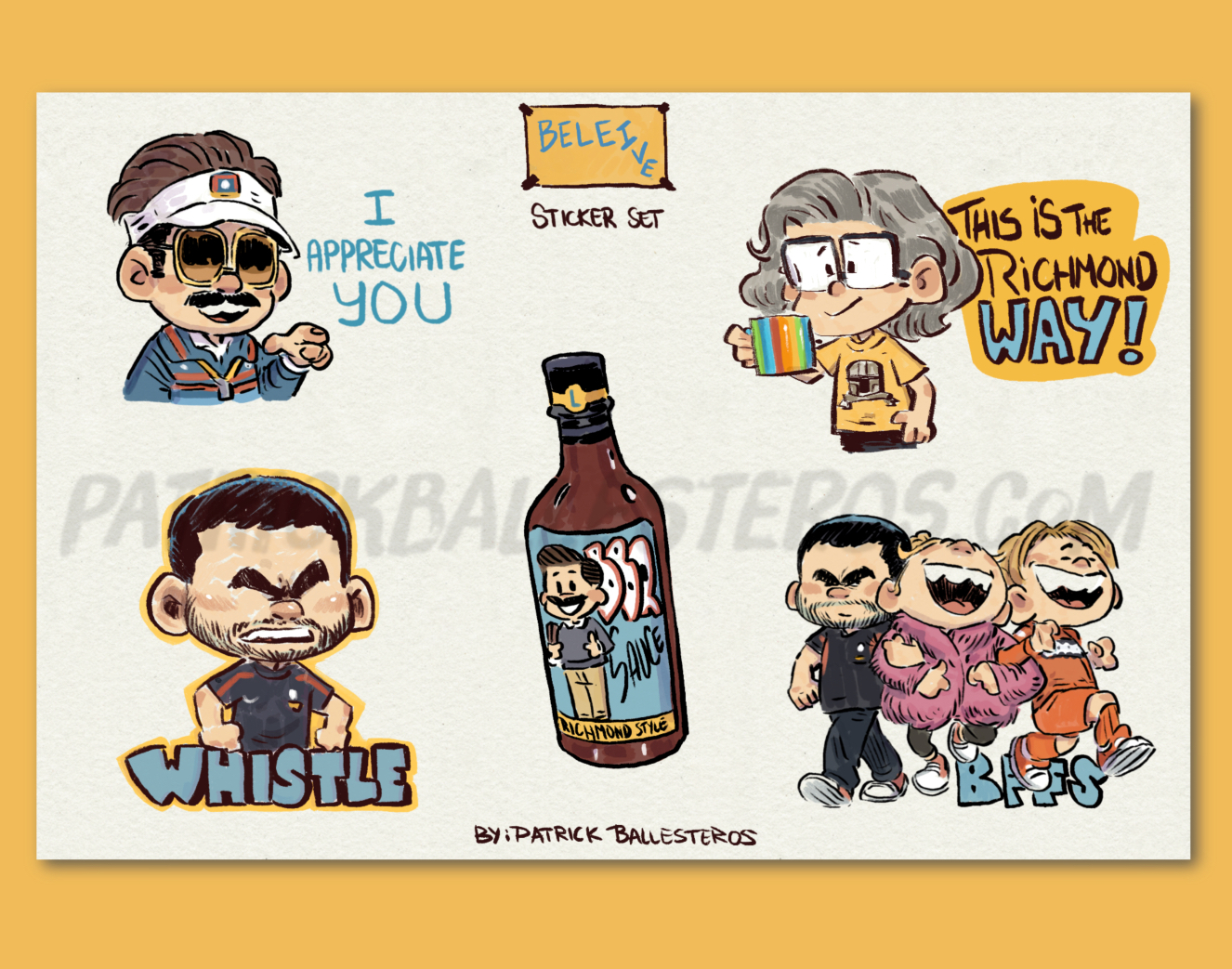 [UPDATE June 28]
Patrick Ballesteros is sending you back today… to the future. This gorgeous new 4″x16″ open edition print, "Once Upon A Time", pays tribute to cinema (and television)'s greatest time travelers. The print hits all the classics — starting in 1960 with a tribute to Planet of the Apes and its shocking ending, and taking us all the way to 2022's biggest multiverse-hopping hit, Everything Everywhere All At Once. There are plenty of stops along the way, including some deeper cuts we're glad to see included.
So take a trip down memory lane with this print for just $27 when it's available at San Diego Comic-Con (though as an open edition, it will also be available on his site eventually).
You can click to view this one bigger, because the details are phenomenal.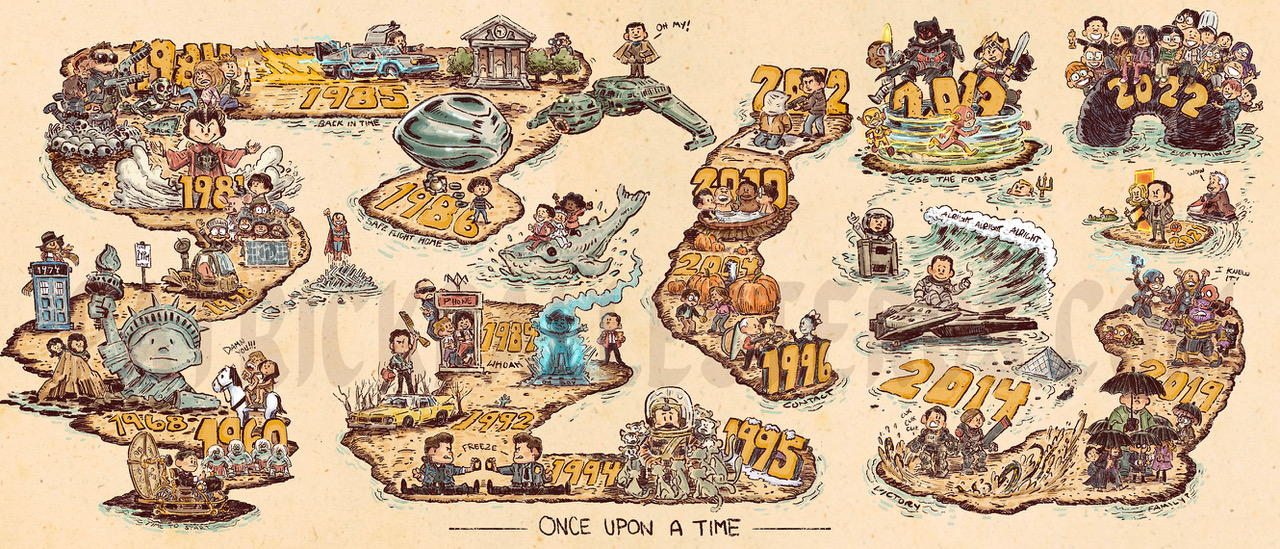 [UPDATE June 21]
Ballesteros' latest series, the Pop Cycle Pack, have been cruising around the multiverse for several months, hitting a new pop culture inspired popsicle stand at every stop. They've almost reached their final destination of San Diego Comic-Con, but first, it's time for a stop at the new "X-Factory: The Last Stand". All of your favorite mutants are busy slinging sweet treats, though some look happier about it than others (looking at you, Wolverine), with a few surprise patrons hidden throughout.
You'll be able to get this new 8″x8″ print at San Diego Comic-Con for $20, or at a show special of any three Pop Cycle Pack prints for $50.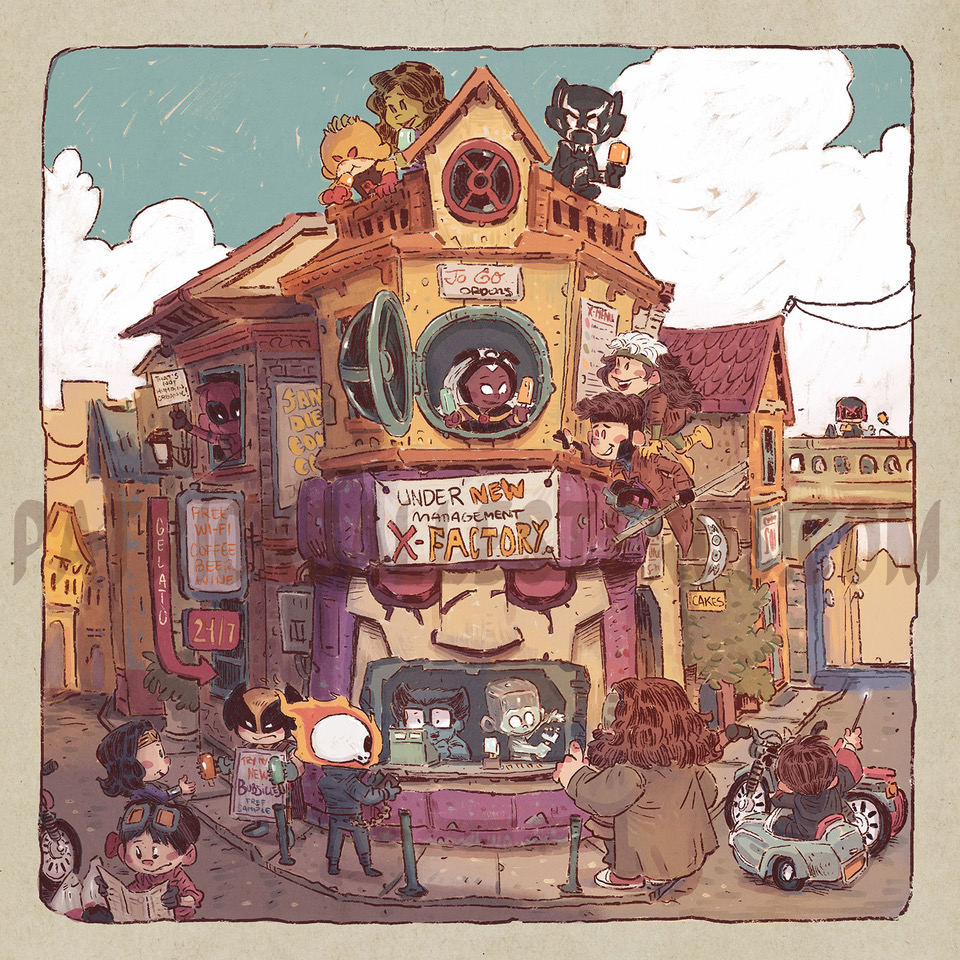 [UPDATE June 16]
Patrick Ballesteros wants you to play a game with him… or at least with his art. New this year, he's launching a brand new product. For his first collaboration with GG mats, they have created a "functional and artistic" exclusive for San Diego Comic-Con in the form of "I Got You Kid" Artisanal Desktop Mat for Gaming and Everyday Use.
These 26.75″ x 15.5″ gaming mats feature Ballesteros' latest "I Got You Kid" piece, which features two very different battles (and parental figures), each juxtaposed against each other so that you can turn to display whichever version you prefer "on top". The mats are printed on Crystal Paper, a proprietary material that allows the artwork to really pop, without losing the vibrancy of the color in this piece. And the smooth surface means that should you accidentally spill your coffee onto it, clean-up is easy and won't ruin the artwork.
You can level up your home gaming studio for just $75 (plus tax and free shipping). It will be available at San Diego Comic-Con, as well as for online orders through Ballesteros' website. There will be a limit of 1 per person, with a total edition size of 25.
And for those "early birds" at the con, you can also join Ballesteros at his annual Pop-Up event on Tuesday, July 18 at James Coffee Co in Little Italy (times TBA), where they'll be available for a special Pop-Up price of $65.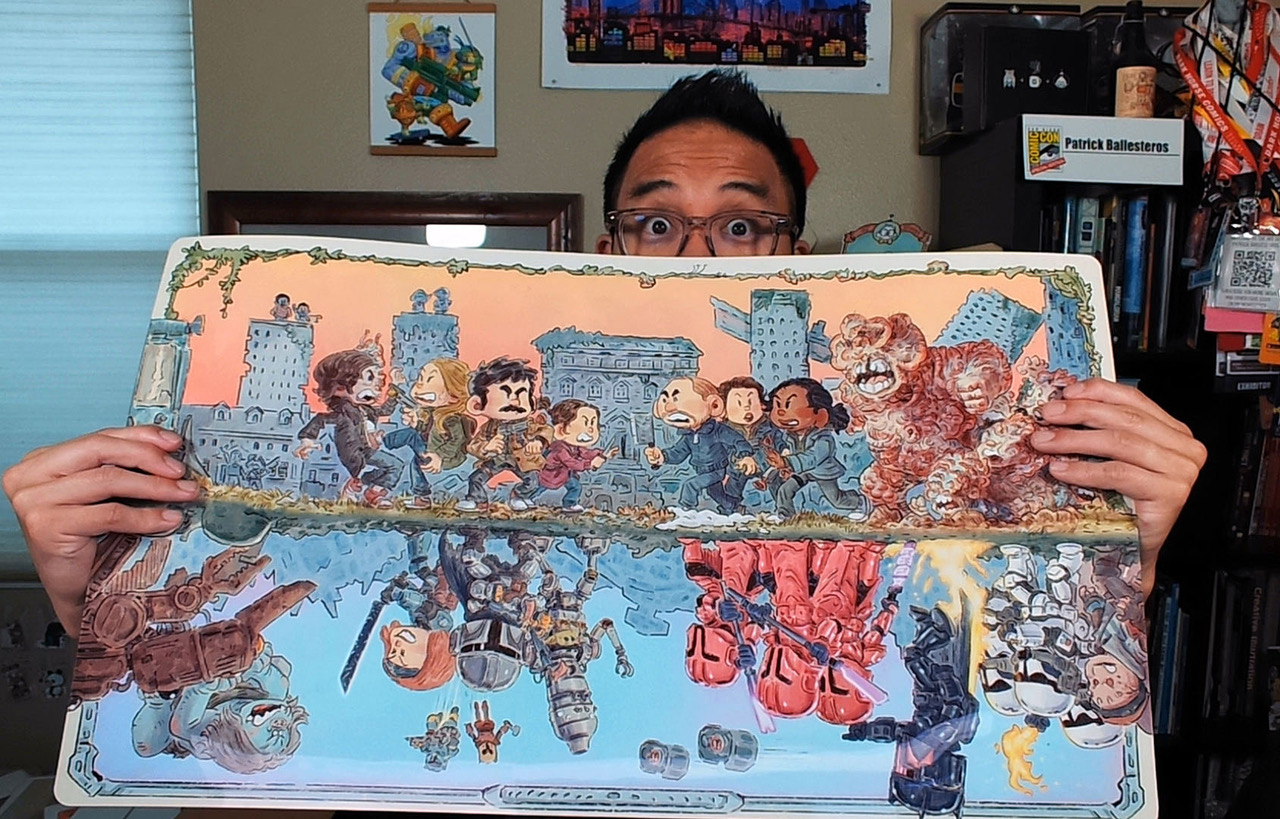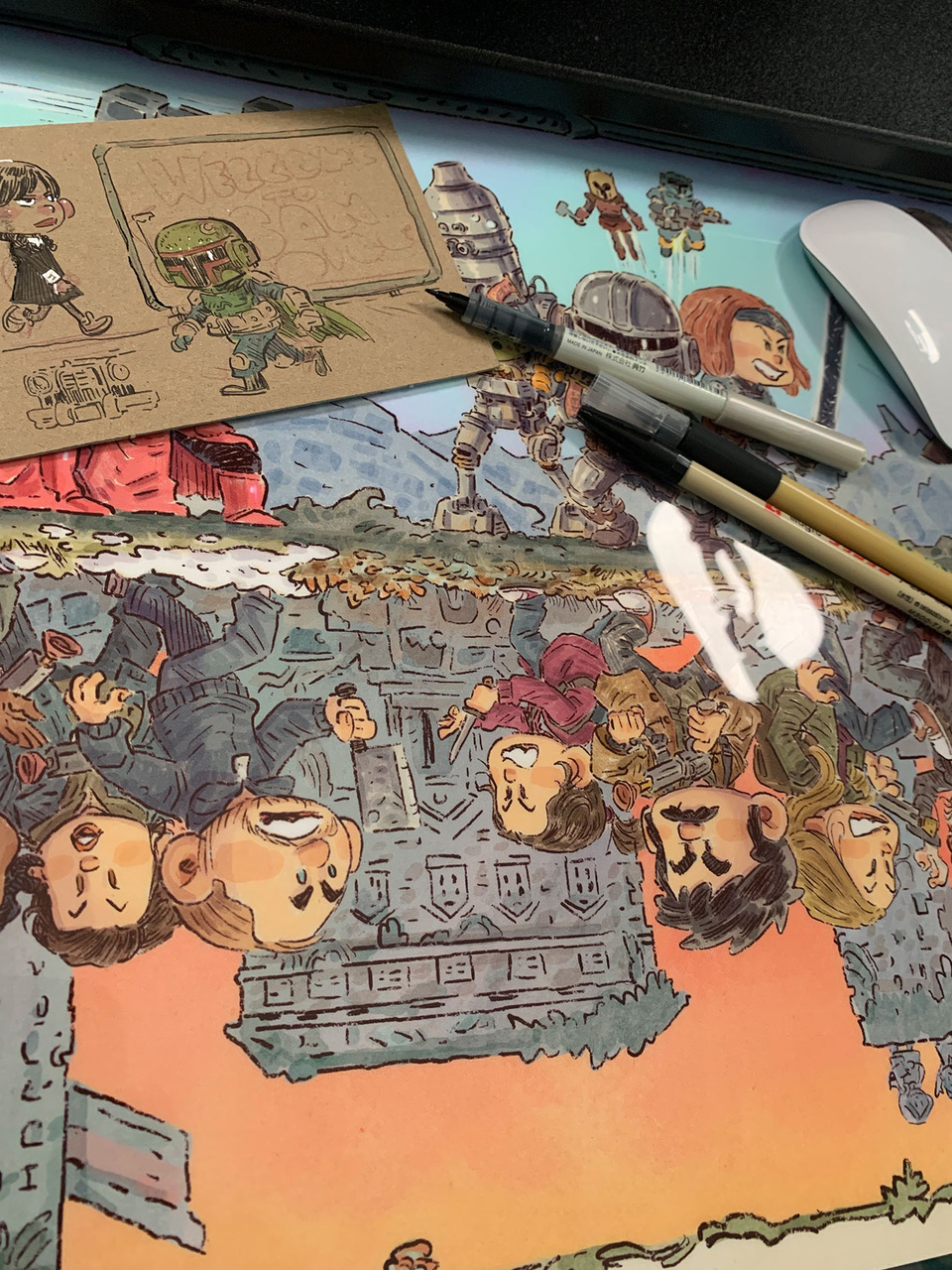 [UPDATE June 14]
Jeepney's, the popular mode of transportation in the Philippines, are as fun as they are functional. With his "Jeepney Kultura" series, Ballesteros pays tribute to his favorite pop culture franchises combined with his Filipino cultural roots. There's already been several pieces in the series, but the latest, "The Big Bayani", is all about everyone favorite Big Hero.
The superhero team of friends are flyin' high in this 5″x10″ piece, which packs in plenty of fun nods to the animated modern classic. You'll be able to pick up the open edition print for $18 at Booth #DD-08 in Artists Alley.
And, as a San Diego Comic-Con special, you can get any three pieces in the "Jeepney Kultura" series for $48 (saving you $6!), while supplies last.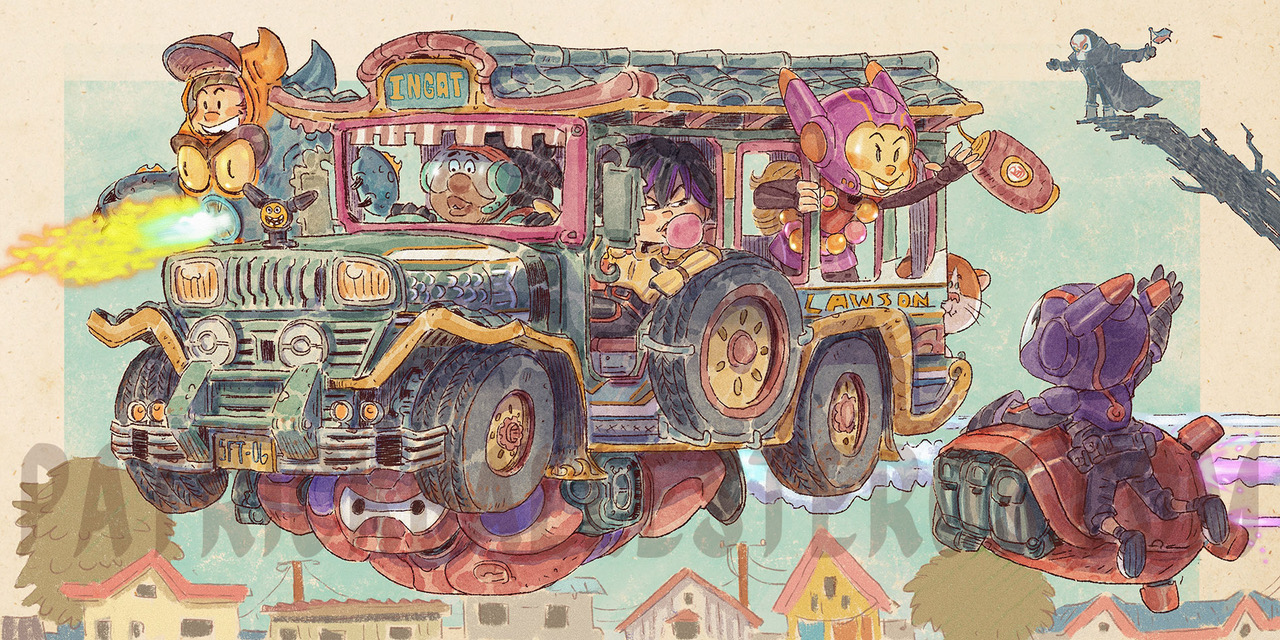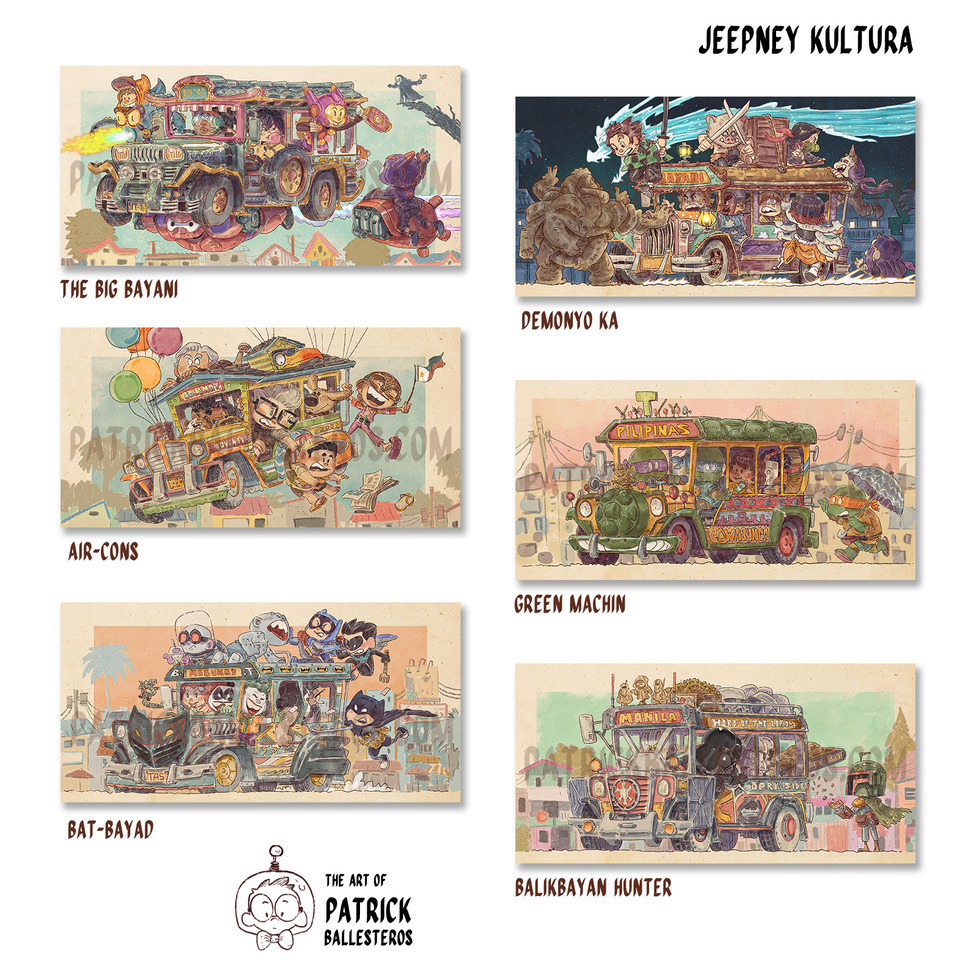 [UPDATE June 11]
A print worthy of the legend. Your favorite hit man is front and center in Ballesteros' latest print, a 6″x14″ homage to Chapter 4 of the Keanu Reeves action series. Featuring moments from all four films, this open edition print is a fun nod to the Wick world and the battle to the final boss level.
"Who's Your Baba Jaga" will be available at San Diego Comic-Con for $27.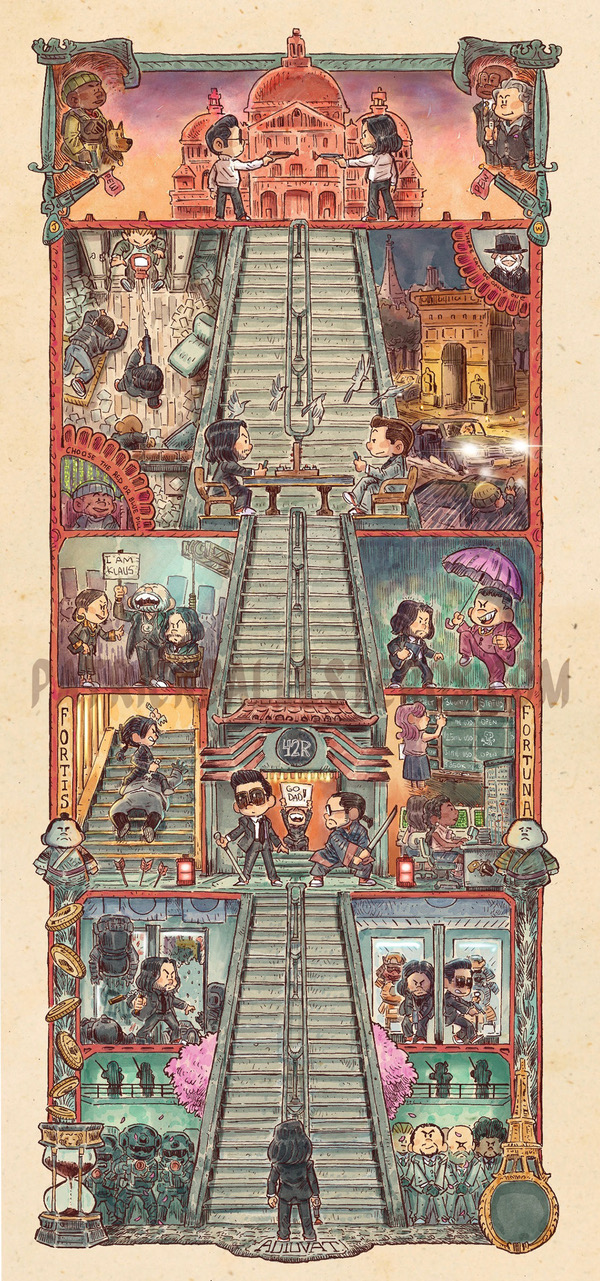 [UPDATE June 7]
The Child, or baby girl? Ballesteros is presenting you with the ultimate choice in today's San Diego Comic-Con exclusive, which offers a mash-up of two of the biggest TV series at the moment. Each side of the 14″x8″ print depicts a set of guardians protecting their ward against the forces of evil — in one set, villains both human and mycellium; in another, against the galaxy itself.
It's ultimately your decision which kid you "save" — or which set of heroes you display on top.
You can pick up the exclusive, "I Got You Kid", at San Diego Comic-Con Booth #DD-08 for $30. It's a limited edition of 150, and each print comes signed and numbered.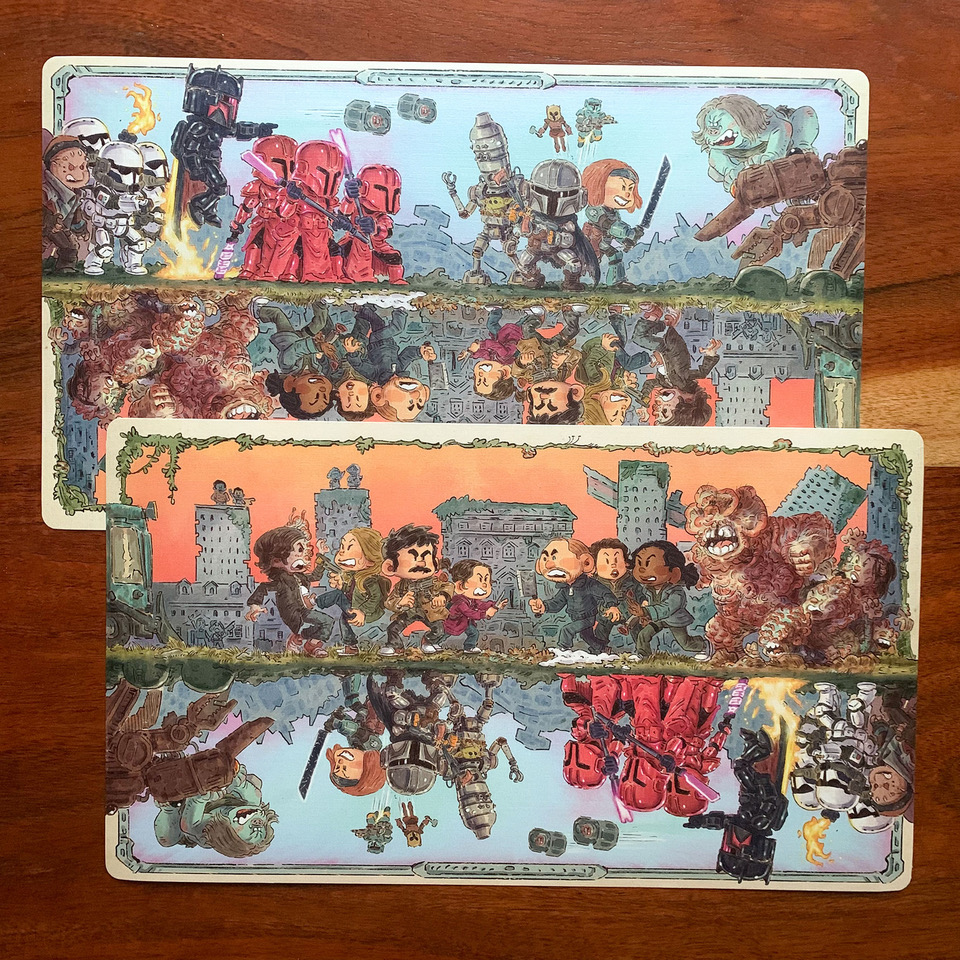 [UPDATE June 2]
We're Richmond 'til we die. Whether or not we've seen the last of AFC Richmond, Ballesteros is celebrating three seasons of our favorite series about footballers with big hearts with several new prints. All will be available at San Diego Comic-Con, but a small quantity will first be releasing on Patrick's website on Sunday, June 4 at 10am PT. Once that limited quantity is sold out, the rest will then be available in July at SDCC.
He pays tribute to the season with "No Place Like Home", a love letter to this team and everyone in that world. It's all aboard the "Believe" bus to head "somewhere over the rainbow" in this 11″x14″ print which will be available for $30. Again, you'll be able to snag at either San Diego Comic-Con, or you can try to score by making a play to get it online on June 4.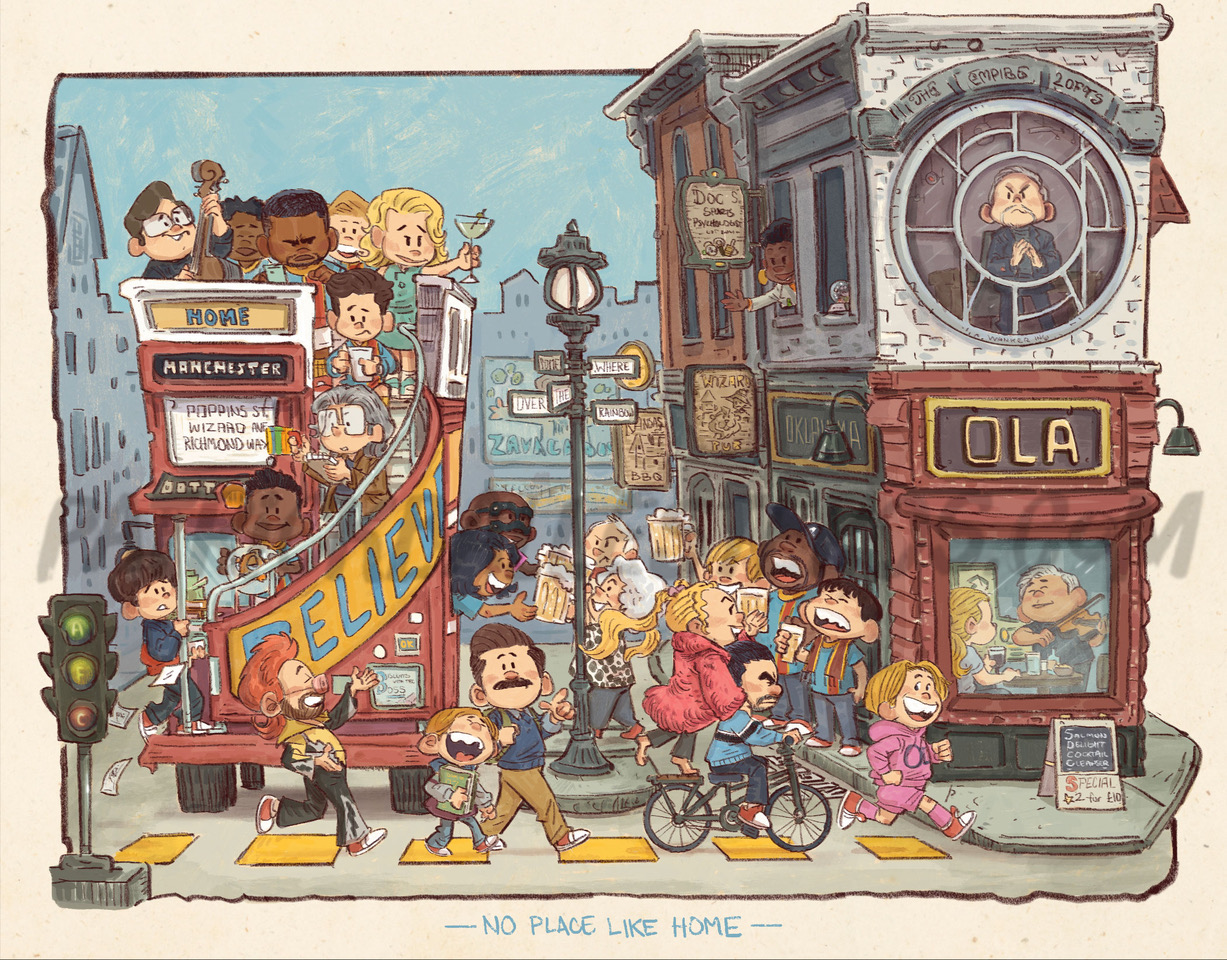 But Ballesteros has more room on his roster. This season has been full of plenty of great moments, from Uncle's Day to Piggy Stardust. He's captured just a few of them in three new 5″x5″ prints on linen paper — "Na Na Na Naa", "Best Mates", and "Don't Worry". All three are open editions.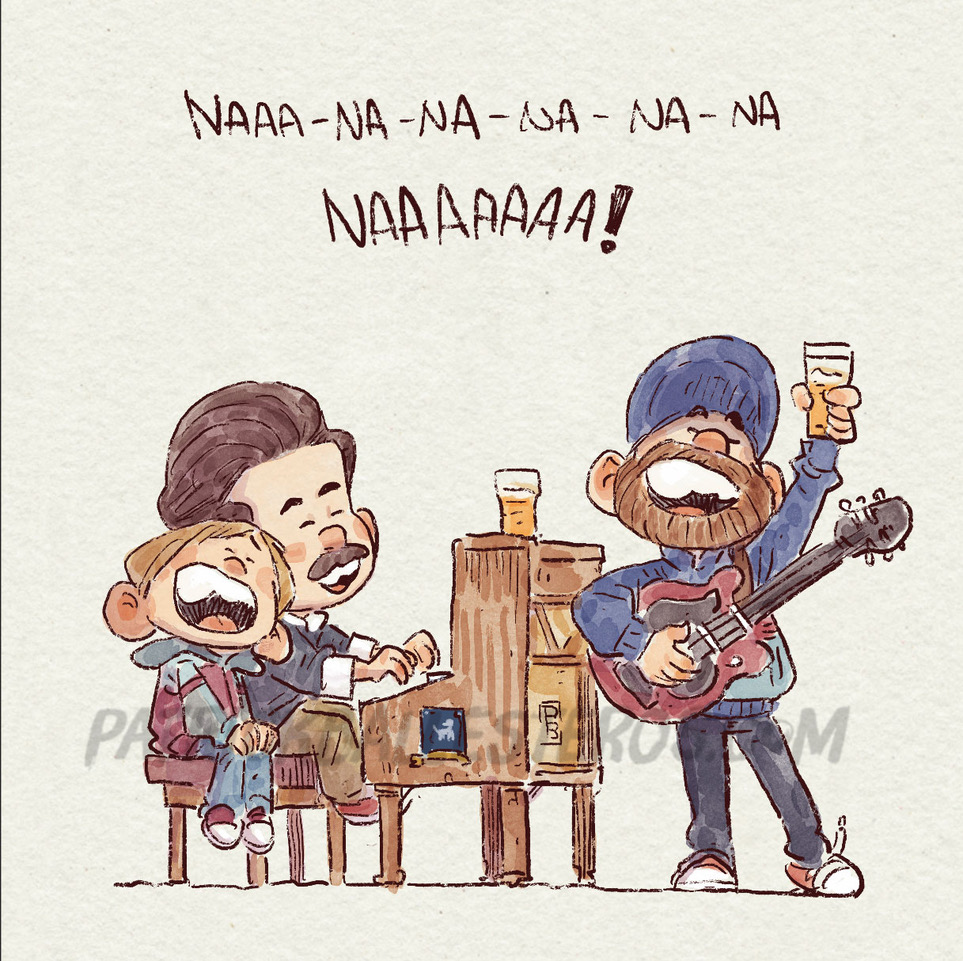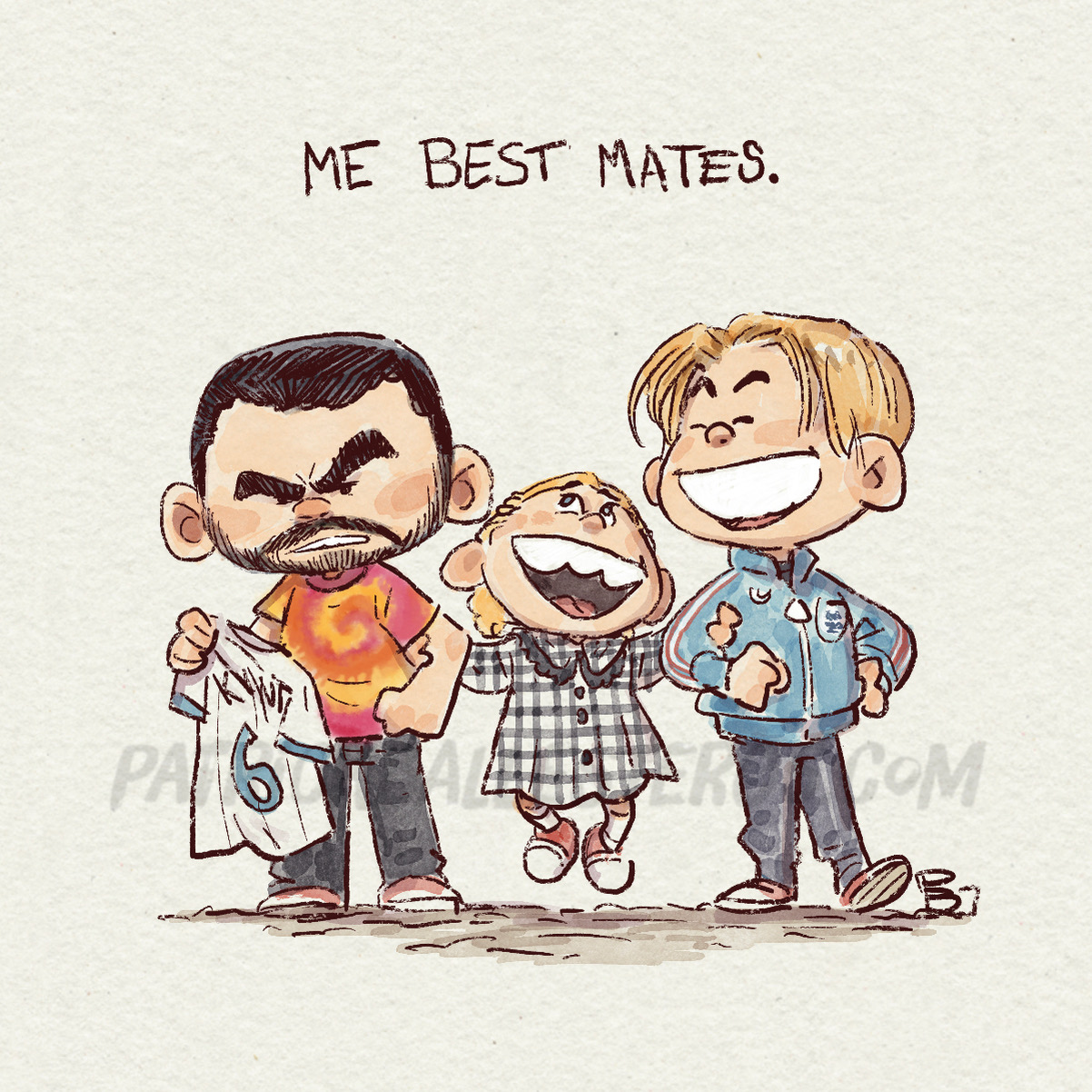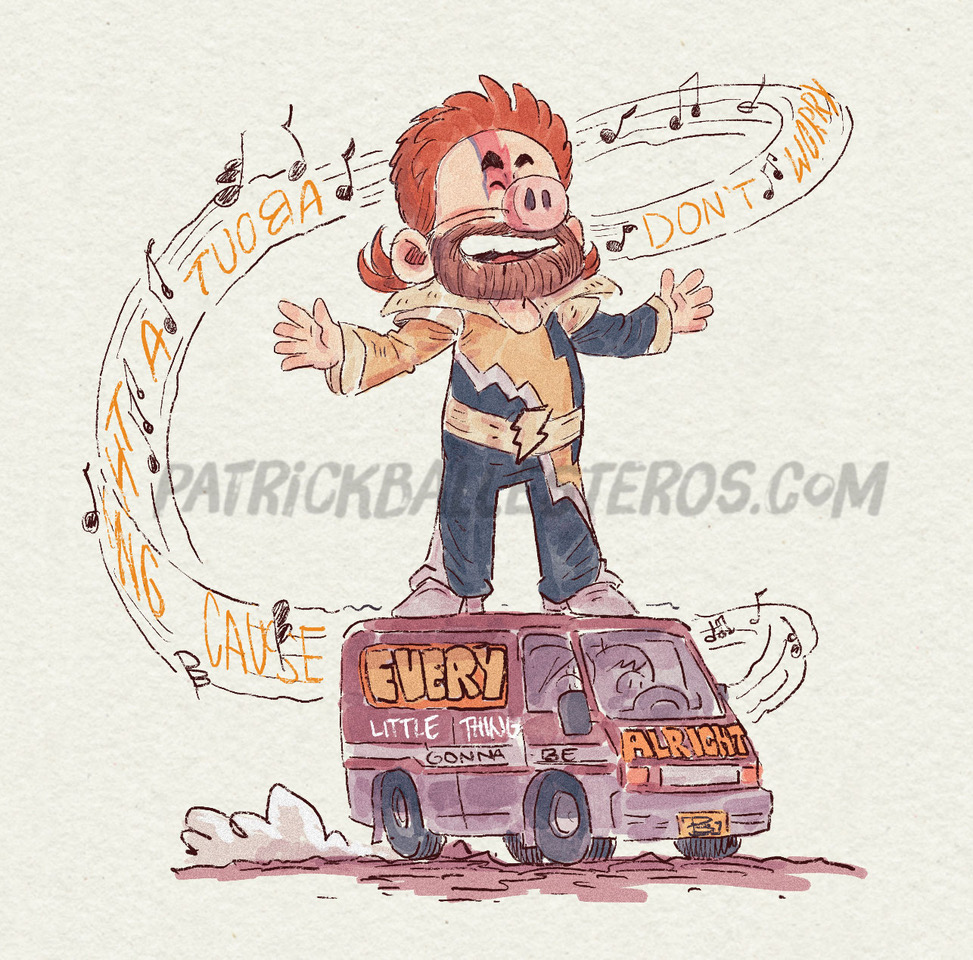 [UPDATE May 28]
Level up your art game with three new prints from Ballesteros, celebrating the 8-bit world of one of the most classic video games of all time (and the new film). This triptych set, titled "Power Up Triptych", is an open edition but will be available at San Diego Comic-Con this summer. All three 6″x8" pieces can be combined to form a continuous print, with a rainbow road raceway connecting them.
Get the complete set for $30, or you can pick up an individual "level" for $12 each.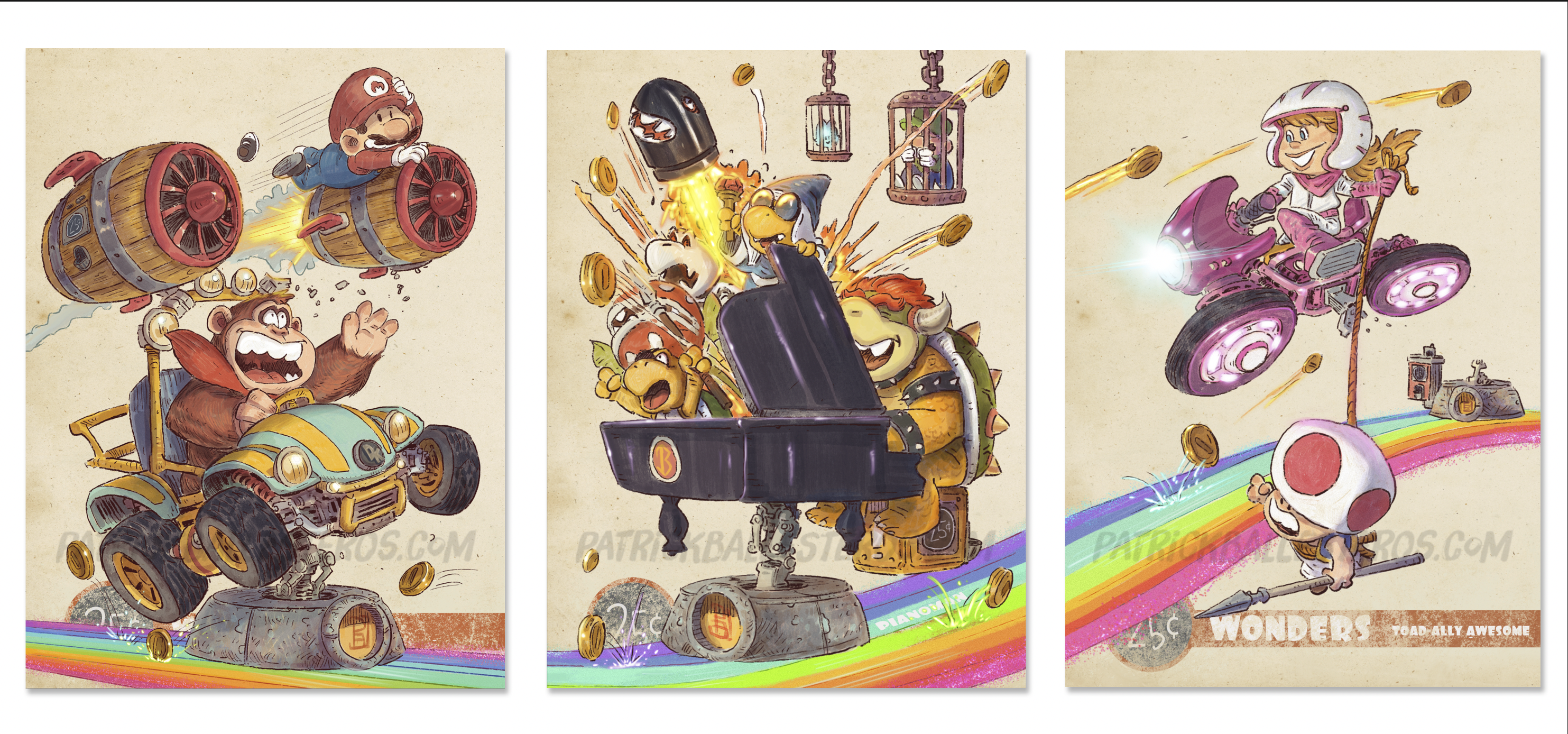 [UPDATE May 24]
Following the success of his "Mr Williams' Opus", Ballesteros is stepping up to the podium with another piece celebrating the work of one of the most beloved (if not THE most beloved) composers of all time, John Williams. In this new version, "Mr Williams' Opus: Prelude", Ballesteros covers films throughout Williams' career, spanning from the 1970's to the 1990's.
It's a celebration of some of cinema's greatest movie moments, and the music that made them memorable.
This 11″x14″ print will be an open edition, available at both San Diego Comic-Con and online, for $30.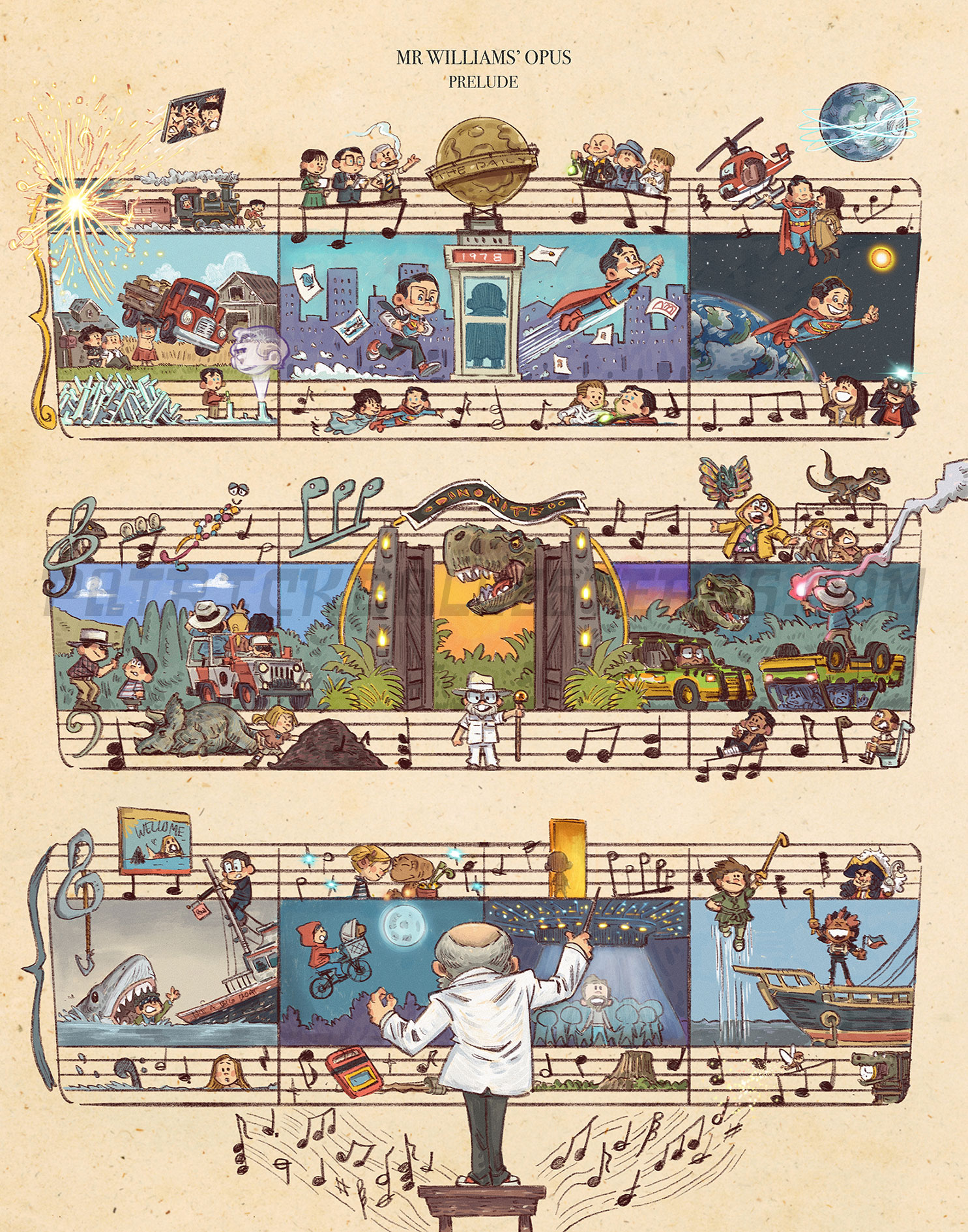 [UPDATE May 19]
As it's Friday, we think you deserve a treat — in the form of a new "POPCYCLE PACK" print from Ballesteros. In this series, a crew of original characters are touring the globe, visitinga different pop-culture inspired popsicle stand every month leading up to July.
In the latest print, "Showdown in San Diego: Battle of the Pops", the crew has made it to San Diego, but it's anything but easy riding just yet thanks to an oversized kaiju stirring up some trouble. This 8″x8" print will be available at SDCC, though it's not exclusive to the con, for $20.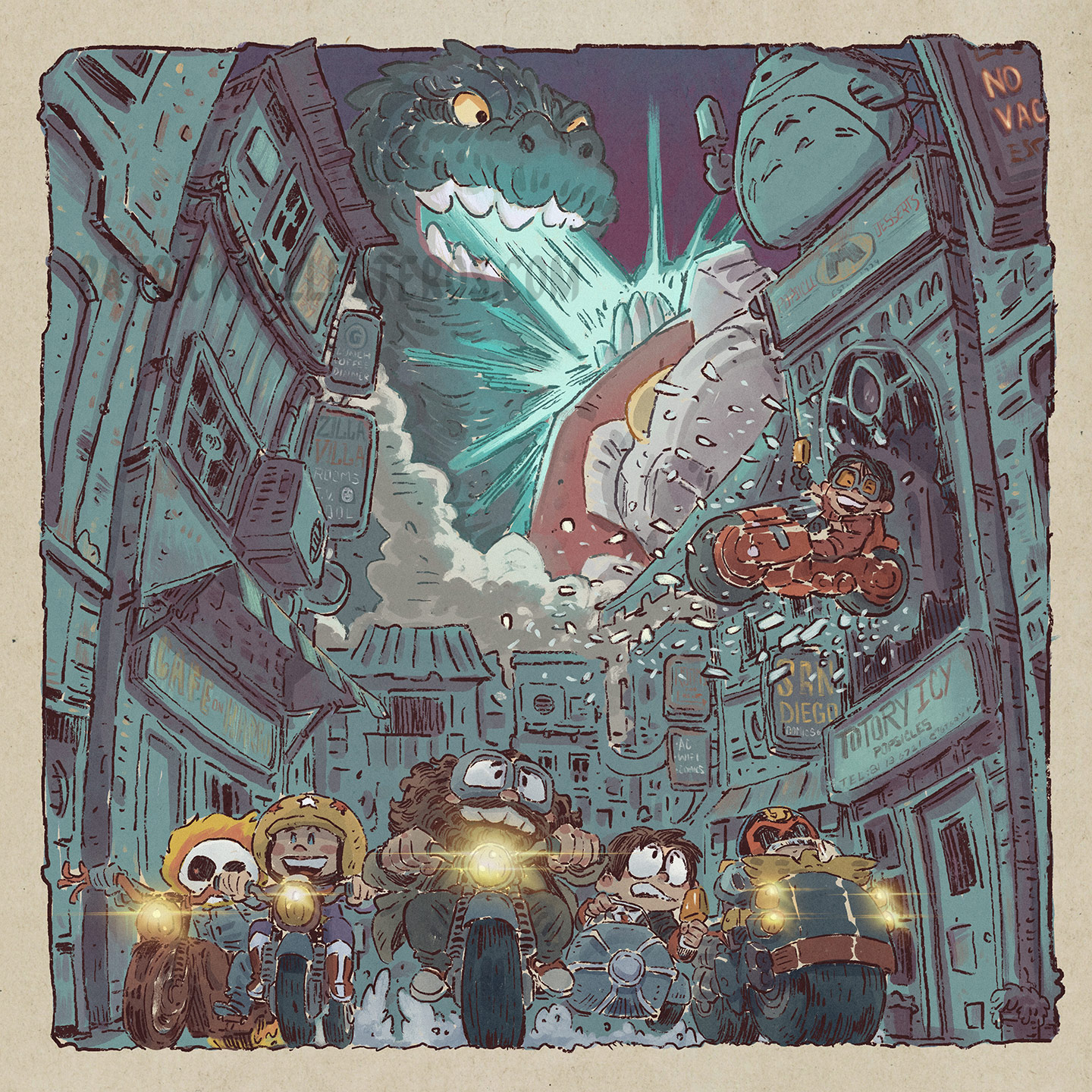 [UPDATE May 18]
If James Gunn's latest film didn't inflict enough emotional damage onto you, then Patrick Ballesteros' latest San Diego Comic-Con exclusive print is here to twist that emotional knife a little deeper.
In his latest piece, "Better with Friends", Ballesteros celebrates Rocket Raccoon and his best Batch 89 buddies as they play forever in the sky. This 8″x10" exclusive is limited to just 75 pieces, and each comes signed and numbered by the artist.
Maybe pick up two so you can give one to your own best buddy, because as Lyllah says, everything is better with friends. Get it for $25 at Booth #DD-08 in Artists Alley.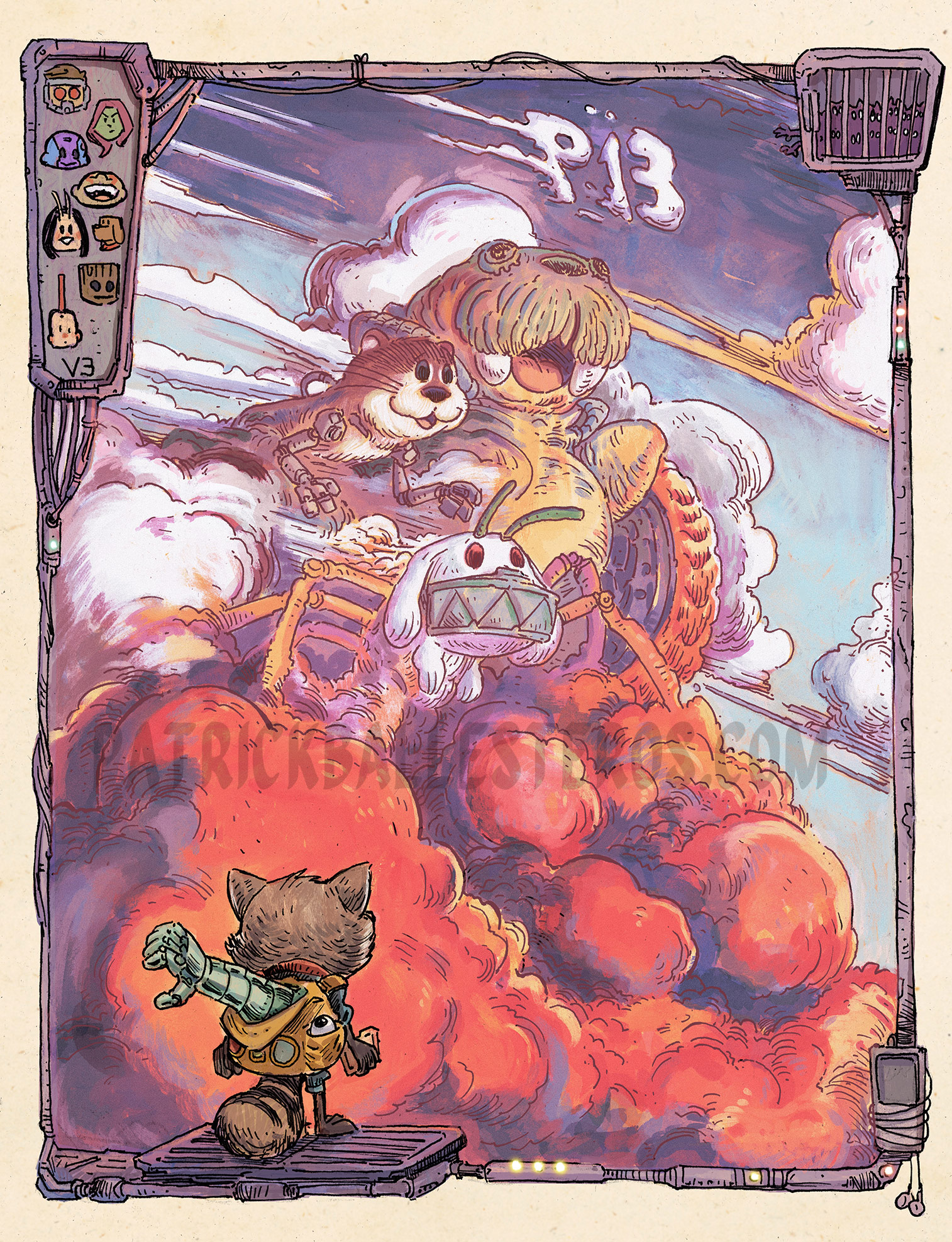 [UPDATE May 10]
May is AAPI (Asian American and Pacific Islander) Heritage Month, and Ballesteros is celebrating with two very different prints, each of which headed for a different curated art show — and which will eventually make their way to San Diego Comic-Con as well.
Up first is "Where's the Beef" (which you can find at The Very Asian 2 Art Show at Leanna Lin's Wonderland through June 24), an ode to the recent A24 and Netflix masterpiece. Rather than focusing on our differences, isn't it a better feeling when two people can find some kind of connection amidst the chaos? This 8″x10″ print is a limited edition of 150, and only a small number will be available at the con as well as on Patrick's website patrickballesterosart.com now in limited quantities for $25.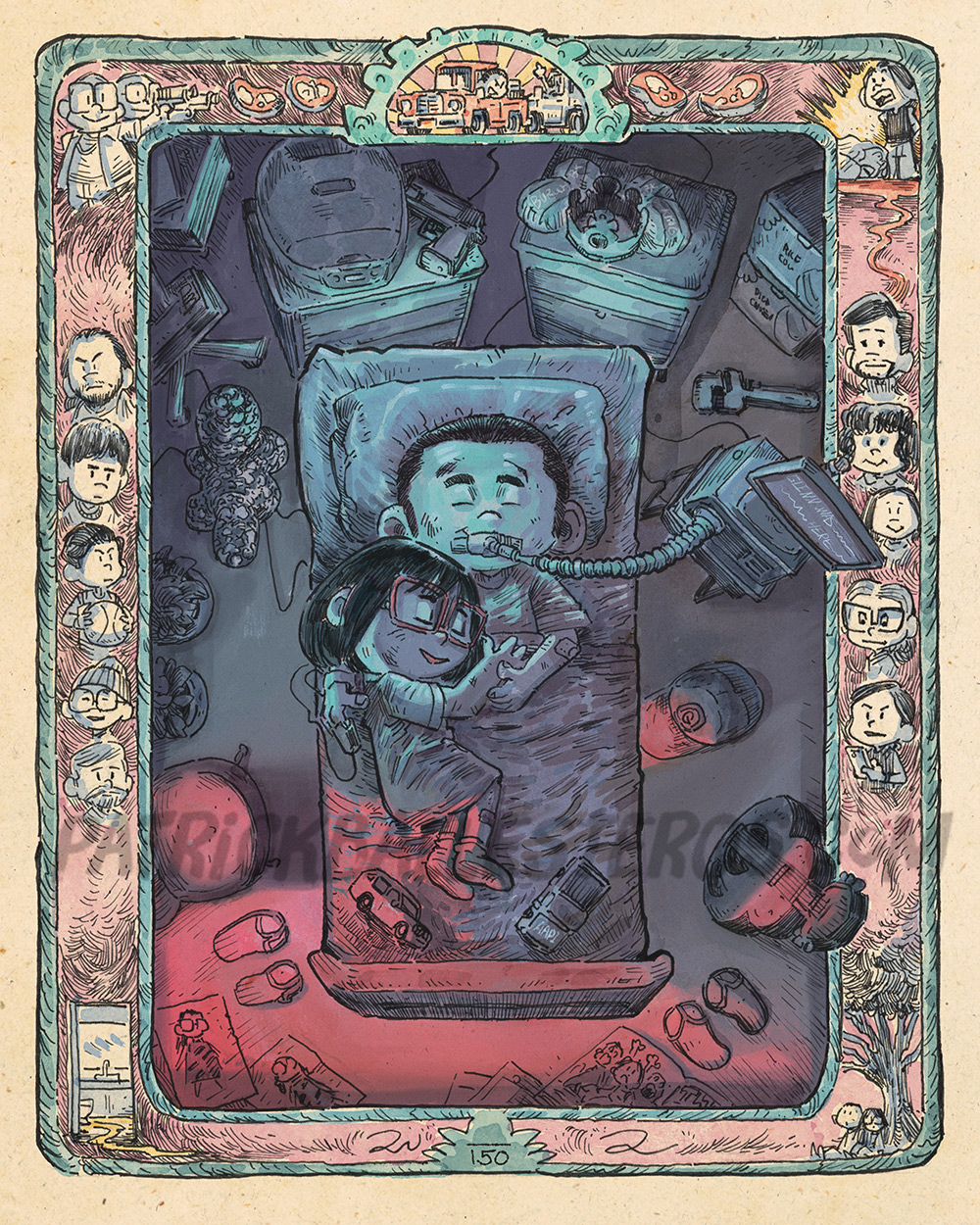 Next is "Anak of the Batok", which celebrates the artistry and beauty of the work of 106-year-old Apo Whang-od, the oldest tattoo artist in the world and one of the last remaining mamababatoks in the Philippines. The word "Batok" refers to the indigenous body tattoos of the Philippines, with mamabatoks decorating the body with traditional designs using bamboo sticks and thorns. It's a celebration of Ballesteros' love for both pop culture and his pride of Philippine artistry, and you can find it now at the Break the Monolith art show at Thumb Print Gallery through May 27. Just like "Where's the Beef", this 8″x10″ print (LE 150) will also be available in limited quantities at SDCC, and on patrickballesterosart.com now (also in limited quantities) for $25. Each print comes signed and numbered.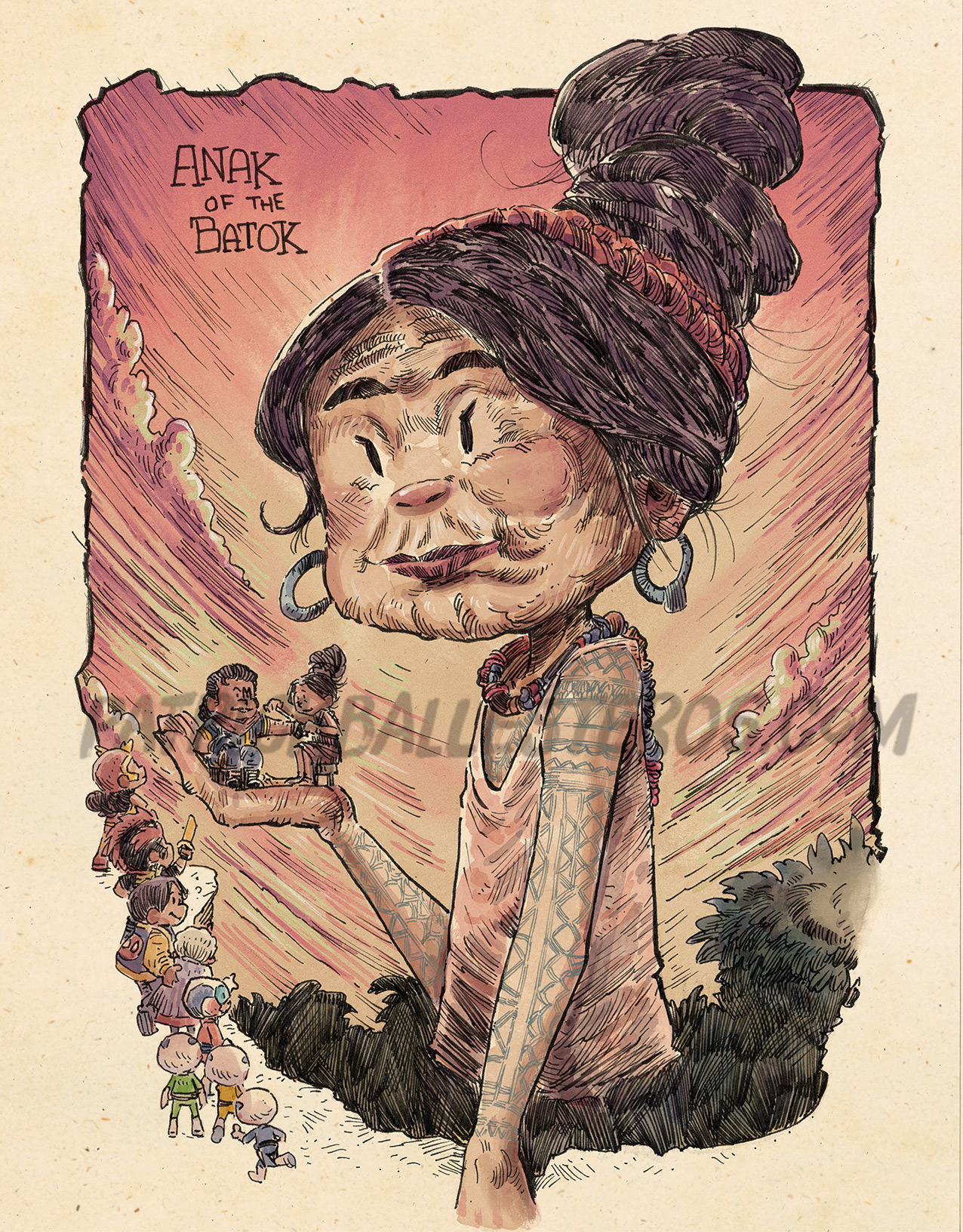 [UPDATE May 4]
As one of our nation's finest poets once said… It's gonna be May. Okay, NSYNC were neither poets and those weren't the actual lyrics, but Patrick Ballesteros is celebrating a brand new month (and May the 4th, at that) with the reveal of his first San Diego Comic-Con exclusive, which is all about a different "Mei".
You'll turn positively red over this 14″x16″ print "It's Gonna Be Mei" on fine linen paper, featuring one of the best Pixar films of recent memory. All your favorite characters are in attendance, along with a few of our other favorite Canadians (we see you, Wolvie and Deadpool).
You'll be able to snag this signed and numbered exclusive at #DD-08 for $27, but you might have to let out the inner bease (figuratively, of course — there's no running in the exhibit hall) to ensure you snag it, as it's limited to 175 pieces.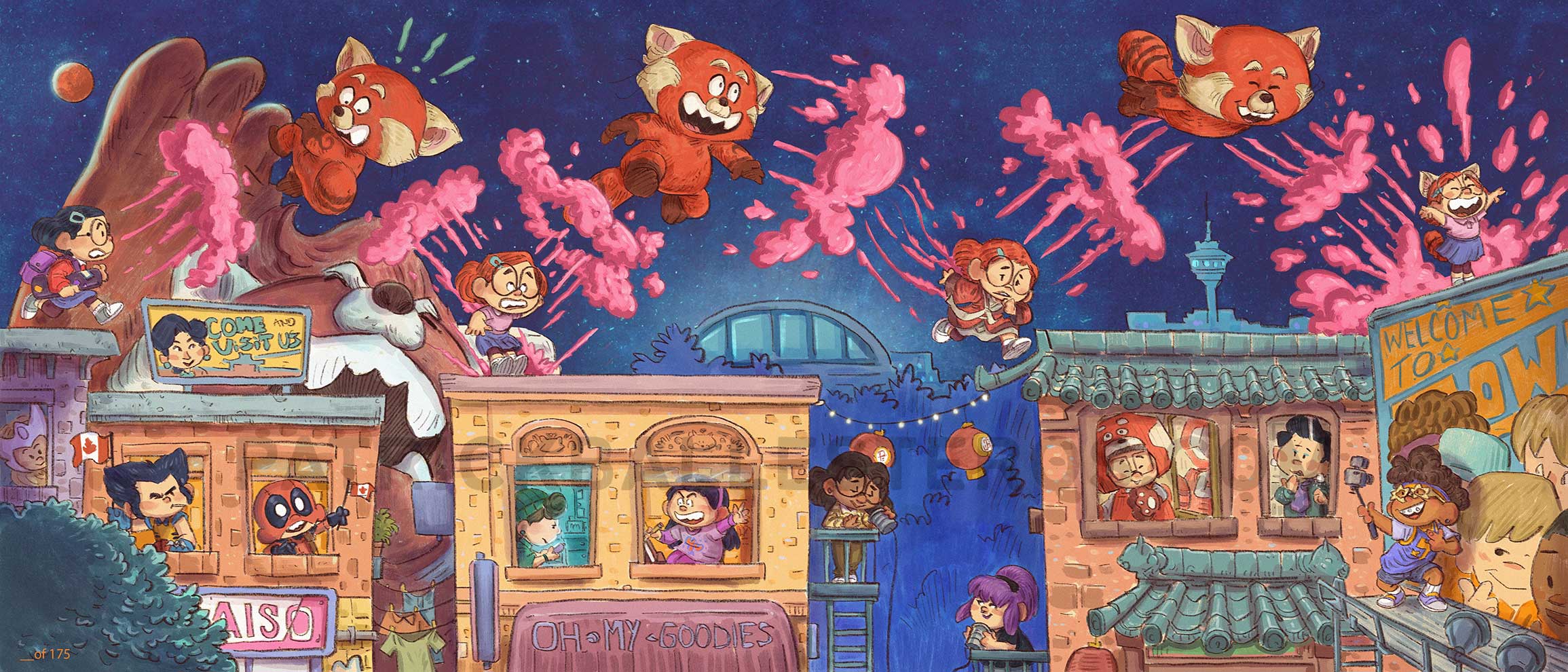 [UPDATE April 26]
Ballesteros has been busy getting ready for San Diego Comic-Con, and he's got the first of several pieces heading to the con this year, celebrating some of our favorite TV dynamic duos (and trios).
WHISTLE! U[ first is "For Grandad", a new 5″x5" print on fine art metallic paper that showcases a friendship three seasons in the making. You'll be able to grab it at Booth #DD-08 for $12.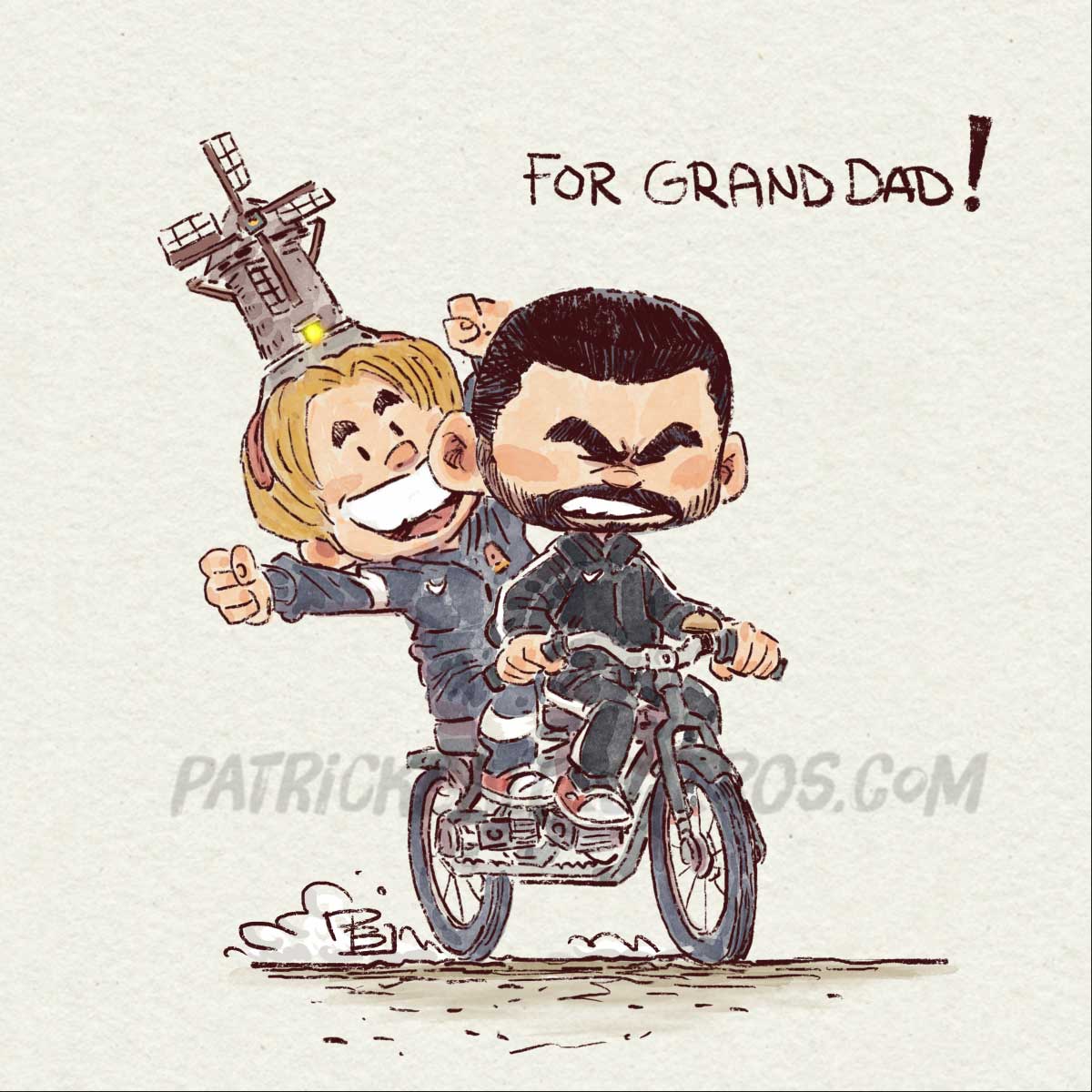 There's also "Stronger Together", another 5″x5" fine art metallic paper print, which will also be available for $12. This is the way.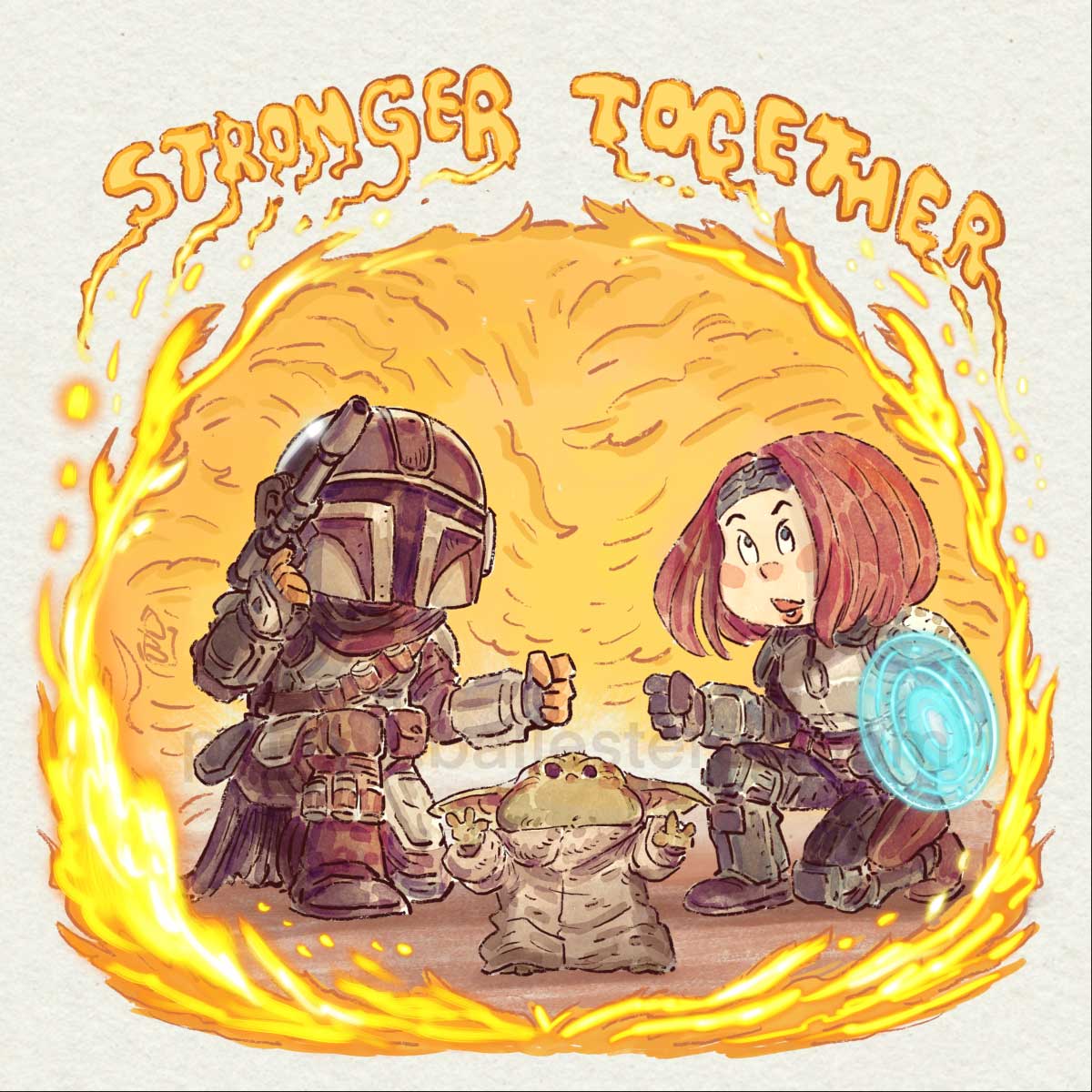 [UPDATE March 30]
If you missed out on his WonderCon goodies, he will be launching a WonderCon Post Sale on Friday, March 31 at 8am PT with all new goodies, and a few sold out items from the con as well.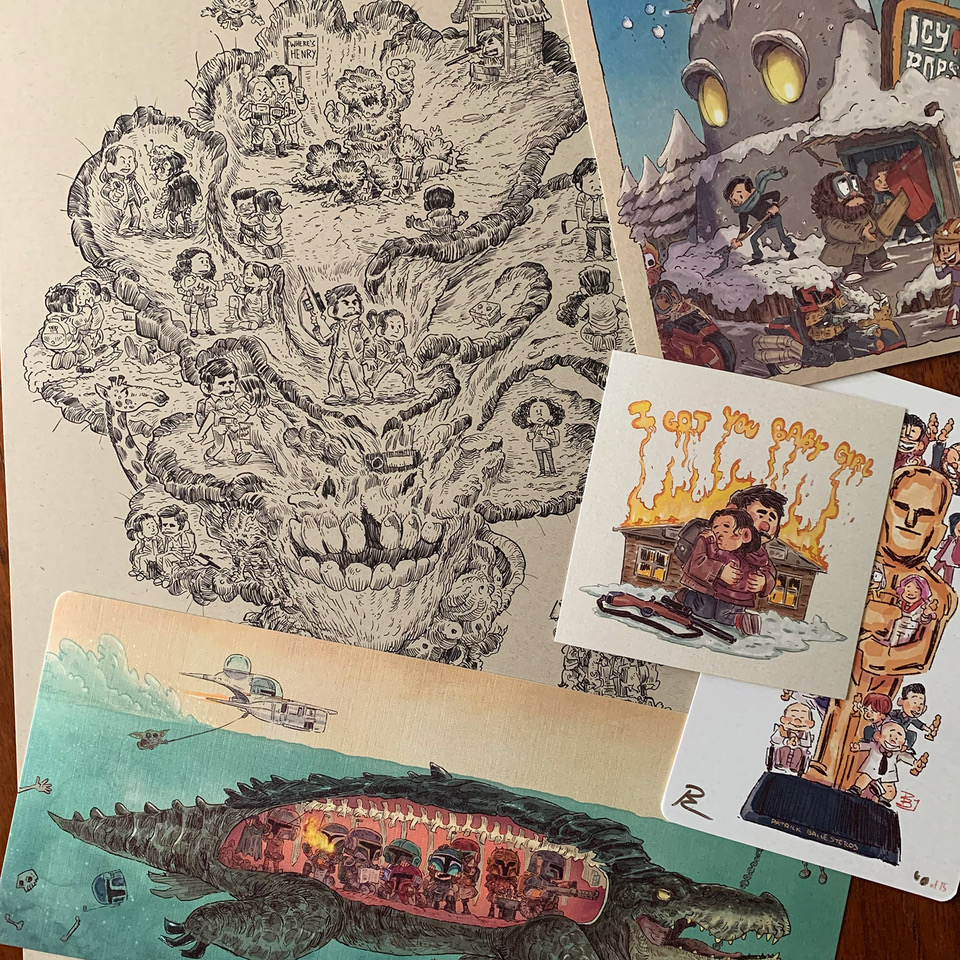 Additionally, you'll be able to snag the latest addition to his PopCycle Pack series — where a series of original characters visit a new pop-culturified popsicle stand every month between now and July. In the new piece, the intrepid group visits the infamous Pescados y Palettas de "SIN AMOR" — and you can pick up this print on Friday as well.