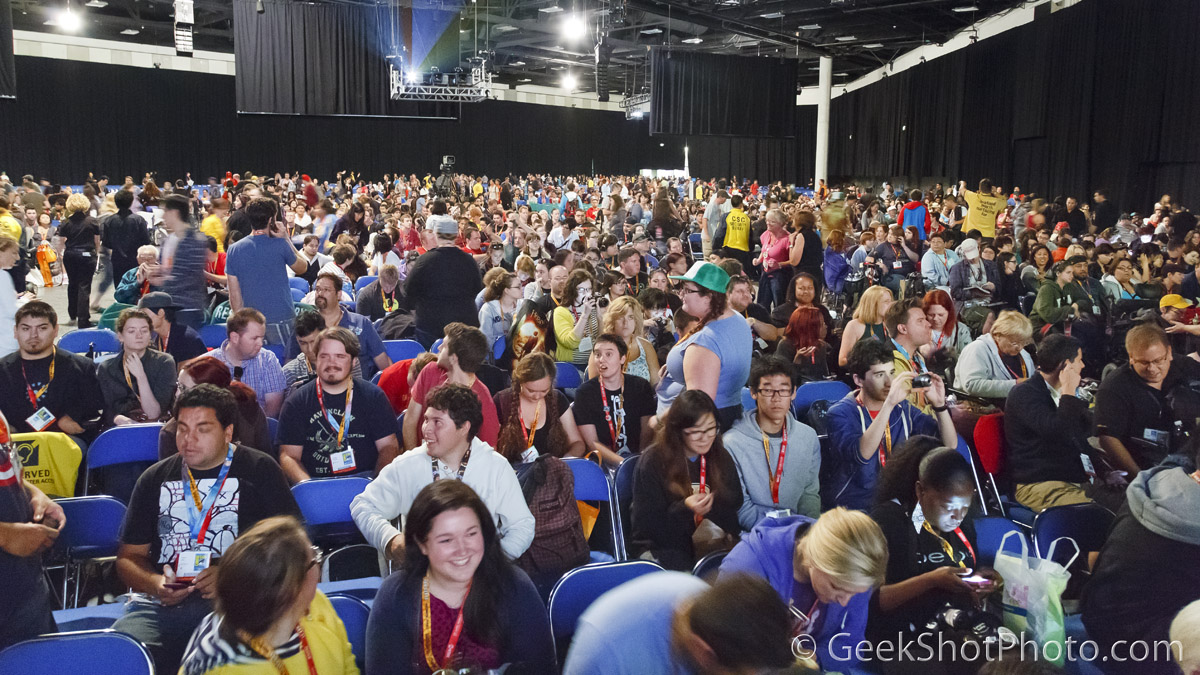 It's two weeks away from Comic-Con, and CCI is releasing the programming schedule for San Diego Comic-Con 2023 in its annual fashion. We'll be bringing you the highlights of each day as they're announced.
We'll also be discussing our thoughts on this year's lineup, including our top picks, what time we think you need to line up, room flow, and more — in a special series of live podcasts this weekend. The first of which will cover Preview Night, Thursday's and Friday's lineup, and will be on Friday July 7 at 9:30PM ET/6:30PM PT.
For the best news you've heard all week — Sched is back! 
As previously reported, Warner Bros. is bringing back the Preview Night screenings to Ballroom 20, and this year they'll have screenings for an episode of Teen Titans Go! as well as a screening of the first episode of the new documentary Superpowered: The DC Story.
With that said, let's dive into Thursday.
If you've been wondering just what Hall H is going to look like this year, we have our clearest answer yet. Things kick off at 11:30am with Paramount Pictures' Teenage Mutant Ninja Turtles: Mutant Mayhem for a panel with footage and filmmakers. Then at 1pm you'll be treated to the first footage of the Indian sci-fi film Project K, which will also include a "performance", with cast like Kamal Hassan, Prabhas, and Deepika Padukone in attendance. And finally at 2:30pm, Insomniac Games is bringing Marvel's Spider-Man 2: Symbiotic Relationships, their new video game. That's a bit lighter than normal, but still pretty normal for a Thursday at Comic-Con.
On the movie side outside of Hall H, you'll find upcoming horror film Talk to Me from A24 with a panel at 4:15pm in the Indigo Ballroom (and there will be an offsite screening at 10pm, but you'll need a lottery win to get into that one). There's also Mother, May I? with cast members Kyle Gallner and Holland Roden to discuss their upcoming film at 4:45pm in 6BCF. The documentary Chasing Chasing Amy will get a panel at 5:30pm in Indigo, which will be moderated by Kevin Smith, and you'll also find a screening for The Venture Bros: Radiant is the Blood of the Baboon Heart at 8:30pm in 6BCF. Come get an update on all things Legion M and their upcoming film projects at 6pm in Room 6BCF.
You'll also find plenty of behind-the-scenes movie panels, like a 35th anniversary celebration of Beetlejuice with the Oscar-winning makeup artist at 6pm in Room 25ABC. Love the scores of your favorite movies and TV shows? Find our more from the folks who compose them at the Ninth Annual Musical Anatomy of a Superhero composer panel at 11:15am in Indigo Ballroom, moderated by the legendary Michael Giacchino. The iconic costume designer Colleen Atwood discusses the power of costumes at 12pm in Room 29AB.
We hope you're hungry for more, though, because Kenan Thompson and Kel Mitchell will be on hand to talk about Good Burger 2 at 2:15pm in 6BCF. Actor Danny Trejo will also be in attendance for Ultraduck.
The biggest dropoff this year is likely on the TV side, which feels lighter, but there are still plenty of fun surprises on the schedule. In Ballroom 20, they'll start the day off with Max original animation including Harley Quinn, then at 12:45pm it's Ghosts, The Wheel of Time at 2pm, Peacock's Twisted Metal at 3:15pm, What We Do in the Shadows at 4:30pm (could this signal that there won't be a Hall H on Sunday?) with a brand new episode, and your first look at the final season of Archer at 5:45pm.
Elsewhere on the schedule there's the cast of Jury Duty at 1:45pm in Indigo (including yes, Ronald!), and a Q&A with the cast of Cruel Summer at 3pm in Indigo. Go inside the world of Ninjago with a LEGO panel at 10:30am in 6BCF. You'll also find some behind-the-scenes panels including "From Script to Screen: Behind the Camera of Storytelling Across Mediums", which features creatives behind Hailey's On It, Mark of Death, and more. Get a behind-the-scenes look behind Yellowjackets, Gremlins: Secrets of the Mogwai, Twisted Metal, Gotham Knights, and more at 1pm in Room 7AB. Actors from across the various Power Rangers series will team up for "The Official Power Rangers 30th Anniversary Celebration" at 6:45pm in Room 6A.
By the power of Grayskull, you can invade the Masters of the Universe: Revolution panel at 3:30pm in Room 6BCF with moderator Kevin Smith and panelists that include Melissa Benoist and Griffin Newman. There's also a special screening for Krapopolis at 8pm in Room 5AB.
And of course, perhaps the most exciting thing on the schedule (to us) is "Sesame Street Muppets Live". Yes, you can come see Elmo, Grover, Oscar The Grouch, The Count, and more, live and in person at 5:30pm in Room 6A. 
Into comics? You'll find a slew of talent on the "Fan Favorites: The Heroes We Love" panel at 11am in 5AB with J. Scott Campbell, Jo Duffy, Beau Smith, and Matthew Southworth. Go boldly into the world of Star Trek comics with IDW at a panel at 12pm in 28DE with some great guests including Chris Cantwell, Collin Kelly, Marc Guggenheim, Sam Maggs, and more.
You won't want to miss the spotlight on the legendary John Romita Jr. at 1pm in Room 25ABC, or the spotlight on master storyteller Jeff Lemire at 12pm in the same room. We're also excited about "Transgender and Nonbinary Stories in Comics: Past, Present, and Future" at 4pm in Room 9.
Comedian and actor Patton Oswalt joins "Superheroes and Not-So-Super Villains with Patton Oswalt and Friends" at 3:15pm in 6DE with panelists Jordan Blum, Scott Hepburn, James Tynion IV , and Jeff Lemire.
It's a stacked panel with "Between Two Toms" at 11:30am in Room 6DE, when Tom King and Tom Taylor chat comics with Nicola Scott and Mitch Gerads. Horror mange icon Junji Ito also gets his own panel at the Comic-Con Central Library at 11am, and you'll find your favorite heroes in a half-shell co-creator Kevin Eastman at 5pm in Room 23ABC.
Come watch DSTLRY talent live draw at 2pm in Room 29AB, when Tula Lotay, Jock, and Mirka Andolfo team up for a panel.
Not all love stories are sweet — and writers and creators Becky Cloonan, Linda Šejić, Stjepan Šejić, and Rachel Smythe discuss "A Different Type of Romance" at 2pm in Room 32AB.
On the gaming side, while Nintendo may not be on the show floor, you can still show off your Nintendo knowledge at "StreetPass OC: Nintendo Quiz Bowl VI" at 8pm in Marriott Marquis Grand 10 & 11.
There are plenty of other exciting panels happening throughout the day like "81 Years of Superhero Cereal Boxes" as three "cerealologists" look back at the history of cereal boxes at 8pm in Marriott Marquis Grand 12 & 13. Love some "killer" trivia? Join Ghostface's Killer Trivia with Ghostface himself, Roger Jackson, at 8pm in Room 25ABC. And we bet you didn't have Tegan and Sara on your SDCC bingo card, but they'll get their own panel to discuss their graphic novel Tegan & Sara: Junior High at 1pm in Room 29AB.
Remember the legacy of award-winning author Greg Bear with a tribute panel at 8pm in 7AB. Come get your first look into Third Eye, an upcoming Audible Original from Felicia Day, that's a love letter to the fantasy genre at 12:30pm in Indigo Ballroom. Celebrate all things Pokémon with a special panel at 11:45am in Room 6BCF, where you'll also get a sneak peek into a special collection of episodes. You never know who will be on a panel, as actor Matthew Lillard proves at 6pm in Room 7AB for the "Creating an RPG Empire".
The annual legal panels are back, and you can decide if Indy and Marion Ravenwood have a valid partnership agreement to find the Ark of the Covenant at 7pm in Marriott Marquis Grand 12 & 13. Also back are the Klingons, with their annual "Klingon Lifestyles Presentation", at 7pm in Room 6DE.
Love the history of cartoons? Dive into the world of Max Fleischer with "Fleischer Cartoons" at 7pm in Room 28DE.
You can also hear everything the Comic-Con Museum has been busy working on at 10am in Room 29AB.
What will you be lining up for on the first full day of Comic-Con? Let us know on social media.