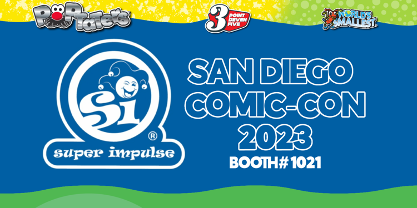 Toy makers Super Impulse, who specialize in the mini toy movement, are heading to San Diego Comic-Con for the first time with their own booth. You can stop by Booth #1021 all weekend for fun suitable for all ages.
Attendees will get a sneak peek at the third series of their PopTaters line, which reimagines the classic Mr. Potato Head as characters from pop culture, such as previous versions for Deadpool, Bob Ross, and Garbage Pail Kids' Adam Bomb. At the booth, you'll get exclusive sneak peeks at the new line-up of characters, and the ability to purchase first before the general public.
[UPDATE July 11]
As revealed today, one of the Super Impuse PopTaters debuting at San Diego Comic-Con will be a Silent Bob. Stop by Booth #1021 to pick up this spud-tactular item.
[PREVIOUS]
They'll also be showcasing their World's Smallest Micro Figures (a line of highly detailed and articulated fan-favorite characters in 1.25″ collectible form) and 3 Point Seven Five (a line of 3.75″ articulated figures that come with a base and diorama card).
Stop by for daily giveaways and photo ops as well.