Did you catch the Thursday schedule drop for SDCC 2023 this morning? Time to start blocking off those Thursday panel spots on your calendar. When you're not in a panel room, though, you'll be heading to the Exhibit Hall to check out some of the amazing art and exclusives that come every year. Read on to see what you'll find this year from artists like Don Nguyen, Adi Granov, and lots of great exclusives.
Here's a look at what you might have missed:
F.C. Yee, author of the Chronicles of the Avatar series, will be at SDCC this year to promote the fourth book in the series, Avatar: The Legacy of Yangchen. He'll also be participating in some panels and signings, so keep an eye on our Autographs and Panels posts for where he'll be during the con.
 

 

View this post on Instagram

 
(Don't call it a you-know-what hunt) Artist Don Nguyen is excited for his official CCI-approved Unofficial SDCC Indie Floor Tour 2023. He's gathered some of the best artists on the Exhibit Hall floor together for an epic table hopping exercise full of fun prizes and swag. How many artists can you check off Nguyen's list before you get yelled at by security for something?
NOT FINAL FORM but we got approved by #SDCC !!! So I'm happy to say 20+ vendors involved in the #IndieFloorTour.

Freebies + prizes from Eisner nom @thecomicbug & @ComicArtProS… no rush & def #NotaScavenger hunt, amirite @SD_Comic_Con ? 😉#workinprogressWednesday pic.twitter.com/BKYQ5GiATg

— Don Nguyen 👁️‍🗨️ SDCC HH-03 (@nguyeningit) July 5, 2023
Stop by The Moon Minis Small Press Table #N-01 (right across from Snoopy) to find their latest book they're releasing at SDCC this year.
 

 

View this post on Instagram

 
Because there isn't enough sunshine in San Diego, artist Genevieve "le petit elefant" Santos will have this adorable Philippine Sun translucent enamel pin with her at Small Press Table #L-07.
 

 

View this post on Instagram

 
Artist Jonathan Glapion posted a black and white tease of a new print he'll have at SDCC. He's only bringing a few with him, so keep an eye out for more info "coming soon."
Here's the black and white version. A limited number of this will be available at SDCC. More info coming soon! #SDCC2023 https://t.co/DcOwDk3hwU pic.twitter.com/PgXzqiv5K0

— J.Glapion (@jonathanglapion) July 6, 2023
Cover designer for Kwento Comics's The Mask of Haliya Susan Bin let her Twitter followers know they could find it along with the first five issues in the series at Kwento Comic's Small Press Table #Q-13.
i had the wonderful honour of illustrating the cover for @Kwentocomics's first volume graphic novel of THE MASK OF HALIYA!!! pick it or the first 5 issues up at this upcoming @Comic_Con Small Press Booth Q-13! Proud of this team. 🥺💛#SDCC #SDCC2023 pic.twitter.com/pKS70YMItP

— yosb (@bontmercy) July 6, 2023
Oh, Super7, how you like to tease us. Their latest is a Dungeons & Dragons action figure tease that I'd probably know better if my friends were more successful in getting me interested in the game back in 1996.
Epic adventures against fearsome beasts await! #ComingSoon #SDCC #Super7 pic.twitter.com/xFfwNr018R

— Super7 (@super7store) July 6, 2023
We don't know too much about this, since it's a mystery box from Unknown Comic Books, but we do know that they're giving everyone a chance to pre-order their five SDCC 2023 exclusives at a special lower price. No risk, no reward.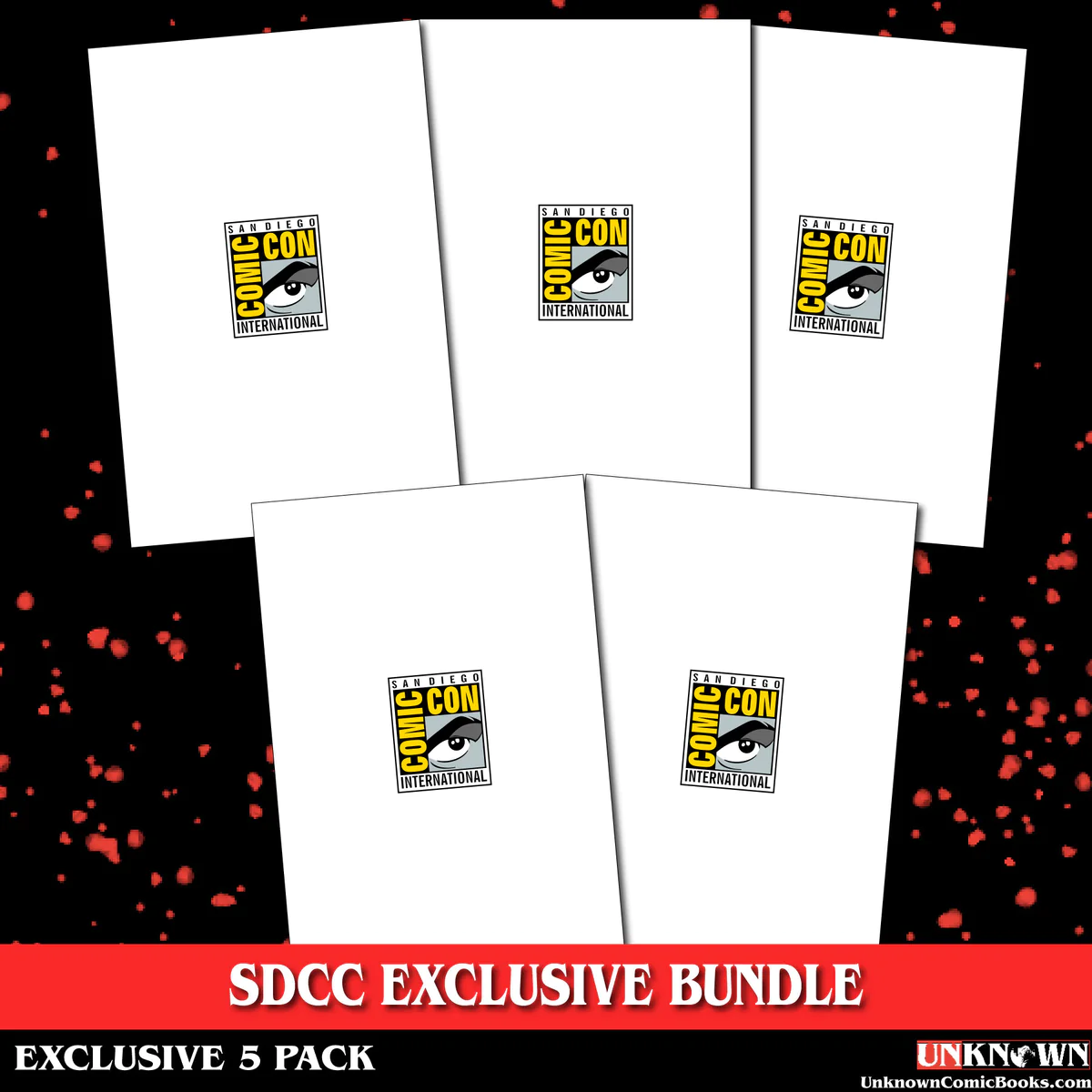 Art director for Kevin Smith's Mooby's Pop-Up Nate Gonzales revealed his poster for this year's SDCC event, and it's apparent this year will be nothing but fortune and glory.
SDCC is going to be awesome this year especially if you are a @ThatKevinSmith fan! @DarkNateReturns did another great poster for the event!! pic.twitter.com/gp8XMCdQux

— Nathan Hupman (@NateHups) July 6, 2023
Trinity Comics officially revealed their SDCC 2023 exclusive: The Mandalorian S2 #1 by Adi Granov will be available for fans at Booth #5553 along with more exclusives from Peach Momoko.
Another comic series excited about San Diego Comic-Con 2023 is White Ash Comics, who will be back at their Small Press Table #L-10 with an SDCC-exclusive variant of How I Slept My Way Through College Chapter 2.
**New Exclusives**
We'll have new Shoulder Patches at San Diego Comic-Con! Incoming additions are the #StrangeNewWorlds, Starfleet Museum and the USS Titan. #StarTrek #SDCC pic.twitter.com/jSd29Ifp0i

— Hero Within @ SDCC 1943 (@HeroWithinInc) July 6, 2023
Artist Jason Edmiston and clothing designer Rucking Fotten got together on this epic homage to the tiny New York tourist town with a really big shark problem. Show me the way to go home…
According to Nintendo news site GoNintendo.com, Pokémon will be offering photo ops, fan giveaways, and product previews at the Jazwares Booth #3513, Mattel Booth #3029, and Bandai Namco Booths #3329 and #301 (featuring Pokémon products from Bandai Spirits and Kawada, respectively) that will be exclusive to the con. Publishing partner Insight Editions will also pass out recipe cards from its upcoming Pokémon Baking Book at their Booth #2129.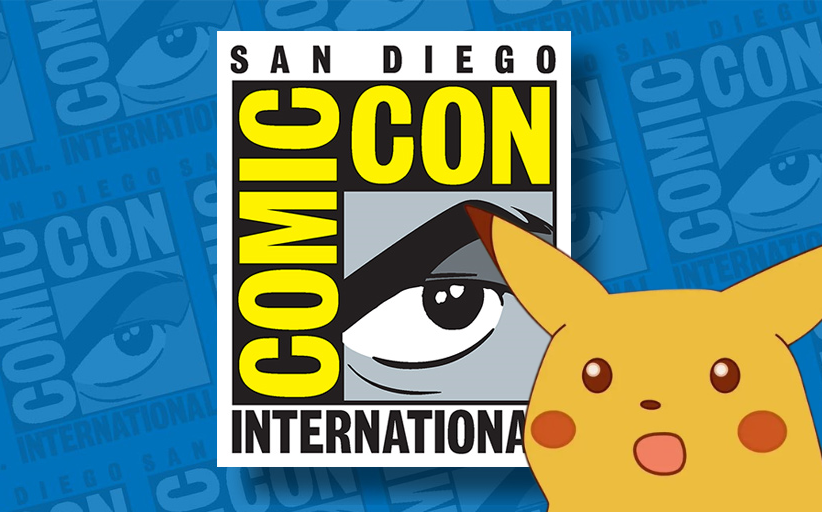 Anything we missed? Let us know by dropping us a line, or tweet us at @SD_Comic_Con.
If you missed our previous Under the Tents 2023 posts, you can find them HERE.