Have you not had enough SDCC 2023 news? Are you not entertained? Of course not, that's why we're bringing you another edition of Under the Tents with more hot San Diego Comic-Con news. Read on for news from Junko Mizuno, Gary Sassaman, Ethan Castillo, and a lot more.
Here's a look at what you might have missed:
Swing by DSTLRY Media's Booth #2314 to find a new MOMINU designed by artist Junko Mizuno, available at SDCC 2023 first, then comic stores starting August 30.
I designed this collectible art toy MOMINU for the new comic publishing company @DSTLRY_Media ! The first colorway will be available at SDCC, then in select comic stores 8/30. Call your comic store and ask if they'll have it! For any other questions, talk to 👉🏼@DSTLRY_Media pic.twitter.com/ykznl1C1qE

— Junko Mizuno (@Junko_Mizuno) July 1, 2023
I packed my bags last night pre-flight. Zero-hour: 9:00am. Rocket over to Rocketship Entertainment's Booth #2707 to find New York Times bestselling cartoonist Nick Deluk, where he'll be doing free sketches throughout the con. And I think it's gonna be a long, long time…
I'll be at #SDCC again this year with @RocketshipEnt! Stay tuned for details, but I'll surely be doing free sketches at their booth.

— the Awkward Yeti (Nick Seluk) (@theawkwardyeti) July 1, 2023
 

 

View this post on Instagram

 
If you've ever wondered what the former Program Director for Comic-Con International would have in his comic book collection, you're about to find out when Gary Sassaman, former CCI Program Director and frequent SDConCast guest, presents his panel "Still Crazy After All These Years" featuring his work Tales from My Spinner Rack.
If you're a Gen-Xer like me, you remember that the horror films of the 1990s were as grunge and emo as we were. Artist Frank Forte and Asylum Press want to celebrate that special time in horror history with their panel, Splattergore: The History of '90s Horror, Underground and Outlaw Comics, on Thursday, July 20 from 7:00pm-8:00pm PT in Room 25AB.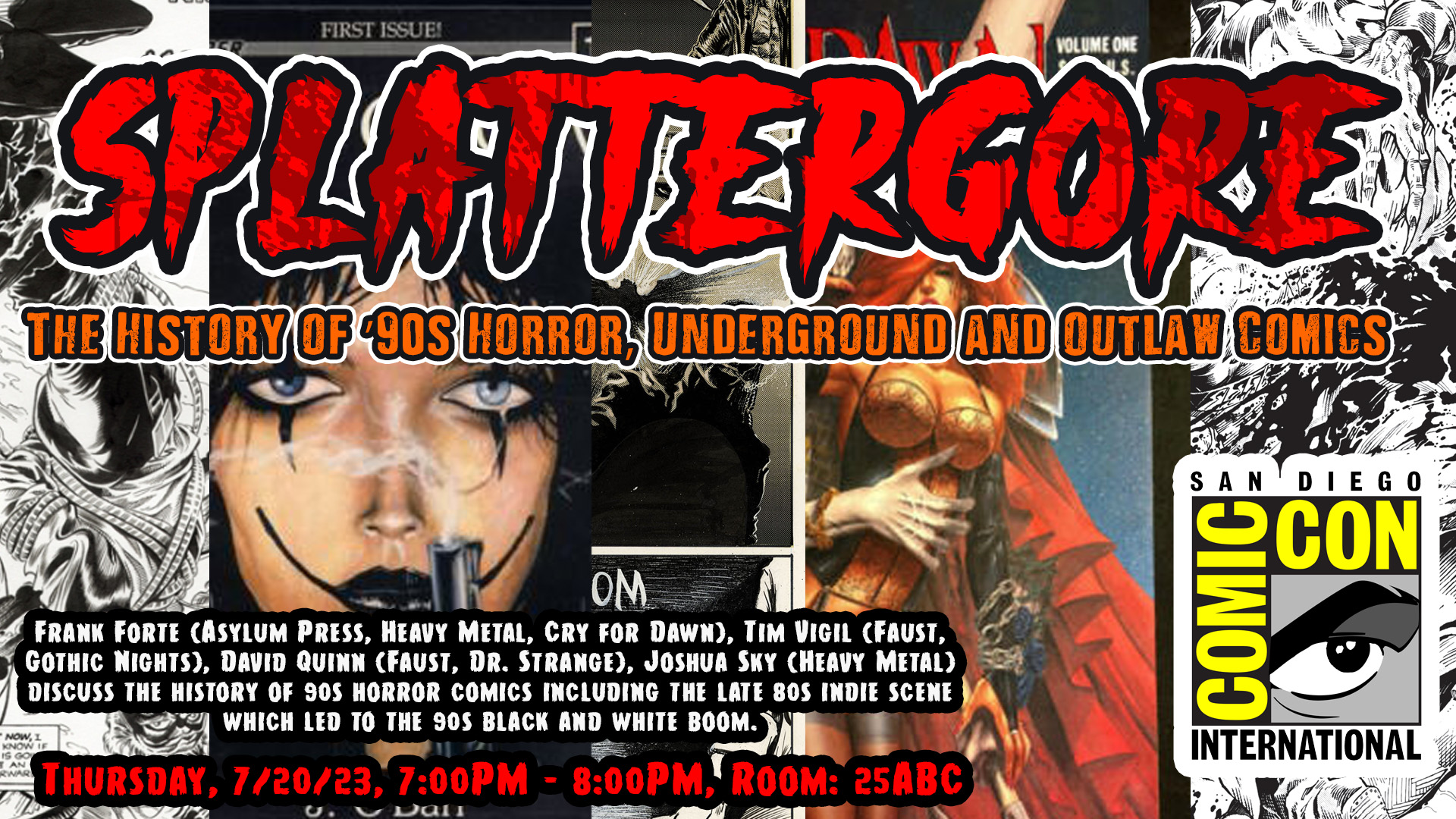 Collectors community DCDcollects tweeted a sneak peek at their SDCC 2023 exclusive limited edition prints they're bringing to Booth #1605, where you'll also be able to meet the artist, Kai Lun Qu.
Sneak peek at one of our SDCC 23 Exclusive limited edition Prints! Come see the original art, get an exclusive print, and meet artist Kai Lun Qu. Booth #1605 @SD_Comic_Con @Comic_Con pic.twitter.com/r6jNeaeUlD

— DCDcollects (@DCDCollects) July 1, 2023
Star Wars artist Lee Kohse also teased a work-in-progress of his limited edition Metropolis movie poster he's designing for DCDcollects Booth #1605.
 

 

View this post on Instagram

 
Storm King Comics is bringing some heavy hitters to Booth #1935 at San Diego Comic-Con 2023. Their first guest is artist Cat Staggs, whose credits include Orphan Black, Star Wars, and Wonder Woman '77.
This year for SDCC, we're bringing out some incredibly talented artists/writers.

First up is none other than artist Cat Staggs! Her contributions to our stories are prolific. We're so happy to have her with us!

Find us at Booth 1935.@CatStaggs @stormkingskc @Comic_Con #Comics pic.twitter.com/Aw3RBOYyxU

— Storm King Comics (@stormkingcomics) July 1, 2023
Local Cajon Valley School District Assistant Principal Chris Garcia and his colleague, Cajon Valley School District Teacher William Stuchel, have integrated comic books and pop culture into their curriculum, and they want to show you at their SDCC 2023 panel on Sunday, July 23 from 3pm PT to 4pm PT in Room 3: Unleashing the Strength-Based Themes of Iconic Characters and Crafting Your Own Superhero.
Join us at @Comic_Con as @Mr_Stuchell & one of our Ss share how this unit was "unleashed" for a group of 7th graders. Looking forward to sharing how we connected the RIASEC as a strength-based approach. #SDCC2023 @SD_Comic_Con pic.twitter.com/zF8t8Hb16p

— Chris Garcia (@APGarcia2022) July 1, 2023
Comic artist and hilarious insomniac Hannah Hilliam will be back in Artists' Alley at SDCC this year at Table #BB-01 with some exclusive Trongleman holographic stickers. All hail Trongleman.
 

 

View this post on Instagram

 
 

 

View this post on Instagram

 
Filipino-American comics publisher Kwento Comics is coming to their first-ever San Diego Comic-Con this year to Small Press Table #Q-13 with their first graphic novel based on their The Mask of Haliya series as well as issues #4 and #5 of the series.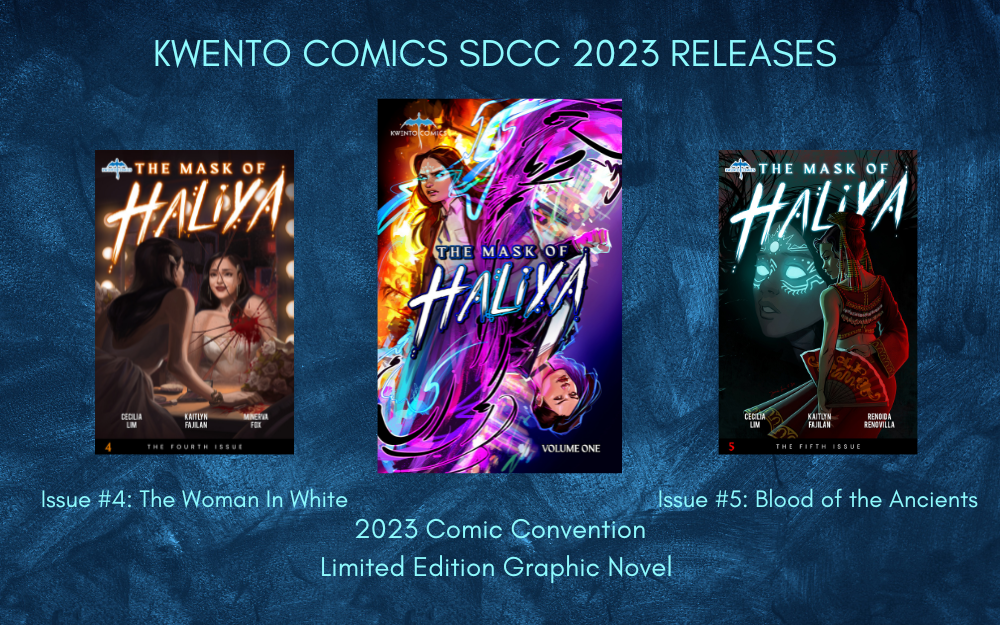 Anything we missed? Let us know by dropping us a line, or tweet us at @SD_Comic_Con.
If you missed our previous Under the Tents 2023 posts, you can find them HERE