Let freedom ring… and let the San Diego Comic-Con news flow! While most are busy celebrating the 4th of July today and other festivities, here at the UBlog, we are busy celebrating the fact that we're just 15 days away from the convention. Yes, tomorrow, we can officially say that we're only two weeks out. There's still so much news to come, including the programming schedule daily this Thursday-Sunday, but let's start things off today with some updates on new prints from Monkey Minion, tons of BTS goodies from Le Petit Elefant, a sneak preview from Jason Edmiston, an official panel for Red Sonja, a cosplay/fan meet-up for Good Omens, and more.
Here's a look at the news you might have missed:
Monkey Minion has some new pieces worth chirping about. These four new Borbs — birds in his signature mid-century modern style — are landing at Booth #2007.
Got four new Borbs done for #sdcc. What else can I get done before we leave? Who knows?! pic.twitter.com/zT8icglsfD

— dane /@monkeyminion.bsky.social (@monkeyminion) July 3, 2023
What is this Lucky Duck so grumpy about? Bling Squared has created seven pendants and ten figures which will be available at #E-05 .
View this post on Instagram
Calling all BTS lovers. Fellow BTS fan Genevieve Santos (aka Le Petit Elefant) has created three new BTS shoe charms, perfect for your crocs, and they're dynamite. You can pick them up at Small Press #L-7.
View this post on Instagram
But wait, there's more! Le Petit Elefant also has a new BTS OT7 print, featuring Yoongi performing "Life Goes On", which will be debuting at SDCC #L-7 in Small Press. You can also get a preview of it and other BTS items from Le Petit Elefant at Moment JTown in San Jose on Saturday, July 15 – Sunday, July 16. She'll also have another new BTS print heading to the con.
View this post on Instagram
View this post on Instagram
And finally for today from Le Petit Elefant, she will also have a new shopping tote with a cute kawaii design. It will be FREE with any purchases over $35, while supplies last, at #L-07 in Small Press.
View this post on Instagram
Bestselling author Stephen Graham showed off a pin for Earthdivers, which will be available at IDW Booth #2729.
cool Earthdivers pin, at the @IDWPublishing booth for #SDCC2023. pic.twitter.com/kaDsk0tECr

— Stephen Graham Jones (@SGJ72) July 4, 2023
Get "Outraged" at San Diego Comic-Con with artist Frank Cho's Outrage Book 3: Even More Outage, will be debuting at San Diego Comic-Con Booth #4901. The book collects Cho's recent sketch covers and illustrations.
View this post on Instagram
Step into the Spider-Verse with this new print from artist Tony Guaraldi Brown that will be heading to San Diego Comic-Con.
View this post on Instagram
Trinity Comics announced that the legendary artist Scott Williams will have a new San Diego Comic-Con exclusive that's all about the X-Men, available at Booth #II-08 in aRtists Alley. It's limited to 500 pieces.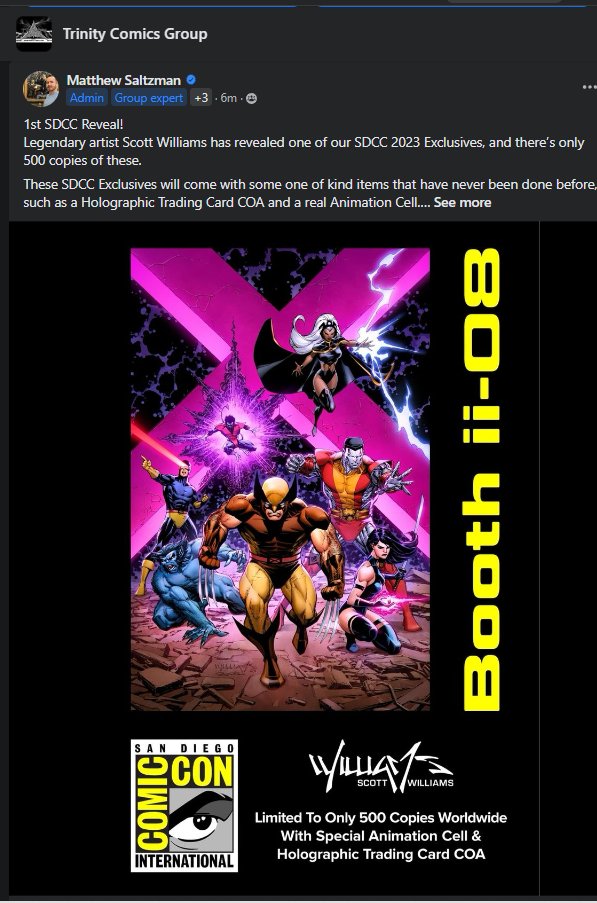 Get ready to celebrate 50 years of Red Sonja at the official panel on Friday, July 21 at 11:30am PT in Room 5AB.
View this post on Instagram
Artist Karen Hallion teased a look at her newest piece debuting at San Diego Comic-Con — a licensed Star Wars design that will be available at Acme Archives Booth #5629. Stay tuned for more details and a closer look.
Top Cow has been busy announcing their San Diego Comic-Con exclusives, but there are plenty of additional projects in the works. You can learn more about a new horror series Christian DiBari has been working on at SDCC.
Some uncolored pages from the new Horror series i'm currently drawing for @TopCow – Soon to be announced at #SDCC ! 💀 pic.twitter.com/ksBbZGVrcR

— Christian DiBari (@ChrisDiBari) July 4, 2023
Jeff Pina hasn't gotten over the abrupt cancellation of Star Trek: Prodigy — and we wouldn't want him to. He made a new print celebrating the series, which will be available at Small Press #Q-06.
Got a BRAND NEW PRINT heading to #SDCC with me! Grab one at my Small Press Booth, SP-Q06!!!

#SaveStarTrekProdigy #art #fanart #startrek #cartoon #Nickelodeon #ParamountPlus @SD_Comic_Con pic.twitter.com/O1zBF9Y40W

— Jeff Pina SDCC SP-Q06! (@JeffPina78) July 4, 2023
Colorist Alex Sinclair showed off a new Daredevil piece, created in collaboration with artist Richard Friend. They'll be tabling nearby at Artists Alley #CC-22 and #CC-23, where they'll have this new print and more.
View this post on Instagram
Get in, angel, we're going to a Good Omens cosplay/fan meet-up. Set for Friday, July 21, though the time is still TBA, you can join your fellow angels and demons for a fun afternoon of saving the world. Follow the Facebook event page for more information.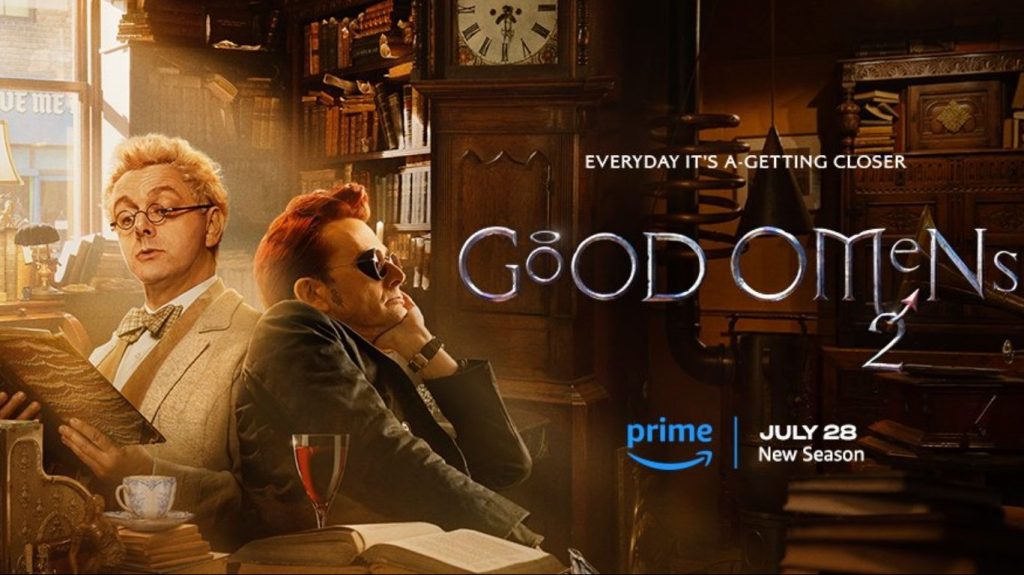 It's a-me, Jason Edmiston's latest Eyes Without A Face piece. This one will be heading to San Diego Comic-Con at Booth #4617, and hopefully you don't have to use up extra lives to get it.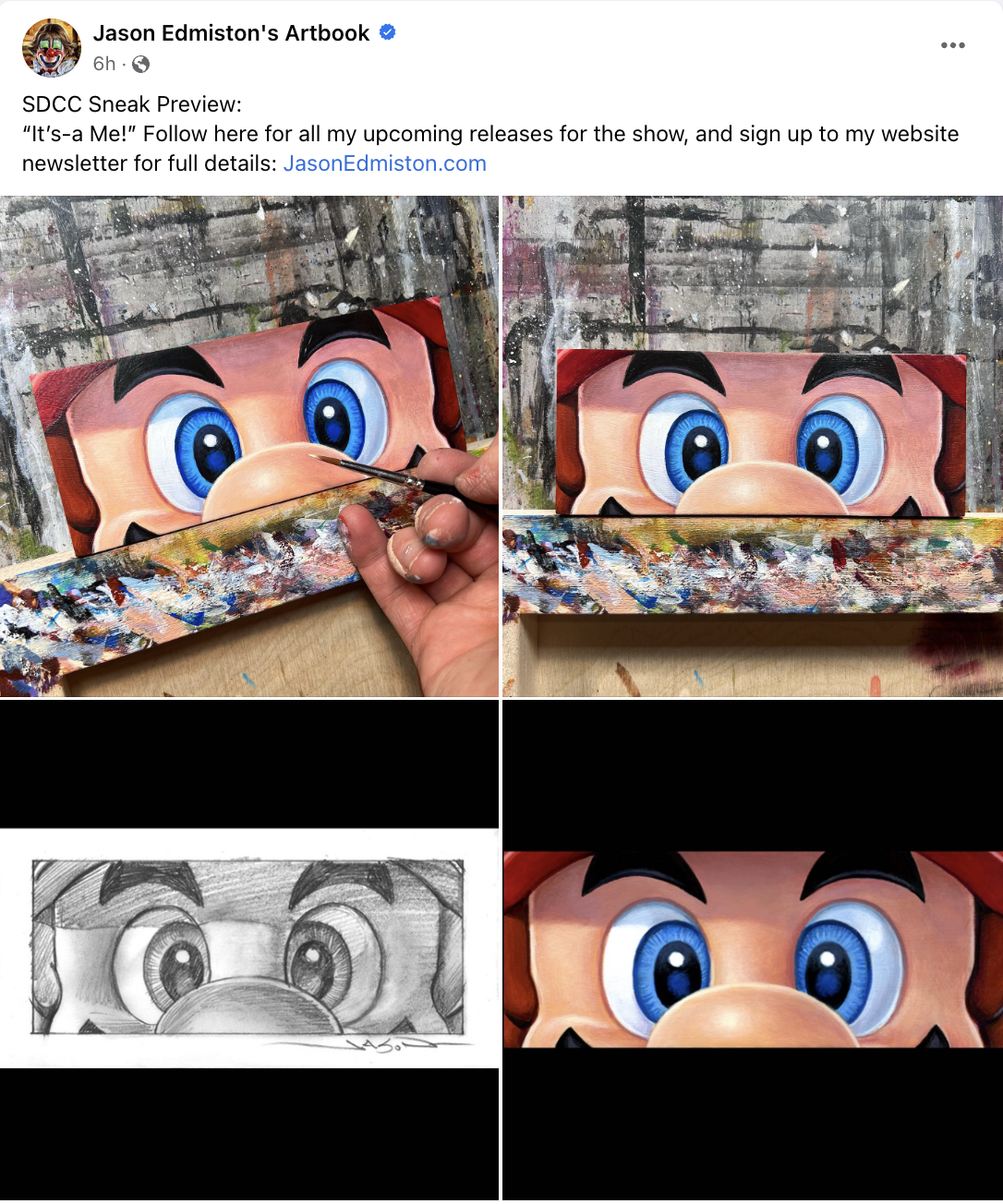 In addition, Edmiston showed off two new Transformers keychains heading to the con — "Roll Out" and "Deceive". Stay tuned for more information soon.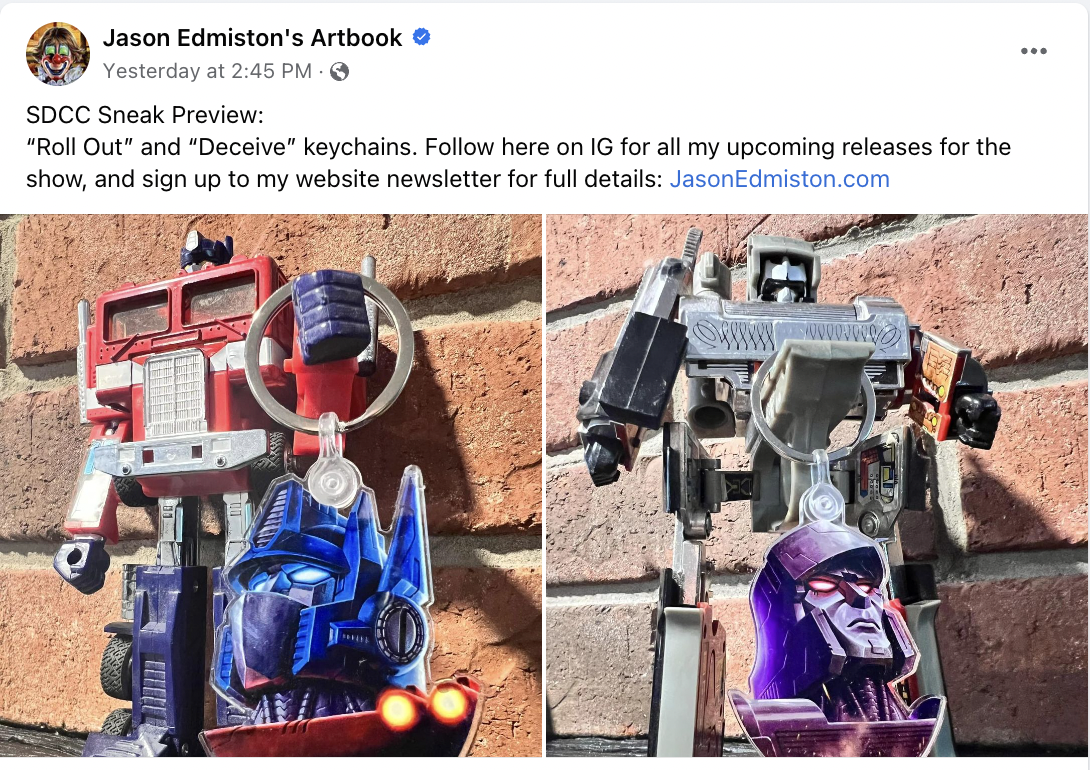 Can artist Lawrence Denvir finish this Champions of Hell cover in time to make it a print for San Diego Comic-Con? We don't know, but we're rooting for him.
Can I ink, colour, & get this #ChampionsOfHell cover to the print shop in time for #SDCC2023? Stay tuned to this bat-channel!!#SDCC #ComicArt #13FlamesEmpire pic.twitter.com/GsGVLkivIG

— Lawrence Denvir (@Tollbooth10) July 4, 2023
Arkham Bazaar, purveyors of high quality Lovecraftian goods, are breaking out the good stuff for SDCC. Their new design celebrates "Cider Out of Space", and will be available as a tee or work shirt at Booth #623.
View this post on Instagram
Anything we missed? Let us know by dropping us a line, or tweet us at @SD_Comic_Con.
If you missed our previous Under the Tents 2023 posts, you can find them HERE.