Full disclosure: I don't really eat toast often. Now, a toasted bagel with some schmeer gets my attention. So do eggs benedict. And San Diego Comic-Con news.
Here's a look at what you might have missed:
The Tick and Teenage Mutant Ninja Turtles artist Ian Chase Nichols is returning to San Diego Comic-Con at Booth #2200 with his newest book, Undersea Hero, which will be making its official debut at SDCC. You can pick up Undersea Hero #0 for an introduction into the fantastical undersea world where Undersea Hero and his pal Lord Krakus (a cuttlefish) live. It will be available for $10 each (LE 100), and features the Comic-Con 2023 debut logo. There will also be a Sketch Cover, with blanks available for $10 each, and sketches done at the show will be in black and white. Sketch pricing is as follows:


Bust/Headshot – $45 per character (B&W)
Full Figure – $85 per character (B&W)
Remark – $25

In addition to their collab pins with Yesterdays, Tragic Girls Co. will be setup at the Threadless Booth #4931 with a SDCC exclusive print. It's limited to 20 pieces, and each 13″x19″ print comes signed and numbered for $50 each.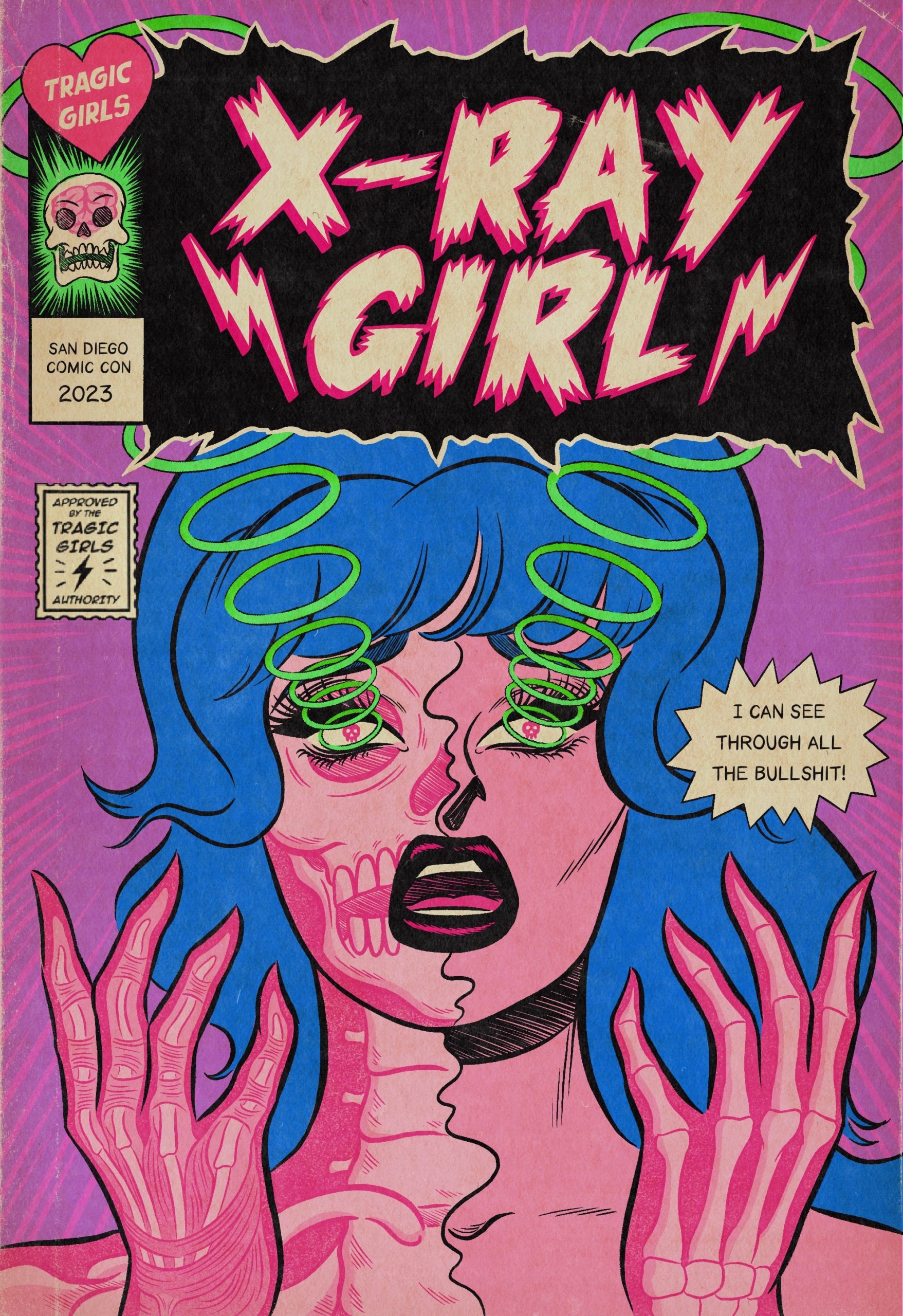 Who will be the first Legends of Lucha Libre Champion? Masked Republic will unveil the new championship belt at Booth #1901 along with replicas that will be available on their website at the start of SDCC 2023.
Famous Monsters revealed their awesomely creepy SDCC 2023 exclusive print, which you can find on the Exhibit Hall floor at Booth #2035.
 

 

View this post on Instagram

 
Have a drink and get a sketch with artist David Baron on Thursday and Friday during SDCC 2023 when he holds Bar Con 2023 at The Field Irish Pub from 2:00pm PT to 4:00pm PT each day.
Bar con is back at #SDCC2023 Thursday and Friday from 2pm to 4pm. pic.twitter.com/hDL5FLz5oZ

— David Baron at SDCC #BarCon23 (@DavidBaronCMX) July 14, 2023
All the buzz at San Diego Comic-Con this year will be around our own Outside Comic Con's June Bug button swag. Find Kim around the con this year with these adorable buttons celebrating these beloved nuisances. Whoa, duck!
 

 

View this post on Instagram

 
SDCC artist Tony Bui is bringing back his wildly popular AT-AT print to Booth #2746. He's only making this available at pop-ups and conventions this year, so get to his booth fast if you want one.
 

 

View this post on Instagram

 
Find hip-hop artist and illustrator Javan Jordan, a.k.a.: Illest Uminati, at Blue Chip Comic's Booth #5507 throughout the con as well as CGC Comics and the Whatnot Hero House.
 

 

View this post on Instagram

 
Artist Jeff Pina is channeling The Ramones for motivation as he finishes up his SDCC 2023 prep, including these adorable original pieces you'll find at Small Press Table #Q-06.
HEY! HO! LET'S GO! HEY! HO! LET'S GO!#SDCC Small Press Area, booth SP-Q06! NEXT WEEK!!!#originalart #ink #marker #color #oneofakind #tmnt #disney #akira #anime #cartoon #strawars #r2d2 pic.twitter.com/gD7eZmThht

— Jeff Pina SDCC SP-Q06! (@JeffPina78) July 14, 2023
Eisner-nominated writer Philip Kennedy Johnson put together this nifty infographic showing all the signings scheduled for Scott's Collectables Booth #4601 at SDCC this year.
San Diego Comic-Con line-up for Scott's Collectables, Booth #4601! Come hang out with me and my fancy talented friends. #ComicCon #SDCC #SDCC2023 pic.twitter.com/oROA1YeHAk

— Phillip Kennedy Johnson (@PhillipKJohnson) July 14, 2023
Our updated USS Enterprise patch for San Diego Comic-Con!#SDCC #StarTrek pic.twitter.com/7B1hHPdQF1

— Hero Within @ SDCC 1943 (@HeroWithinInc) July 14, 2023
#SDCC2023 attendees – come by booth 2001 to meet the creator of RRH and NIGHT STALKER and GLYPH COMIC AWARD WINNER Orlando Harding! He'll be there Saturday and Sunday from 10 'til noon both days! Get your books and autographs! Don't miss out! pic.twitter.com/QGzB5wCX6t

— 1First Comics (@1firstcomics) July 14, 2023
If you're not into that, it's OK; you'll also find the Fillbach Brothers, creators of Illuminati Transport, SS Junky Star, and Dog Soldier, at Booth #2001 on Friday, Saturday, and Sunday during the con.
#SDCC2023 attendees – come on by booth 2001 to meet THE FILLBACH BROTHERS! These guys brought SS JUNKY STAR, ILLUMINATI TRANSPORT and many other great titles to life! So come on by, check out their books, and they might even give you a sneak peek at what they've got coming up! pic.twitter.com/jVroNluPTY

— 1First Comics (@1firstcomics) July 14, 2023
Got some serious opinions about breakfast breads? Let us know by dropping us a line, or tweet us at @SD_Comic_Con.
If you missed our previous Under the Tents 2023 posts, you can find them HERE.