If I smell burnt toast, I should probably see a doctor, right? Or at least try to get more sleep. But there's still too much news to cover, 
Here's what you may have missed:
Ohana means family. And it means you better hurry to #DD-02 in Artists Alley to score this Lilo & Stitch 6″x4″ watercolor and ink original from Eggdrop Ramen.
"You look like you listen to Elvis."

6"x4" watercolor and ink.#SDCC2023 pic.twitter.com/6l9kuh0xHp

— SDCC Artist Alley DD-02 🥚🍳🍜🇺🇸🇵🇭 (@EggdropRamen) July 16, 2023
For those heading to the Tamashii Nations Sand Land world premiere screening on Friday, July 21 at 8:15pm in Hall 6BCF, you'll be treated to an exclusive tee and hat. We love us some good swag.
FREE Original T-Shirt and Cap for those attending the #SDCC World Premiere Screening!

Be the first to feel the excitement!#SANDLAND pic.twitter.com/4tgokCGCZb

— TamashiiNations (@TamashiiNations) July 16, 2023
We love a good pin. And we really love Chris Uminga's first ever pin, which will be available at #BB-18 in Artists Alley.
My first ever pin will be available next week at SDCC. These are limited to just 75 and will be available at my table BB-18 in artist alley.@SD_Comic_Con #pin #sdcc #art pic.twitter.com/ZlRv13DXAq

— Chris Uminga SDCC BB-18 (@Uminga720) July 16, 2023
Artistic Flavorz is bringing some delicious items to Booth #523, including pins.
Join us this weekend at #ComicCon, booth 523, for an exhilarating experience! Immerse yourself in the world of comics and pop culture. Don't miss out on this last-minute opportunity to be a part of the excitement. Plus, we're bringing Foodyland with mouthwatering treats! Mark… pic.twitter.com/PxVIPtB8S1

— Artistic Flavorz (@artisticflavorz) July 16, 2023
If you think artist Ethan Castillo only daws Spider-Man, then think again… he also draws Venom! Get these fun post-it note art pieces from Castillo at #AA-01 in Artists Alley.
"Venom!"

-Eminem#Venom #Symbiote #SpiderMan #SpiderVerse #ComicCon #SDCC #postit #postitnote #art #drawing #comics #Sakura #SakuraofAmerica pic.twitter.com/t0S1RPnkmJ

— Ethan Castillo (@EthanCastillo05) July 15, 2023
Storm King Comics' Booth #1935 will be home to writer Joe Harris, best known for his work on Batman, X-Men, Spider-Man, and The X-Files.
Here's another powerhouse we're bringing to San Diego @Comic_Con 2023, writer @JoeHarrisGhost!
ome of his credits include Batman, X-Men, Spider-Man, B.P.R.D., and The X-Files! He can also be found in Tales for a HalloweeNight Vol. 3-4!@stormkingskc @TheHorrorMaster #Comics #SDCC pic.twitter.com/YGtk8XWIIl

— Storm King Comics (@stormkingcomics) July 15, 2023
Writer/publisher Charlie Stickney showed off some How I Slept My Way Through College red-foil San Diego Comic-Con exclusives, which will be available at White Ash Comics #L-10 in Small Press.
The @conorhughes HISMWTC red-foil, SDCC exclusives just arrived. Stop by the @whiteashcomics booth (L-10 in small press) if you want one and I'm betting Conor will sign (and maybe remark it, if you're nice). We're only bringing 60 to the con, so get there early. pic.twitter.com/NljL6lrS9S

— Charlie Stickney 🔜 SDCC (@CharlesStickney) July 15, 2023
Tim Baron, artist for Tony Hawk, Super7, and more will be signing at the Atomic Toybox #2549.
 

 

View this post on Instagram

 
Premium Collectibles Studio wants to give you a prize! Enter at Booth #3348 for your chance to win several fun giveaways, including a Wolverine statua, Sakura Gym statue, and more.
Big news! Join us at booth #3348 at San Diego Comic-Con next week and you'll have the chance to win several prizes from the PCS vault. Winners will be chosen July 21st and 22nd. See you there!#collectpcs #sdcc #SDCC2023 #giveaway #collectibles pic.twitter.com/COOsbALQJv

— Premium Collectibles Studio (@CollectPCS) July 16, 2023
Speaking of offers, Gentle Giant and Diamond Select Toys are partnering with Collectible Grading Authority for a special 20% off grading on Diamond Select Toys or Gentle Giant items when you bring them to the CGA Booth #2045.
#GentleGiantLtd and @CollectDST are partnering with #CollectibleGradingAuthority to bring you an exclusive #SDCC discount! Get 20% off grading on #DST or #GGLTD items when you bring them to the CGA San Diego Comic-Con booth.

Just drop it off at Booth 2045! pic.twitter.com/HyY3r9csb7

— Gentle Giant Ltd (@GentleGiantLTD) July 16, 2023
Swing by Booth #4071 to pick up original art from Scott Morse for $250/each, only available Friday-Sunday.
ORIGINAL ART FOR SALE: #SDCC2023 ! Booth 4701. Friday-Sunday. $250/ each—swing by and inquire pic.twitter.com/4bfjBvOnbO

— Scott Morse (@crazymorse) July 16, 2023
ORIGINAL ART FOR SALE: #SDCC2023 ! Booth 4701. Friday-Sunday. $250/ each—! #disney #animation pic.twitter.com/rV3yd2ArZE

— Scott Morse (@crazymorse) July 16, 2023
You can find the legendary John Romita Jr. at Booth #4900 during the con, where he'll be available Friday 11am-2pm, Saturday 12pm-2pm, and Sunday 12:30pm-3pm.
Here is my booth schedule for San Diego
Comic- Con! I will be offering signatures, remarks, headshots and posters! pic.twitter.com/t00VcC2eXW

— John Romita JR (@JrRomita) July 16, 2023
Power Rangers actress Tracy Lynn Cruz, who portrayed the Yellow Turbo Ranger and Yellow Space Ranger, will be signing at #A-09 at the Power Morphicon Booth on Friday, July 21 from 4pm-5pm.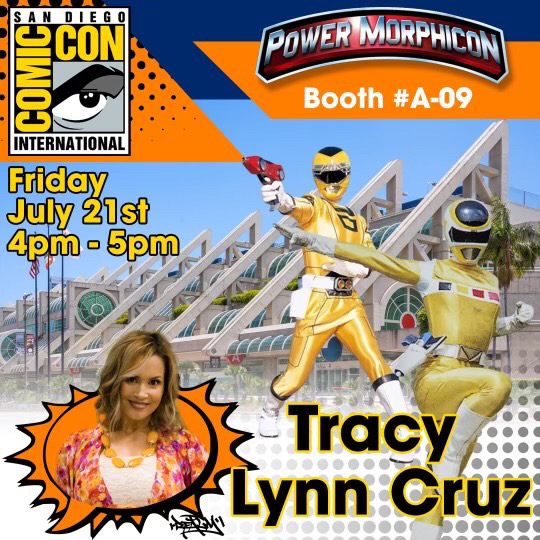 Got some serious opinions about breakfast breads? Let us know by dropping us a line, or tweet us at @SD_Comic_Con.
If you missed our previous Under the Tents 2023 posts, you can find them HERE.